Hockenheim was like Silverstone all over again. Gloomy conditions through practice and qualifying, then bright weather for the race. But the difference was that, whatever the conditions, Fernando Alonso and Ferrari were on top of everything as they took German Grand Prix victory to extend the Spaniard's world championship lead.
Mark Hughes picks through the stands of the weekend in his full report in this week's AUTOSPORT magazine, and reveals that - had Alonso and Ferrari left any chinks - it could easily have been a Red Bull victory just as in Britain, except this time with Sebastian Vettel at the wheel. Equally, Jenson Button and McLaren showed potential winning speed.
Button's return to the front - It is Button's form that is dissected in news this week. The Briton's results had been poor before Hockenheim, but was the German GP podium really down to him stepping up to the plate or were there deeper issues masking his performance? We tell the full story.
Mark Hughes column - Meanwhile, in his weekly column, grand prix editor Hughes looks into what may be the true story behind McLaren's shaky form after its barnstorming start to the season. All this plus full results, technical round-up and a look ahead to this weekend's Hungarian Grand Prix, including David Coulthard's expectations for the Hungaroring.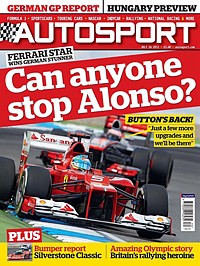 GP2/GP3 Hockenheim - As usual, Hughes's old mate Simon Arron was on hand at Hockenheim to bring you all the happenings from the F1 feeder categories. He reports on a strategically superb GP2 win for Johnny Cecotto Jr and a stupifyingly dull GP3 success for the Mercedes safety car of Bernd Maylander. Also, Adam Cooper gives you his take on the Porsche Supercup.
IndyCar Edmonton - The US open-wheel brigade stayed in Canada but moved west to Edmonton, where Helio Castroneves chalked up a victory for Team Penske under sustained pressure from Takuma Sato. Mark Glendenning reports.
WTCC Curitiba - On the other side of the Americas, Peter Mills sprung into action at Curitiba in Brazil and brings you his report on another Chevrolet double act courtesy of Yvan Muller and Rob Huff.
F2 Paul Ricard - Back in Europe, Jack Nicholls was at Paul Ricard to watch a 15-year-old kid from Switzerland beat all the big boys. And us old fuddy-duddies always used to think Mike Thackwell was young...
World of Sport/Sports Extra - We bring you all the rest of the motorsport scene around the world and in the UK, including title success at Curitiba for Adrian Quaife-Hobbs in Auto GP, and an in-depth round-up of the awesome Silverstone Classic from the office burgundy-top wearer Kevin Turner.
British glory in Nazi Germany - Meanwhile, with the Olympics bearing down on us (they're closing the roads off around AUTOSPORT HQ for the cycling, so we're going to have to swim across the Thames to get in), we look back at a very remarkable gold medallist from the Berlin games in 1936. Paul Fearnley tells a fantastic story of two plucky British girls.
From the archive - We look at Group C at Brands Hatch in 1989, just because Group C and Brands Hatch are both mega.
Race of my life - David Kennedy had a long international career with numerous successes, but you'll never guess which race he counts as his most satisfying...
Read this week's AUTOSPORT digital magazine.