Fresh from his second grand prix victory of 2012, at Silverstone, Mark Webber put pen to paper to confirm he'd be spending a seventh season at Red Bull Racing in 2013. And news that he'd be staying alongside Sebastian Vettel for a fifth consecutive season put paid to any thoughts we had that the Aussie would end up alongside Fernando Alonso at Ferrari.
In this week's magazine, Grand Prix editor Mark Hughes analyses Webber's re-found form that has allowed him to thus far outscore Vettel in qualifying, race wins and points as the season reaches its half-way point.
Has he forgotten the spectre of the 2010 title-fight finale heartache? How has he got his head around the fickle 2012-spec Pirelli tyres? How close did he get to racing a Prancing Horse next year?
Michael Schumacher's future - Nothing has been made public yet, but AUTOSPORT reveals that Michael Schumacher is keen to extend his second F1 career into a fourth season. As Mercedes has regularly said, the ball is in his court, so expect a 44-year-old on the grid next year. Old rival David Coulthard reckons that the seven-times world champion has some unfinished business to attend to as well.
German Grand Prix Preview - What to expect as F1 makes its biennial trip to the neutered Hockenheim, with track facts, TV times, technical analysis, Gary Anderson's Supergrid and David Coulthard's forthright opinion.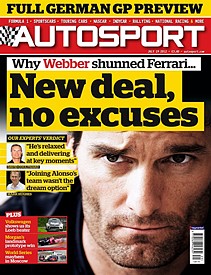 Mark Hughes column - How one F1 star of the future, currently languishing mid-grid, is torn between committing to his small team and holding out for a frontline drive...
Volkswagen WRC update - The German marque is coming to the WRC in 2013 and has been doing everything in its power to make sure the Polo R WRC is ready to take the fight to Citroen and Ford. David Evans investigates.
Adrian Quaife-Hobbs interview - The Briton, part of the famed Quaife transmission family, is on the verge of wrapping up the Auto GP title. Peter Mills talks to the 21-year-old about his season - and the future.
Formula Renault 3.5 Moscow - The Word Series circus headed to an all-new circuit in Russia for their fifth round and Glenn Freeman went along with them. He reports on how Robin Frijns took the points lead.
F3 Masters Zandvoort - The cream of European F3 made the annual trek to Zandvoort and it was Spaniard Daniel Juncadella who rose to the top for Prema Powerteam. Sam Tremayne watched it from the Dutch dunes.
World of Sport - Updates from the international scene, including NASCAR; ADAC GT Masters; Brazilian V8s; German, Australian and Japanese F3; Superstars; Formula Nippon; Asia-Pacific Rallying
F2 Brands Hatch - Wins for Kevin Mirocha - his first at this level - and Mihai Marinescu in Kent were witnessed by Andrew van de Burgt.
ELMS Donington Park - There might have only been 13 cars for Britain's round of the ELMS but it was a cracking race won by the OAK Racing Morgan-Nissan of Bertrand Baguette, Dimitri Enjalbert and Olivier Pla. Gary Watkins was there.
Introducing - Swiss sportscar racer Mathias Beche is leading the European Le Mans Series standings after some impressive drives in the TDS ORECA-Nissan LMP2 machine.
Sports Extra - British small-volume manufacturer Ariel announces a race series for its super-quick and super-light Atom in 2013; Plus full preview of this weekend's Silverstone Classic meeting.
From the archive - We look back on the only time an American driver won a round of the British Touring Car Championship - when Dan Gurney guided a massive Ford Falcon to victory at Oulton Park in 1963.
Race of my Life - BTCC supremo Alan Gow chooses a humdinger at Bathurst in the early 1970s as the best race he ever saw.
Read this week's AUTOSPORT digital magazine.