Britain's biggest motorsport event, the British Grand Prix, takes place at Silverstone this weekend and the 46th running of our round of the Formula 1 World Championship could well be a classic.
This week's AUTOSPORT Magazine carries a 28-page preview guide to this season's ninth GP, with all the usual facts, stats, track guides, TV times and expert analysis. As well as that, we've chatted to Sir Frank Williams about his favourite moments, including the breakthrough win in 1979 and the late-'80s/early '90's Mansell-mania phenomenon. We also outline the hopes of a home victory from the three lions, Lewis Hamilton, Jenson Button and Paul di Resta, while revealing their favourite British Grand Prix moment.
Mark Hughes column - Our grand prix editor ponders the upgrade made by Red Bull to its RB8 in time for the European GP with the help of his escapologist dog 'Baxter'. You'll just have to read it...
Goodwood Festival of Speed - If it moves and makes a noise, and has a decent provenance and history, it was in West Sussex last weekend for the 20th annual motorsport garden party. Marcus Pye recalls the highlights of another weekend that reeked of two- and four-wheeled fever.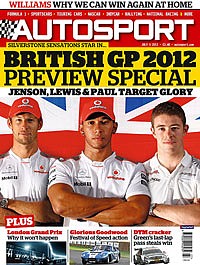 Renault 3.5 Nurburgring - Glenn Freeman travelled to the Nurburgring to watch French Ferrari protege Jules Bianchi score his maiden series win and witness an under-the-weather Nick Yelloly dominate proceedings the following day.
DTM Norisring - What is it about Mercedes ace Jamie Green and the Norisring? The Briton took his fourth win in five years at the Nuremberg street track after a classic last-corner pass of BMW rival and reigning champion Martin Tomczyk. Jamie O'Leary reports.
British/Euro F3 Norisring - The British and Euro Series regulars converged on the Norisring for a weekend spoiled by bizarre decisions from orgnisers, hefty fines for minor indiscretions and a race that had no winner. Marcus Simmons unravels the mess.
Introducing - Meet Italian Ferrari wannabe Rafaelle Marciello who's been doing rather a lot of winning in Formula 3 so far this year.
Sports Extra - After ditching its Formula Renault UK series for 2012, the French marque has been given a deadline of September 1 to take-up its regular place on the British Touring Car support programme. Our news team analyses the implications for Renault; Plus all the week's national-racing news and reports.
From the archive - Recalling the ShellSport Ford Escort Challenge race that supported the 1976 British GP at Brands Hatch.
Rally of my Life - Carlos Sainz looks back on the Sanremo Rally of 1988 in which he made a nuisance of himself among the factory four-wheel-drive Lancias in his rear-drive-only Ford Sierra.
Read this week's AUTOSPORT digital magazine.