F1 2012 might have had six different winners in the first six races, but there's one driver who would certainly have been in the mix to stretch the remarkable stat further still: Robert Kubica. The Pole dominates the front cover and lead news story in this week's magazine, thanks to an exclusive report from the 27-year-old's friend and confidant, the journalist Roberto Chinchero.
With speculation mounting about Kubica's possible return to racing - and in which discipline that might be - Chinchero brings us up to date on the 2008 Canadian GP winner's progress, as he recovers from the terrible injuries to his right hand and arm in a rally smash in February 2011. Will he regain sufficient use of the hand and arm to allow a return to the cramped confines of an F1 cockpit, or will he have to turn his attentions and talent to rallying or sportscars?
Mark Hughes column - Our ear-to-the-ground grand prix editor expands on the tyre issues of F1 2012, and explains why some cars that qualify high-up don't fare so well in races, and vice versa. It seems it's all to do with how much downforce the cars generate and how that then affects the life of the rubber.
F1's missing millions - With the parlous state of the world economy at present, Formula 1 is bound to be suffering a financial fall-out, with dwindling sponsorship funds and manufacturer disinterest. Edd Straw and Dieter Rencken examine how the sport is coping, while offering a brief financial analysis of each of the current teams.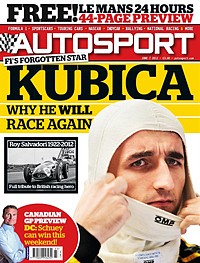 IndyCar Detroit - Despite a two-hour delay to repair a track surface that broke up badly, Ganassi ace Scott Dixon kept it all together to take his first win of 2012 and lead home team-mate Dario Franchitti for a second-straight one-two for Chip's team.
Renault 3.5 Spa - There was no pain if you were a Dane at Spa last weekend, with Marco Sorensen (Lotus) and Kevin Magnussen (Carlin) keeping their cool to both record maiden wins in the series. Glenn Freeman braved the Belgian weather to record the action.
DTM Spielberg - The longest race in the series' 27-year history took place around the former A1-Ring, with Edoardo Mortara becoming the first Italian since Nicola Larini in the mid-1990s to win a race. Jamie O'Leary watched the Team Rosberg youngster hold off former champions Martin Tomczyk and Gary Paffett to secure Audi's first win of the year.
Blancpain Endurance Silverstone - The Marc VDS BMW Z4 GT3 of Bas Leinders, Maxime Martin and Markus Palttala kept up its perfect start to the season with another win around a rain-lashed Silverstone.
WTCC Algarve - Another double victory for the RML Chevrolet Cruze machines, courtesy of Yvan Muller and Alain Menu, although the Swiss veteran's car didn't look the same as usual...
Sports Extra - All the national-racing news and comment, plus nine pages of reports from all the bank holiday racing action.
From the Archive - With the DTM's return to Austria last weekend, we trawled the archive to find the one-off visit to the Salzburgring in 1987, which just so happened to stage a bizarre championship showdown between Eric van de Poele, Marc Hessel and Manuel Reuter.
Race of my Life - Juan Fangio II, nephew of the great five-time F1 world champion Juan Manuel Fangio, tells Tony Watson why his win from the pitlane in the IMSA Eagle-Toyota at San Antonio in 1990 was his favourite event.
Read this week's AUTOSPORT digital magazine.