Two races of vastly differing nature: the Monaco Grand Prix and the Indianapolis 500. Both are covered in depth in this week's AUTOSPORT magazine.
From Monte Carlo, Mark Hughes analyses a close race won by Mark Webber and Red Bull, but wonders how much of a race it actually was. In true Hughes style, he also unravels the various intricacies underlying the event to reveal other parties that could have trumped the Australian to win Formula 1's glamour race.
Off-track, one of the big questions of the weekend was the future of Lewis Hamilton. In his weekly column, grand prix editor Hughes tries to delve into the mind of the 2008 world champion, and wonders whether we should rule out a partnership with the driver and team we would least expect him to want to join...
Meanwhile, in news Edd Straw names the driver most expect to see at McLaren if Hamilton should move on. The team has already run 15 Brits at world championship grand prix events, and it could be another of that nationality...
Indianapolis 500: It was a good weekend for drivers from the UK, with Dario Franchitti winning the big one in the USA. Mark Glendenning reports from the Brickyard on a remarkable third triumph for the Scot, who scorched back up the field after being spun around in the pits.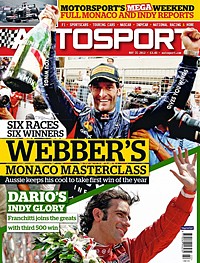 Monaco supports: Back with the beautiful people (well, if that's what you can call Simon Arron, Glenn Freeman and Adam Cooper), the Union Flag was flying high in the Mediterranean Principality. Glenn saw Sam Bird soaring to Formula Renault 3.5 success, Simon witnessed a Jolyon Palmer reversed-grid GP2 win (after Johnny Cecotto Jr had broken his duck), and Adam reports on Sean Edwards' Porsche Supercup glory. We carry the GP3 action too.
Acropolis Rally: Greece was the word for the World Rally Championship boys last weekend (as well as the world's economic correspondents). David Evans was on hand to watch yet another Sebastien Loeb win for Citroen, after Jari-Matti Latvala was allowed a short spell in front.
Formula 2 Nurburgring: There was action at the Nurburgring, so we sent our Superstars correspondent Andrew van Leeuwen to watch some cars without roofs. He saw wins for Mihai Marinescu and Christopher Zanella as Luciano Bacheta's winning streak finally came to an end.
GT1 World Championship: down in Spain, the GT1 World Championship was in action. McLaren might not have won in Monaco, but at least its MP4-12C GT3 was victorious at Navarra, thanks to Frederic Makowiecki and Stef Dusseldorp.
Introducing: Our bid to bring you the latest talent from around the globe brings you a young man named Melville McKee who comes from... pretty much most places around the globe. Although he does race as a Brit, and with some proper family pedigree.
World of Sport: NASCAR from Charlotte and Indy Lights from Indianapolis top the bill this week, with Formula Nippon and some GT action.
Sports Extra: all the action from the UK scene, with a clampdown on driving standards from the MSA and some fantastic machinery in the Masters Historic Festival on the Brands Hatch Grand Prix Circuit.
From the archive/Race of my life: Our back-end-of-the-mag double bill brings you a couple of nuggets from when the engines pulled the cars along at Indy instead of pushing them. We bring you Rodger Ward's Race of my Life, and recount a thriller from 1960.
Read this week's AUTOSPORT digital magazine.