Well, they went to Bahrain. Some of the world was forecasting disaster; some of the world said that the two things are separate and should never be mixed.
Yep, Red Bull and champagne is a combination that's definitely an acquired taste, but Sebastian Vettel cast off all the speculation that his team was wading into a poor 2012 season by winning at the Sakhir circuit and pole-vaulting himself to the top of the championship table.
In this week's AUTOSPORT magazine, our grand prix editor Mark Hughes reports from the desert on all the subtleties behind a weekend that continued the topsy-turvy pattern of the 2012 season. If you don't like mixing politics with sport, then read his full, politics-free account of an action-packed race.
Mark Hughes column - And if you think politics are inextricably entwined with sport, then read Mark's column, in which he wonders how much damage F1 has done globally to its reputation - whether justified or not.
Vatanen on Bahrain - The situation is also covered in our news pages, with former FIA presidential candidate Ari Vatanen questioning the reasons for going to the race, and Jean Todt - the man who beat him (albeit not in the 1981 World Rally Championship) - defending the event.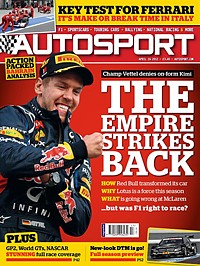 Bentley eyeing GT comeback - Don't worry, there's plenty of racing news too, with a focus on the upcoming F1 test at Mugello, the latest on Bentley's sportscar programme and updates on the issues in IndyCar.
GP2 Sakhir - It wasn't just F1 in Bahrain. Simon Arron reports on the action from the main feeder series, where Davide Valsecchi took a double triumph.
World GT1 Zolder - Our sportscar doyen Gary Watkins thinks Zolder is an unfairly-maligned track, so he was happy to trot off to Belgium to eat frites-and-mayonnaise and watch some supercars flying round. He saw a Porsche victory in the end.
DTM preview - Once again we're sending Jamie O'Leary and his beard to cover the DTM this season. He gears up for the season by reporting on BMW's return, while HWA technical chief Gerhard Ungar lifts the lid on the new Mercedes C-coupe.
Brad Keselowski - He's a new name to most Europeans, but this guy is cementing his place as a NASCAR star with Roger Penske's team. Andrew van de Burgt interviews him on his eventful career to date.
World of Sport - Action from NASCAR, Aussie V8s, European GT3s and Superstars.
Sports Extra - News and reports from around the world of national motorsport.
From the archive - Four different drivers and four different constructors have won the first four grands prix of the season. We look back at 1983, the last time that happened.
Race of my life - Ricardo Zonta has done a lot of racing in a lot of different arenas over the years. And you're right - his best wasn't one of his BAR outings...
Read this week's AUTOSPORT digital magazine.