Nobody's fooled. As we head into this weekend's Chinese Grand Prix, Fernando Alonso is probably laughing about the fact that he will have spent three weeks at the top of the Formula 1 points table after his stunning win in Malaysia in a dog of a Ferrari.
So nobody is expecting the Spaniard to still be leading as the circus leaves Shanghai. Instead they expect him to try and maximise points before the real work can be done to the F2012 in time for the European season.
This week's AUTOSPORT includes an analytical feature by Edd Straw, looking into the situation at Ferrari and what the squad can do to turn its season around.
David Coulthard column - In his exclusive column, DC also assesses the situation at Maranello and concludes that it's something he'd rather like to see reversed.
Another team needing a result - and fast - is Lotus. In news this week the focus is on the team's race against time to deliver heavy points in the wake of the break-up with Lotus Cars. Only then can the team attract the backing it needs to break back into the top dogs.
Mark Hughes column - And yet another team needing a result is Mercedes. Qualifying's all well and good, but the races have been pretty poor to date. In his weekly column, our Grand Prix Editor Mark Hughes delves into the reasons why.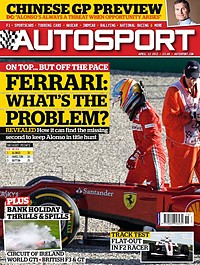 Allan McNish - Here's one man with plenty of results under his belt. In this week's magazine he talks to AUTOSPORT sportscar guru Gary Watkins about what it means to finally be able to attack a World Endurance Championship with Audi.
Formula 2 track test - Another man with plenty of results - albeit in Formula Vee - is office quickboy Ben Anderson. So we thought the time was ripe to send him up to Snetterton to test the Williams-Audi Formula 2 car on the eve of the season opener at Silverstone this weekend. Read what he thought.
Brembo - Here's an Italian company whose main focus is on making cars stop, rather than making them go. Andrew van Leeuwen went to the factory to find out more.
IRC Circuit of Ireland - The IRC stopped off in the Emerald Isle for what turned out to be a cracking battle between the Skodas of Juho Hanninen and Andreas Mikkelsen. David Evans wrapped up warmly and loved every moment (except getting lost in Armagh).
British F3 Oulton Park - The opening round featured a return to action for veteran AUTOSPORT journo Marcus Simmons, who first covered an F3 race 11 months before Carlos Sainz Jr was born. He shuffled back to his nursing home after watching great wins for Jack Harvey and Felix Serralles. Meanwhile, Ben Anderson got drenched watching Porsche and BMW win the GT races.
World GT1 Nogaro - Belgian team WRT was on top form in France with its Stephane Ortelli-led team. Our Gascogne correspondent Charles Godefroy reports on the action.
World of Sport - Action from FIA European GT3 and New Zealand V8 SuperTourers.
Sports Extra - News and reports from around the world of national motorsport.
From the archive - After the sad death of 911 creator Ferdinand Porsche, we look back on Dan Gurney's 1962 French GP win for the marque.
Rally of my life - Celebrated co-driver Mike Broad remembers an event that took rather longer than your average WRC event of today...
Read this week's AUTOSPORT digital magazine.