The Malaysian Grand Prix; What a gripper! This week's AUTOSPORT magazine delves into a race that provided just the kind of virtuoso performance you expect from Fernando Alonso - and that you don't expect from a 22-year-old Mexican in a Sauber.
As well as the usual detailed report from grand prix editor Mark Hughes, plus technical updates and race stats, we detail in our news pages why Alonso's hopes of a challenge for the world championship really hinge on the effectiveness of an update that Ferrari hopes to introduce for the Spanish Grand Prix.
We also cover the travails of Alonso's team-mate Felipe Massa with a unique insight from former Scuderia racer Ivan Capelli into whether the Brazilian can rescue his situation. Otherwise there's a Sauber driver named Sergio Perez who may be ready to step up.
Mark Hughes column - Meanwhile, in his weekly column, Hughes focuses on the advantage that Mercedes accidentally stumbled upon while trying to cure its ills of two years ago, and tells us why it reminds him of an instance that put another team on the path to world championship glory.
BTCC preview - It's British Touring Car Championship time this weekend. Our office Porsche 917 fan Kevin Turner, in between dreaming of great Pedro Rodriguez drives, has put together a full preview. As well as detailing the leading contenders, he looks back on the 1987 season with ITV4 tin-top expert Tim Harvey, and finds a season of change that rather parallels the current era.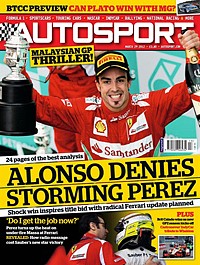 IndyCar St Petersburg - Over in the States, the IndyCar Series kicked off its season on the streets of St Petersburg. Our resident Australian Mark Glendenning loves the series so much that we bought him a one-way ticket across the Atlantic to stay there and cover it. He reports on Helio Castroneves' victory at the late Dan Wheldon's adopted home.
GP2 Sepang - It's the biggest comeback since Michael Schumacher's: We've got Simon Arron covering the GP2 Series this year. Now, some of you may know that Simon first started covering Formula 3000 (GP2's predecessor) quite a few years before James Calado was born. While Calado won the reversed grid race at a steamy Sepang, it was Luiz Razia (who seems to have been around so long that he must have been covered by Simon in the 1985 F3000 season!) who took the main honours.
World of Sport - NASCAR Sprint Cup, Indy Lights, British Rally Championship, Brazilian V8 Stock Cars.
Introducing - How many drivers win first time out at Bathurst...? Well Nick Percat did, and we find out more about him.
Sports Extra - All the national motorsport news, including a big boost for Formula Ford and the start of the Britcar season at Silverstone.
From the archive - Sticking with the Australian theme, we look back at Holden's only win in the BTCC.
Rally of my Life - Multiple British Rally champion Mark Higgins picks his favourite event from his career.
Read this week's AUTOSPORT digital magazine.