As the second winter test of F1 2012 got underway at Barcelona this week, Mercedes revealed the car that has to elevate the team higher into Red Bull, McLaren and Ferrari territory.
In this week's AUTOSPORT magazine technical correspondent Gary Anderson gets under the skin of the MGP W03 - the three-pointed star's third go-it-alone machine - and reports that the combined talents of Ross Brawn, Aldo Costa, Geoff Willis and Bob Bell appear to have ironed out the problems associated with last year's racer.
While on the subject of Mercedes' big year, our news team analyses whether seven-time world champion Michael Schumacher will stay beyond the end of his current three-year tenure. There certainly seems to be a willingness all round, but the performance of the MGP W03 may be crucial.
Finally, Edd Straw and Gary Anderson sat down with team principal Brawn and were treated to a candid appraisal of the team's position and its desire to accept nothing less than a dramatic improvement in 2012.
Mark Hughes column - Our grand prix editor explains why ousted racer Jarno Trulli had lost none of his speed and that it was sensitive nature and specific car requirements that were his downfall.
Mercedes in motorsport: a diamond jubilee - Pictorial highlights celebrating the 60th anniversary of the German giant's return to international racing after World War Two, including grand prix success, Le Mans victories and GT title glory.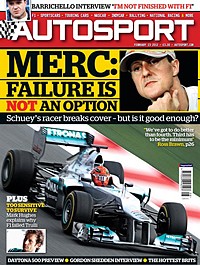 Rubens Barrichello interview - The Brazilian record-breaker tells Jonathan Noble that he doesn't believe his days in F1 are over forever, despite him closing on an IndyCar ride for 2012.
Jules Bianchi interview - The Frenchman failed to land the GP2 title after two seasons of trying, but he's been handed a lifeline in the shape of a Force India reserve driver role. He tells Glenn Freeman that he has to make the most of it.
IRC preview - David Evans looks ahead to the sixth season of the Intercontinental Rally Challenge, picking out the men to watch and the events not to miss, as well as chatting to reigning champion Andreas Mikkelsen ahead of his title defence with Skoda UK.
Daytona 500 preview - NASCAR's blue-riband season-opener at the hallowed Florida speedbowl kicks off a gruelling 36-race schedule this weekend, so Chuck Bradbury Sr gets a few tips on how to conquer the race from former winner Jamie McMurray, while also catching up with Kasey Kahne, who's finally landed a Rick Hendrick Chevrolet ride to bring a bit of continuity to his stock car career. Bradbury also unravels some of the key changes to the Sprint Cup regulations for 2012.
Gordon Shedden interview - Can the British Touring Car Championship's nearly-man - the third most prolific race winner not to take the title - finally land the crown in 2012? Kevin Turner asks him what he needs to do.
Best of British - We reveal the names of a bunch of young and talented home-grown racers who you should look out for in 2012 and beyond. Is the next Lewis Hamilton, Jenson Button or Paul di Resta among their number?
Sports Extra - British single-seater winners Rupert Svendsen-Cook and Callum MacLeod look to reignite their careers in sportscar racing, with a move to the British GT ranks on the cards for this year.
National Focus - Marcus Pye looks back over the past 60 years of the Pomeroy Trophy - one of Britain's most quirky and well-loved motorsport events - as it celebrates its diamond jubilee this year.
From the archive - On the eve of 1950s grand prix great Tony Brooks's 80th birthday we look back on his remarkable victory for Connaught at the 1955 Syracuse GP - the first such success for a British driver and car since 1924.
Race of my life - Former F1 racer-turned circuit owner Jonathan Palmer tells Kevin Turner why the 1988 Monaco GP - in which he finished fifth for Tyrrell - was the race of his life.
Read this week's AUTOSPORT digital magazine.