Kimi Raikkonen is back. He was on good form at last week's Jerez test, his first 'proper' F1 run since he was dropped by Ferrari at the end of 2009, and he was on good form too when he spoke to our own Edd Straw for a five-page story in this week's AUTOSPORT magazine.
OK, you don't expect the usually-taciturn 'Iceman' to blether away for hours on end and pontificate on everything from the Eurozone crisis to the encouraging upsurge in sales of vinyl records, but there are some proper classic Kimi moments.
Here is a man who really doesn't care what others think of him, but who we are told is learning to project a slightly different face to the world. It's a fascinating conundrum and adds further to the enigma of a man who is one of the talking points of this F1 pre-season.
Raikkonen also features in our news pages, where he reveals that a full-time switch to NASCAR was perhaps closer than anyone expected... Among other leading stories, there is worry at Ferrari over the early form of its F2012 - our full story tells how maybe the team has gone too radical in its bid to escape its conservatism of recent years.
Mark Hughes column - Our grand prix editor had one eye on Raikkonen, as did everyone else, but this week he writes of the Finn's under-the-radar Lotus team-mate Romain Grosjean. The Franco-Swiss impressed with his form in testing at Jerez; is it time for him to deliver?
Georges Boillot - Hughes has also been looking into the past, and this week tells the story of a man who thrilled not only France but the whole racing world with his exploits a century ago. It's a compelling tale from a different world.
Peugeot's LMP1 campaign - Boillot, who starred with Peugeot, would probably not have approved of the marque's decision to can its 908 programme. Our sportscar doyen Gary Watkins talks to the project's leading lights to assess its success or otherwise.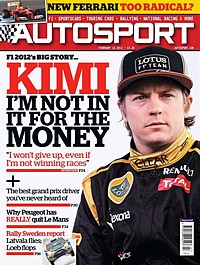 Justin Wilson - The tallest Yorkshireman in IndyCar chats to his old buddy Simon Strang about the difficulties faced in his recuperation from spinal injury last summer, and his joy at Daytona 24 Hours victory. And reveals that he's not as tall as he used to be (albeit still considerably lankier than 'Strangy')...
IndyCar's up-and-comers - Completing a US open-wheel double bill, Mark Glendenning features four up-and-comers of IndyCar who could prove a threat to Dario Franchitti, Will Power, Scott Dixon and co in the coming seasons.
Racing in China - We've been keeping Glendenning busy this week, and the office's biggest V8 Utes fans has also written about the struggle faced by international racing's leading series to crack the world's biggest car market. Will the Chinese ever understand racing?
ART Grand Prix - The French team has been the class act of Formula 3, GP2 and GP3 at varying stages over the past decade. But there's far more to its success than putting the best drivers with the best engineers; you've got to mould them to be the best, as Glenn Freeman describes.
James Calado - While he was writing about ART anyway, we thought we'd get Freeman to interview the squad's new GP2 recruit. Hot British talent Calado has been runner-up in Formula Renault UK, British F3 and GP3... and now he's aiming for one better.
Rally Sweden - We made sure David Evans wrapped up nice and warmly for his trek north to cover the WRC's snow rally. And it was a thriller, thanks to two Finns who used to be team-mates...
World of Sport - Action from the Toyota Racing Series in New Zealand.
Sports Extra - News from around the world of national motorsport, including Lotus Elan celebration races and a leading Formula Renault UK driver signing.
National focus - Jonathan Palmer is best known these days for F2 and his group of circuits, but at the bedrock of the sport his MotorSport Vision Racing club is as significant as anything. The doctor talks to Ben Anderson and tells of his prescription for grass-roots racing.
From the archive - We're not too keen on Peugeot for pulling out of sportscar racing, but you can't be angry for too long when you look back at the 205 T16 rally beast. We look back at its first win.
Race of my life - Former F1 cult hero Takuma Sato has had a few memorable races in his life (remember him passing Fernando Alonso around the outside in Montreal, in a Super Aguri?). Here he picks his favourite...
Read this week's AUTOSPORT digital magazine.