It's the last of our four successive issues paying tribute to great British Formula 1 legends. And, after Stirling Moss, Jim Clark and Jackie Stewart, it's Nigel Mansell's turn to step into the limelight.
Mansell's old Formula 1 rival (and, briefly, fellow BTCC panel-basher) Derek Warwick is guest editor, and describes what a superb champion and hard man to beat he was (even so, he couldn't catch Warwick early in the 1978 British Formula 3 season).
Veteran F1 journalist Mike Doodson takes a trip back to look at Mansell's sometimes-awkward Lotus and Williams years; Gary Watkins tracks down a host of those who worked with 'Red Five' for some incredibly candid comments; North-Eastern F1 press room double act Mark Hughes and Tony Dodgins (thanks goodness they don't write in a Geordie accent) present the cases for and against Mansell greatness; and Edd Straw profiles the Williams FW14B that carried 'Our Nige' to the 1992 championship.
Mark Hughes column - In our 'Mansell' issue, it's appropriate that our grand prix editor should choose Williams as his topic. He wonders whether 2011's performance was so disastrous that the only way is up from here.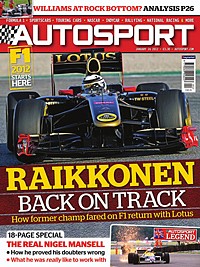 Williams without Patrick Head - And there's more Williams! Now that the original co-principal of the team has stepped out of the F1 team, Edd Straw talks to chief operations engineer Mark Gillan about the way forward.
Monte Carlo Rally - January means we send David Evans from the rolling hills of Shropshire to the French Alps. With the event being back on the WRC calendar, it was always likely to bring yet another success for Citroen's Sebastien Loeb...
Daytona 24 Hours preview - For the past few years it's been a great race full of top blokes driving really ugly cars. Now they've had a facelift (the cars that is, not the blokes). Gary Watkins takes a look at how the Grand-Am scene is progressing on the eve of its blue riband, and casts his eyes back at the first running of the Daytona enduro, back in 1962.
World of Sport - Action from the Toyota Racing Series in New Zealand and the Brazil F3 Open at Interlagos.
Sports Extra - Bad news: Manor quits Formula Renault UK. Good news: Manor joins Renault Eurocup with MP, and the BMW Z4 comes to British GT.
National focus - We thought life must be a bit easy for Rob Huff with only 310bhp through the front wheels for his day job, so we reckoned it was time for him to try a 987bhp monster - and chuck it into corners on the handbrake. Yep, it's Time Attack.
From the archive - Derek Warwick this time looks back at an occasion when he beat Nigel Mansell: the 1998 BTCC thriller at Donington Park.
Race of my life - Jason Plato didn't win the BTCC in 2009, but paradoxically the final round provided a highlight of his career.
Read this week's AUTOSPORT digital magazine.