After last week's Stirling Moss special, we've done it again with the retro-fest, dedicating another issue to a British Formula 1 legend. This time, the man some believe was the most natural talent of all time; Jim Clark.
IndyCar champion and guest editor Dario Franchitti takes centre stage as he reveals why Clark is racing hero, and what it meant to emulate his achievement of winning the Indianapolis 500.
Edd Straw speaks to Cedric Selzer, Clark's Lotus mechanic during the Scotsman's dominant 1963 title-winning season, to find out what made him so special. Meanwhile Paul Fearnley looks in-depth at the last few months of the two-time world champion's life.
Kevin Turner profiles the Lotus 49, the car in which Clark had a 50 per cent win rate at the time of his death in 1968, plus we go back to 1960 to find out what AUTOSPORT's Chris Nixon made of Clark during the early stages of his career as a Formula Junior driver.
Mark Hughes column - Our grand prix editor gives his forthright view on Toro Rosso dumping drivers Sebastien Buemi and Jaime Alguersuari in favour of promising youngsters Jean-Eric Vergne and Daniel Ricciardo.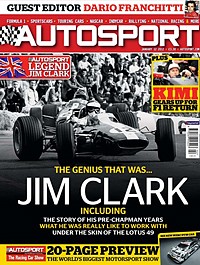 AUTOSPORT International guide - Unless you've managed to get yourself over to South America for the Dakar Rally, there is only one big event going on at the moment; AUTOSPORT International. If you're heading up to Birmingham's NEC this weekend, this is the 20-page guide you won't want to be without. If you're not, you can see what you're missing.
WRC Preview - Next week the World Rally Championship kicks off for its 2012 edition, and praise be, its traditional opening event; the Monte Carlo Rally, is back after a three-year absence. David Evans speaks to Sebastien Loeb about his quest for an unprecedented ninth world title, asks just who can beat him, and gets himself excited about the return of 'The Monte'.
World of Sport - find out what's been going on during the first full week of the Dakar Rally as the Mini v Hummer fight at the front intensifies.
Sports Extra - Formula Ford stalwart Van Diemen quits the category while Tim Harvey looks set for a return to British GTs. All this and more...
National Focus - Thanks to a little help from BMW, we arranged for Golden Helmet winner Garrie Whittaker to drive an M3 GT4 and a Z4 GT3 at Valencia just before Christmas. Find out how he got on.
From the archive - This is a Clark issue, after all, so we revisit his relationship with the Lotus Cortina; the Scot's 1964 BTCC crown being the highlight.
Race of my life - Before becoming a legendary team boss, Ray Mallock was a pretty handy driver in his own right. He remembers winning a 1976 Shellsport F5000 race at Snetterton - in an F2 car!
Read this week's AUTOSPORT digital magazine.