Britain's first Formula 1 superstar graces AUTOSPORT's first cover of 2012 as we pay tribute to his short but remarkable career.
In the first of a series of features celebrating Britain's best grand prix drivers, we've dedicated 16 pages to Mr Motor Racing's impact on the sport during the 1950s.
Kevin Turner looks at his first year in a proper car, the Maserati 250F. That 1954 season marked a rise to prominence for Moss, who soon found his name on everyone's shopping list.
Statistically, Moss's career was staggering, with hundreds of wins in dozens of different cars. We present the highlights - which still needed four pages to convey.
Renowned racing historian Paul Fearnley analyses the rivalry the never was: Stirling Moss versus Jim Clark. The careers of the two giants barely overlapped but, as Moss tells Fearnley, it would have made for a thrilling scrap.
Finally, Edd Straw lavishes praises on the British-built Vanwall racers of 1957-1958, in which Moss won six grands prix and helped lift the inaugural constructors' world title.
Mark Hughes column - Technical talisman Patrick Head won't be part of Williams Grand Prix Engineering's trackside team in 2012, so Hughes looks back on his stellar 30-plus years in the sport.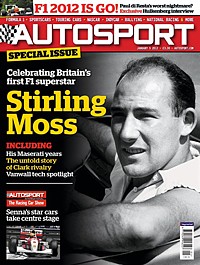 Nico Hulkenberg interview - After a year on the sidelines, former Williams racer Nico Hulkenberg will be on the grid again in 2012 thanks to his not-unexpected deal with Force India. Edd Straw talks to Paul di Resta's new team-mate.
Porsche 911 GT3 R Hybrid track test - Porsche Supercup star (and German Carrera Cup champion) Nick Tandy gets the behind the wheel of the German marque's hybrid 911 GT3 racer and comes away hugely impressed by the technology.
AUTOSPORT International preview: Senna exhibition - One of the key attractions at next week's AUTOSPORT International racing car show in Birmingham will be an exhibition of six of the cars that shaped Ayrton Senna's career. It'll be a must-see part of the indoor extravaganza that kickstarts the 2012 season.
Fastest laps of all British Isles circuits in 2011 - From Anglesey to Thruxton, via Croft and Pembrey, there were 30 circuit configurations used during 2011. Marcus Simmons presents the fastest men at all of them and talks to some of them about their efforts.
Dakar Rally update - The world's toughest rally is well under way in South America. David Evans looks at who's been making all the right noises and explains how the famous event has settled into its new home out of Africa.
Sports Extra - The Lotus 18 in which Stirling Moss won the 1961 Monaco GP is due to return to racing in historic circles during 2012.
National Focus - Our club racing experts analyse which were the best and worst new series during the 2011 season.
From the archive - Stirling Moss won the Nurburgring 1000km four times in five years. Here, we recall his fourth and final Nordschleife endurance win in 1960 - at the wheel of Maserati's Tipo 61 'Birdcage'.
Race of my life- Touring car ace Steve Soper tells Henry Hope-Frost why his unlikely win in the prestigious Macau Guia tin-top event was the race of his life.
Read this week's AUTOSPORT digital magazine.