Nico Rosberg has done everything right. He's driving well at Mercedes, he's outperforming Michael Schumacher, he's working hard with the team and rarely saying anything that could be construed as criticism, and applying his intelligence methodically to the task of moving to the front of the grid.
Whether he is a potential top-liner is still hard to say, as there is still not enough evidence after almost six seasons of Formula 1. Mark Hughes speaks to the German, and attempts to judge whether he has what is takes to become a winner on the assumption that Mercedes one day gives him a winning car.
Sam Michael interview: From a driver to a technical director - albeit one who is no longer a technical director. Sam Michael had his leaving party from Williams after the Singapore Grand Prix as he makes the move to McLaren, where he takes the role of sporting director.
In an interview with Edd Straw, the Australian looks back at this time with Williams, assesses the impact of those who are coming in his wake, and concludes that - despite the lack of results - he didn't do too bad a job in the circumstances. Especially when it came to drinking tea in his garden and nattering about racing with Sir Frank himself...
Mark Hughes column: Back to Mercedes and Mark Hughes, and in his weekly column our Geordie grand prix editor assesses the technical state of play at the moment in the wake of Aldo Costa and Geoff Willis joining the Brackley team. With Adrian Newey continuing to produce brilliant designs for Red Bull, is Ross Brawn having to build a new 'noughties' Ferrari replica of combined talent to combat this?
Petit Le Mans: Gary Watkins headed down to Road Atlanta for Petit Le Mans, which continued the running theme of 2011 of a Peugeot victory and an Audi crashing with a GT car. The French also clinched the Intercontinental Le Mans Cup - some recompense for failing to win the Le Mans 24 Hours this season.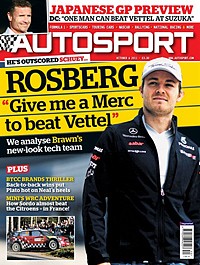 Rally France: The spirit of Paddy Hopkirk and the boys was alive and well in Alsace as Mini came close to a sensational maiden WRC triumph. In the end it was Citroen's Sebastien Ogier who won and, as David Evans reveals, even he was the wrong Sebastien for the partisan crowd.
BTCC Brands Hatch: Honda looked all set to be cruising to the BTCC title, and then along came trouble at Brands and that pesky Jason Plato taking a double win in his Chevrolet. Kevin Turner reports from Kent on the machinations behind the weekend, which leaves us with yet another championship cliffhanger.
IndyCar Kentucky: Penske, Chip Ganassi, occasionally Andretti... It's usually pretty easy to predict which teams will win in IndyCar. Then along comes Ed Carpenter with Sarah Fisher Racing to pip Dario Franchitti at Kentucky Speedway!
DTM Valencia: For a change it didn't rain on the German tin-top series. Well, not on Audi anyway, as Martin Tomczyk put the title beyond the reach of Mercedes' Bruno Spengler, and Mattias Ekstrom's season continued its Indian summer with another dominant win. Jamie O'Leary was on hand.
F2 Monza: Jonathan Palmer's boys flattened those rear wings for a Monza speedfest, where our reporter Jack Nicholls's easy riders were Mihai Marinescu and new champion Mirko Bortolotti.
From the archive/Race of my life: This week's nostalgia-fest comes from those rather different venues of Snetterton and Mount Panorama. In 'From the archive', Jonathan Palmer looks back on reclinching the 1981 British F3 title at a venue he liked so much he bought, while for 'Race of my life' Mark Skaife reminisces about winning the 2002 Bathurst 1000 on a track he arguably owns in the metaphorical sense.
Read this week's AUTOSPORT digital magazine.