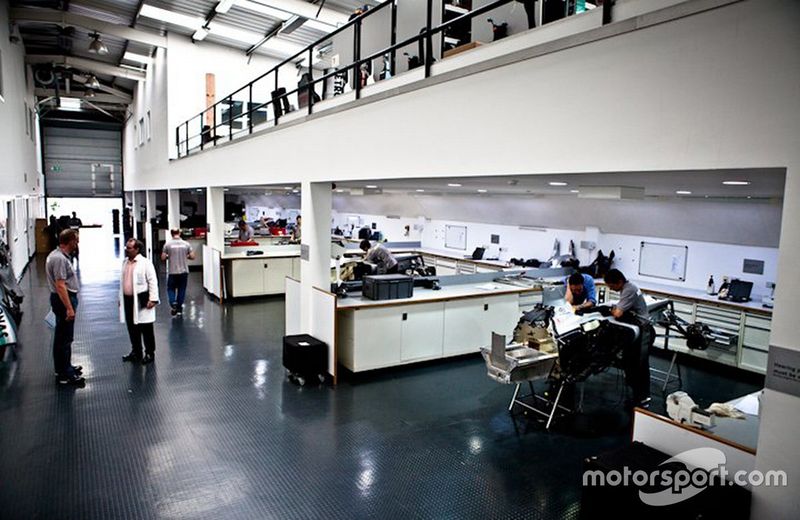 Under the skin of the mobile lab for hydrogen at Le Mans
Hydrogen-powered racing cars are still in their early stages, but as part of a joint venture between the Automobile Club de l'Ouest and GreenGT, the MissionH24 project has been racking up crucial miles to help formulate the rules for a future hydrogen class at Le Mans
MissionH24's goal is explained in its name. The programme has been geared to develop hydrogen technology for competition in the Le Mans 24 Hours, and has come a long way since its LMPH2G first appeared in a practice session for a Le Mans Cup race in 2019.
Reliability has been a major focus for the programme, and GreenGT's technical manager for motorsport Bassel Aslan is confident that performance will continue to improve rapidly.
While it still has some way to go to be regularly beating the conventionally-propelled LMP3 and GT3 machines it faces off against in the European Le Mans Series-supporting Le Mans Cup, the current H24 model remains an invaluable testbed. Here's how its cutting-edge technology works.
Powertrain
GreenGT greatly simplified the powertrain on the H24
Photo by: JEP / Motorsport Images
The main change from the first-generation LMPH2G to the current H24 concerned the powertrain, which "was completely replaced", Aslan explains. A much-simplified configuration now features two electric motors instead of the four used in the LMPH2G. These are powered by three hydrogen tanks to give the car sufficient range.
The car doesn't have a differential. Its motors power the left and right-hand wheels independently, as Aslan explains: "They are connected to a completely independent gearbox for left and right."
A battery acts as a buffer to bolster the fuel cell's dynamic performance and recover braking energy. Aslan says an important development was achieved recently to enhance the battery's thermal behaviour and increase its power limit to 350kW.
With all three tanks filled, the H24 has a range of 45 minutes at full racing speeds.
Cooling and Packaging
Significant cooling is required to ensure the fuel cell and electronics don't overheat
Photo by: JEP / Motorsport Images
Packaging the additional components required to facilitate a hydrogen fuel cell inside the ADESS-03 EVO LMP3 chassis was "a real challenge", explains Aslan. The three hydrogen tanks – placed on either side of and behind the driver – combined with the ancillaries involved with the fuel cell, motors and electronics powering it (not to mention the battery) mean there is a significant requirement for cooling.
Although a fuel cell system is more efficient than a thermal engine, it is not designed to be heated up in the same way – "You don't have exhaust gases getting out of it, like in an [ICE] engine evacuating a lot of heat, so all this heat will accumulate in this fuel cell" – and can be damaged if temperatures rise too steeply.
"The fuel cell needs to be cooled, they need big radiators that enter directly in conflict with the aerodynamics," says Aslan. The H24 also features a dedicated water air exchanger, used to cool air, which is important for the fuel cell's functionality.
Given that the side-mounted hydrogen tanks are exposed to incidents, vigorous crash checks had to be passed for the car to meet safety standards and "ensure this is a safe structure", says Aslan: "Even in case of an accident they can survive up to a certain level without being a danger for the surrounding marshals, the other people around the circuit."
The refinement in the powertrain has also helped free up space and resulted in "a significant weight reduction" relative to the LMPH2G, and H24's packaging will continue to shrink as the programme matures. Fuel cell system elements, explains Aslan, are "already getting smaller and more compact", allowing more freedom to integrate components in a manner befitting of optimal weight distribution and aerodynamics.
In-car controls
Richelmi has no clutch or gears inside the cockpit, making it a very different experience to drive
Photo by: JEP / Motorsport Images
With no clutch and no gearshifting, the experience inside the cockpit for driver Stephane Richelmi differs considerably from conventional prototypes. The opportunity for the driver to control the left and right wheels independently is "an advantage we have in our system", believes Aslan.
"You can imagine all the reflecting possibilities of traction control, torque vectoring," he says. "Even if in certain championships they are banned, since we are out of the categories and we are one unique car for the moment, we are getting benefits of this and the target is to improve the performance."
Running in a special 'Innovation' class outside the remit of conventional LMP3 rules, the H24 managed lap times comparable to GT3 cars in the Portimao Michelin Le Mans Cup race last year. Richelmi can tune the traction control system to improve power distribution and stability over kerbs.
Chassis
The ADESS chassis has been kept standard "as much as we can, because it's not [part of] our added value", explains Aslan, although there have been some necessary adaptations.
"With a completely different system integrated you cannot keep it exactly the same, so it's modified to be adapted to our car," he says. "But I would say we have not invested a lot of development there. It's not our war to go in this direction."
Refuelling
The MissionH24 team has its own bespoke fuelling station built by TotalEnergies
Photo by: JEP / Motorsport Images
The H24 can be refilled in three minutes from a specially developed station built by TotalEnergies. Keeping the pressure (the hydrogen tanks are designed to handle 700bar) and temperature under prescribed limits while maintaining a consistent flow rate of hydrogen is a constant challenge.
"When you press the hydrogen in those tanks you are increasing the temperature of the gas and there are limits that you should not exceed, otherwise you can damage the tank," Aslan says.
The TotalEnergies system makes safety a top priority, with automatic procedures in place to reduce the flow as needed. Even when the fuelling system is engaged, Aslan explains, "not even a gram of hydrogen will go out before you have the lock of the plug giving a green light to verify that everything is sealed and closed".
Increasing flow rates within the thermal limits is a planned development phase that Aslan hopes will mean the H24 loses less time in the pits: "We are working with TotalEnergies on how to cool down the gas and this will help a lot to enhance radically the time of refuelling and getting closer and closer to the refuelling of classical [ICE] cars."
Stats
Drivetrain: Three hydrogen tanks, one fuel cell system, two electric motors
Peak Power: 550kW
Tank capacity: 8.6kg of hydrogen
Storage pressure: 700bar
Weight: 1416kg
0-62mph: 3.4s
Fuelling is designed to be safe, first and foremost, but Aslan hopes it can improve speed too
Photo by: JEP / Motorsport Images
Subscribe and access Autosport.com with your ad-blocker.
From Formula 1 to MotoGP we report straight from the paddock because we love our sport, just like you. In order to keep delivering our expert journalism, our website uses advertising. Still, we want to give you the opportunity to enjoy an ad-free and tracker-free website and to continue using your adblocker.
Become a subscriber.
Disable your adblocker.