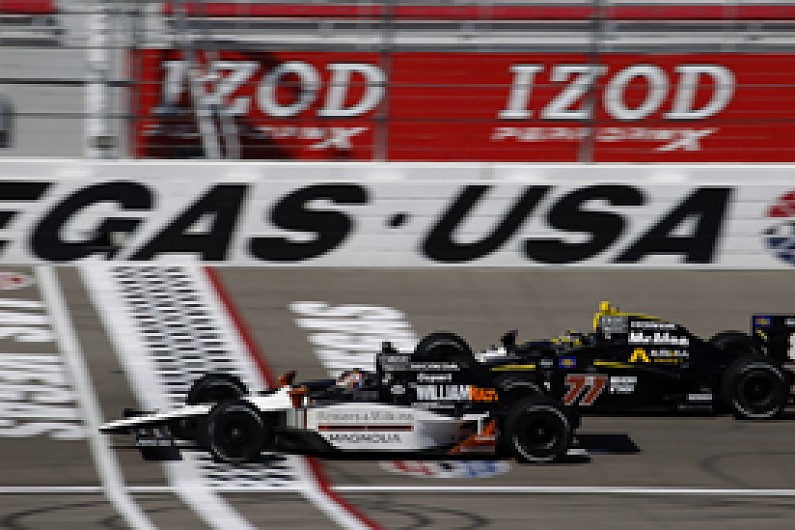 IndyCar has confirmed that Dan Wheldon was killed by a head injury sustained through contact with a catch fencing pole in his crash at Las Vegas in October.
The series announced the initial results of its investigation into the Las Vegas crash today, and President of Operations Brian Barnhart confirmed that Wheldon had suffered two significant blows to the head during the accident, the second of which was unsurvivable.
"The chassis of the [Wheldon's] #77 impacted a post along the right-side of the tub and created a deep defect in the tub that extended from the pedal bulkhead, along the upper border of the tub, and through the cockpit," Barnhart said.
"As the race car passed by, the pole intruded into the cockpit and made contact with the drivers' helmet and head. Dan's injury was limited to his head injury.
"Dan appeared to suffer two distinct head forces. The first head force created a level of Head Injury Criterion, also known as a HIC number, that normally does not produce any injury.
"During the initial crash sequence, the accident data recorder measured 12 or 13 impacts. During that timeframe one of those impacts measured a measurable HIC number for Dan - that's the number that does not normally cause injury.
"The number was low enough. The second force was a physical impact, and it was the second force that caused a non-survivable blunt force injury trauma to Dan's head."
The series said that Wheldon had been travelling at 224mph just before the accident, but had managed to slow to 165mph immediately before the impact with the car of Charlie Kimball.
The impact was measured at G-forces of 24 longitudinal and negative 23 vertical.
The full report can be found here.