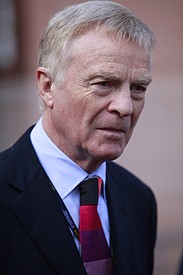 IndyCar chiefs must take a 'calm and scientific' approach to investigating safety issues in the wake of Dan Wheldon's fatal crash, claims former FIA president Max Mosley.
Amid intense scrutiny this week about the lessons that can be learned from the events at the Las Vegas Motor Speedway, where Wheldon was killed after being involved in a 15-car pile-up, Mosley thinks it vital that there are no knee-jerk reactions to the tragedy.
Instead Mosley, who was head of the FIA when Ayrton Senna and Roland Ratzenberger were killed at the 1994 San Marino Grand Prix, thinks that a more measured approach is the best way forward.
"I think the start is you have to take a calm and scientific approach, and look at all the things you can do to make it less likely that somebody gets hurt," said Mosley during an interview with CNN. "It is all about probabilities.
"You can never make it safe. F1 is not safe but you can do a lot of work to reduce the probability of somebody getting hurt. They should do that and call in experts from around the world, including those at the FIA.
"There is already a lot of contact between European racing and American racing, but I think it is quite surprising what could be done once people get behind it."
Mosley believes that IndyCar now faces the same challenges that F1 experienced in the wake of Imola 1994, and has said that the FIA will do all it can to help if it is asked for assistance.
"It is very annoying but it is difficult to get people to think seriously about safety unless there is an incident," he said. "We are doing research all the time but you get some weight behind it when there is a serious incident, and this will probably provoke that.
"Having said that, one must remember that when you look at the footage of the crash it is actually quite remarkable that it did not produce another or two or three other fatalities. So it says a lot for the work that is already being done that there was only one.
"He [Wheldon] was very unlucky. He was well behind the incident and nothing to do with the original crash but he could not stop. So it is reminiscent in a way of Imola, and I think we will see changes. And I know the FIA will assist the Americans any way they can if they want to do some research on it."
The FIA Institute has been working on several areas of racing safety that could be of benefit to IndyCar - including cockpit canopies and improved debris fencing.
Mosley believes such work, although aimed at European track racing, could be of use to IndyCar.
He also suggests that closed canopy cockpits could be an option in preventing drivers suffering head injuries - although such a move would require extensive research.
"I think it [closed cockpits] could work," he said. "We get occasional incidents like the spring which hit [Felipe] Massa and the wheel which came off in Formula Two and killed John Surtees' son Henry.
"You're always in danger, in an open cockpit, of objects striking the driver ... It might also help, if it's reinforced with another roll bar, in things like the Dan Wheldon accident. But that's something that needs careful investigation."
He added: "One of the troubles is that it would probably make the car quicker, which is just what we don't want. But there are other means of slowing them down.
"There are a lot of objections to canopies, how do you keep them clean? How do you get somebody out in an emergency? But all of that will be looked at by a technical working group if it turns out the thing would protect the driver better."