Team Penske's three-time IndyCar champion and four-time Indy 500 winner Rick Mears believes Supercars racer Scott McLaughlin has the talent to succeed in an IndyCar.
Penske confirmed earlier this week that double Supercars champion McLaughlin - who races for DJR Team Penske in Australia - will make his IndyCar debut in the Indianapolis road course round in what will be his first competitive appearance in a single-seater since 2010 in Formula Ford.
McLaughlin got his first taste of an IndyCar in a test at Sebring in January, where he completed around 140 laps of the 1.7-mile Sebring short course.
He set a best time about 1sec off Rinus VeeKay of Ed Carpenter Racing and 0.5sec from Arrow McLaren SP's Oliver Askew.
"Scott did a really good job, there was so much for him to get used to in a short amount of time and at a track he's never been to," said Mears, speaking before McLaughlin's Indy road course outing was confirmed.
"The sharpness in handling, the lack of bump absorption compared with the Supercars that he's used to, the amount of car movement you get from those Sebring bumps, the much shorter braking zones, how soon you can get to full throttle, and so on.
"But he just stepped right into it and looked under control the whole time - and he was very smooth, which is hard around a track with all those bumps and surface changes and different kerbs."
Mears, who remains a driver consultant at Team Penske but who for many years served also as advisor for Indy Lights drivers and IndyCar rookies, also approved of what he heard from McLaughlin in discussions with the team's engineers.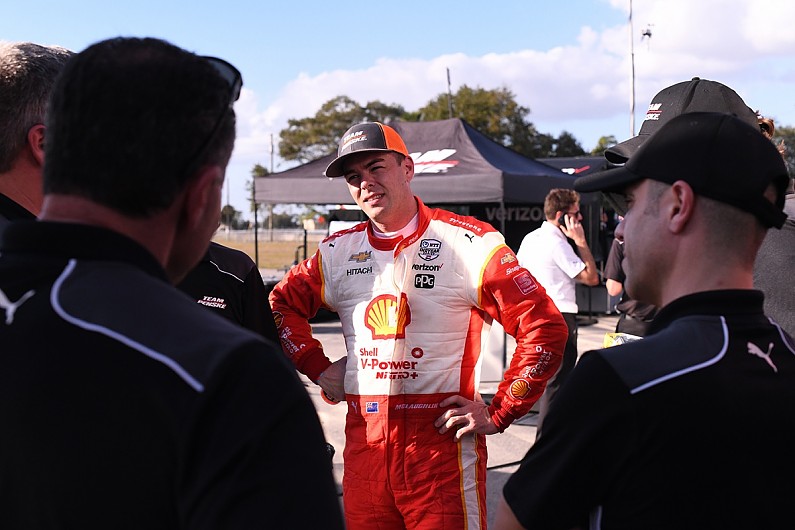 "His feedback was really good," said Mears.
"I left about an hour before the end so I didn't hear his final debrief, but I was listening on the radio while he was out there and then his feedback between runs, and he was very strong.
"He had a good handle on describing how the car was behaving.
"When the team was making changes to the car, he had a good feel for what was happening to the car's handling and what the changes did.
"Obviously at the start of the day he was just sneaking up on the limit and he admitted he still had a lot to learn but he kept chipping away at it. That was smart.
"He knew he couldn't afford to step over the limit and then come back to it; he had to go the opposite way and just gradually push harder and harder. He's switched on."
Mears added that McLaughlin's approach and performance on track delivered proof that he is a "true racer" and that he can figure out the last one percent of pace needed to adapt.
"The best talent can drive whatever he sits his butt in," added Mears.
"Some may take more laps to figure out the last one percent, but at the end of the day the talent will come to the top and they'll figure it out.
"Now I'd say the same for Scott in adjusting to IndyCars. He hasn't done what he's done in Supercars without a heck of a lot of talent.
"I mean, it's not like his wins have been here and there one-offs; he's spent a lot of time winning over the past few years, so you've got to classify him as one of those top talents.
"But I like the fact that he's not just looking at trying to set the greatest Supercars statistics of all time.
"He wants to go out and get experience of as many things as he can, and to me that's the sign of a true racer."