IndyCar has made 11th-hour rule and schedule changes for today's Indianapolis 500 qualifying session after Ed Carpenter's car flipped during a practice crash this morning.
Carpenter lost control at the exit of Turn 2 and spun up the track into the wall, whereupon his car snapped upside-down and skidded down the back straight on its airbox. The CFH driver was checked by medical personnel and cleared.
His accident follows earlier airborne crashes for Josef Newgarden and Helio Castroneves, and has prompted IndyCar to mandate that teams use the same aero set-up for qualifying as they do for the race.
In addition, boost levels will be returned to the race level for qualifying, meaning that the cars will have around 40bhp less horsepower than they did on Friday in practice.
Castroneves's and Newgarden's accidents both happened with the cars in race trim and at race levels of boost.
Their cars were also equipped with the vertical wicker on the nose that is designed to reduce lift during a spin, although this was not fitted to Carpenter's car on Sunday.
The series spent the morning in meetings with team owners and manufacturers to discuss the situation and explore the potential for links between the accidents, with all three cars carrying the Chevrolet aero kit.
These delays further affected an already condensed qualifying schedule following yesterday's rain.
Under the new format, cars will be sent out in two practice groups for 30 minutes each, followed by one-shot qualifying by all cars. The day will end with a 30-minute 'bump' session for positions 31-33, and any unqualified cars.
No points will be awarded for qualifying.
Mark Miles, CEO of IndyCar parent company Hulman & Co, said that with no time available to properly investigate any potential problem with the cars, the changes were required as a safety precaution.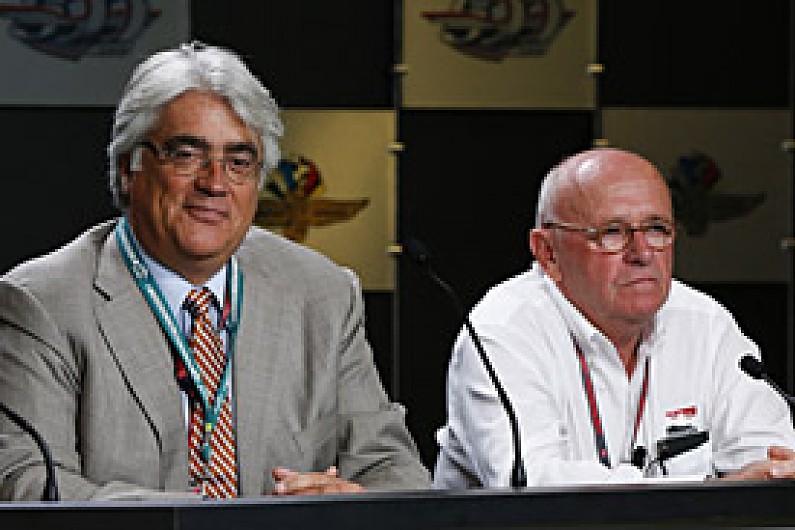 "This morning we saw a third car get into the wall, turn backward and lift into the air," Miles said.
"We've said all along we want to go faster, but we want to do so safely.
"As a precautionary measure, IndyCar will require that the cars qualify today in the same aero setup that they will run in the Indianapolis 500 next weekend.
"Also, for today, boost levels will return to race conditions.
"Given these changes, we have elected to not award points for today's qualifications.
"Safety for drivers and fans is the top priority for IndyCar and we will continue to be proactive in our research and development to improve all safety aspects of our sport."
IndyCar president of operations and competition Derrick Walker said that both Chevy and Honda are co-operating with the series in an effort to understand the cause of the flips.
"Both our manufacturers are working very closely with us," he said.
"That's one of the reassuring things, is how they've rallied around and put their resources behind looking at how we can understand it more."