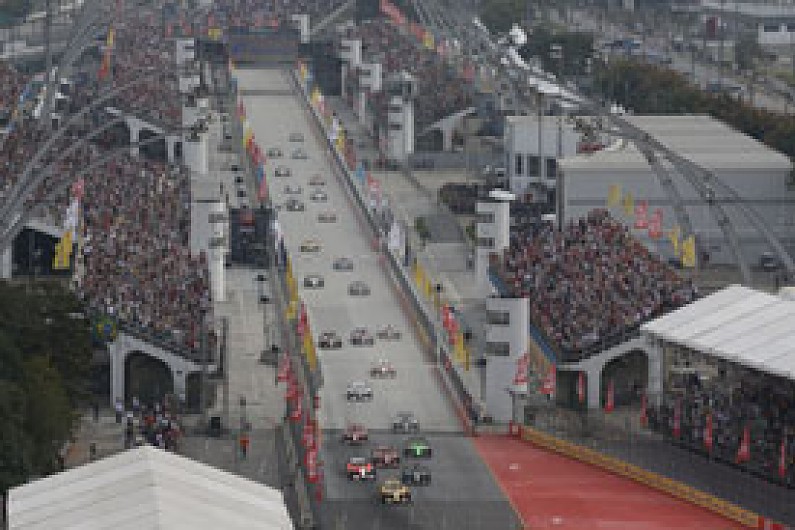 IndyCar will drop Brazil and run to a condensed 15-round calendar, including an event on the Indianapolis road course, in 2014.
The changes were expected, with the Indianapolis road course race having been previously announced and doubts over the future of the Sao Paolo street race already long-established.
An IndyCar statement indicated that the Brazil race (pictured) could return in 2015.
Coupled with the absence of the Baltimore street race, the 2014 season will be contested through 18 races across 15 weekends, with double-headers again scheduled for Detroit, Toronto and Houston.
The remaining events are carried over from the current calendar, with St Petersburg to once again open the season in late March, and Fontana to host the finale for the third year in succession.
However the season will now wrap up at the end of August, with Fontana falling the week after Sonoma for a back-to-back of Californian races.
The Houston event has been moved back to June, three weeks after the series races at Texas Motor Speedway.
IndyCar is yet to release any further details of the Houston event, although AUTOSPORT understands that there is still a possibility that it could take place under lights.
Meanwhile Milwaukee, which has recently formed part of a packed run of races through June, has been moved back and will now take place the week before Sonoma, meaning that the final three races of the season will take place on a short oval, a road course, and a superspeedway.
This year's taxing cluster of seven races in seven weekends - a stretch that was extended for the crews by the two-week preparations for the Indianapolis 500 that came immediately beforehand - will not be repeated in 2014, with the four-weekend run between Houston and Toronto representing the longest streak of events.
2014 IndyCar calendar:

March 30         St Petersburg (street course) 
April 13         Long Beach (street course)
April 26         Barber Motorsports Park (road course)
May 10           Indianapolis road course
May 25           Indianapolis 500 (oval)
May 31 - June 1  Detroit (street course)*
June 7           Texas Motor Speedway (oval)
June 28-29       Houston (street course)*
July 6           Pocono (oval)
July 12          Iowa (oval)
July 19-20       Toronto (street course)*
August 3         Mid-Ohio (road course)
August 17        Milwaukee (oval)
August 24        Sonoma (road course)
August 30        Fontana (oval)

* Double-header event