Buddy Lazier will attempt to qualify for this month's Indianapolis 500 after finalising a deal to enter a self-run car.
The 1996 Indy 500 winner and 2000 IRL IndyCar champion will drive the Chevrolet-powered #91 car for Lazier Partners Racing, which is owned by his father and former Indy 500 racer Bob Lazier.
His entry brings the tally of former winners in the field to four, alongside Dario Franchitti, Scott Dixon and Helio Castroneves.
"This all happened roughly 10 days ago, and we're literally putting everything together now," said the 45-year-old, who last attempted to qualify for Indy in 2009.
"Sponsors are coming by the day, but we're all heading to Indianapolis to get it done.
"When I was 19 years old I was trying to pass my rookie test in a machinist's union car that was given to us with an all-voluntary crew. So I've done it where it's last minute, and I've been there with some of the best teams of their era.
"I have so many miles around the Indianapolis Motor Speedway that I feel comfortable with the racetrack. I haven't driven this new rules package, but I was around with turbocharged engines before the Indy Racing League was formed."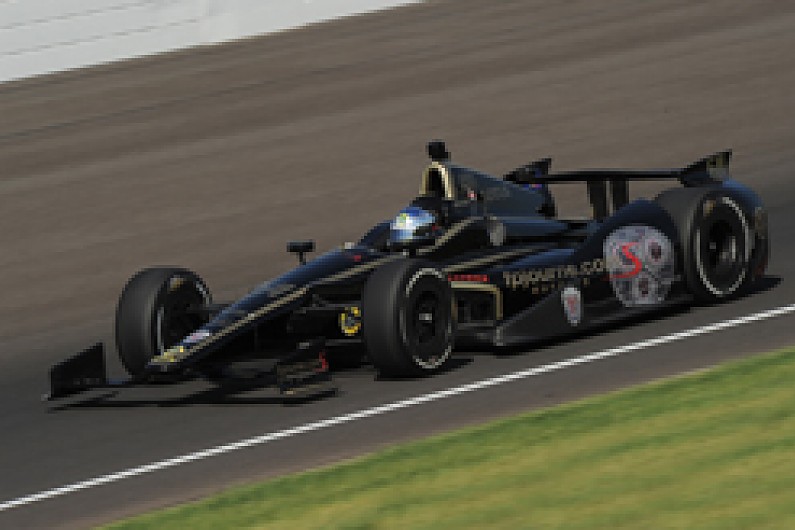 Lazier Partners purchased the DW12 chassis that Jean Alesi used with Fan Force United (pictured) in last year's edition of the race.
Lazier served as Alesi's driver coach during his 2012 Indy preperations.
The team has been in discussion with other IndyCar squads about the possibility of a technical alliance, and has signed long-time Hemelgarn chief mechanic Dennis Lacava as crew chief.
Lazier's entry brings the confirmed entry count to 33, with more drivers still scrambling to complete last-minute deals.
2013 Indy 500 entry list so far:

 #   Driver              Team/Car
 1   Ryan Hunter-Reay    Andretti Dallara-Chevy
 2   AJ Allmendinger     Penske Dallara-Chevy
 3   Helio Castroneves   Penske Dallara-Chevy
 4   JR Hildebrand       Panther Dallara-Chevy
 5   EJ Viso             Andretti/HVM Dallara-Chevy
 6   Sebastian Saavedra  Dragon Dallara-Chevy
 7   Sebastien Bourdais  Dragon Dallara-Chevy
 8   Ryan Briscoe        Ganassi Dallara-Honda
 9   Scott Dixon         Ganassi Dallara-Honda
10   Dario Franchitti    Ganassi Dallara-Honda
11   Tony Kanaan         KV Dallara-Chevy
12   Will Power          Penske Dallara-Chevy
14   Takuma Sato         Foyt Dallara-Honda
15   Graham Rahal        Rahal Letterman Lanigan Dallara-Honda
16   James Jakes         Rahal Letterman Lanigan Dallara-Honda
17   Michel Jourdain Jr  Rahal Letterman Lanigan Dallara-Honda
18   Ana Beatriz         Dale Coyne Dallara-Honda
19   Justin Wilson       Dale Coyne Dallara-Honda
20   Ed Carpenter        Carpenter Dallara-Chevy
21   Josef Newgarden     Sarah Fisher Hartman Dallara-Honda
22   Oriol Servia        Panther DRR Dallara-Chevy
25   Marco Andretti      Andretti Dallara-Chevy
26   Carlos Munoz        Andretti Dallara-Chevy
27   James Hinchcliffe   Andretti Dallara-Chevy
40   tba                 Carpenter Dallara-Chevy
41   Conor Daly          Foyt Dallara-Honda
55   Tristan Vautier     Schmidt Peterson Dallara-Honda
60   Townsend Bell       Panther Dallara-Chevy
77   Simon Pagenaud      Schmidt Hamilton Dallara-Honda
78   Simona de Silvestro KV Dallara-Chevrolet
83   Charlie Kimball     Ganassi Dallara-Honda
93   Buddy Lazier        Lazier Partners Dallara-Chevy
98   Alex Tagliani       Herta Dallara-Honda
tba  Pippa Mann          Dale Coyne Dallara-Honda