In 2004, Tony Kanaan claimed three wins and 11 podiums en route to a first - and to date only - IndyCar title. His crowning was the culmination of a rise to stardom that serves as an inspiring tale of dedication stretching back more than 20 years. In celebration of his 2013 Indianapolis 500 triumph, we look back to Marcus Simmons's 2004 interview with the Brazilian.
CHAPTER 1 (Brazil, 1974-92)
Born on New Years Eve, 1974, Antoine 'Tony' Kanaan was just a normal Brazilian karting kid, no money worries, racing at the weekends with the full support of his father. The Kanaans were from Salvador, a massive hike north of Sao Paulo. But that didn't stop them trekking to the country's karting capital, where Tony soon became friends, at the age of nine, with a 12-year-old lad called Rubens Barrichello.
But four years later, in 1988, Kanaan's father died after a long illness. "After my father passed away we had some problems where people ended up stealing our money," says Kanaan. "What happened is I had to support my family, so I stopped studying and went to work in the go-kart factory. I was 14.
"I was the factory driver anyway, so on Monday I would be doing some chassis tests, Tuesday and Wednesday I would work in the factory, Thursday and Friday we would go and test because we knew we had a race. And then at night, after I left the track, I used to teach young kids rollerblading, twice a week from 6pm to 10."
An older Brazilian named Djalma Fogaca, who had been racing in the European Opel Lotus series, had a Formula Ford team and gave 16-year-old Kanaan his break into cars for 1991: "In go-karts I had won six championships in a row, but the Formula Ford wasn't very successful. When you're in a position like that you always race for teams that have a small budget who just need a driver."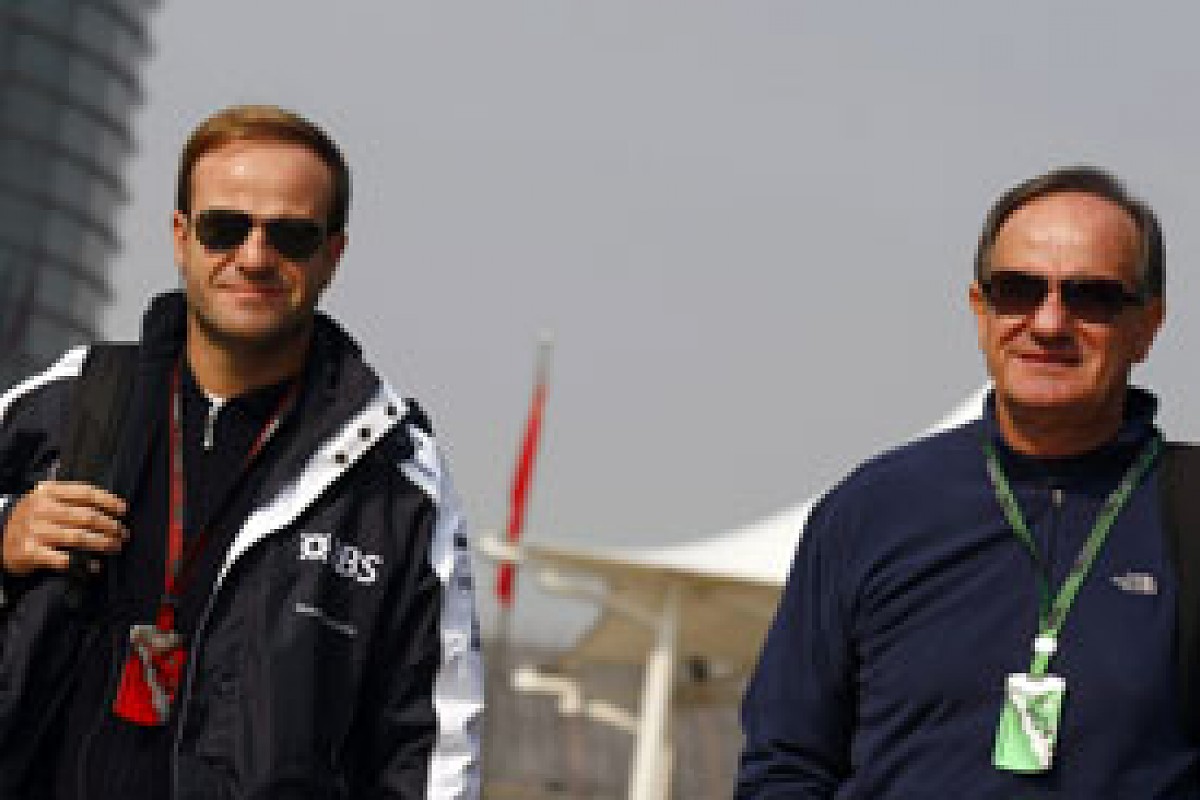 The Barrichellos have played major roles in Kanaan's career © LAT
Fogaca would be a rival in 1992, when Opel Lotus was introduced to Brazil and Kanaan drove for a team owned by Rubens Barrichello Sr. Geraldo Rodrigues, the manager of Rubinho, also helped out in a major way. "Big Rubens kinda helped me out through my career," says Kanaan. "We became a lot tighter and now I call him 'dad', and Rubens has been like a brother.
"In '92 Rubens' dad paid me a salary every month and put me back in school. I would go to school in the morning from eight to 12, and then in the afternoon I would go to the raceshop and work with the guys there." Fogaca won the title, and among Kanaan's other opponents were Helio Castroneves (another man who is central to Tony's story) and Tarso Marques.
But there was a limit to the Barrichello family's altruism: "At the end of '92 Rubens' dad decided to stop the team. We didn't have a lot of money, but then we got a call from a team in Italy called RC Motorsport, that used to run Alex Zanardi in Formula 3.
"I was teaching some kids at the Interlagos go-kart school and I got this call and they said, 'Tony, you need to come to the office - we have someone who wants to talk to you.' There was this guy called Lua [Carlos Sintra], who used to be Nelson Piquet's agent, and Lua told me, 'We have this team in Italy and they want to test you.' And I said, 'Sure!'.
"I came from the track and I had this white racesuit, but we ran alcohol and oil in the karts so I was all dirty in the legs. My suit was black, my hair was... well, I'd just got out of the go-kart! They expected someone to show up all nice and tidy, but what was good was I made an impression and they thought, 'This is a real race car driver.' So that was the Thursday, the flight was on the Friday, and Rubens' dad had to get someone to fly with me because I had never been out of the country!"
CHAPTER 2 (Italy, 1992-93)
Kanaan arrived in Rome on Friday night, where he was picked up by RC's Ernesto Catella and driven to the tight, twisty Magione track for his test. "I show up there and there are six drivers doing this test. I had never been to the track, never driven an F3 car and just arrived from a 12-hour flight. I did two runs and on the third I was half a second quicker then everybody. I got the job."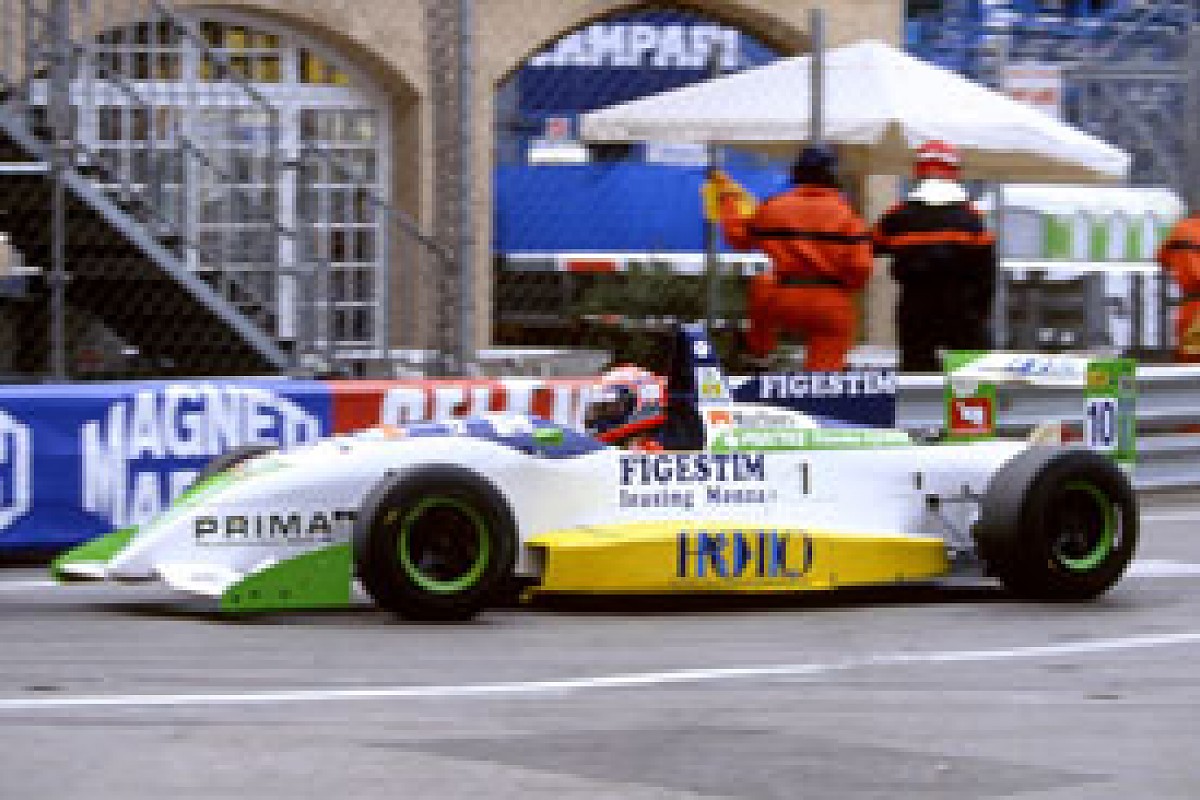 Kanaan managed to cobble together a European programme © LAT
But there was a problem. Just after the start of the season, RC had a big dispute with the Italian federation and went to race instead in Germany with Roberto Colciago. Kanaan was just 17, in a strange country, with nowhere to live and no money.
"In the meantime I met Gianfranco de Bellis, who owned an Opel Lotus Euroseries team with Lucio Vergani called Practice Racing. Catella felt really bad about dropping me like that and - I love the guy still - he said he'd find a couple of sponsors for me, and with Rubens' dad and Geraldo we'd make it work. So I started the Euroseries five races late and we did really well and I finished fifth."
De Bellis was getting more involved with Tatuus, a race team and constructor he now owns. "They were building a car for Formula Alfa Boxer [Italy's Formula Renault equivalent at the time] and Gianfranco said, "Tony, look, if you're smart we'll do the Alfa Boxer and if you win the championship you'll win 100 grand plus a free engine [which was Fiat] for Formula 3 in '95.' So we went to Tatuus, Rubens' dad came with two Brazilian sponsors that helped us out and I ended up winning the championship. So I did F3 with Tatuus."
During all his time in Italy Kanaan had unusual living arrangements: "When I got to Italy I slept in the office at RC. Then I moved to Gianfranco's house and then to the Tatuus shop, and I stayed at the top there for three years. It was fun - I learned to speak Italian in three months and got really close to the boys.
"That was a great time. It sounds sad but it was nothing. It was hard, especially having friends like Rubens, Helio and Cristiano [da Matta] who had their own house, their own car and could go back and forth to Brazil whenever they wanted. I couldn't afford that - I had a bicycle and used to get lifts from friends."
It has given Kanaan a steel that has helped him rise to the top. "There's no way I'm going to give up," he says. "It was, 'I'm gonna make it - I don't know how but I will.' It made me a lot stronger in the sense that I don't think I've been through everything, but I've been through so much that I don't get afraid of anything anymore. When you have no money you need results to keep you racing - that was the whole story of my life."
So here he was in Italy, and at the end of 1995 he had a contract on the table to race for Audi in the following year's Italian Touring Car Championship. If Kanaan had signed it, where would he be now? Brazil's first Le Mans winner? A DTM star? He didn't.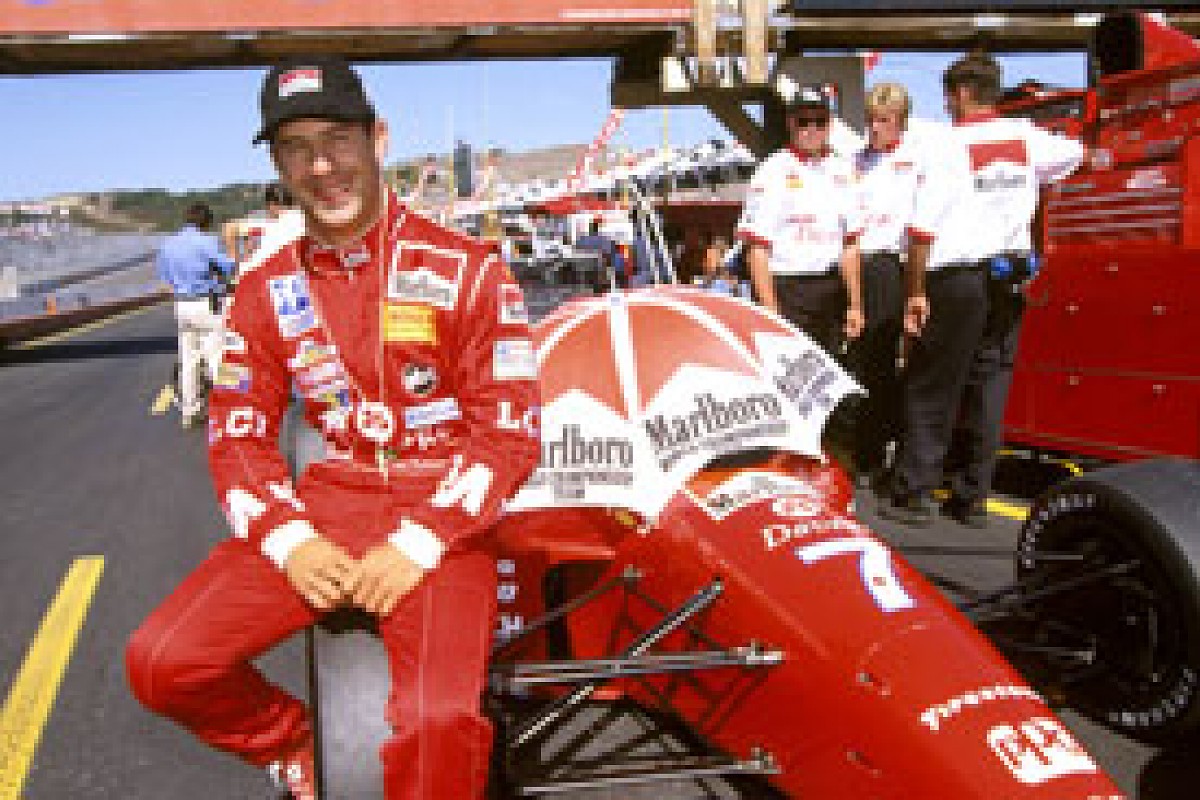 Kanaan rolled the dice and gambled on Indy Lights © LAT
"They were going to give me a road car and a salary. I was on top of the world! And I got this phone call from the president of Philip Morris Brazil and he said, 'Hey Tony, here's the deal. We are putting an Indy Lights programme together. It's going to be very good, with two years of sponsorship. We're going to test 10 drivers and we'll pick two.'
"I'm like, 'Well, but I have a deal done here. It's going to pay me!' He says, 'If you stay in touring cars you never know what's gonna happen.' So we start debating. I talked to Rubens, I talked to Geraldo, I talked to everybody. I thought, 'Well what the hell, I've been taking risks all my life, I'll do it.' So I dropped the deal. Audi couldn't understand it!"
CHAPTER 3 (USA, 1995-2002)
"I called Rubens and said, 'I'm going to do this test in America. I don't know a single word of English. What should I do?' He said, 'Well what do you wanna know?' I said, 'Well tell me understeer, oversteer, I'm hungry and I need to go to the restroom.' He wrote them on a piece of paper."
Kanaan and Castroneves were the two drivers who got the deal on the back of the test in Arizona. Both would drive for Tasman Motorsports, with the promise that a championship win within two years would guarantee elevation into the CART World Series. "OK," chuckles Kanaan, "so there was no pressure at all!"
Tony was runner up in 1996, champion in '97, so he graduated to CART with Tasman for '98 and took the Rookie of the Year title. Tasman chief Steve Horne sold his team to Forsythe Racing for '99, the year Kanaan took his only career CART win at Michigan.
"For 2000 I was still under contract with Jerry [Forsythe], but he didn't know if he was going to run Swifts or Lolas or Reynards. It was a big mess, so I felt that I wanted to go somewhere else."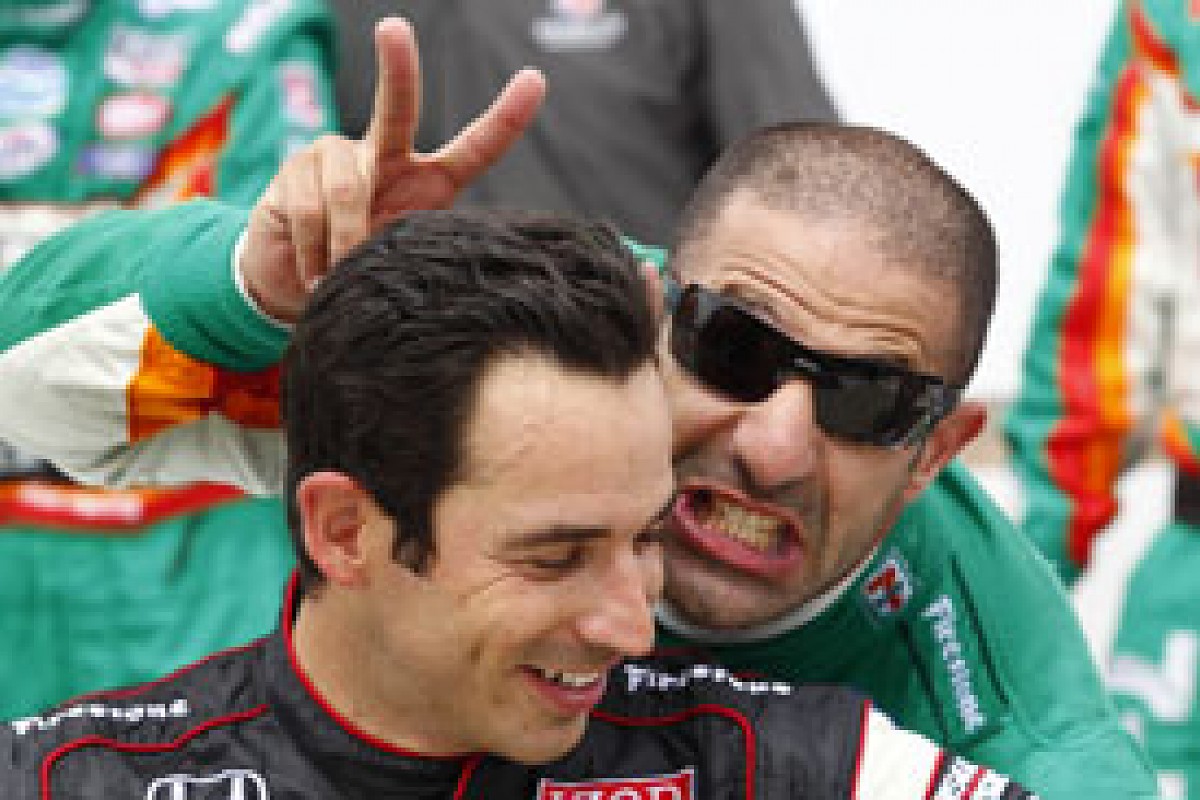 Kanaan and Castroneves, still close, graduated into IndyCar in 1998 © LAT
That was to the new team set up by Morris Nunn, fresh from four successive title-winning seasons with Chip Ganassi Racing. Results weren't good though. Kanaan had a big accident at Detroit in 2000 that ruled him out of some races, and he only started to get back on track in '01.
"The thing was, Morris had won four championships with Ganassi, so in my mind it was a no-brainer that we were gonna win another two! Then I didn't understand, but now I do, that you need more than just an engineer - you need a whole team together.
"The team was new, Mercedes [Nunn's engine supplier] was struggling at the time and I was trying too hard. I was saying, 'It's not them - it's me.' But I was just overdoing it and broke my arm. At the end of 2000 we switched to Hondas and it was my best year in '01."
That was the season when Zanardi, the winner of two titles with Ganassi, returned to CART as Kanaan's team-mate at Mo Nunn Racing. "At the time I was a little insecure, but when Zanardi showed up he obviously had the reference of Ganassi and he was complaining about a lot of things he wanted to get fixed. I was relieved - it wasn't just me.
"What frustrates me is that I had such a good relationship with Morris, and still have, but never won a race for him. Obviously the capability was there in the drivers and in Morris, but something was missing. Things would go wrong all the time."
Towards the end of 2002 Kanaan's contract was up and there was a new temptation. Dario Franchitti, a good friend, was joining Andretti Green Racing and Honda for the IRL IndyCar Series. "Dario's been a big part of helping me get here because everybody respects him and he put a good word in, and here we are."
CHAPTER 4 (IRL, 2002-04)
Of course, in the supposed Land of the Free you're branded a Judas if you make the choice to switch from Champ Cars to the IRL, and both Franchitti and Kanaan (among others) took some stick. "Everybody said, 'Hey you guys are crazy - what are you gonna do there?' But I had the vision that it was going to be a good thing. Michael Andretti came to talk to me in Vancouver, we shook hands in Denver and we signed a contract in England!"
Kanaan won early on during 2003 at Phoenix, but soon his buddy Franchitti was out of action due to a serious motorcycle accident. "This is the best team I ever raced with," he declares. "Good sponsors, my best friend, but two races and he's gone. That was a big hit - not knowing if he was coming back, not knowing what he was gonna do."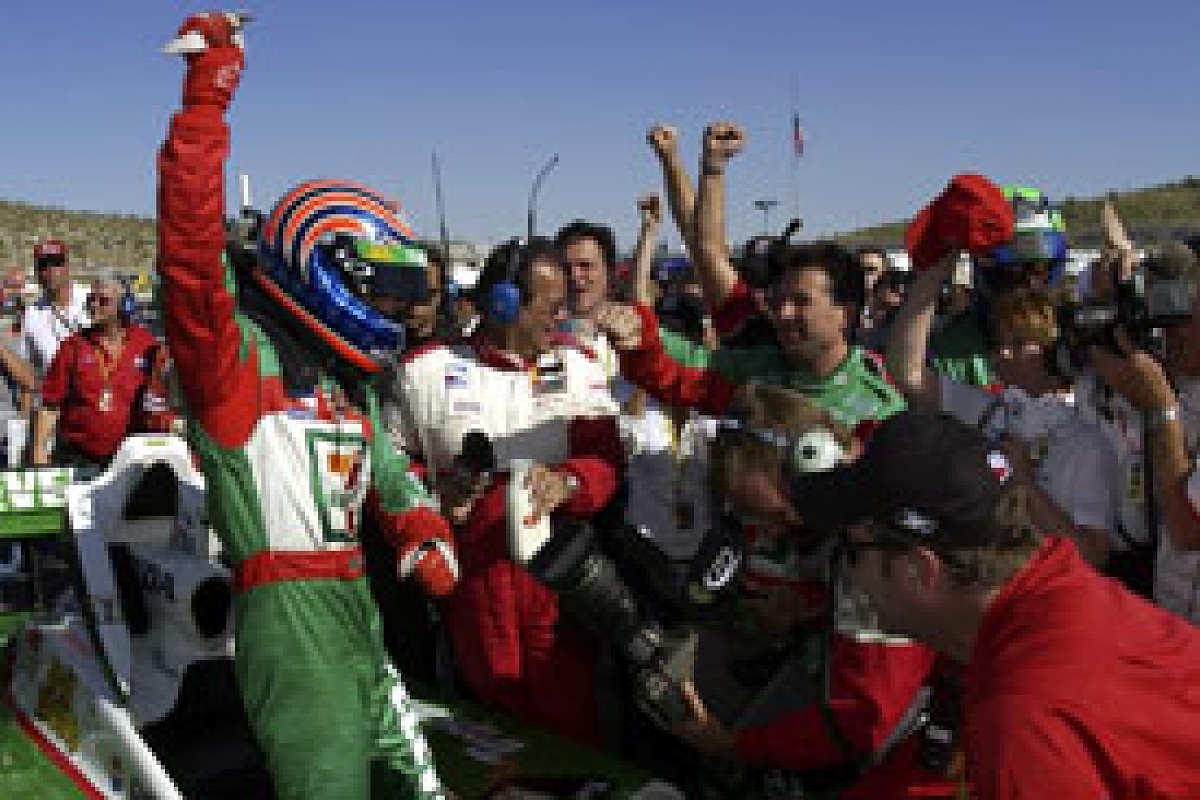 Celebrating a first IndyCar win at Phoenix, 2003 © LAT
But Dario was back in 2004. With Dan Wheldon and Bryan Herta also in the team, Kanaan has had brilliant back-up on his way to wrapping up the IRL title with a race to spare.
Some have remarked that he lacks a little aggression in wheel-to-wheel situations, but if you're always up at the front you can afford to back out of the odd situation. "I'd never do something to put my car in a place when I'm not sure what's gonna happen," says Kanaan. "I might make it and be the hero, but I might not and be the zero. If I'm in a position I don't wanna be in, instead of forcing it I probably go back. I'd rather lose a position and then get a clear idea and then might get it again, I might not, but at the same time that's how we've had 14 straight top-five finishes."
Kanaan is insanely happy now. Knocking on his 30th birthday, he's successful, wealthy and married. Everything has worked out. And he's not even that bothered about Formula 1.
"At some point you have to realise your chances. I never had an opportunity and I don't know if I will ever have, but I'm having a good time. Racing for me, after everything I've been through, it has to be fun. Yeah it's my work, it's my job, but I'm not just here to make money, put it in the bank and one day I'll be done with it, because there is no motivation in that and you don't put in 100 per cent.
"I have a good thing going with the team - we've just extended my deal to 2008 so I'll be here forever! And that's because I wanna be. I told them, 'It's not necessary to do IRL with you - if this team goes and races go-karts one day I wanna be with you.' My relationship with Michael is very unusual between a boss and a driver. This is a business and a harsh world, and when you have hard times you blame them and they blame you sometimes, but it's not like that here.
"I still have a dream to drive an F1 car - I don't think I will ever be able to race one but I'd like at least to drive one once. Maybe one day..."
But that can wait, even if it's him and Rubens, aged 50-odd, gunning a 2004-spec Ferrari around a farm road in Brazil. For now he's totally focused on IRL: "I'm a happy guy - I'm reaching my goals and as long as I'm doing that it doesn't matter where I am. I won't say I don't need money because we all do, but it's not a priority of my life. I had a lot, I had nothing and now I'm building back up.
"What matters is having fun at the track and hopefully I'll be fortunate enough to do it as long as I want to. I would love to be like Michael and Gil [de Ferran] and say, 'OK - it's time to go' instead of someone saying, 'OK - it's time to go!' The day that I'm happy I've fulfilled my expectations and my dreams, that's when I'll call it quits."