These days, it's hard to imagine Fernando Alonso or Lewis Hamilton winning the Formula 1 World Championship and then taking off to race in the American IndyCar series the following year.
But that's what Nigel Mansell did 20 years ago, when he won the 1992 F1 drivers' title for Williams and then stormed off in a huff to America when it became clear to him that Alain Prost had signed for Sir Frank's team for 1993. Having been Prost's team-mate at Ferrari during 1990 and been on the wrong end of some political manoeuvring, Mansell had no desire to repeat the experience.
Instead he won the 1993 IndyCar series and almost won the blue-riband Indy 500 at his first attempt. For one week in September 1993, before Prost clinched his fourth championship, Mansell held both the F1 and IndyCar titles at the same time. It will be some time before that happens again, if ever!
Mansell won four oval races during that 1993 season - at Milwaukee, Michigan, New Hampshire and Nazareth - but not the Indy 500. He was leading with 15 laps to go, but a botched restart after a caution period confined him to third.
Mansell's two-year adventure in IndyCar was an extraordinary episode, which combines storylines Hollywood would struggle to conjure up: triumph, tragedy, big accidents, injury, betrayal - even the death of Ayrton Senna was mixed in.
MAKING THE MOVE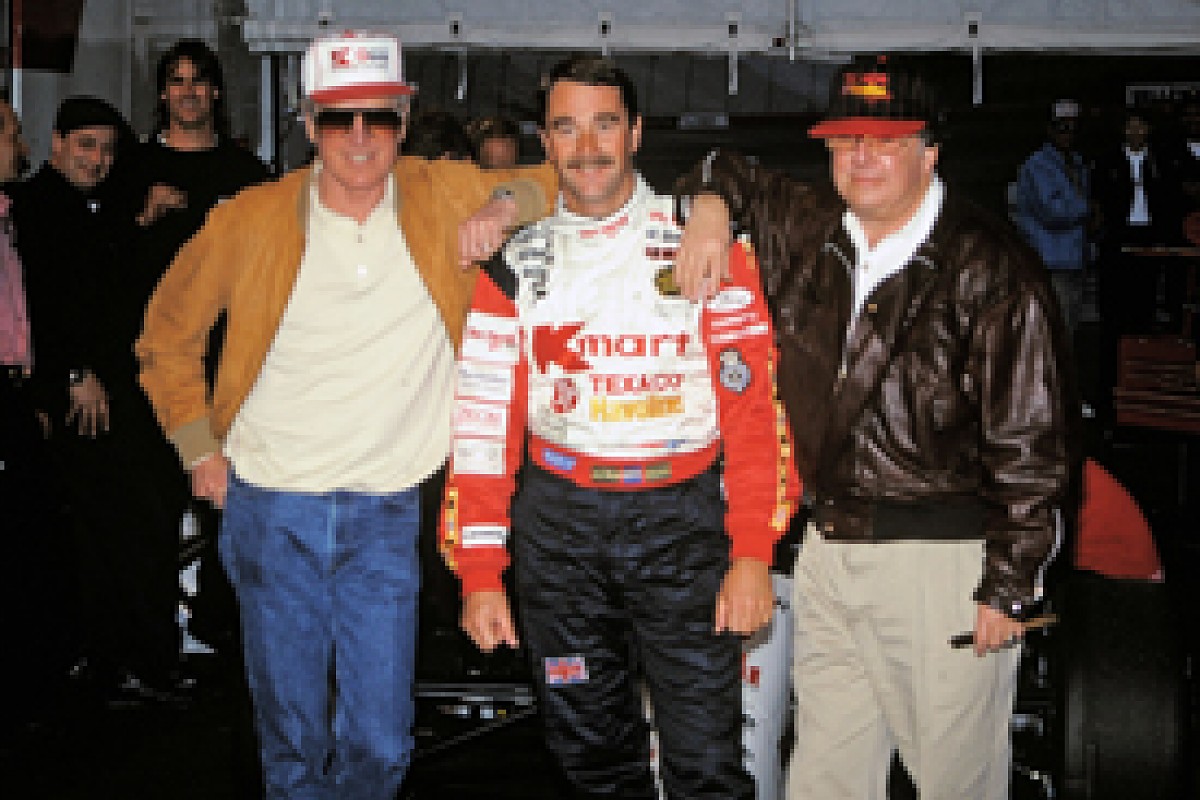 Mansell flanked by Newman and Haas © LAT
Signed to the Newman/Haas team, Mansell was surrounded by a glorious cast of characters. Movie star Paul Newman was ever-present, while his partner Carl Haas was an incredibly superstitious man who always had a giant cigar in his mouth but never lit it.
One of the more colourful individuals was Bill Yeager, a veteran team manager.
"I've been in the IndyCar business for 50 years," he told me, "and Nigel is the best I've seen, better even than Jimmy Clark when he came over here and kicked our asses, better than AJ Foyt, who I worked with for years. I told Foyt, 'If this kid had been around when you were racing, you wouldn't have won jack shit', He knew it too."
Although he quickly mastered the daunting ovals, Mansell admitted privately that he never felt comfortable racing on them.
"You have to work with the car and tune it delicately, getting it to work for you rather than the other way around, as I was used to in F1, " he said at the time. "On an oval you need to remain at 95 per cent and not go beyond it. You work up to speed, using 95 per cent effort and letting the adjustments to the car do the work for you."
On the wall in my office is a telemetry print out from Mansell's pole lap at Michigan. The speed trace shows peaks of 236mph on the straights and dips of 224mph in the corners. Such is the challenge of oval racing. The throttle trace is completely flat with no hint of a lift.
Mansell wasn't much of a student of motorsport history, but he knew the milestones, especially Jim Clark's Indy 500 victory with Lotus in 1965 and Graham Hill's win the following year. Having had a taste of history the year before with his F1 title, he was very keen to emulate Clark and Hill's feats of the 1960s. But he also knew the risks.
"Indy Motor Speedway demands a lot of respect from a driver," Mansell said. "If you don't respect it, it will bite you. The track is very changeable and a number of things from a small gust of wind to a cloud covering the sun can make it feel completely different from the lap before."
CLOSE BUT NO CIGAR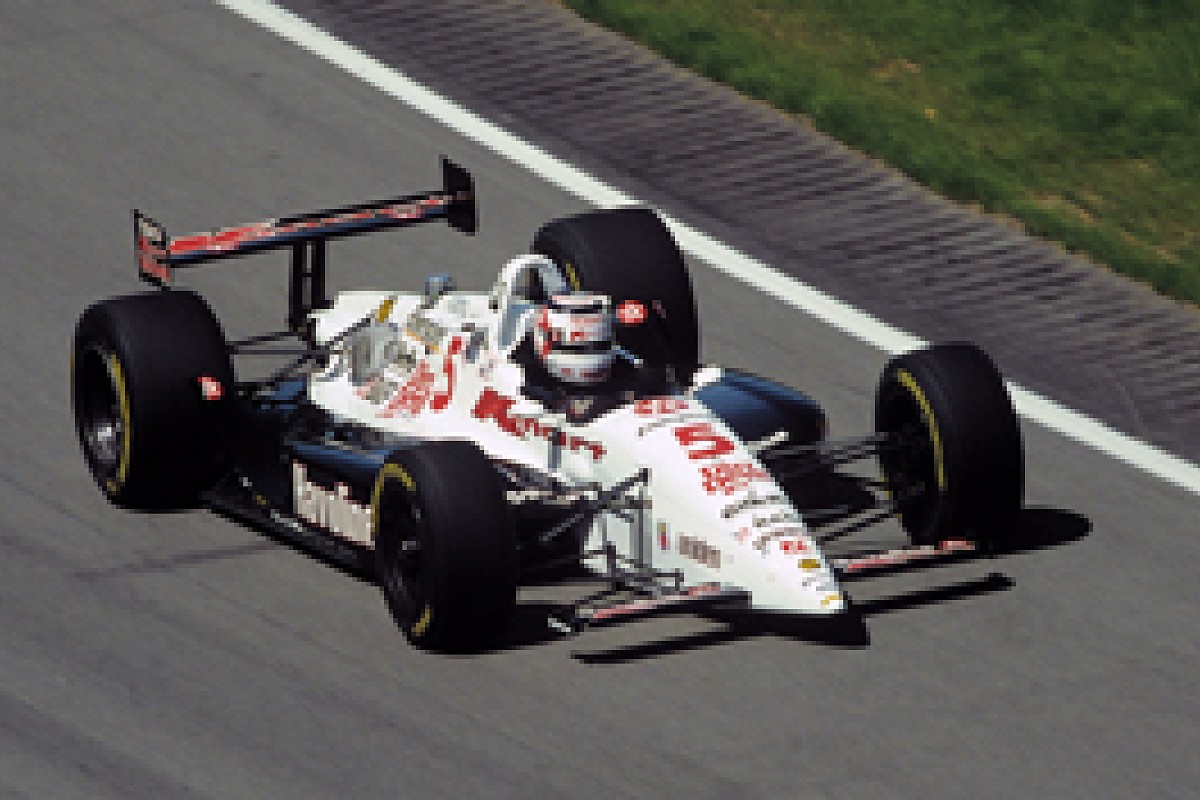 Mansell gets up to speed around the Brickyard © LAT
Because he had crashed in practice at Phoenix, the 1993 Indy 500 was Mansell's first race on an oval. And it was that lack of experience that cost him the win. He was leading the race with 15 laps to go, but a pace car was sent out. This allowed Emerson Fittipaldi and Arie Luyendyk to close up on him and they anticipated the restart better than the world champion and passed him.
"I learned a lot that afternoon about how races are won and lost on ovals. I could easily have won, but I messed up. I make no excuses about it," Mansell reflected.
"I was just out of hospital and a bit below par. I made a few mistakes and the race got away from me. The crew had done brilliantly and only one person lost that race. But I'm proud that at least got myself in a position to win it."
Chasing after Fittipaldi and Luyendyk, Mansell pushed a bit too hard at one point and brushed the wall. He had time to see the impact coming and told himself to try to get the wheel flat to the wall, so as not to strike it at any kind of angle, which would break the suspension. There was a flash of sparks as the wheel rim hit the concrete but the car stayed intact.
"My main concern now was the extent of the damage and whether the car would hold together. I was worried about the next corner because you fly into it at 240mph and if anything let go in that situation I would be in big trouble. But I was so fired up about losing the lead and so determined not to drop down any further than third, so I just hung on in there and got to the finish."
Mansell mentioned being in hospital. Perhaps not so well remembered today is the fact that, at the '93 Indy 500, Mansell was recovering from surgery for a back injury sustained in his crash in practice on the oval at Phoenix, which had been his first experience of an oval. In order to participate in the 500, it was recommended to Mansell by legendary US racing medic Dr Terry Trammell that he have an operation to remove fat and muscle that had broken away in the impact.
The surgeon closed up the large cavity that had opened in his back with 140 stitches and 12 days later Mansell went out to complete his rookie test at Indy. You couldn't make it up.
"Within two hours he was the third fastest driver at 225mph," said his crew chief Jim McGee, a huge part of the secret of Mansell's success in America.
McGee knew all the angles and had a sixth sense for race strategy, knowing when to pit, when to save fuel and when to push.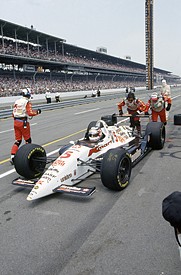 Mansell blasts out of the Indy pits © LAT
"He took to Indy like it was the most natural thing in the world to go fast there. He just knew how to deal with the traffic, and how to place the car on the oval as if he had been doing it for 25 years. I was Emerson Fittipaldi's crew chief when he started on ovals and it took him years to get used to it."
A lot of Mansell's detractors in the F1 media used to criticise him for 'play-acting' with his various injuries and ailments but, having spent a season in his company, I can tell you he is the most accident prone person I've ever met, a bit like Robert Kubica, although luckily for Mansell, perhaps not so extreme.
The following year, 1994, we were playing tennis in his back garden of his Clearwater, Florida house and he ran all out for a return and collided with a steel floodlight pylon. His right elbow came up like an ostrich egg. He put an ice pack on it - most activity days at Mansell's house ended up with an ice pack - but I remember thinking, 'If Carl Haas could see this, a few days before the Indy 500, he would have a fit'. But that's the way Mansell was: everything had to be on the edge all the time.
SENNA'S DEATH AND 1994
By the time of Indianapolis 1994, Mansell's thoughts were already back on Formula 1. Ayrton Senna had been killed at the San Marino GP. I had been there at Imola and had spoken to Senna on the morning of his death and had come back to the USA to tell Mansell all about it. It was a very dark time for the sport and, having raced so closely with Senna and even come to blows with him on occasion, Mansell was pretty moved by his death.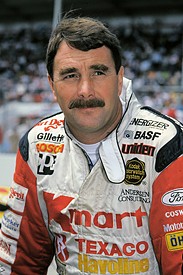 Mansell's love for IndyCar would wane © LAT
Sitting by the side of his swimming pool, a few days before the Indy 500, Mansell took a phone call from Patrick Faure, then head of Renault Sport. They wanted him back in the Williams and the delicate process of negotiating Mansell's release from Newman/Haas to compete in a few F1 GPs was underway.
It was the incident with Dennis Vitolo in the pitlane at the Indy 500 in 1994 that turned Mansell against IndyCar racing. Vitolo was at the back of a line of cars coming into the pits during the race, but didn't slow for a yellow flag and hit the car in front, flying up into the air and landing on top of Mansell's roll hoop. It was a frightening looking incident and it totally undermined Mansell's confidence in the series.
Recording his thoughts for the autobiography I was ghost writing with him at the time, Mansell said: "The Vitolo incident affected my whole thought process about the IndyCar scene and fundamentally affected the way I look at life. Coming so soon after the deaths of Senna and Ratzenberger, it reminded me that there is no point taking futile risks.
"If Indianapolis has to open its doors to amateurs like Vitolo in order to make up the numbers then it is not as big or attractive a race as they think it is."
RETURNING TO F1
We flew back to the UK so Mansell could test at Brands Hatch, where a large crowd of his barmy army followers turned up. He then raced in the French GP. Later in the year, in which he finished eighth in the IndyCar standings, he raced at Jerez and Suzuka, before winning the famous Australian GP in Adelaide where Michael Schumacher and Damon Hill collided.
Even before the Indy 500 that year you could tell his mind had moved back to F1. Racing drivers are all like that, they move on to the next thing, the next challenge, so quickly and Mansell was no different. What they have just been doing perfectly happily up to now is suddenly history.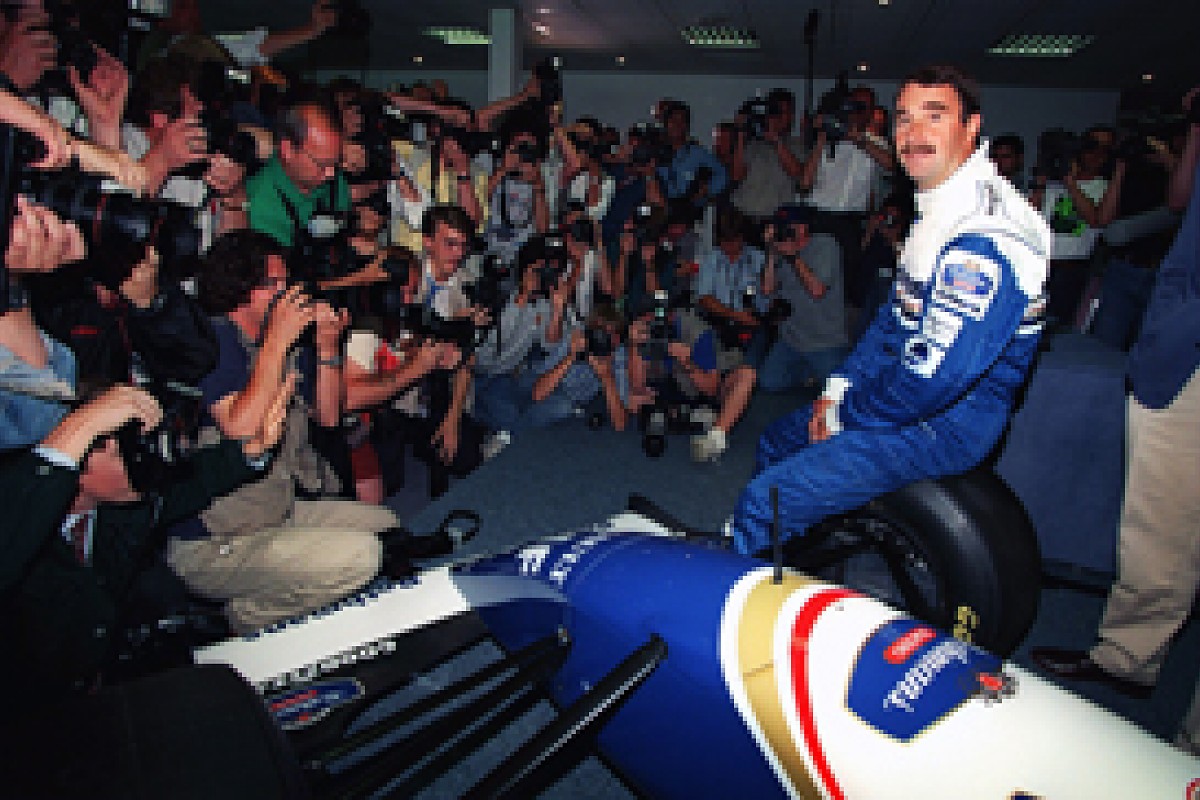 Mansell jumped at the chance to get back into F1 © LAT
After the acrimonious manner in which he had walked out of F1 in 1992, he obviously felt that he had unfinished business.
And as Williams was still the team to beat, the opportunity was too good to miss. Bernie Ecclestone was also pushing hard to get Mansell back into F1, or at least out of IndyCar.
It was generating too much attention for Bernie's liking and as F1 was struggling to recalibrate after the momentous death of its greatest driver, Ecclestone not only needed heroes in F1, he also needed to make sure that IndyCar's popularity didn't threaten his business.
Veterans of the US racing scene say that those two years, 1993 and '94, were the high watermark for the IndyCar series. Soon after that came the split between the CART teams and the Indianapolis Motor Speedway, which ultimately consigned IndyCar racing to the status of a minority sport. When Mansell raced there it was headline news and broadcast all over the world.
Part of the deal for Mansell's return to F1 was a race seat in 1995 and Ecclestone led him to believe that it would be with Williams. But Williams decided to go with David Coulthard and Ecclestone brokered a McLaren seat for Mansell. That turned out to be a disaster and he withdrew after a few races into an unwilling retirement.
Much has changed in the 20 years since Mansell first tackled the Indy 500, but the race still has a unique place in the hearts of both motorsport fans and professionals. Even if Alonso and Hamilton aren't likely to be heading there any time soon.