Ninety-six silver faces look out from the sides of the Borg-Warner Trophy - a testament to the fact that there are at least 96 different ways to win the Indy 500. And in all likelihood, the possibilities haven't been exhausted yet.
Indy is proof of the sheer breadth of events that can transpire during 200 laps of a 2.5-mile course with just four corners. Yet it's entirely in keeping with the enigmatic nature of the event that a race with so many random elements produces so many repeat winners.
Case in point: Dario Franchitti. Last year's triumph was the Scot's third at the Brickyard, which in theory would suggest that he's cracked some sort of Indy code.
But then you look at how he won them. In 2007, he'd qualified third and was leading when the race was stopped early due to rain.
In 2010 he qualified third again and was dominant for most of the afternoon, eventually taking the win under caution following Mike Conway's accident.
And in 2012, he qualified mid-field, spun in pitlane and fell to last before recovering to triumph in a late battle with team-mate Scott Dixon and then-Rahal Letterman Lanigan driver Takuma Sato. About the only thing the three have in common is that they ended with the Scot's racesuit reeking of milk.
But if there are no magic bullets at Indianapolis, it is a place that rewards experience. That applies equally to the days of running in the opening couple of weeks as it does to the race itself. While the various elements of the lead-up all have their own quirks, ranging from tyre and engine management in the opening days of practice to the turbos getting turned up as qualifying approaches, Franchitti treats all three weeks as a single event.
"I think it all kind of rolls into one, but there are definitely different times where you are trying to achieve different things," he says.
"Whether you're practising for the race, or for general stuff, or obviously on [Fast] Friday when you get more boost and you start getting ready for qualifying, there are definitely different parts to it where you're trying to achieve different things."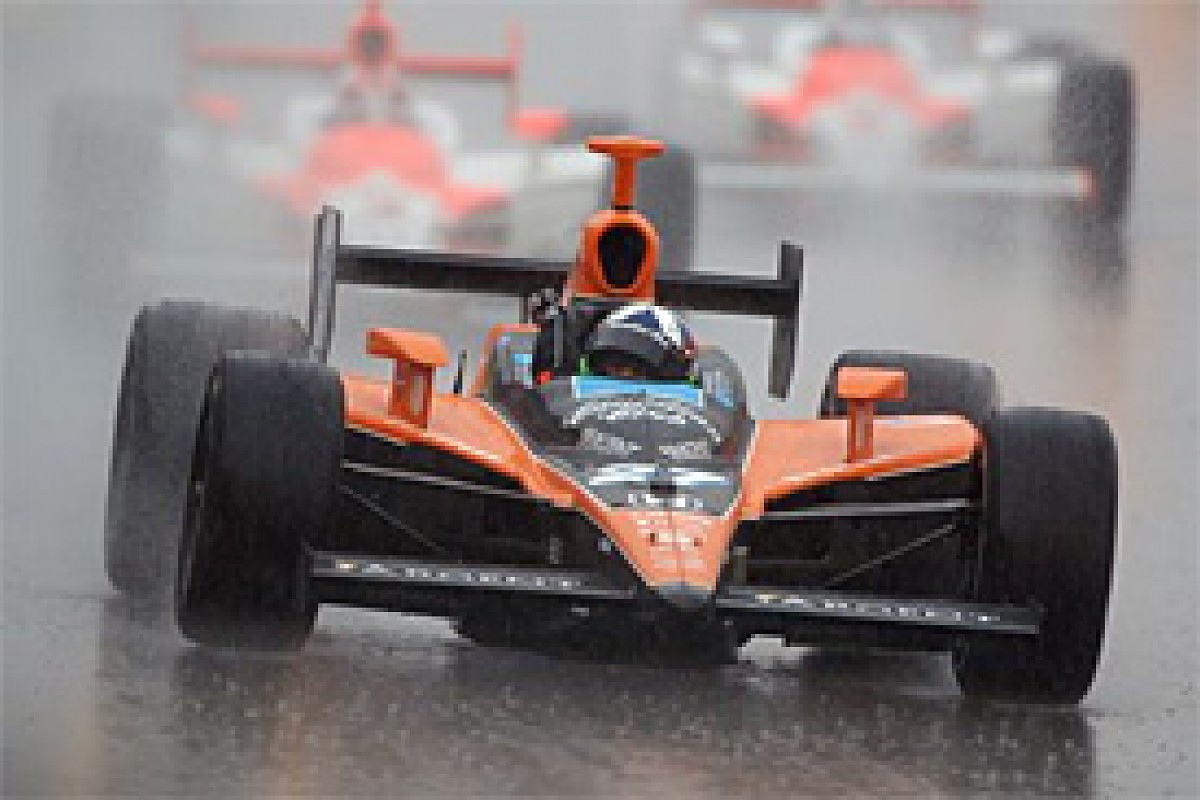 Franchitti took his first win in 2007 © LAT
Carrying the car - and its tyre and engine allocation - through May is largely a factor of planning, patience and staying on top of the things you can control. This is part of the reason you'll see more seasoned drivers and teams limiting their track time during the opening days of practice if the conditions don't reflect what they forecast for the business end of the month; the rationale being that there's little point burning through tyres while racking up junk miles that aren't going to teach them much anyway.
There's also the task of managing the driver through the entire Indy experience. The 'Month of May' is no longer stretched over the entire month, but there are still 11 days of on-track running, plus all of the peripheral distractions that you'd expect from the greatest spectacle in racing. Mental burnout is a genuine risk, and one that Franchitti believes is even trickier to manage now the Indy schedule has been condensed.
"You've still got as much to get through, you've just got less time between track time," he says. "Rather than having those two weeks spread out for practice and qualifying and having time to think about it, you're very much, 'boom, boom, boom', straight from one to the other. And it's as mentally challenging than it was before - if not worse."
The other potential pitfall early in an Indy campaign is getting caught up in rivals' affairs, particularly if your programme isn't going to plan.
"It's managing the stress, and times like last year, when it wasn't going that well [for us], it was about keeping it on an even keel and sticking to your programme," Franchitti explains.
"When some guys are putting up the big numbers, it's about knowing what you need for race day, not getting carried away with the tow-fest that goes on sometimes.
"It's all about what happens on May 26. Qualifying is very important, but ultimately it's all about what happens on the 26th. It's not about being quickest in practice. If you are quickest in practice then all well and good, but don't be too stressed if you're not."
Franchitti and Dixon proved the point last year by finishing one-two after starting from 16th and 15th respectively. But while Franchitti concedes that a poor grid position does not necessarily spell the end of an Indy weekend, it's a scenario he's not keen to repeat.
"I think with this car, it's easier to recover from a bad starting spot than it was in the past," he says. "But it's still nice to qualify up at the front in case there's a first-corner issue. And the turbulence when you're back in the pack, as we were - I mean, Dixon and I were only halfway back, but the turbulence into Turn 1 was pretty special."
Having a good racecar helped. In theory, dialing in a set-up for a track comprised of four left-hand turns and some straights to connect them might seem relatively simple, but the speeds that the cars achieve, coupled with the track's sensitivity to wind and temperature changes, mean the sweet spot is a constantly moving target.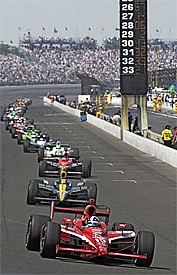 His second win came in 2010, also under caution © LAT
Franchitti says the trick to finding a set-up lies not in chasing perfection, but in finding the most bearable compromises. "The changes between getting the car working and not working are ever so small," he says. "They are very subtle changes, and that's something that, if you and your team can really work through, gives you an advantage.
"Indy is more about the subtleties - what direction is the wind coming from, what is the temperature, what downforce levels have you got on the thing... all those things will [determine] where the car is going to get a little bit oversteery, where you are going to have to deal with a bit of understeer, which corner is going to be the tricky one. There are only two or three tiny bumps on the track, but you can really feel those.
"I treat the lap as a whole, because you're always trying to deal with the winds and different temperatures and stuff, so there are always going to be compromises. You've got to get compromised in one corner or another, so in my opinion you've got to take the lap as a whole.
"There are times in the race where the thing might not be handling quite right and you just need to drag it around. And that's not the most fun thing to do, I have to say. You definitely want the car to do as much of the work as possible.
"And because it is a compromise in set-up there, the smallest changes or the smallest issues are really magnified. You become very used to travelling at over 215mph. There comes a point where you come into the pits sometimes and you think you're cruising, and you look down and you're still doing 200mph. It's a really intense experience."
By the standards against which a four-time champion is measured, the past season-and-a-half has been relatively lean for Franchitti. His win at Indy last year is his only one to date with the new DW12 chassis, although he'll be quick to point out that at least he won the race that matters most.
His initial struggles with the new chassis have been well-documented, and when he and the team started to get on top of things last year, fate intervened. Just look at Iowa, where he put the car on pole, only to suffer an engine failure on a warm-up lap.
This year didn't start much better. A slow car and a crash at St Petersburg followed by a fast car and a failure at Barber meant he went into the third race at Long Beach last in the points. His speed was good at both that race and Brazil, but the potential was masked on both occasions by bad pitstops. Nevertheless, having recovered to 15th in the standings, he's quietly confident things are moving in the right direction.
"I think so," he says. "At Barber qualifying was terrible [he started 17th] but at Long Beach the car was pretty good. There and in Brazil we unfortunately had bad stops in both races. So we've just got to get that little bit fixed and see if we can keep it going.
"At Indy what has gone on before doesn't really count. People talk about momentum and stuff, but it's such a unique race."
So Dario's sorted, and Ganassi knows what it's doing. What about Honda? Last year, the Japanese manufacturer got smashed in qualifying, with just one car in the top 10 on the grid. But until Sato's last-lap crash, it was also on for a 1-2-3 in the race. Chevrolet has looked fractionally stronger so far in 2013, but Franchitti is keeping an open mind.
"Who the hell knows?" he says. "Who really knows what's going to happen? Certainly I'd like to have a fast engine in qualifying and the race, but we'll see what specs they bring, we'll see when we're allowed to change engines, and all that kind of stuff. Whatever they have, we'll work around it."
That may offer the best answer to the question of how to win at Indy. The beauty of the event is that nobody's month goes fully to plan. It's just that some are better at working around it than others.