It's absolutely natural to compare Chip Ganassi to Roger Penske. After all, Penske is the most successful Indycar team owner of all time, with 159 race wins and 11 series championships under USAC, CART and IndyCar Series sanction, and Ganassi is the obvious heir apparent.
But maybe it already would be more appropriate to compare Penske to Ganassi instead. A little more than two decades into the history of Chip Ganassi Racing, the team boss has emerged as the leading owner of his era, with Dario Franchitti this year completing a 'Ganassi Slam' of four consecutive series championships, for the second time since 1996.
If you were to analyse the statistics, you'd find that since Michael Andretti took CGR's first Indycar win in the 1994 CART series opener, Penske and Ganassi are in a virtual dead heat.
Race wins: Ganassi 86, Penske 81. Series championships: Ganassi nine, Penske four. Indianapolis 500 victories: Penske six, Ganassi three. So, after 22 years as a team owner, Ganassi is actually ahead of Penske's pace for HIS first 22 years (from 1968-89, Penske's Indycar team scored 60 wins and seven championships).
While Penske continues to command attention and respect as the king of Indycars, Ganassi has actually put a wheel under his rival, executed a clean pass and is pulling away into the lead. And while Ganassi had a successful businessman role model to look up to in the form of his father, Floyd Ganassi, it's obvious that in many ways he has been strongly influenced by Penske.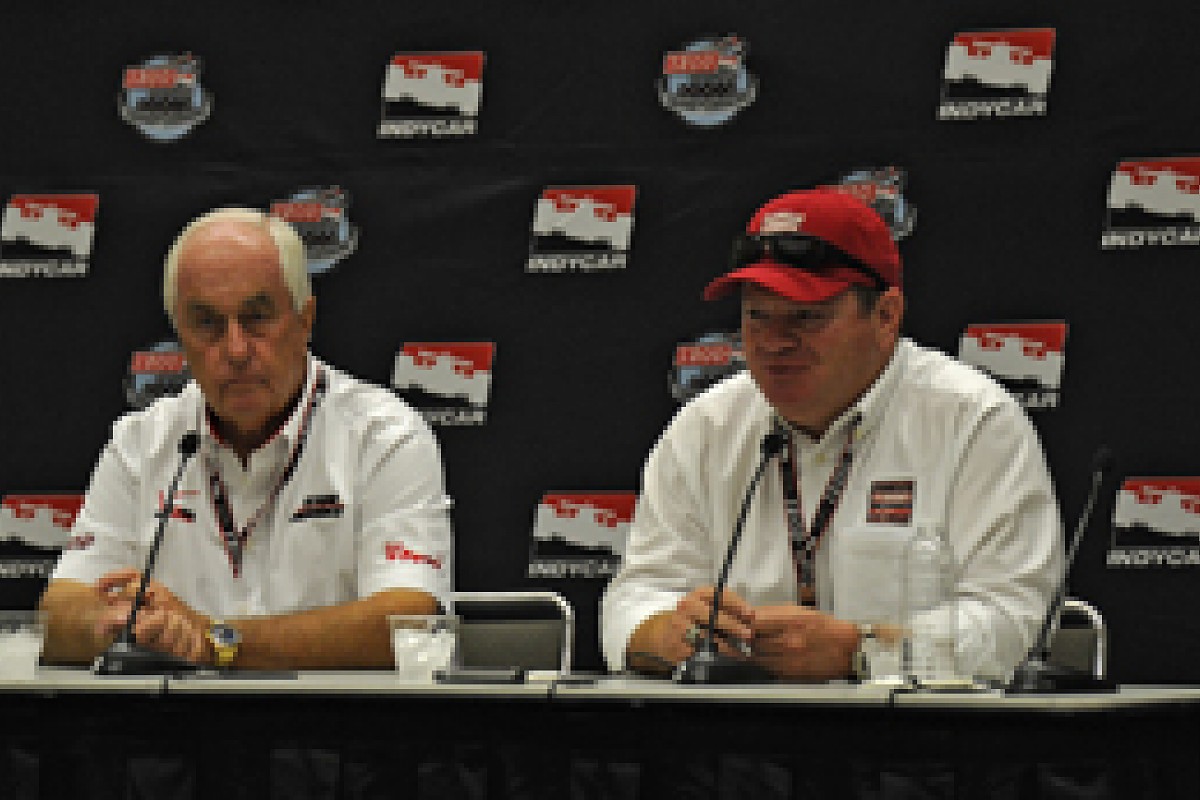 Roger Penske and Chip Ganassi share the stage © LAT
"When I was growing up, Roger was the guy who set the pace," says Ganassi, "the guy to beat, the guy at the top of the mountain. There's no question he sets the pace in raising the bar and pushing hard on his team. And that's who we're here to emulate right now, it's that simple."
The numbers don't lie, so clearly Ganassi is doing an excellent Penske impersonation. But there really aren't that many similarities between the two men. Penske built a business empire outside racing; Ganassi's business is racing. But that's not to say that he's not a businessman, and a good one at that. Proof is offered in the form of Ganassi's 22-year partnership with Target Stores, the longest-running race-team sponsorship in the industry; while Ganassi may have learned a lot from Penske about running a racing team, he's learned a few things from Target over the years as well.
"I'm pretty fortunate," Ganassi states. "Target has obviously taught us a lot about business and the company is probably as influential in my lifetime off the track as on. Those are people who really understand the word 'partnership'. They understand bringing people along, coaching people, and getting the most out of people. Their mantra to this day is still 'Fast, Fun and Friendly.' We've learned a lot from little things like that over the years. You can be all that. You don't have to be arrogant. It can be fun. We're racing cars - it should be fun. And we can be fast as well!"
While Penske refers to his 36,000 employees as "human capital", Ganassi's racing empire encompasses about one per cent of that many people. It's interesting that Chip's gruff public persona is at odds with how the people who work for him describe him. Several key people within the Ganassi organisation, including Mike Hull, Barry Wanser and Scott Harner, were all promoted from within. And Chip is now taking the same approach with developing his drivers for the future. In 2011, he began operating 'G2' - a second, two-car IndyCar team - out of a separate facility in Indianapolis. While Dario Franchitti and Scott Dixon finished first and third in this year's IndyCar Series, Graham Rahal frequently demonstrated strong pace and rookie Charlie Kimball settled in very nicely in the second half of the season.
In some ways, it's a page straight out of the Penske playbook. Over the years, Penske occasionally gambled on young drivers and his team turned Rick Mears and Paul Tracy into stars. Hull, who took over as Ganassi's managing director and top race-operations man in 2001, when Tom Anderson left to be a partner in Fernandez Racing, explains that there was additional reasoning behind Ganassi's expansion from two to four IndyCars in 2011.
"We have a team that's very well established, 22 years with a major sponsor, and they don't want a blip on the radar screen in the cockpit," Hull notes. "They want solid people driving the cars, so we had no opportunity to pair young guys, who had the ability but needed to learn, with an experienced driver like we did in 1996 [Alex Zanardi with Jimmy Vasser] and '99 [Juan Pablo Montoya with Vasser]. And in those days, they had a lot of time away from the race weekends to test.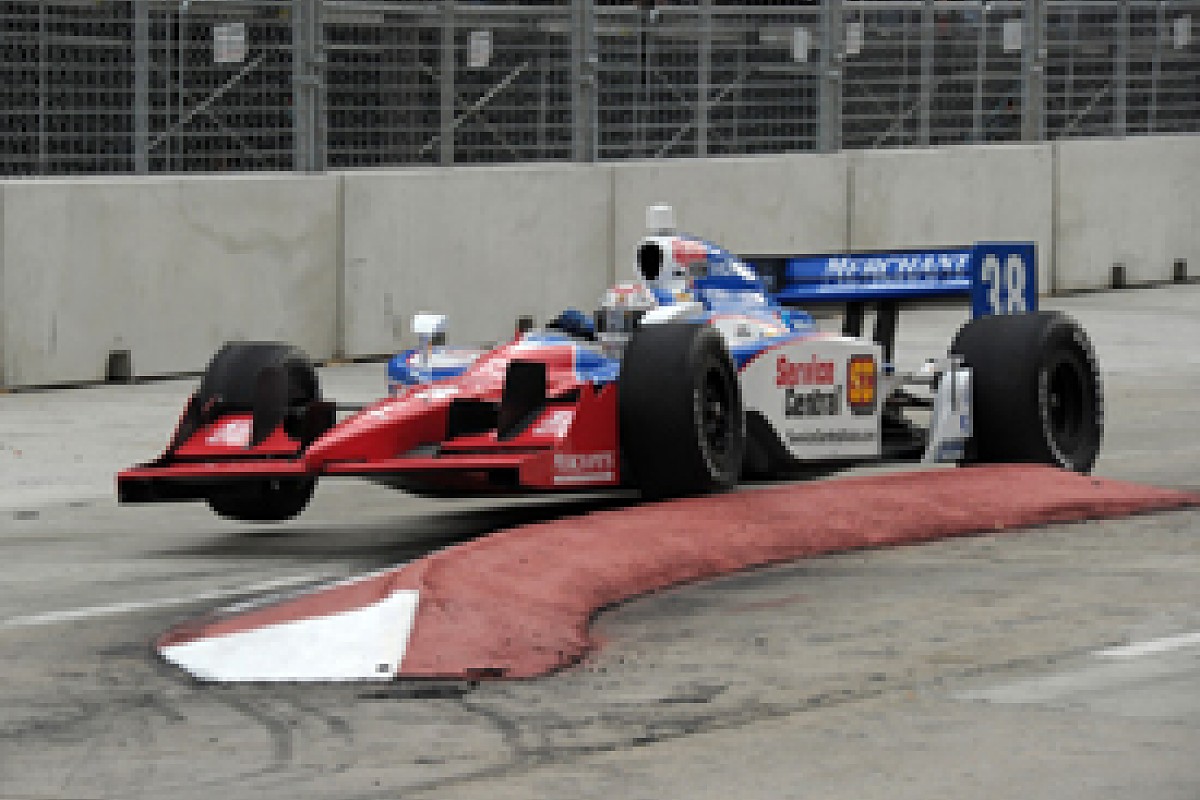 Graham Rahal has benefited from Ganassi's expansion © LAT
"Graham and Charlie are at the front end of their careers and we're finding out what they're capable of doing," Hull continues. "That fires us up enormously because we've got youth driving two cars and experience driving two other cars and they're helping each other. For us, it's a pretty important programme and it has great traction going forward."
'G2' is a shrewd move by Ganassi because it's an interesting way for him to gauge just how effectively the flagship Target team is using its resources. And as always, it comes back to a comparison with Penske.
"Let's just say the Target team has the performance that you want in any race team," Ganassi offers. "That performance comes at a level that I would characterise as an arms race, almost, with my rival Mr Penske. While we can certainly operate in that model, and we do it well, there are other business models out there that don't have that full-on effort. They can still get 90 per cent of the job done that our team can. I thought it was important to verse myself in those business models and at the same time add something to the Target team. It's doing just about what I thought it would do and I'm pretty proud of it. I think it's shown we can put a team out there at that level and do better than most."
While Ganassi and Penske are bitter rivals on the track, they are at least friendly - if not friends - outside the arena. When Jamie McMurray won the Daytona 500 in 2010, Penske sent Chip a text message saying simply, 'Welcome to the 500 Club'. Later that year, McMurray also won the Brickyard 400, making Ganassi the first owner to claim victory in the two major auto races at Indianapolis Motor Speedway - aka Penske's Playground - in the same year.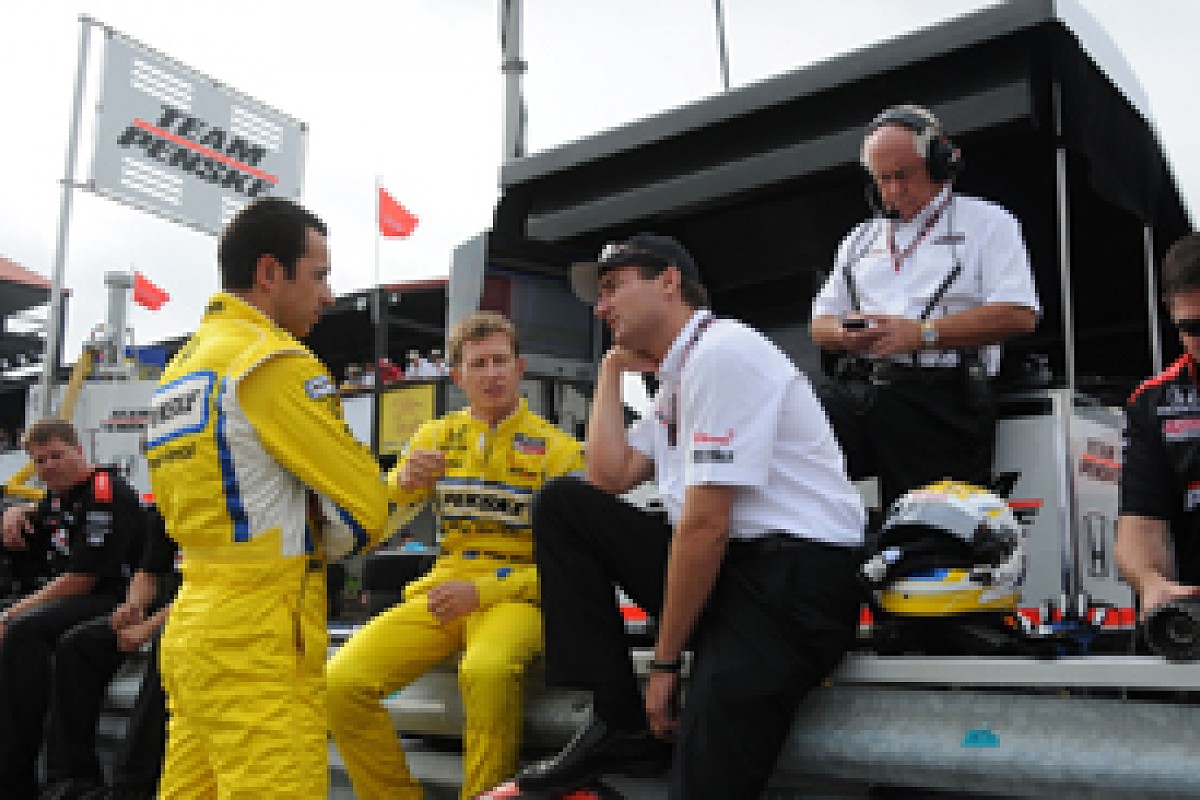 Penske's Helio Castroneves and Ryan Briscoe chat with Tim Cindric and Roger Penske © LAT
Talk to Penske and it's clear that he has respect for Ganassi, the guy who was a brash upstart when he got his team started more than two decades ago.
"What keeps us sharp is having a competitor like that, having somebody who wants to push things and drive his team to a higher standard," Penske comments. "That's what the sport is all about. But we've had good rivalries and we're friendly. He's supported us in a number of areas when we needed it and vice versa. I tell you, if he needed a car for some reason at a racetrack, he could have one of mine."
Ganassi makes it clear that even though they are fierce competitors from green flag to chequer, he and Penske often work together to help advance IndyCar racing as a whole.
"Whether we're in team-owner meetings or talking to IndyCar management, we're usually on the same page about the sport," he says. "Let's face it, if it wasn't for Roger, there arguably wouldn't be IndyCar racing around today. He and I are together a lot, whether it is for car initiatives or engines or just longer-term things. We always seem to be on the same page about where we think they ought to be or ought to go."
While that statement will no doubt provide fodder to those who believe that Penske and Ganassi run the sport, Ganassi insists his only interest is running his racing team. And that means beating the benchmark. Not that he fully admits it.
"That's one of the things I'm driven by, sure," Ganassi allows, "but not the only one. I can tell you, I'd still be plenty driven even if Penske wasn't there."
Subscribe here to read Racer magazine online every month.
You can also keep up to date with US motorsports news by signing up to Racer's daily newsletter.