IndyCar's plans to visit to the east-coast harbour city of Baltimore had its detractors, be they locals concerned about road closures, or the forces of nature - the area was hit by an earthquake and a hurricane in the week prior to the race.
But Baltimore is a city toughened by its past, and it takes more than a bit of rain and some angry locals to derail things. This, after all, was the staging ground for the battle between the British and US forces that led to Francis Scott Key writing 'The Star-Spangled Banner' after witnessing the bombardment from the deck of a prison ship.
Predictably, there were glitches.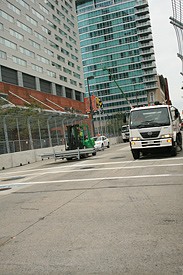 Track work delayed Friday practice @ autosport.com
Friday's running was seriously curtailed by the small matter of the safety fencing not being fully installed, and behind the scenes there were a few hiccups on the organisational front. This is to be expected from a debut street race, and no doubt a lot of the problems will be learned from and ironed out for next year.