In the past 10 years, Tony Kanaan has made 147 starts in IndyCar. And rarely can he have had a day as strange as last Sunday in Baltimore.
The Brazilian had already surfed through an erratic first couple of days in Maryland. Delays in getting the new street circuit ready caused the cancellation of the opening practice session on Friday, leaving the drivers and teams less time to get themselves dialled into the many eccentricities of a circuit characterised by technical corners, different surfaces and endless bumps.
Kanaan finished the first practice session respectably enough in ninth, but by the end of the following morning's session he was stuck in 22nd. Here, the benefits of having two team-mates to share data with came into play, and he recovered in qualifying to put himself 11th on the grid.
Sunday morning's warm-up was meant to offer a final opportunity for the engineers to tweak the cars for the main event, and for the drivers to pick up on any changes to the grip levels following an American Le Mans Series race the previous evening. But reality broke away from the script when Kanaan suffered a brake failure on the way into Turn 1 just three laps in.
Penske's Helio Castroneves, running just ahead of Kanaan, felt a sudden slam from behind and looked over to see the KV Racing/Lotus car skate down his right sidepod, launch over a set of tyre barriers, and clear the entire run-off area before finally coming to rest in a service road.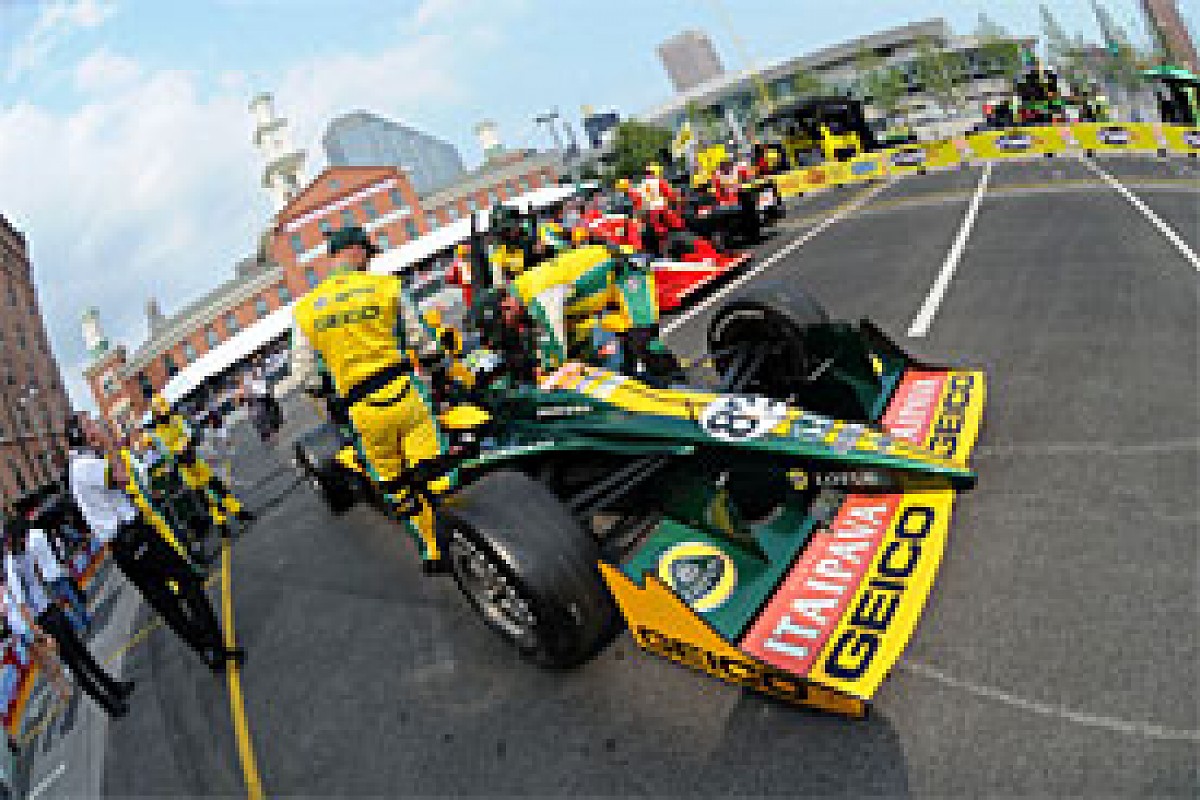 Kanaan had to start from the back of the grid after his warm-up crash © LAT
Castroneves, whose car was also damaged, stopped in the service area and sprinted over to Kanaan with a few track marshals doing their best to keep pace. For those watching live, Castroneves's dash between the tyres was the first hint that another car was even involved - by the time the screens switched to the incident, Kanaan's car was completely obscured by the wall, and the tyre barriers that he'd clipped had resettled in more or less their original position.
It was only when the first glimpse of Kanaan's car became visible that the seriousness of the incident became apparent, and when the full accident was shown in replay, it became clear how much worse it could have been. Shudder to think what might have happened had Castroneves not been there for Kanaan to hit first.
Kanaan's immediate reaction upon getting out of the car was sheer fury: "A brake failure in a racing car is something that should not happen." Later, he became more reflective.
"It was a tough morning. A good wake-up call. I did one mistake on the team's part, and I'm including my part [in that we are all a team]. Helio can brag about how he saved my life, and I am going to owe him for that for a long time. But it wasn't a fun morning.
"I've had bad crashes in my life, including the Indy one a couple of years ago, which was huge. But this morning, I woke up and I was in a bad mood. I was complaining about things that don't really matter, and I think somebody was trying to tell me something. I have to really think about that."
Harm avoided, his attention swiftly turned to his next problem. There was no way that his car could be repaired in time for the race, and his spare was being crated up for its trip to Motegi. Not only that, but the accident - coming a week after he suffered a throttle problem at Sonoma - had devastated the crew working on the #82. As well as needing to get another car sorted out, Kanaan also had to pull the team back together. So he rolled up his sleeves, and got to work on readying team-mate EJ Viso's spare chassis himself.
"We were really tight [for time]. I used to work on my cars but it has been a long time, so I just put my seat belts in. I was helping the guys. It wasn't just because we were short a person - my guys felt really down when that [crash] happened and everybody got really scared, because they don't want to hurt me and it was a human mistake.
"I felt that I needed to support them and say, 'look, forget about it, because there are days where I destroy this thing because I make a mistake and you guys have to fix it.' I was trying to give them support. At this time it was not going to do us any good to point fingers."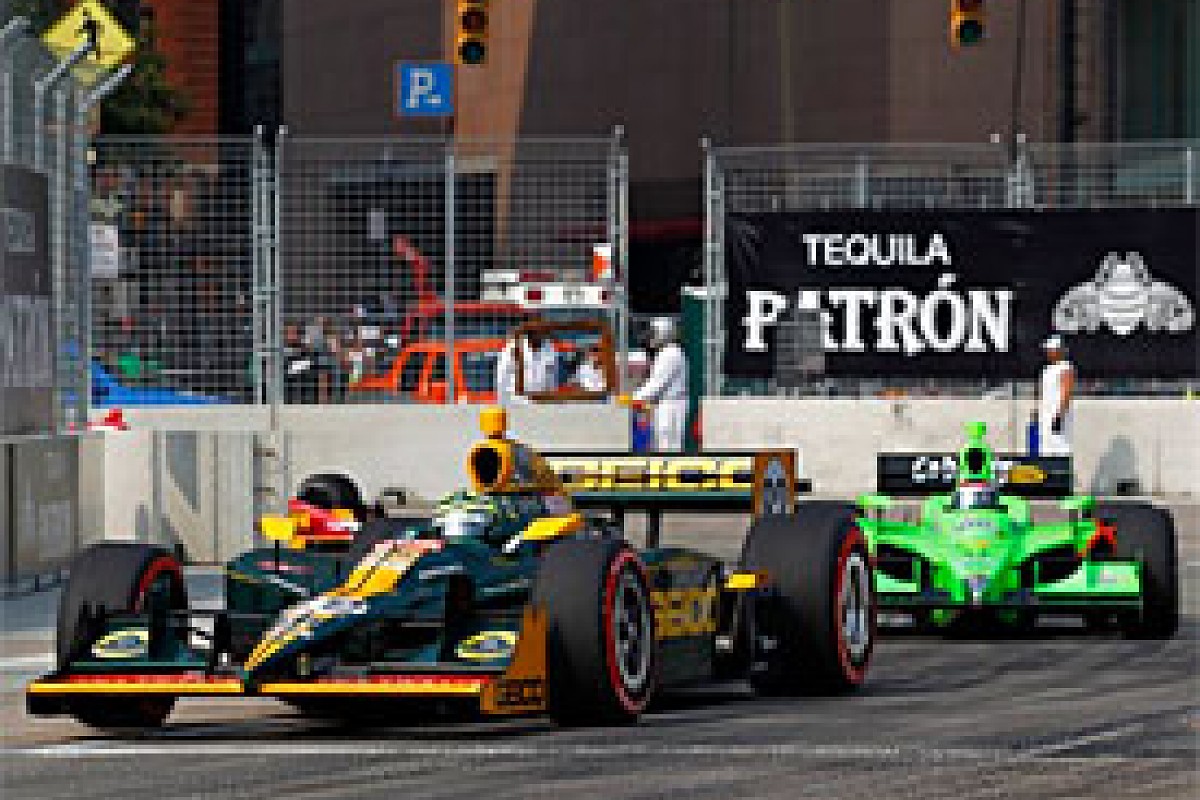 Kanaan charged from last to third © LAT
Castroneves was also forced to switch to a back-up car for the race, meaning that he and Kanaan were both made to line up at the back of the grid. The prospect of a pile-up at the tight first corner had been looming all weekend, so Kanaan took an ultra-conservative approach to the start (as it turned out, everyone got through cleanly).
During the first few laps he settled into a rhythm, picking the odd car off here and there when the situation presented itself, but his big opportunity came when there was a multi-car crash at Turn 3 midway through the race, prompting a long spell under yellows.
Kanaan's crew decided there was little to risk in taking a gamble on strategy, so they elected to pit. It paid off - he and Oriol Servia (who was just ahead of him, having done the same thing) had to save fuel for the rest of the race, but they found themselves doing so with everyone except eventual winner Will Power behind them. When the chequered flag fell, Kanaan had climbed from the last row to third.
"The mindset [at the start] was that by the time they called the green, I was so afraid people were going to get in an accident at Turn 1, I was going to count to five before I went full throttle. So I took the green flag, and I was four seconds behind the last guy. But nothing happened, and then I just started to push, close the gap, pass a couple of guys. The way this series is right now, it's so competitive that I knew I couldn't make a miracle, and I didn't expect that I was going to drive through the field. We had to do something different, so I was never pushing it till we were yellow and me and Oriol were pitted, and we were going to make it to the end. The team said, 'Go as fast but save fuel,' and I said 'Thanks.' They said 'Can you race slow?' I mean, I can't!
"Will just took off and back then [Servia and I] just settled for second and third, but until the last stop I don't think I raced. I was just really patient trying to look around and see what's happening. Starting where we were, we just went off synch. What's the worst that can happen - if it doesn't work you end up 28th? We started 27th ...
"We just got lucky today with that strategy, but hey, I'll take it. I wouldn't have bet on myself to have finished third, I can tell you that."
The afternoon undoubtedly delivered far more than Kanaan could have expected after his adventures at the start of the day, but one postscript remains. During the day, Kanaan had cryptically tweeted '99 Forever!'. The message, he later explained, related to something he'd noticed while working on the spare car.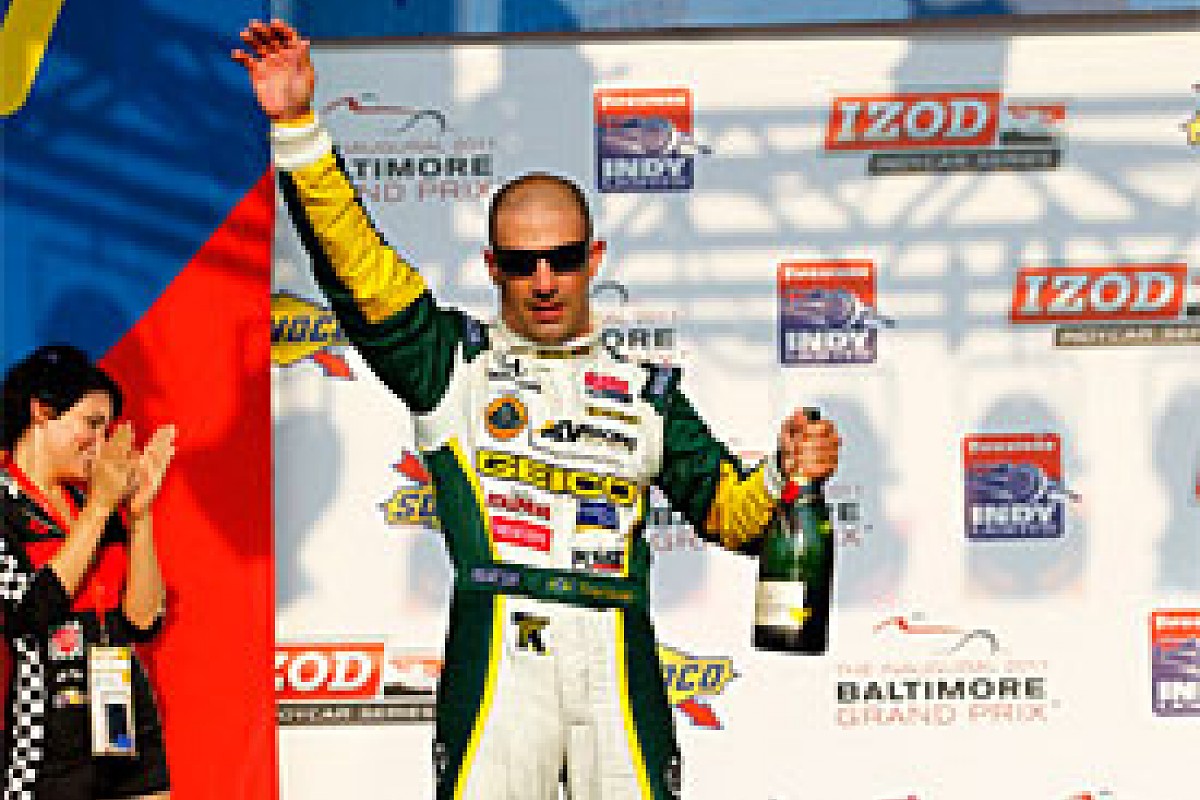 The Brazilian celebrates on the podium © LAT
"I hadn't looked at my engine all weekend long. When the car was sitting in the stands [on Sunday morning] and we were getting ready to go to the back-up car, they were going to pull the engine and the gearbox to put into the back-up car, because it was still good.
"I was just walking around the car, and I had a look. Every engine has a number, and the number was 99, and for people that don't know, that was Greg [Moore]'s number. [ED: Moore was killed in a CART race at Fontana in 1999]. It was a sign."
"Either he didn't want me racing up there with him yet, or he wanted me down here. I don't know ... it's just a number. But it got my attention."
A lucky escape from a serious accident. A leading IndyCar driver preparing his own car. A drive from last to third. A spooky message invoking a lost friend. Whatever the future has in store for Kanaan, his first visit to Baltimore's status as his strangest day at a race track will take a lot to beat.