Think of today's IndyCar stars, and you immediately think of Dario Franchitti, Helio Castroneves and Scott Dixon. All have either won the title (Dixon and Franchitti) or the Indy 500 (Franchitti and Castroneves) on multiple occasions, and you wouldn't bet against either them adding to their haul this year. So who's most likely to break up this cosy trio?
Penske's Will Power came within an ace of winning last year's title, only to find the cards he was dealt in the closing rounds - or at least the way he played them - weren't good enough to win the pot. Think a little harder, and you'll remember the third member of the Penske triumvirate, Ryan Briscoe.
Aussie Briscoe is perhaps the forgotten man of IndyCar. So much so that when a shortfall in Penske's funding for 2011 was apparent, it was he in the firing line - not newcomer team-mate Power, not veteran team-mate Castroneves. But thanks to the 'acquisition' of sponsor Izod (last year Ryan Hunter-Reay's backer at Andretti Autosport), Briscoe - who unsuccessfully took the fight to Ganassi duo Franchitti and Power in 2009 - is back.
This has certainly focused his attention, and he admits confirmation of his full-time drive this year was "a big relief". But more pressing, from a Penske point of view, is the fact it hasn't won the IndyCar Series title in five years. How important is that to him?
"We need to! Absolutely," Briscoe fires back. "All three of us over the past few years have gone right to the wire, and Ganassi has taken it from us. We want it - I want it bad. I missed not being in the title hunt last year, and I wanna be back there.
"And, of course, the other big one on the cards is the Indy 500. Roger has won 15 of them, but it's not been good to me over the past few years. Hopefully we can turn that around."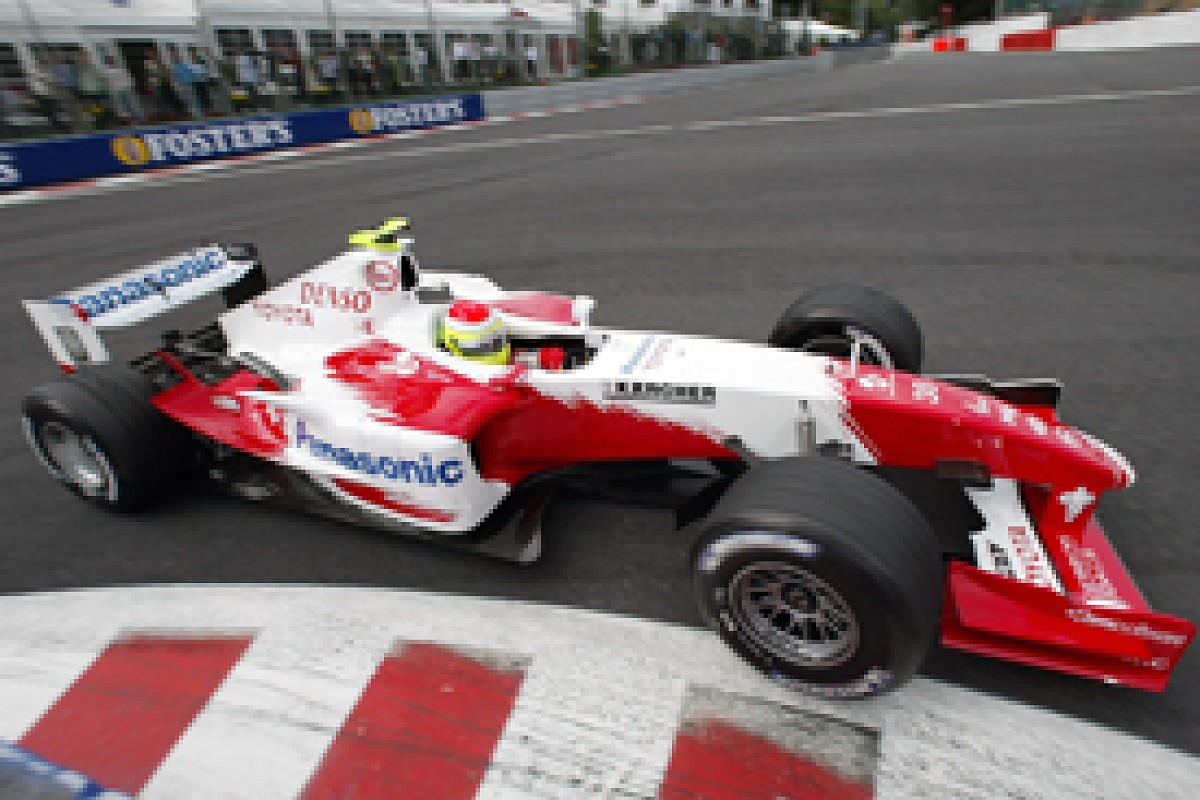 Toyota patronage saw Briscoe get plenty of F1 test and practice mileage © LAT
Rewind Briscoe's career, and you'll be amazed what he's crammed in for someone who doesn't hit 30 until September. Italian Formula Renault champion, then straight to Formula 3000 (far too ambitious, it was a disaster), then back to Formula 3, when he beat Christian Klien to the first Euro Series title (Timo Glock and Nico Rosberg were also around). Then a whirlwind of Formula 1 testing (plus Friday practice running) with Toyota, then Champ Cars, A1GP, IndyCar, Grand-Am, the American Le Mans Series... "I've certainly driven a few racecars, that's for sure," he smiles.
In Penske, he found salvation. As Sam Hornish switched to NASCAR, Briscoe jumped across from its successful Porsche ALMS squad to join Castroneves in its IndyCar ranks for 2008. And he's been there ever since.
"It's definitely a great feeling, an amazing team that gives you the tools to go out there and compete for wins every weekend," says Briscoe. "Roger is an unbelievable man to work for. He's a classy guy: everything about him is about racing and winning. But he's down to earth as well.
"I've been lucky to have him as my strategist since I came on board at Penske, back in 2007. He's been a big mentor for me, walking me through races, in sportscars and then IndyCars, and I've learnt a lot from him about strategy and timing and patience. He's turned me into a better driver, and it's special to have him call my races."
'The Captain' took Briscoe to within a whisker of 2009 IndyCar title, but a pitlane fumble in Motegi - Briscoe sliding into the wall as he hastily wheelspun out of his box - was the defining moment in his failure.
"You've gotta move on, that's for sure," he says of the memory. "It was a fantastic, close-fought championship. I think the points lead swapped at almost every round, it was that tight. It certainly gave a lot of self-confidence to know that you can run that way for an entire season and run head-to-head with guys like Dixon and Franchitti. Obviously that's tinged with regret about the mistake I made in the second-last round that cost me a lot of points. It was just the timing... it was just poor.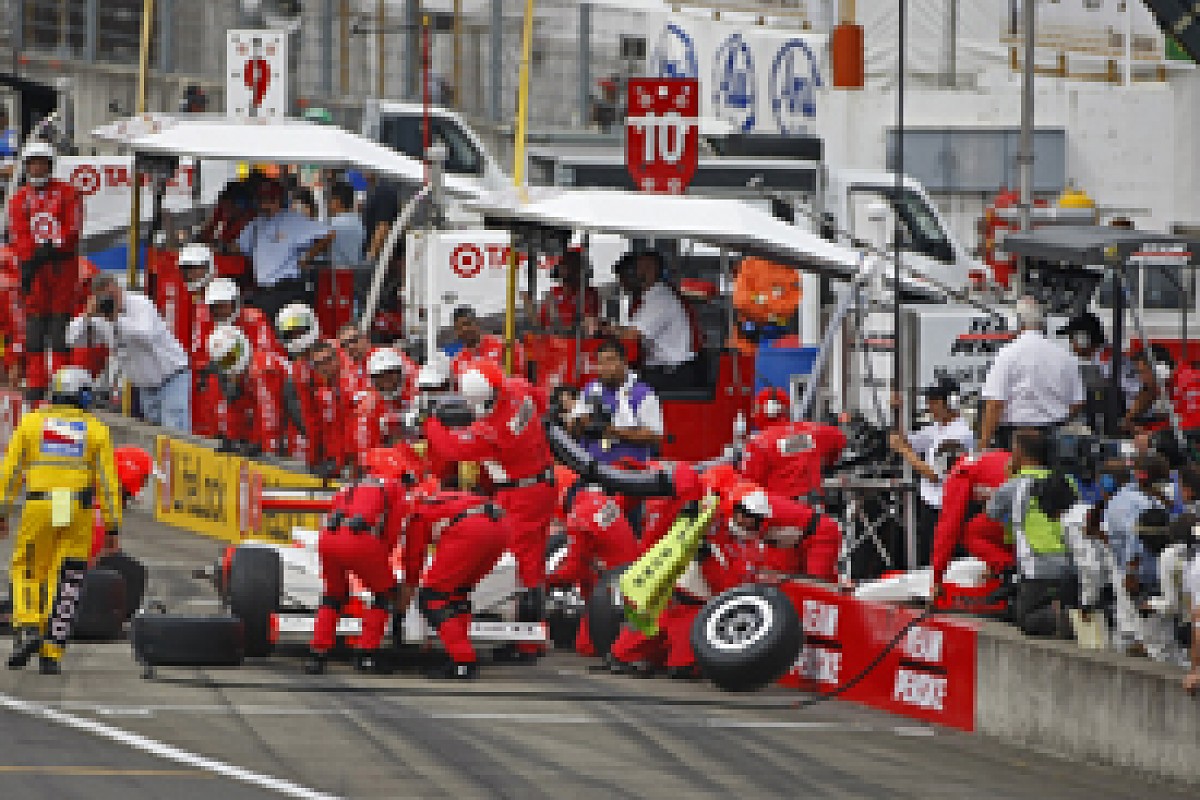 Motegi pit calamity ruined Briscoe's 2009 title bid © LAT
"I mean, we all made mistakes throughout the year, but when it happens right at the tail-end, you feel the impact moreso than the beginning. It was just one of those deals. I've put it behind me."
Fast-forward to last year, and just a single race win at Texas: "It was okay... I didn't run as strongly at some places as I would've liked, and only got the one win. That gives me a lot of drive to work even harder and to come back and have a year like 2009 or better."
Easy to say, not as straightforward to do...
"There's a lot of competition, and you've got to be right-on with your set-up. There's so many different kinds of courses in IndyCars, and I felt like I was really struggling with balance in qualifying on street circuits. That's the focus point going into this year, improving that.
"We raced well, and always moved forward, but I don't remember being happy once with my car in qualifying at a street course. We've done a lot of analysis on that, but it doesn't take much, to be a little bit off and then you're mid-pack, and it's always a struggle from there."
The 2011 season starts this weekend in St Petersburg. So how has his pre-season gone?
"Good, very good," he replies. "We went to Barber a couple of weeks ago for a shakedown run, a private test. That knocked off the rust a little bit, and came back with the entire field and ran at the front the whole time. They tyre is different, so we had to work hard on getting the balance right. I struggled on the first day to get it back to where I liked it, it was really loose and I couldn't get aggressive with it, but the second day was where I really liked it, and we were at the front all day.
"I think we could've been quickest, but ran out of time to get the new tyre run that others got. It felt good, so it gives me a lot of confidence going into St Pete this weekend."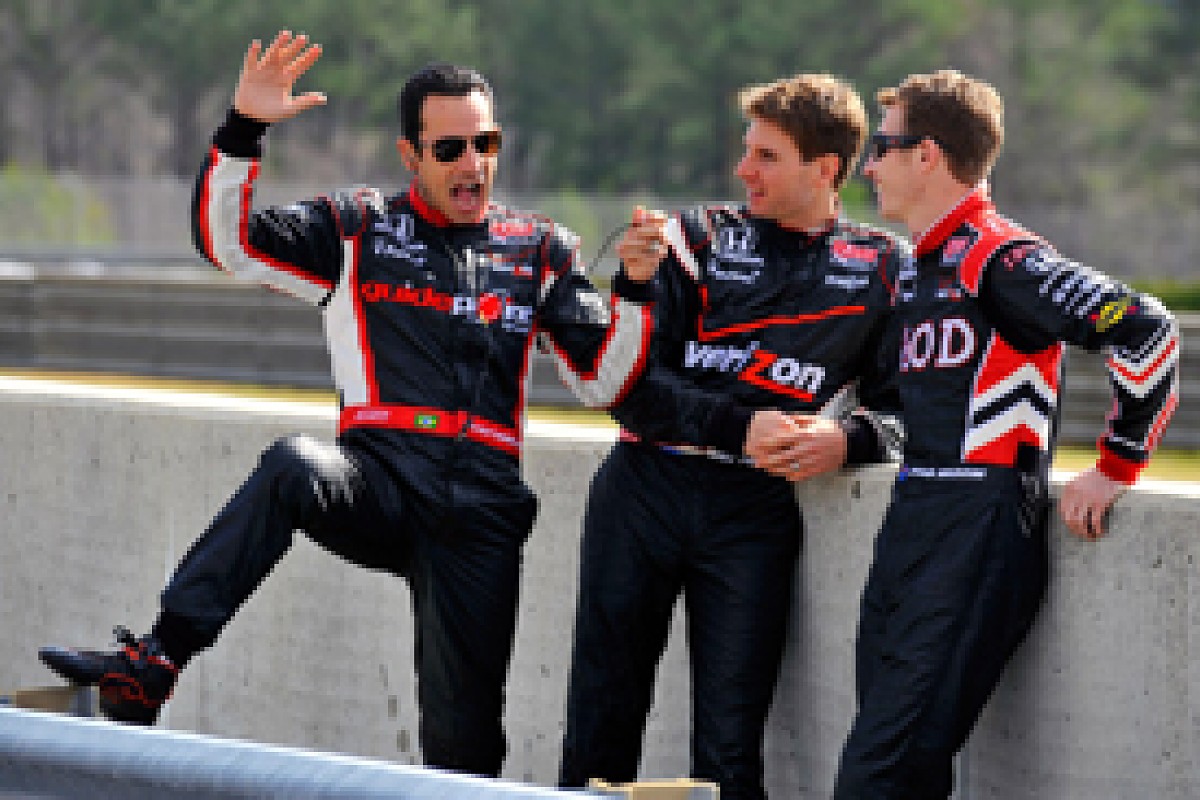 The Penske trio get on well © LAT
Having three drivers in the Penske ranks has its advantages, as long as they're pulling in the same direction. Briscoe believes they're stronger as a collective than as individuals.
"I think we have our slight differences, but we certainly look at each other's styles a lot, so if one is doing better right off the bat, we'll learn from that and try and pick it up in those areas. We are three strong drivers, so it really pushes the team forward.
"We're very competitive, and we learn off each other every time we go out. It ups the game within the team, so we can do better - both in driving style and set-up. Over the course of a day, a lot of laptime gain comes from working together, and competing against, each other."
The big change for 2011 is the advent of double-file restarts - a la NASCAR. Can we expect chaos?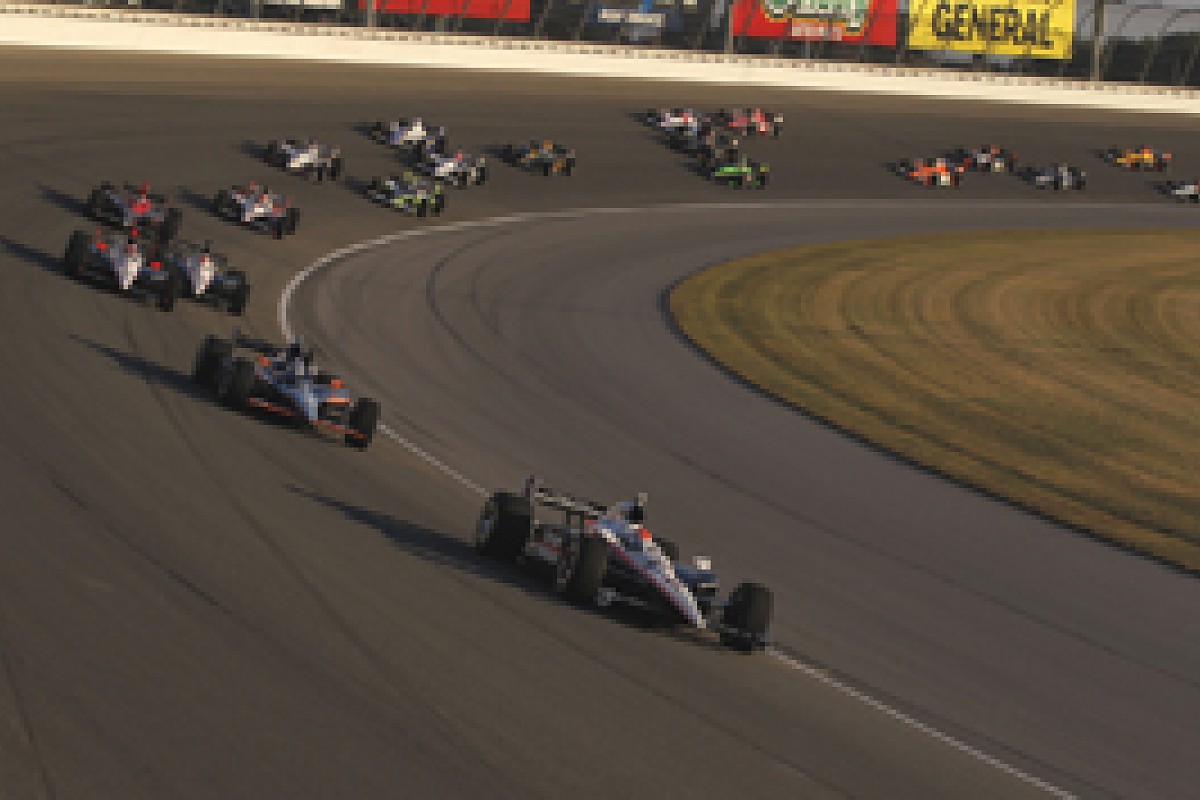 IndyCar restarts will get more challenging in 2011 © LAT
"Yeah, probably! I think it's going to be interesting. I'm looking forward to it. I'm a big fan. From an unpredictability standpoint, it's going to be better for the fans. It's going to mix things up a lot and over the grand scheme of a championship things will always even themselves out. Saying that, I think there's going to be days when I hate it, and days when I love it! But probably, most days, I'll approach it as a great opportunity to gain positions.
"Whether it works out, we'll have to see, but you're going to have to have your head screwed on tight for them, especially mid-race on, when there's lots of marbles. If you're on the outside, it's going to be tricky to keep on a clean part of the track and not to crash with anyone.
"We're all in the same boat, and I think because of the oval racing there's an extremely high level of respect between us drivers. I think we're going to have to bring some of that oval mentality back into road and street course racing. Think about Indianapolis, two-wide. We're used to single-file and backing off to get clean air to get a run onto the back straight. Now we're going to be battling for position two-wide down to Turn 1, it's going to change things a little bit. It's going to change the way you approach restarts, full-stop."
When we reach this point next year, we're going to be talking about a whole new car and engine package. Twelve months early, and Briscoe already "can't wait".
"I wish it was this year," he says. "I think it's going to be a big step for IndyCar racing, and I've got a lot of confidence in Dallara coming up with a great car. It's going to look a little bit different.
"I went to Dallara a few weeks ago and saw the 50 per cent model going into the windtunnel, with their early version of an aero kit. It's funny, it kinda looks a little sportscar-ish around the back, with the wider sidepods at the rear wheels, but looks a very sleek open-wheel car from the front. It's certainly different-looking.
"The car is lighter weight, we'll be on carbon brakes at all the tracks, twin-turbo or turbo engine, so we'll have more power on the road and street circuits. It's all really exciting stuff; the car's going to be quicker but it's still going to be tough to drive. Still no power steering, so fitness will remain a key part to driving an IndyCar, and I expect to be pulling higher Gs.
"I can't wait; it's going to be great. I think it'll mean greater safety measures for IndyCar racing, which I certainly appreciate, considering the amount of high-speed, side-by-side racing that we do."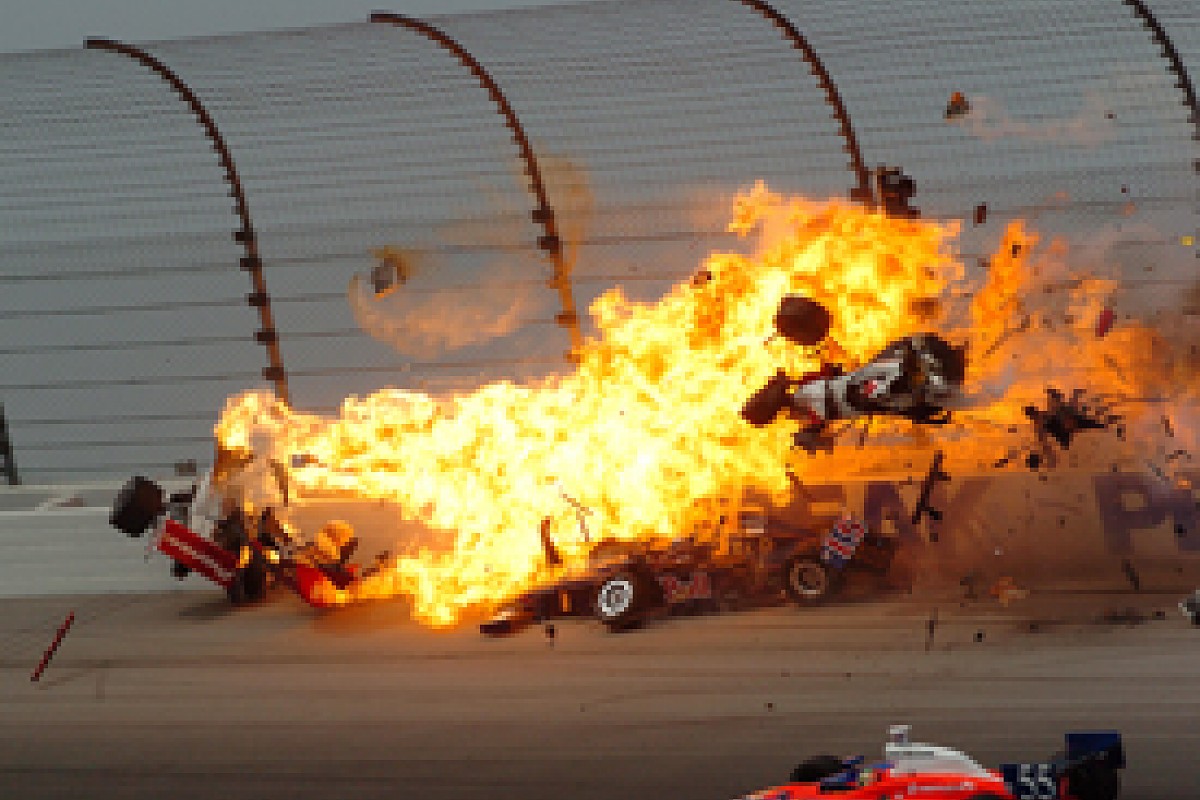 Briscoe escaped this horrific crash at Chicagoland in 2005 © LAT
This from someone who knows what it's like to have visited the catchfencing in an IndyCar at 200mph-plus, during his Ganassi stint in 2005.
"I definitely feel lucky with the incident I had at Chicagoland," he reflects. "Everyone can see what can happen, if it's happened to them personally or not. It can happen easily in IndyCar, and happened just this year again with Mike Conway at Indy. It makes you fully aware of the dangers involved, it's probably THE most dangerous form of motorsport... maybe outside of drag racing, I don't know!
"It's not something I ever think about while I'm out there racing. But it definitely prays on your mind during preparation for a race. You make sure you've got absolute concentration and making sure you have the best racecar possible, because the consequences can be pretty brutal if your car isn't good and you have to start overdriving it."
In the past three years, Briscoe has been fifth, third and fifth in the IndyCar standings. If he's to stay in one of those cherished Penske seats for the new era in 2012 - especially now that former champ Sam Hornish's NASCAR career has fizzled out - Briscoe knows he's got to raise his game and deliver.
This week's AUTOSPORT magazine - available in shops or in digital form - features more IndyCar Series preview content including exclusive interviews with Helio Castroneves and Justin Wilson and the latest instalment of our Indianapolis 500 history feature.