Porsche factory driver Laurens Vanthoor blasted "my worst performance in years" after crashing out in the early stages of the IMSA SportsCar Championship's night race at the Charlotte 'roval'.
Both Vanthoor's #912 Porsche 911 RSR-19 and the sister #911 of Fred Makowiecki were forced to retire with accident damage inside the first 20 minutes of the race, held in difficult conditions amid heavy rain that reflected off the road surface and made it difficult to spot standing water.
It marked a disappointing return to the series for Porsche after both CORE Autosport-run cars were withdrawn from the Mid-Ohio round following concerns of a COVID-19 outbreak within the Manthey Racing bubble at Le Mans the previous week.
"We had big plans and the race started well, but then the event came to an abrupt halt for us after just 20 minutes," said Porsche Motorsport's Head of Operations for IMSA Steffen Hoellwarth.
"Both vehicles hit the barriers in heavy rain. We weren't able to do the necessary repairs within the short time available.
"That's bitter for our entire team. We have a lot of work to do before the next race."
Defending IMSA GTLM champion Vanthoor, who had brought out a red flag with a qualifying crash at Turn 7, had fought from sixth to fourth by lap four when contact with the wall put him out.
"Crash in qualifying, crash in the race. Quite honestly, that was my worst performance in years," he said.
"I don't know what happened. It just didn't work.
"We had hardly any grip in the rain. We had nothing to lose so I tried everything to match the pace of the leaders.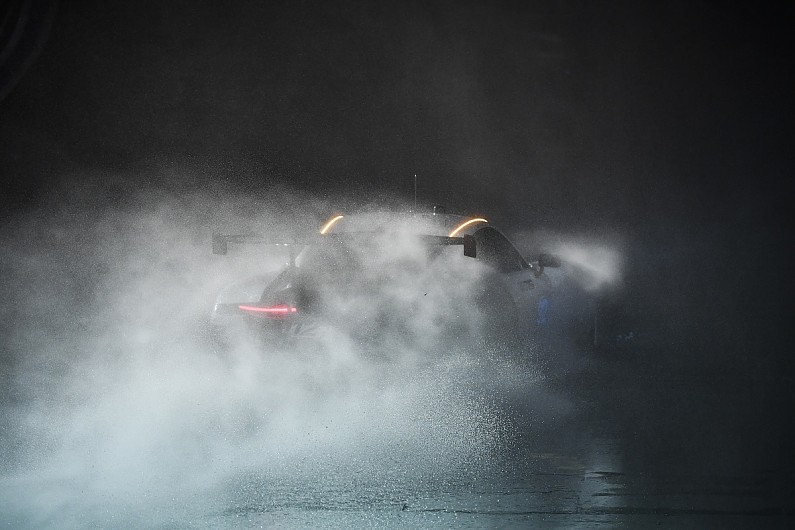 "Unfortunately, it went terribly wrong."
Makowiecki, who qualified just 0.056s behind poleman Jordan Taylor's Corvette, was running in second when he too fell foul of the conditions.
"First I have to let this sink in, I'm deeply disappointed," he said.
"After the qualifying, things seemed really good, the second grid spot looked promising for the race. But heavy rain threw a spanner in the works.
"We had massive problems with aquaplaning and the car just couldn't be controlled. We've had difficulties in heavy rain throughout the year."
Taylor and team-mate Antonio Garcia took their fifth win of the season with the new-for-2020 Corvette C8.R after Garcia passed the #24 BMW of John Edwards and Jesse Krohn, but the Spaniard admitted afterwards that he too had endured a difficult time behind the wheel.
"It was super, super stressful," Garcia remarked.
"Even if it felt like I was just following the #24, I was really hanging on.
"I probably crashed four or five times, just like everyone else.
"There was a massive river going across at Turn 3, and I almost lost it two or three times there."