Juan Pablo Montoya moved closer to his first title since his 1999 CART crown as he and Acura Penske team-mate Dane Cameron won the Laguna Seca IMSA SportsCar Championship round.
Cameron and Montoya's win in a dominant one-two ahead of team-mates Ricky Taylor and Helio Castroneves gave team owner Roger Penske a 90th sportscar win in his 200th sportscar race.
It put Montoya and Cameron 12 points ahead of Action Express duo Felipe Nasr and Pipo Derani with just the season finale at Petit Le Mans to go.
Taylor had led the first stint but was passed by Cameron in traffic just past one-third distance.
While Cameron had a smooth run to the flag from there, Castroneves had to contend with a minor collision with an LMP2 car and pressure from Renger van der Zande in the Wayne Taylor Racing Cadillac before completing the Penske one-two.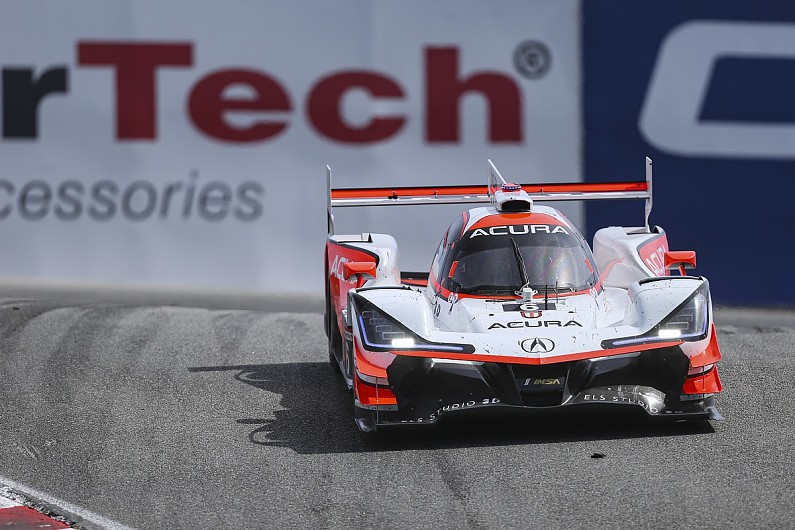 Derani kept him and Nasr on Montoya and Cameron's tail in the title fight by passing van der Zande for third late on.
Mazda had won the previous three Prototype rounds but had to settle for sixth this time with the best of its cars as Oliver Jarvis and Tristan Nunez finished just behind the second Action Express Cadillac of Joao Barbosa and Filipe Albuquerque.
Ford won the GT Le Mans class with Joey Hand and Dirk Muller, with Bryan Sellers and Corey Lewis dominating GT Daytona in their Paul Miller Racing Lamborghini.
Race result

| Pos | Class | Driver | Team | Car | Laps | Gap |
| --- | --- | --- | --- | --- | --- | --- |
| 1 | DPi | J.P.Montoya, D.Cameron | Acura Team Penske | Acura | 121 | 2h41m11.681s |
| 2 | DPi | R.Taylor, H.Castroneves | Acura Team Penske | Acura | 121 | 9.784s |
| 3 | DPi | F.Nasr, P.Derani | Whelen Engineering Racing | Cadillac | 121 | 19.131s |
| 4 | DPi | R.van der Zande, J.Taylor | Konica Minolta Cadillac DPi-V.R | Cadillac | 121 | 20.122s |
| 5 | DPi | J.Barbosa, F.Albuquerque | Mustang Sampling Racing | Cadillac | 121 | 23.543s |
| 6 | DPi | O.Jarvis, T.Nunez | Mazda Team Joest | Mazda | 121 | 24.349s |
| 7 | DPi | J.Bennett, C.Braun | CORE Autosport | Nissan | 120 | 1 Lap |
| 8 | DPi | M.Goikhberg, T.Vautier | JDC-Miller Motorsports | Cadillac | 119 | 2 Laps |
| 9 | DPi | S.Trummer, S.Simpson | JDC-Miller Motorsports | Cadillac | 119 | 2 Laps |
| 10 | LMP2 | M.McMurry, D.Kellett | PR1/Mathiasen Motorsports | ORECA/Gibson | 117 | 4 Laps |
| 11 | LMP2 | C.Cassels, K.Masson | Performance Tech Motorsports | ORECA/Gibson | 116 | 5 Laps |
| 12 | GTLM | J.Hand, D.Muller | Ford Chip Ganassi Racing | Ford | 114 | 7 Laps |
| 13 | GTLM | J.Krohn, J.M.Edwards | BMW Team RLL | BMW | 114 | 7 Laps |
| 14 | GTLM | J.Magnussen, A.Garcia | Corvette Racing | Chevrolet | 114 | 7 Laps |
| 15 | GTLM | O.Gavin, T.Milner | Corvette Racing | Chevrolet | 114 | 7 Laps |
| 16 | GTLM | T.Blomqvist, C.De Phillippi | BMW Team RLL | BMW | 114 | 7 Laps |
| 17 | GTLM | R.Briscoe, R.Westbrook | Ford Chip Ganassi Racing | Ford | 114 | 7 Laps |
| 18 | GTLM | E.Bamber, L.Vanthoor | Porsche GT Team | Porsche | 113 | 8 Laps |
| 19 | GTLM | P.Pilet, N.Tandy | Porsche GT Team | Porsche | 113 | 8 Laps |
| 20 | GTD | B.Sellers, C.Lewis | Paul Miller Racing | Lamborghini | 110 | 11 Laps |
| 21 | GTD | C.MacNeil, T.Vilander | Scuderia Corsa | Ferrari | 110 | 11 Laps |
| 22 | GTD | J.Potter, A.Lally | Magnus Racing | Lamborghini | 109 | 12 Laps |
| 23 | GTD | S.Hargrove, Z.Robichon | Pfaff Motorsports | Porsche | 109 | 12 Laps |
| 24 | GTD | B.Keating, J.Bleekemolen | Mercedes-AMG Team Riley Motorsports | Mercedes | 109 | 12 Laps |
| 25 | GTD | K.Legge, C.Nielsen | Heinricher Racing with Meyer Shank Racing | Acura | 109 | 12 Laps |
| 26 | GTD | B.Auberlen, R.Foley | Turner Motorsport | BMW | 109 | 12 Laps |
| 27 | GTD | M.Farnbacher, T.Hindman | Michael Shank Racing with Curb-Agajanian | Acura | 108 | 13 Laps |
| 28 | GTD | R.Heistand, J.Hawksworth | AIM Vasser Sullivan | Lexus | 108 | 13 Laps |
| 29 | GTD | P.Holton, M.Plumb | Compass Racing | McLaren | 108 | 13 Laps |
| 30 | GTD | F.Montecalvo, T.Bell | AIM Vasser Sullivan | Lexus | 106 | 15 Laps |
| 31 | DPi | J.Bomarito, H.Tincknell | Mazda Team Joest | Mazda | 87 | Not running |
| - | GTD | P.Lindsey, P.Long | Park Place Motorsports | Porsche | 0 | Withdrawn |