In association with
A new one-day historic race meeting at Silverstone on 25 October has been added to Motor Racing Legends 2020 schedule.
The new race meeting, to run on the full Silverstone Grand Prix circuit, will feature a one-off three-hour race for Pre '66 GTs and Touring Cars and Fifties Sports Cars, named in honour of the Royal Automobile Club's famous Tourist Trophy.
Other races held at Silverstone that day will be a one-hour combined race for the Woodcote Trophy and Stirling Moss Trophy for 1950s sportscars and a one-hour combined race for the Historic Touring Car Challenge and Sixties Touring Car Challenge with U2TC for Touring cars from the 1960s, '70s and '80s.
The original MRL schedule has been heavily hit by the COVID-19 pandemic, which forced the cancellation of planned races at the Donington Historic Festival and Spa Classic Six-Hour meeting. Races at the Algarve Classic Festival (6-8 November) are still on the schedule but subject to changes in travel restrictions.
MRL racers had the chance to compete in the rescheduled Thruxton Classic in August and MRL boss Duncan Wiltshire was keen to present another opportunity for them to race before the close of the 2020 season.
The three-hour race is open to a wide range or cars from AC Cobras and Jaguar E-types to period touring cars such as Ford Falcons and Mustangs; Austin-Healeys and MGBs to Lister Jaguars and Lotus 15s.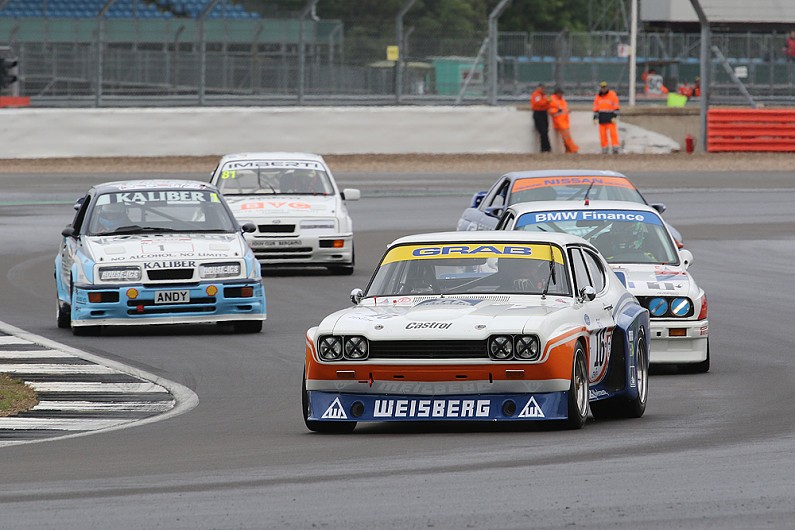 The meeting will be based in the Silverstone International paddock, with plenty of space to comply with current Motorsport UK guidelines. In line with current Silverstone Circuit policy, the event will not be open to the general public.