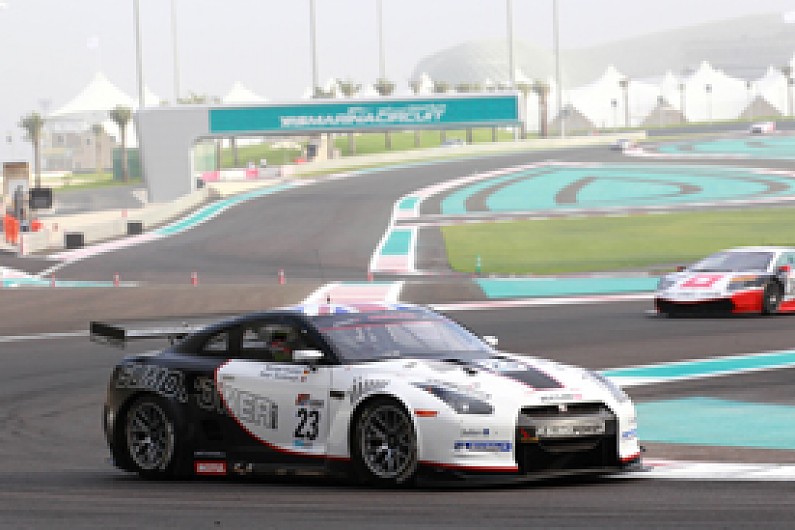 The two Nissan teams competing in the new FIA GT1 World Championship have threatened to boycott the next round and to launch a protest unless the weight penalty heaped on the GT-R ahead of the Abu Dhabi series opener is removed, this week's AUTOSPORT magazine reveals.
The Swiss Racing Team run by Othmar Welti insisted that it would not race again with the 30kg penalty that rendered the Nissan GT-R uncompetitive in last weekend's Abu Dhabi event.
The British Sumo Power squad explaining that it was considering a protest against the penalty, which was imposed under the series 'Balance of Performance' rules.
"We will not go to Silverstone under these conditions," said Welti. "We cannot be a grid filler."
Sumo team manager Allen Orchard added: "We have to go to Silverstone because it is our home event. We have tried to argue our car with facts and figures, but we are ready to put our money down and protest."
The Nissan was given the penalty after an open test on the Wednesday before the races, during which former grand prix driver Heinz-Harald Frentzen sampled all six cars on the GT1 grid.
The Maserati MC12 was given 25kg, and the Chevrolet Corvette C6.R and Lamborghini Murcielago R-SV 10kg each. The spec of the Matech-developed Ford GT was left unchanged, while the Aston Martin DBR9 was given a larger-diameter air restrictor in an attempt to increase its performance.
The Nissan teams were among those that argued that the testing was not done in a fair manner.
"I do not believe that all data needed was collected," said Orchard. "Some cars barely ran and some didn't run long enough."
Frentzen completed only two laps in the Matech Ford after complaining that he was uncomfortable in the car, and drove the Corvette early in the day when the Yas Marina track was 'green'. He did only one flying lap on new tyres in the Nissan, when it had been planned that he would undertake a 10- or 15-lap run in each car.
The Nissan teams argued that the decision did not take into account the higher weight to which the GT-R runs and its higher centre of gravity. This has a detrimental effect on tyre wear over the course of a stint.
There were also allegations of gamesmanship levelled at the Ford, Chevrolet and Aston Martin teams. The Matech Ford, which went on to win the main race, is understood not to have broken the 2m10s barrier in testing, yet lapped at 2m07/08s throughout the race.
Committee chairman and FIA technical consultant Peter Wright defended the measures.
"We gave the Maserati 25kg and it was still competitive," he said.
The best of the MC12s finished fourth in the main event, although its best race lap was 1.7s shy of the fastest lap set by the winning Ford.