Audi sport chief Dieter Gass says differences in sporting regulations need to be ironed out before the manufacturer can commit to Japan's Super GT Championship.
Gass has identified the open-tyre rules in Japan and the testing restrictions in the DTM as potential obstacles for adding a Super GT programme with the RS5 DTM.
That is despite the aligning of the technical regulations between the DTM and Super GT, which means that Japan's three Super GT manufacturers will compete in the DTM finale at Hockenheim this October, before the DTM squads visit Japan for a 'match race' at Fuji in November.
Audi is currently represented in the secondary GT300 class of Super GT, with the Hitotsuyama Racing squad running an R8 LMS GT3 car (pictured below), but Gass said that Audi top brass in Japan are keen to add a GT500 attack with the DTM machine.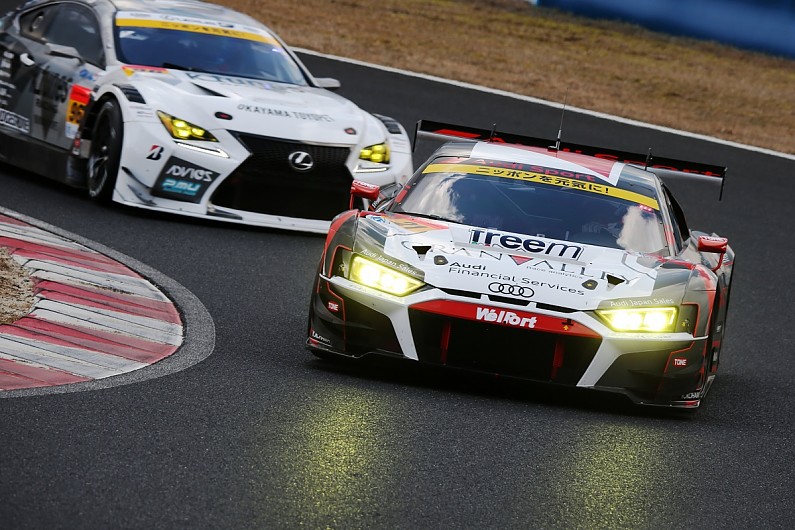 But while the DTM runs on control Hankook tyres, Super GT features a tyre war between Yokohama, Bridgestone, Michelin and Dunlop.
"First of all I'm very much looking forward to the races this year [against the Super GT cars] already," said Gass.
"I do notice quite a good interest from the Japanese importer as well, and personally obviously I would love to do it.
"But we need to have more discussions and see as well what the budgets are and what the possibilities are, because still there are a few differences in the regulations.
"I think the major worry before you could commit to run in the Japanese championship is to see what the tyre situation is - you have the tyre war and that means if you want to go there and compete at a competitive level you need to see what the tyre situation is, and potentially you need to do quite some significant testing as well. Which then again puts us in a difficult situation with the German regulations, because testing is not allowed.
"So there's a few open questions that need to be fixed before we can really think about that.
"But the interest is there - in terms of performance that is the biggest point.
"There's a few differences in the engines, but that's easier to be fixed."
Gass also revealed that he has received news that Honda, Lexus and Nissan - who have considerably more freedom on Super GT testing - have already begun work on the Hankooks with which they will compete at Hockenheim in October.
"I have heard two days ago that the Japanese teams have already started testing with the Hankook tyres - it is obvious that they will not leave this to chance," said Gass.
"They are focusing and preparing on it and I think once they are able to do some testing it's not a major advantage for us."