Daniel Abt headed an Audi one-two in practice for the Marrakech round of the 2017/18 Formula E season.
The German won in Hong Kong on the opening weekend of the campaign but lost that victory to a technical infringement.
He kicked off his bid to earn a win he can keep in perfect style by beating reigning FE champion and team-mate Lucas di Grassi in the second of two practice sessions on Saturday.
Despite heavy fog descending on the Moroccan circuit practice two proved to be much faster, with six drivers lapping quicker than di Grassi's session one benchmark.
Abt was the first of the frontrunners to take top spot early in the session, but a lot changed between then and his flying lap that eventually earned him the quickest time.
Six other drivers hit the summit over the course of the session, with the biggest moves coming in the final few minutes.
Alex Lynn dipped below di Grassi's new lap record on a 1m20.192s, before that was narrowly beaten by the two Jaguars - Nelson Piquet Jr went to the top before Mitch Evans displaced him.
Sebastien Buemi was the first driver to break the 1m20s barrier on a 1m19.936s, but moments later di Grassi usurped his long-time rival with a 1m19.898s.
Abt completed the late flurry of improvements by slamming in a 1m19.760s.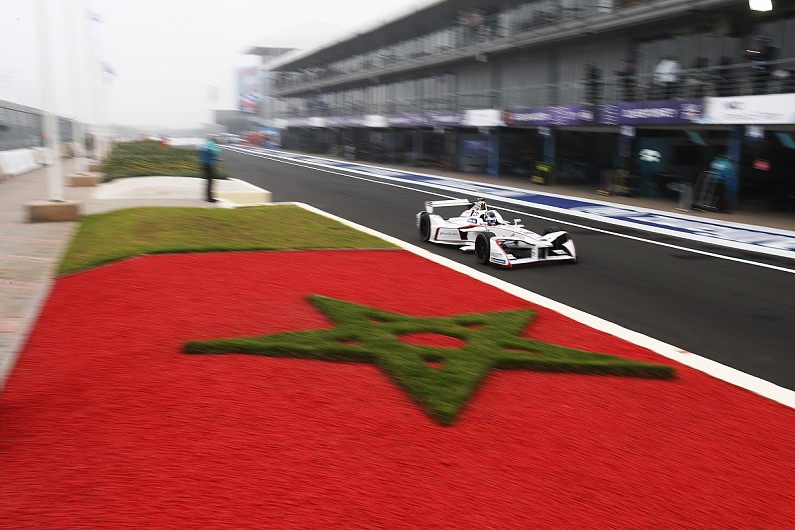 Jose Maria Lopez jumped as high as third at one stage on his FE comeback and ended up seventh in second practice, giving hope to the Dragon Racing team that struggled dearly in Hong Kong.
Felix Rosenqvist, Jean-Eric Vergne and Andre Lotterer completed the top 10 in the second session, which - although the circuit was covered in a thick mist most of the time - was nowhere near as eventful as the opener.
While di Grassi kept it clean to go quickest, several drivers had brushes with the wall, lurid slides and runs down escape roads.
Venturi had the worst of the luck in first practice, but it was from reliability rather than driver errors.
Maro Engel stopped five times while his team-mate Edoardo Mortara suffered that fate twice - the team rectified the "software bug" for practice two, in which Mortara complained of a misted-up visor.
FP1 times

| Pos | Driver | Team | Car | Time | Gap | Laps |
| --- | --- | --- | --- | --- | --- | --- |
| 1 | Lucas di Grassi | Audi | Audi | 1m20.310s | - | 25 |
| 2 | Jerome d'Ambrosio | Dragon | Penske | 1m21.224s | 0.914s | 18 |
| 3 | Daniel Abt | Audi | Audi | 1m21.577s | 1.267s | 25 |
| 4 | Mitch Evans | Jaguar | Jaguar | 1m21.612s | 1.302s | 21 |
| 5 | Sebastien Buemi | e.dams | Renault | 1m21.632s | 1.322s | 23 |
| 6 | Sam Bird | Virgin | DS Virgin | 1m21.651s | 1.341s | 22 |
| 7 | Jean-Eric Vergne | Techeetah | Renault | 1m21.694s | 1.384s | 24 |
| 8 | Nelson Piquet Jr. | Jaguar | Jaguar | 1m21.819s | 1.509s | 23 |
| 9 | Felix Rosenqvist | Mahindra | Mahindra | 1m21.830s | 1.520s | 26 |
| 10 | Oliver Turvey | NIO | NextEV NIO | 1m21.897s | 1.587s | 23 |
| 11 | Andre Lotterer | Techeetah | Renault | 1m21.993s | 1.683s | 23 |
| 12 | Alex Lynn | Virgin | DS Virgin | 1m22.016s | 1.706s | 21 |
| 13 | Jose Maria Lopez | Dragon | Penske | 1m22.105s | 1.795s | 25 |
| 14 | Nicolas Prost | e.dams | Renault | 1m22.195s | 1.885s | 26 |
| 15 | Nick Heidfeld | Mahindra | Mahindra | 1m22.282s | 1.972s | 21 |
| 16 | Antonio Felix da Costa | Andretti | Andretti | 1m22.602s | 2.292s | 26 |
| 17 | Maro Engel | Venturi | Venturi | 1m23.162s | 2.852s | 18 |
| 18 | Luca Filippi | NIO | NextEV NIO | 1m23.769s | 3.459s | 16 |
| 19 | Tom Blomqvist | Andretti | Andretti | 1m24.307s | 3.997s | 24 |
| 20 | Edoardo Mortara | Venturi | Venturi | 1m24.972s | 4.662s | 25 |
FP2 times

| Pos | Driver | Team | Car | Time | Gap | Laps |
| --- | --- | --- | --- | --- | --- | --- |
| 1 | Daniel Abt | Audi | Audi | 1m19.760s | - | 16 |
| 2 | Lucas di Grassi | Audi | Audi | 1m19.898s | 0.138s | 19 |
| 3 | Sebastien Buemi | e.dams | Renault | 1m19.936s | 0.176s | 15 |
| 4 | Mitch Evans | Jaguar | Jaguar | 1m20.001s | 0.241s | 15 |
| 5 | Nelson Piquet Jr. | Jaguar | Jaguar | 1m20.115s | 0.355s | 13 |
| 6 | Alex Lynn | Virgin | DS Virgin | 1m20.192s | 0.432s | 16 |
| 7 | Jose Maria Lopez | Dragon | Penske | 1m20.384s | 0.624s | 9 |
| 8 | Felix Rosenqvist | Mahindra | Mahindra | 1m20.391s | 0.631s | 16 |
| 9 | Jean-Eric Vergne | Techeetah | Renault | 1m20.411s | 0.651s | 12 |
| 10 | Andre Lotterer | Techeetah | Renault | 1m20.441s | 0.681s | 15 |
| 11 | Oliver Turvey | NIO | NextEV NIO | 1m20.453s | 0.693s | 13 |
| 12 | Edoardo Mortara | Venturi | Venturi | 1m20.482s | 0.722s | 20 |
| 13 | Sam Bird | Virgin | DS Virgin | 1m20.532s | 0.772s | 12 |
| 14 | Antonio Felix da Costa | Andretti | Andretti | 1m20.594s | 0.834s | 13 |
| 15 | Tom Blomqvist | Andretti | Andretti | 1m20.652s | 0.892s | 10 |
| 16 | Nicolas Prost | e.dams | Renault | 1m20.792s | 1.032s | 13 |
| 17 | Maro Engel | Venturi | Venturi | 1m20.899s | 1.139s | 18 |
| 18 | Nick Heidfeld | Mahindra | Mahindra | 1m21.015s | 1.255s | 11 |
| 19 | Jerome d'Ambrosio | Dragon | Penske | 1m21.066s | 1.306s | 13 |
| 20 | Luca Filippi | NIO | NextEV NIO | 1m21.186s | 1.426s | 12 |