Sebastien Buemi says he will be more careful approaching his fellow Formula E drivers in the future after the "annoying" television coverage of his heated discussions with rivals in Montreal.
The Swiss driver was filmed seeking out Robin Frijns and then addressing Daniel Abt in the pitlane after being hit by both drivers in the opening race of the 2016/17 season-ending double-header.
Buemi initially approached Antonio Felix da Costa before realising it was the Portuguese drivers' Andretti team-mate Frijns who damaged his steering into Turn 1.
After speaking to Frijns Buemi started to be interviewed with FE TV presenter Marc Priestley, but then saw Abt and disputed a collision at the end of the pitlane, where Buemi was rear-ended by Abt.
Buemi, who has apologised on Twitter for the outburst, admitted the footage did not project the sort of image he wanted and said it was something he would learn from.
"It's always annoying when this kind of thing come up on TV," Buemi told Autosport. "It always gets taken out of context.
"I wanted to have a discussion with Frijns and Abt.
"I knew I was fast, I just wanted to come out of Turn 2 with no damage and Frijns bent my geometry and made it a lot more difficult.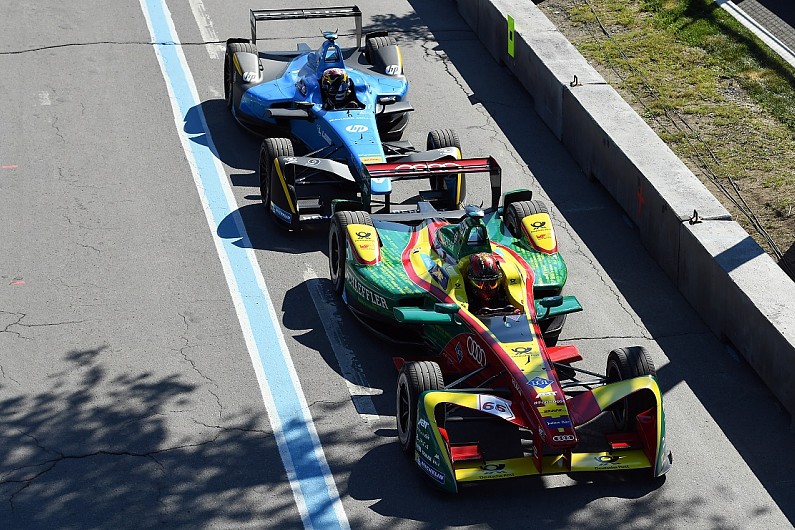 "And I was lucky Abt didn't damage the rear wing when he hit me.
"I was just raising the question. I had discussions with them after and now all is cool.
"I'll take a little bit more care in the future, if I have something to discuss."
Buemi wants qualifying tweaked
Buemi's incident-filled opening race ultimately ended in disqualification, part of a nightmare final weekend in which he lost the title to Abt's team-mate Lucas di Grassi.
He made a mistake while running in the opening qualifying group on Sunday that put him mid-grid for the race, in which first-lap contact prompted a pitstop with bodywork damage.
Several drivers were caught out during the season by track evolution across the four qualifying groups, and Buemi believes the lottery is an unnecessary variable.
"Sometimes it's a bit difficult that luck can decide the weekend," he said.
"If you start in group one you need a massive speed advantage or you start more or less in the middle of the pack.
"Luck, for whatever reason, played too much of a role in qualifying. Normally over the course of the season it equals out.
"Group one is tough, and it's been more than ever this year."
Buemi (Monaco and Paris) and Sam Bird (Berlin) were the only two drivers to make the superpole in the 2016/17 season after being drawn in group one.
The average number of appearances in the first group of qualifying was three, although some drivers were unluckier - Bird and Loic Duval drew group one six times, and Buemi five.