It's five years since the first ever Formula E race took place in Beijing, and over the coming weeks we'll be celebrating the series' history so far with a look at its greatest - and most unlikely - drivers, best races and more, as well as looking to its future as Mercedes and Porsche arrive on the grid.
To start off, we're republishing two articles from 2014 in which our journalists shared their initial impressions of FE as it made its first steps into the limelight amid what was then widespread scepticism from elsewhere in motorsport.
Formula E's first test - Donington Park, July 2014
By Marcus Simmons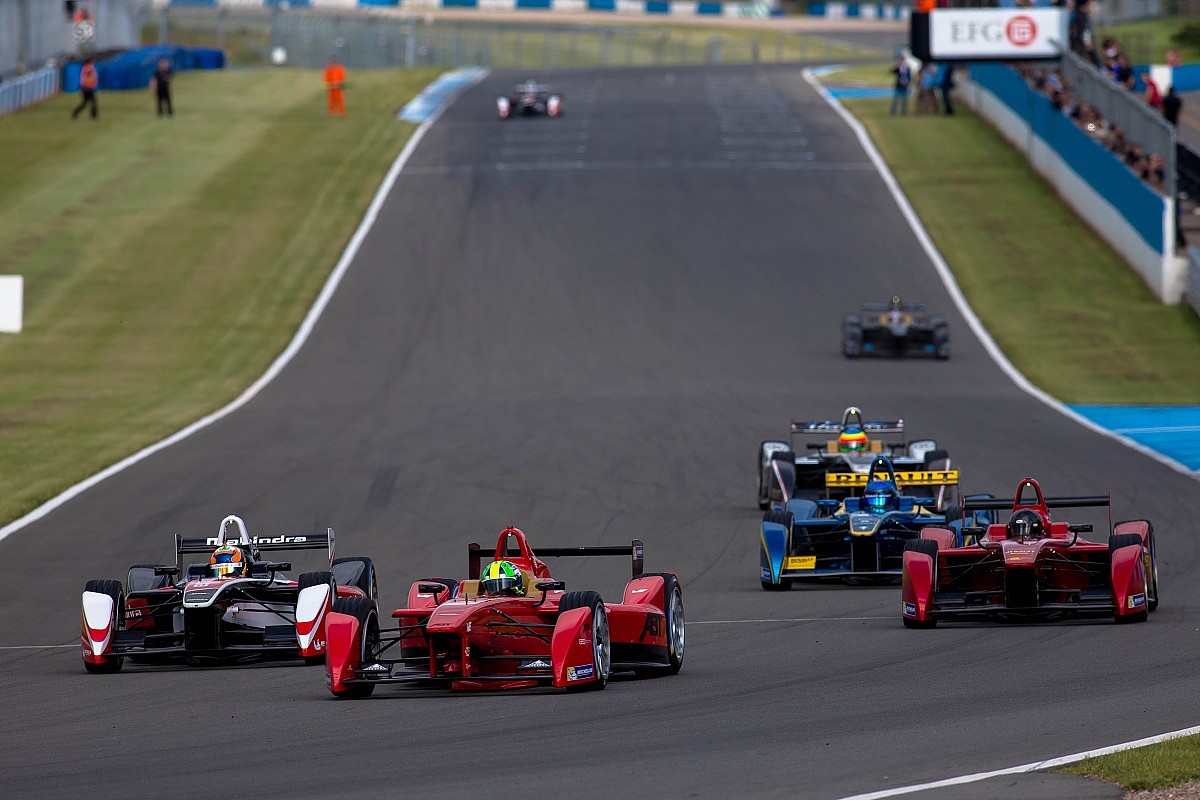 "Come into the garage and I'll show you around the car," smiles the very amiable Peter McCool, former chief designer of the talented nucleus of the Super Aguri Formula 1 team, whose ideas played a large part in Brawn's title-winning 2009 campaign.
"But don't touch it..." he warns nervously. McCool is now technical director of Aguri Suzuki's latest international racing project: the Amlin Aguri team, which is one of 10 squads in action at Donington Park's inaugural two-day Formula E open test.
The car that must not be touched is being recharged, a process that takes approximately 45 minutes, and the team - understandably - doesn't really want an electrocuted journalist on the garage floor.
On the brakes, the cars sound like a cross between a Scalextric set and a plane taxi-ing in at an airport. We're not going to say that's good or bad. It's just different
Even before Autosport has reached the pitlane we've heard the best recharging story. Indian racing hero Karun Chandhok went to plug in the kettle to brew his just-arrived-at-the-track cup of tea in the Mahindra team's garage, only for the Carlin lads who run the squad to veto it on the grounds that it would interrupt their cars' charging. That left Karun to wander from garage to garage before finding a team that had fully-juiced batteries on its racing machinery.
It's very early days yet for Formula E. Due to the all-new technology on the Spark-Renault racers, it takes time before anyone even thinks about working on set-up - reliability, at this stage, comes before competitiveness. "All cars a great challenge," explains McCool, who begins to relax when he notes that Autosport is more interested in touching biro and notepad than racing car.
"This is very complex with all the electrics, and there's lots we have to do to make sure we understand it." But even by the second day, when Autosport arrives, McCool is thinking about making this thing go quicker.
"The electrics and set-up are getting our equal attention," he reveals. "The trick is to get really good high-quality data and understand it." So, in other words it's just like any normal racing car...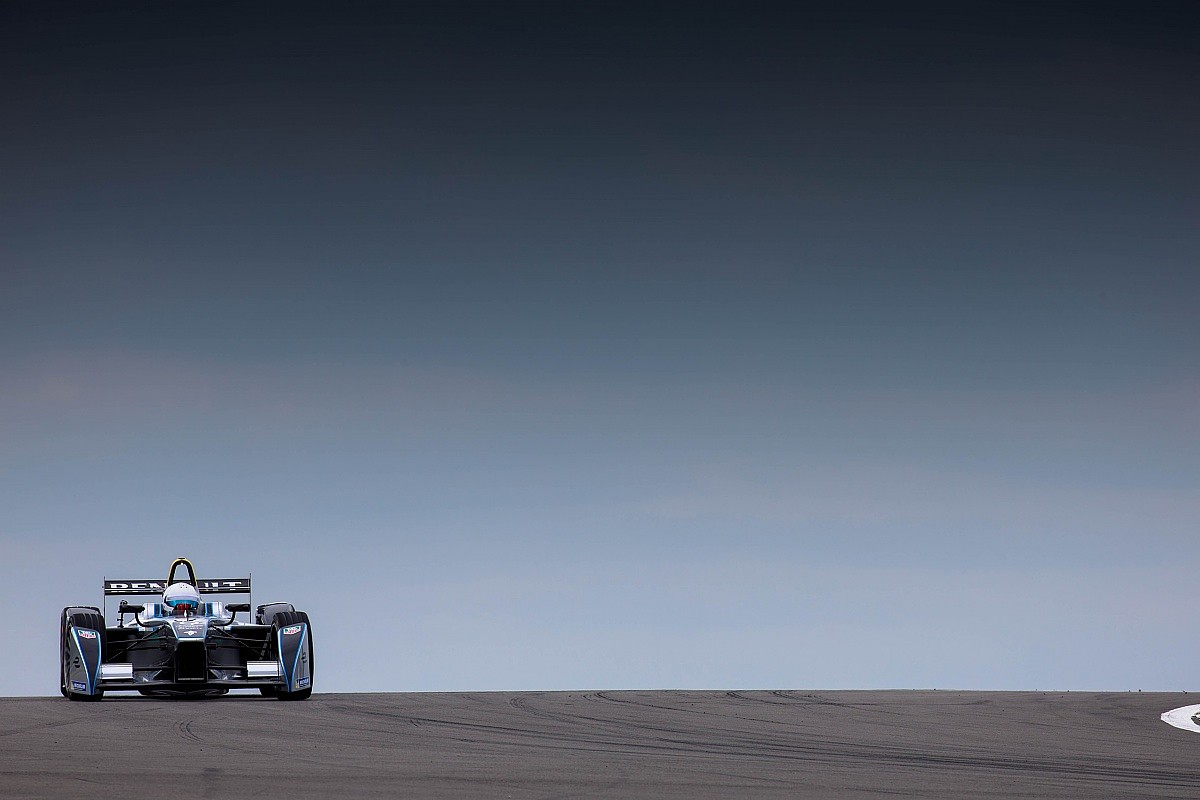 That said, we're talking about very quiet racing cars. The first trip trackside is to the fence on the exit of the Melbourne hairpin. Because the cars are on treaded Michelin tyres, and are carrying an enormous weight at the back end with the battery, hot laps are pretty spectacular. The brakes lock, the rear end squirms around, and there's a satisfying twitch when - or if - the car reaches the apex before applying the power.
On acceleration, they sound like a very fast milkfloat.
The second trip is down the Craner Curves to the Old Hairpin, which until the second afternoon was neutered by a very tight triple-tyre-walled chicane - we hear that this is so there can be no direct lap time comparison with other single-seater formulas.
Here they're less impressive, although to be fair this is not Formula E's natural habitat - the fast, flowing, downhill, billiard-smooth bends are in no way representative of the tight, bumpy street circuits it will race on.
On the brakes, the cars sound like a cross between a Scalextric set and a plane taxi-ing in at an airport. We're not going to say that's good or bad. It's just different. To these eyes and ears, one of the most impressive things ever experienced is an almost-silent Audi LMP1 racer wafting through Maggotts and Becketts at Silverstone. The Formula E car likely won't produce those sensations in a hurry - after all, its 200kW of peak power equates to just 270bhp - but noise isn't everything.
Such a mantra also applies to the test-day commentator: former Autosport staffer, long-distance truckie and part-time Spiderman impersonator Richard Asher sounds like a late-night South African radio DJ, but with the cars so quiet there's no need for the strident tones we're so used to from trackside speakers.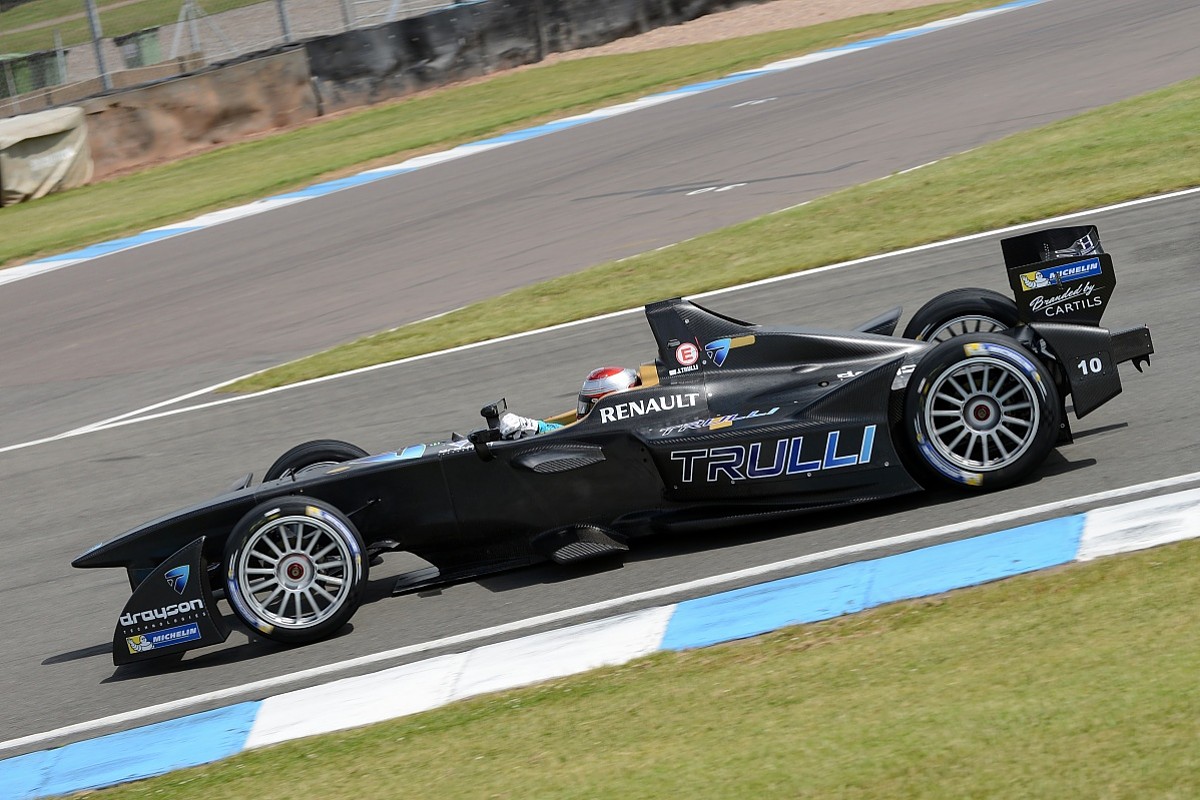 But what are the cars like to drive?
"They're nice," says ex-grand prix star Jarno Trulli, who has been sufficiently moved by Formula E to break off his retirement and set up a team, TrulliGP, which is being operated by top Auto GP squad Super Nova.
"The power is pretty good, and when you drive it's just like a normal single-seater car - and that's a beautiful feeling for a racing driver. Donington is a bit too quick for this car - we don't need a very high top speed - but nevertheless it's good for testing.
The quality extends from drivers to engineers, mechanics and operations staff - the Donington Formula E pitlane is a melting pot of former, current and moonlighting F1, GP2/3, F3, World Series by Renault, IndyCar, top-line sportscar and touring car brains
"The only big limitation is given by the battery and the electric motor. The car can perform very well for a couple of laps before the battery starts heating up, so the main challenge is to develop the technology to make a proper-lasting racing car."
"We're still in the very first days of learning about the car," says the Mahindra team's Bruno Senna. "We haven't done any set-up work yet, but so far so good. When you run on qualifying mode it's actually quite fun, but in race mode you're desperate to take more speed into the corners."
Here is where Formula E is a work in progress - certainly as far as the sporting regulations are concerned. Race power is currently slated as 133kW (180bhp), with only those voted for in FanBoost polls allowed to surge to 200kW for 2.5 seconds.
Forget the noise - the FanBoost concept is the one most likely to turn off the purist.
Drivers are concerned that the cars will trundle around in a procession at reduced power - they estimate a loss of seven seconds per lap around Donington - and that the only overtaking moves will be those decided by toe-curling Twitter campaigns.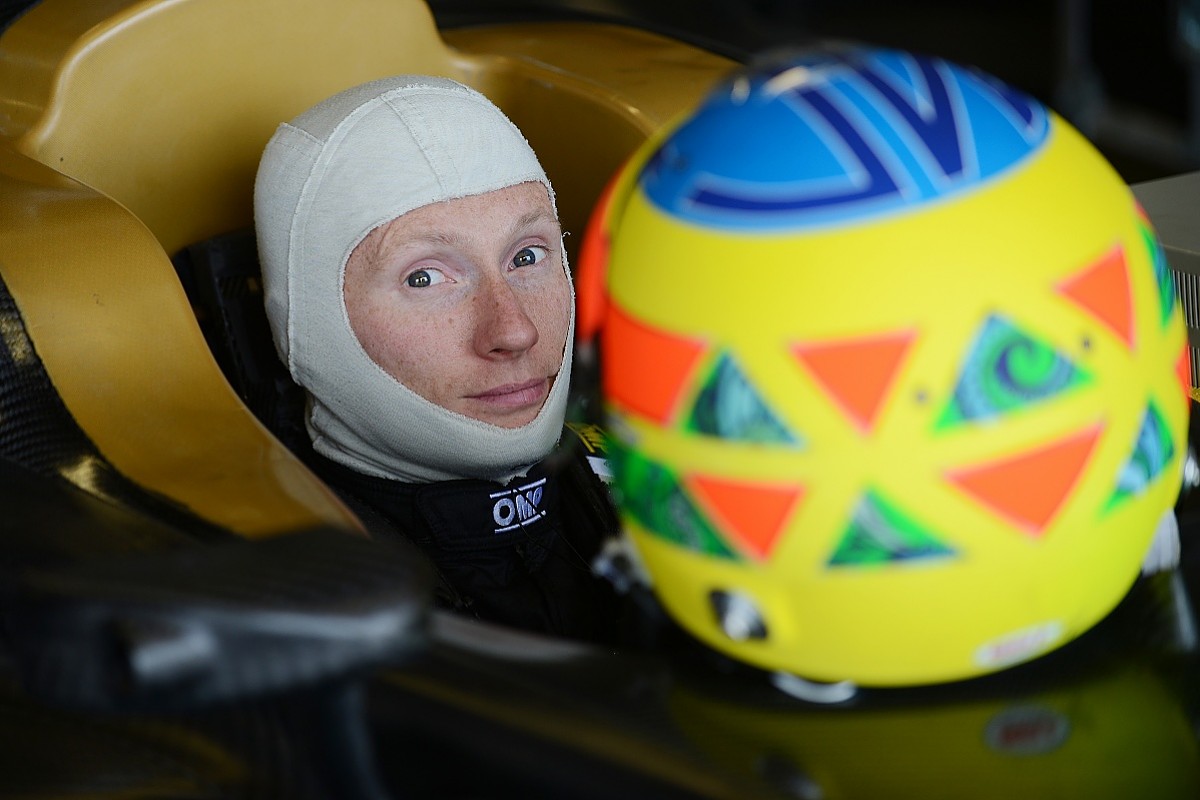 Dragon Racing's Mike Conway, a man who eats hard-to-pass-on street circuits for breakfast as an IndyCar star, jokes: "It reminds me of when you're at an indoor karting place and everyone gets the power restricted [when there's an accident].
"But this is going to be fun, even if it's different. The car slides around a lot, and although the tyres look like road tyres they're a lot more advanced.
"We've got a lot of things to get into yet - we've hardly dived into any of the settings on the steering wheel, but we've got some really good drivers on the grid."
He's right, and the quality extends from drivers to engineers, mechanics and operations staff - the Donington Formula E pitlane is a melting pot of former, current and moonlighting F1, GP2/3, F3, World Series by Renault, IndyCar, top-line sportscar and touring car brains.
But what's been their biggest concern? Andretti Autosport team manager Rob Arnott says: "The one-day test we had before was excellent - we ran faultlessly and we were quickest with Franck [Montagny]. It was horrendously wet conditions and we had no electrical issues at all.
"But yesterday we had a nightmare shared by all 10 teams, with new battery-conditioning units.
"For some reason the BCU was entering charge air into the cooling system for the battery, so we were struggling to cool the battery - and you have to cool it before you can charge it. We've abandoned the cooling unit and gone back to dry ice and fans, but it's not a final fix - we have to get the BCU working."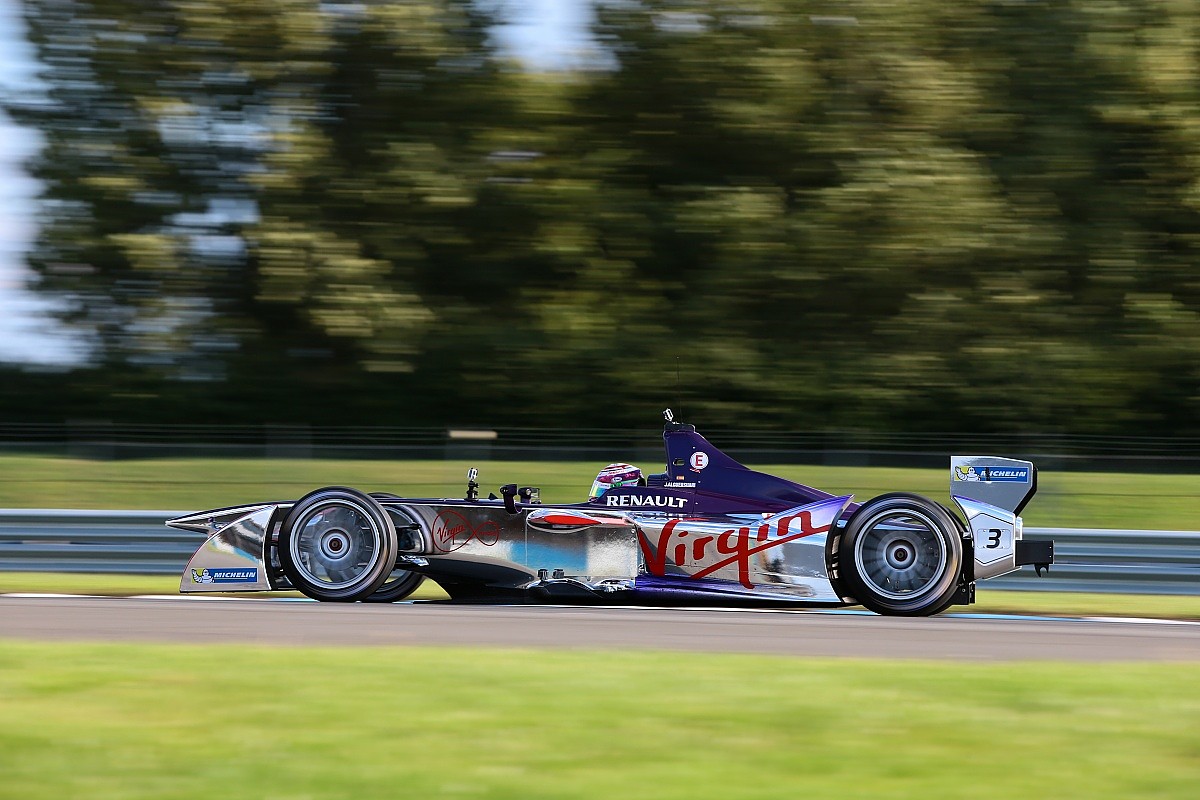 Arnott reckons the communication between team and driver while the car is on track is "pretty much the same" as what's happening in current F1.
"There's a lot going on - lots of different power maps, torque maps. Similar functionality to a current F1 car."
One of the biggest disciplines at present for the driver, says Arnott, is the regenerating paddle on the steering wheel for the rear brakes, and using this in conjunction with mechanical adjustment of the brake bias. No wonder we're seeing a few drivers overshoot the Melbourne hairpin.
"When I saw the first timesheet on the Autosport website after the first day of testing, I was so happy!" Alejandro Agag
Ex-Toro Rosso F1 driver Jaime Alguersuari agrees: "You have loads of things to do on the steering wheel - braking recovery, battery recovery. You can really struggle with balance when you activate the paddle."
And what's it like driving in silence? "It's different," ponders Alguersuari. "You feel the wind a lot - you feel like you're flying in a way."
Formula E, it's clear, is a whole world of new experiences. We mentioned earlier its work-in-progress status and the worries about the lack of power in race mode, but Autosport understands that discussions are taking place about increasing this to 170kW, as well as tweaking the confusing rules on maximum battery usage allowed over the course of a race.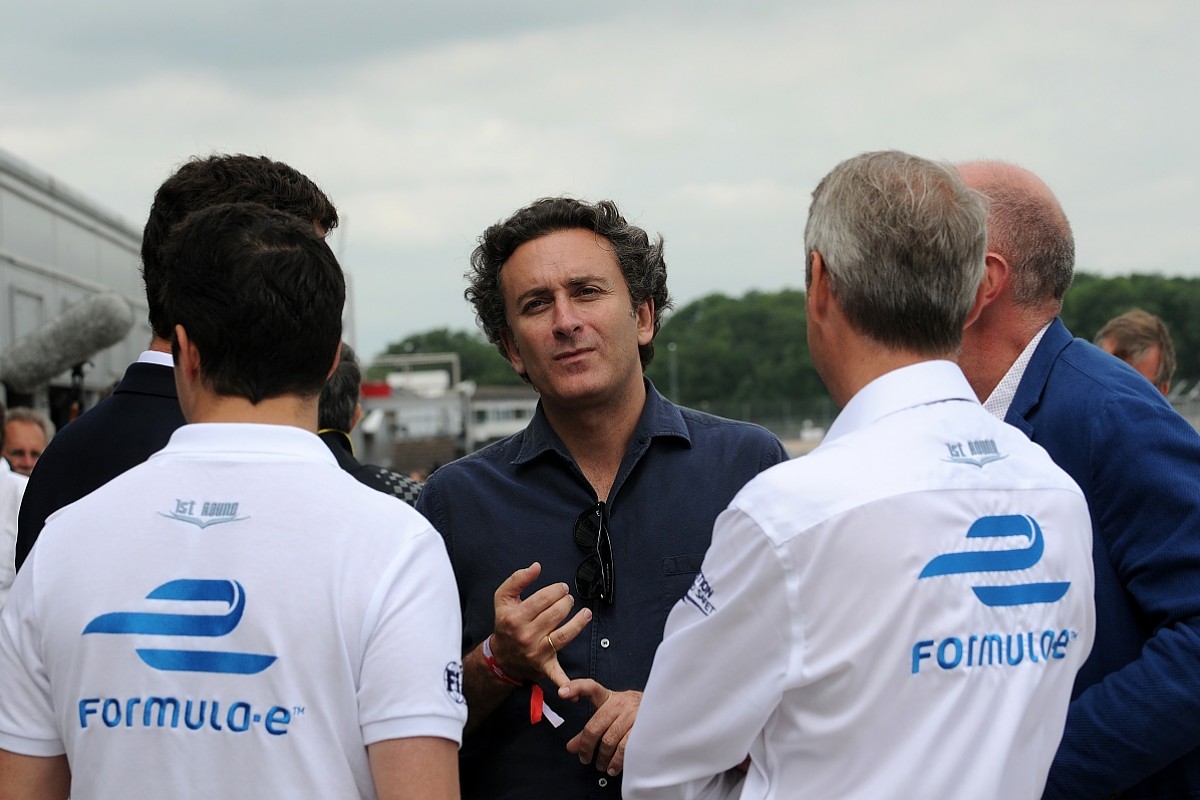 It's virgin territory, but series boss Alejandro Agag is delighted with early progress: "It feels really like a big adventure in a way. Yesterday we had some issues with batteries, but you see how they've overcome that.
"We're at the beginning of new racing technology - we solved the problem we had, and testing is playing the role it should play."
He's also quite chuffed to see drivers overdoing it and spinning off, because it shows that competitiveness is beginning to ramp up.
"Before they were shaking down; now they're having fun," laughs Agag.
"The guys are looking at the timesheets, and if they're going off that's part of the show."
"It's a new concept of motorsport," offers Virgin Racing's Alguersuari.
"It's indeed unfair to compare it to any other racing series - it's a baby that's just been born."
And for Agag, as a proud new parent, what's been the standout moment so far?
"When I saw the first timesheet on the Autosport website after the first day of testing, I was so happy!"
---
Formula E's first race - Beijing, September 2014
By Gary Watkins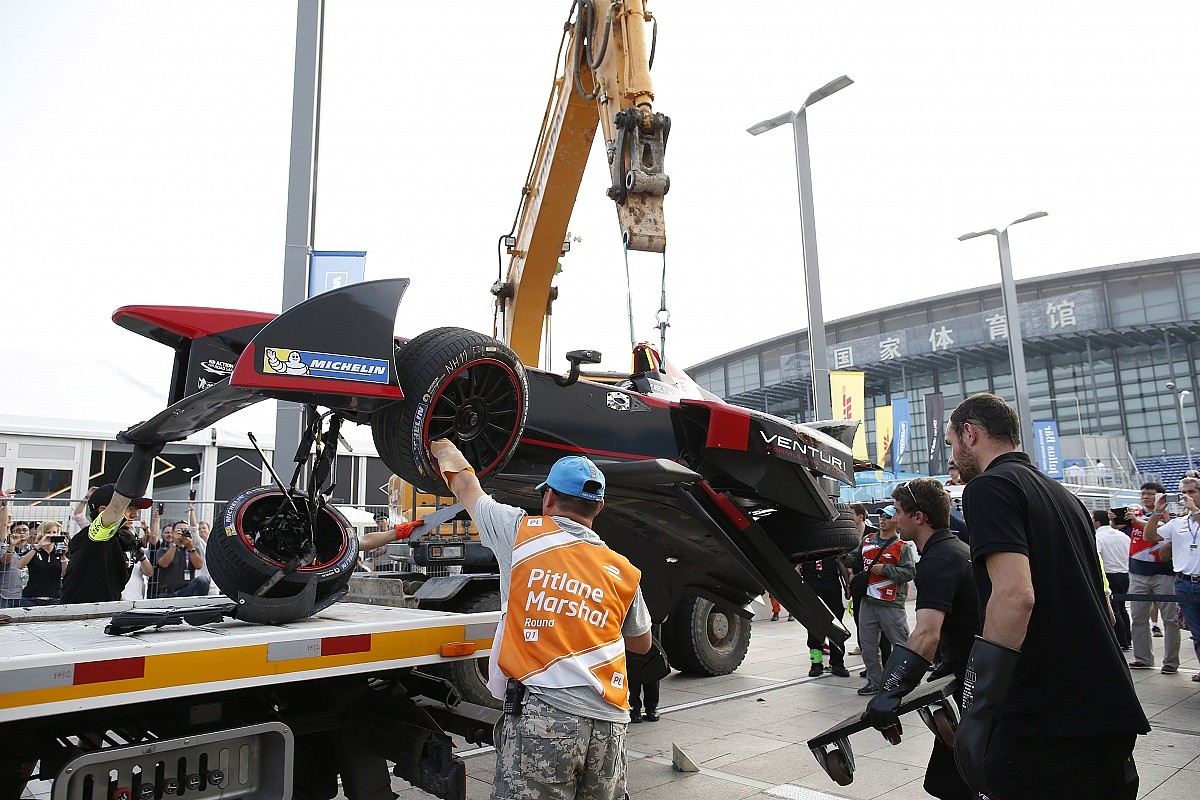 No one likes to see accidents. Certainly not when a car becomes airborne. Yet the last-corner clash between Nick Heidfeld and Nicolas Prost undoubtedly did Formula E a favour.
There was certainly a lot of media interest in the inaugural event of the new FIA Formula E Championship in Beijing. Amazingly The Daily Telegraph was represented by two journos in China, one local and one lifestyle. But the race wouldn't have got the coverage it did without pictures of a car flying through the air being beamed around the world.
The accident, as chilling as it was, reinforced for me - and I'm sure everyone else, whether they were present or watching on TV - that Formula E is a real racing series. I certainly wasn't thinking about electric powerplants, energy limits, FanBoost and the like as Heidfeld looked down the inside of the leader into the final corner.
But then they'd only been in the back of my mind during the previous 24.9 laps of a race held in the shadow of Beijing's Bird's Nest Olympic stadium. I was there, lap chart on the go, reporting on a major international event. It just happened to be a pioneering event as the first-ever, all-electric single-seater motor race.
That proved to me that Formula E is a category worthy of its place on the international calendar. A grid-full of Spark-Renault SRT_01Es created a spectacle that made me more or less forget that it's a racing machine that is anathema to everything that has gone before in the history of motorsport. That was the biggest success of the Beijing ePrix to my mind.
Technology in motorsport is forever changing. In my time, thanks to my role as Autosport's man in the sportscar paddocks of the world, I've seen a lot of new technologies introduced to motor racing. I'm thinking, here, direct-injection engines, turbodiesel power and now hybrids of ever-increasing complexity and capacity.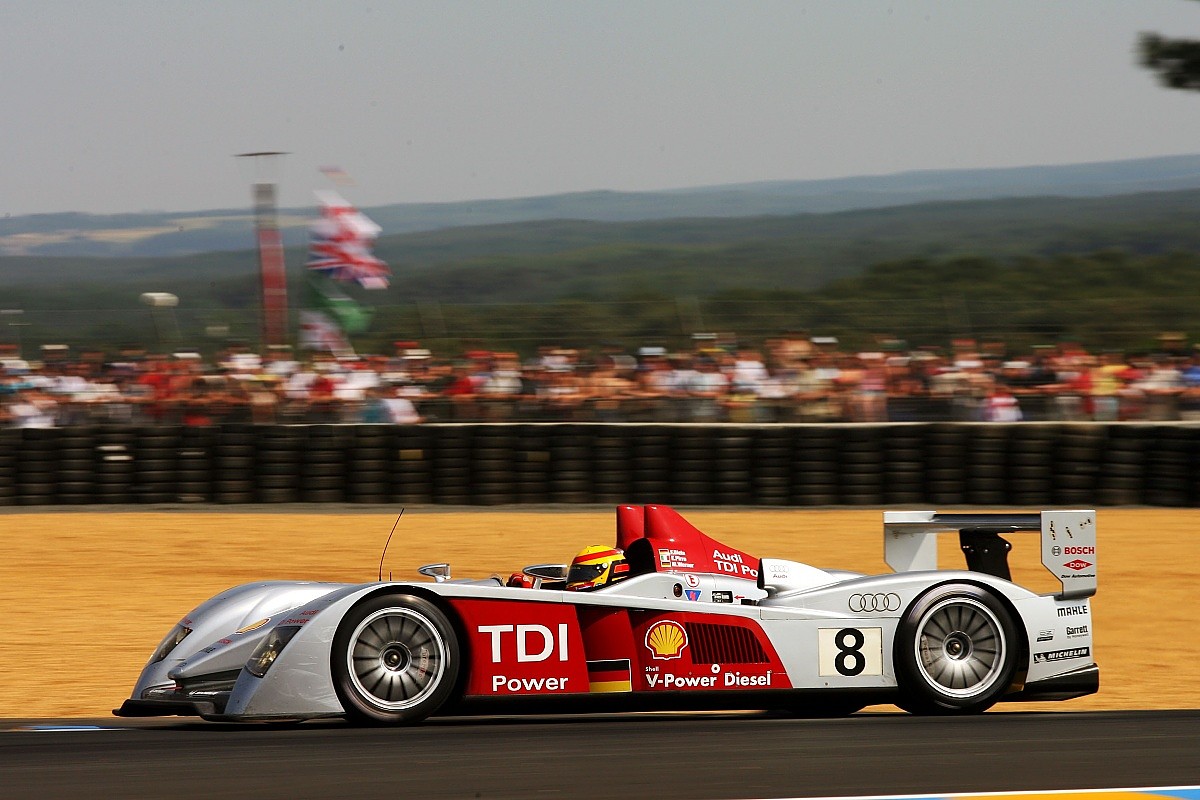 Those innovations have given me a lot to write about down the years, but they haven't been to the detriment of our sport. I can now say that the same goes for all-electric racing. It doesn't matter that the races are fought out by machinery propelled by something other than the internal combustion engine.
Formula E is the latest manifestation of a process that began in the late 1990s. In the intervening years, motorsport has refound its place as both a proving ground for new automotive technologies and a way of marketing the latest innovations to the car-buying public.
I, like you, got to watch the race on a TV screen, but unlike you (probably) the sound was turned down. The Chinese commentary, to be honest, was going to be of no use to me
Audi's campaigns with its line of diesel-powered LMP1 prototypes has helped changed attitudes to what, thanks in part to a run of victories in the Le Mans 24 Hours, we no longer call oil-burners. Formula E can play a role in making electric vehicles more desirable and, once the regulations open up for season two, driving EV technology forward.
I boarded my flight to Beijing intrigued rather than excited by the prospect of 20 electric cars - 40 in total, but 20 at any one time - whirring around the Chinese streets. I checked in on the way home believing that it can deliver on its promise to bring exciting zero-emissions racing to the city centres of the world.
The significance of the series will only grow in the coming years. In season two, the plan is for motor supply to be opened up, with batteries becoming free the season after in 2016/17.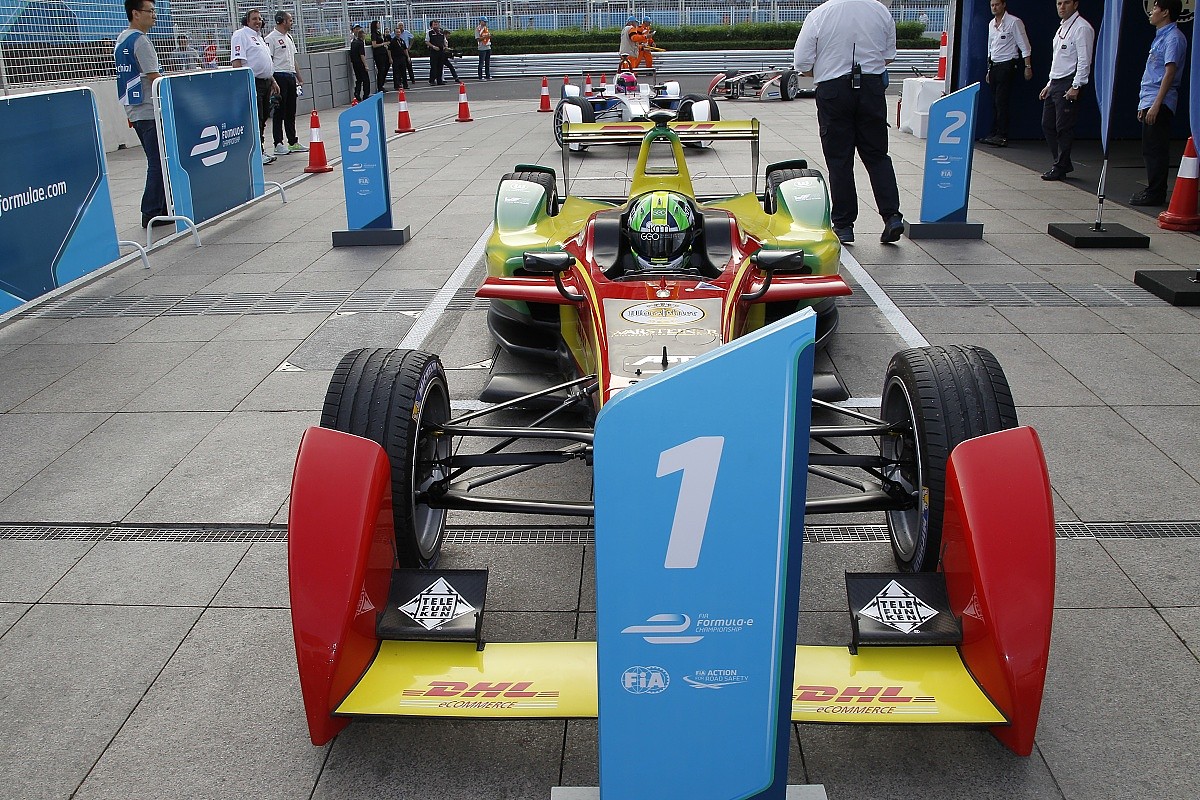 That raises the prospect of manufacturer involvement, which can only be good news for Formula E.
Renault (which is both a technical partner of the series and a sponsor of the e.dams squad) and Indian manufacturer Mahindra (whose Formula E entry is run by the British Carlin team) have both expressed an interest in producing their own powertrains in the future.
Audi also has an involvement through its support of the Abt team, while BMW has admitted that its deal to supply course vehicles to the series is a statement of its interest in Formula E.
The arrival of new suppliers, whether they are manufacturers or not, will also boost the appeal of Formula E for me. I'm no fan of one-make motorsport, as a rule.
There is a caveat to my enthusiasm for Formula E. During a race that I enjoyed so much, I was hunkered down in a press room with no view of the circuit, as is so often the case these days.
I, like you, got to watch the race on a TV screen, but unlike you (probably) the sound was turned down. The Chinese commentary, to be honest, was going to be of no use to me.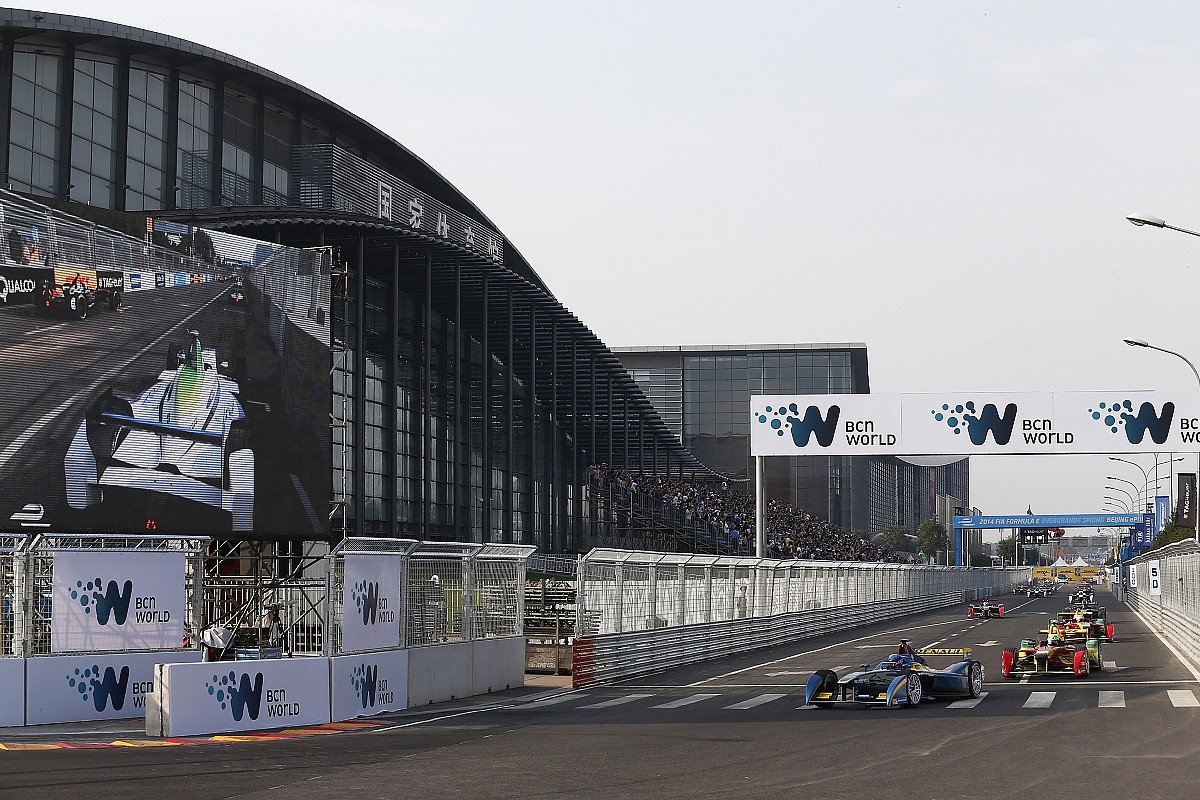 Part of the attraction of motorsport for me has always been the noise. The aural assault on the senses was one of the reasons I was hooked after my first visit to a motor race at Brands Hatch on Boxing Day in 1977.
I could live with the introduction of whispering turbodiesels in LMP1. That's partly because they have a noise of their own (I'm thinking of the tat-tat-tat of their splitters on the approach to corners like Becketts at Silverstone) and partly because they have always been part of a grid of cars with a wide array of engine notes.
I took a couple of trips out to watch the Spark-Renaults during the two practice sessions in Beijing on Saturday, and it didn't get my juices flowing. The fact that the Formula E cars aren't quick had something to do with it, as did the fact that the Beijing Olympic Park track is neither a great circuit nor a good venue for spectating. But the lack of noise got to me, as did the awful ambient music played out a high volume over the PA system.
That said, I was generally watching one car at a time. Whether I'd have been more enthused had I been in a grandstand during the race, I can't say.
Maybe I need to go to a Formula E event as a spectator to truly make up my mind. We're sharing out the Formula E races between us at Autosport this season, so I don't know whether I'll be reporting on the London finale next summer.
I'm going to be there anyway, whether it's in Battersea Park or at the ExCeL exhibition centre; the chance to witness motor racing near the heart of my home city is something I am not going to miss. Maybe then I'll know if Formula E satisfies me as a motor racing fan in the same way it does as a journalist.