Losing a highly-rated driver is a major blow to any team. To have it happen on the eve of a crucial moment of a season is another. And for it to occur at the start of a major manufacturer's entry into a new motorsport sphere is almost unheard of.
Yet all of this happened to the Nissan e.dams ABB FIA Formula E squad on the first day of 2018/19 pre-season testing back in October. Alexander Albon, who had secured a three-year deal to race with the team in the electric championship, was suddenly being courted by Red Bull over a 2019 Toro Rosso Formula 1 seat.
Understandably, with the dream of probably every talented and aspiring driver dangling over him, he wanted to leave the electric world he had barely even entered - for a chance on the biggest stage in motorsport.
Nissan and e.dams were understandably furious at the situation. The atmosphere in the team at Valencia felt fractious, questions went largely unanswered in the following days and the squad racked up the fewest laps of any FE outfit across the test.
After a several weeks of negotiations, Albon got his wish. The two entities parted ways, and on good terms too, with the 2018 Formula 2 championship challenger rejoining the Red Bull fold to become Daniil Kvyat's '19 F1 team-mate.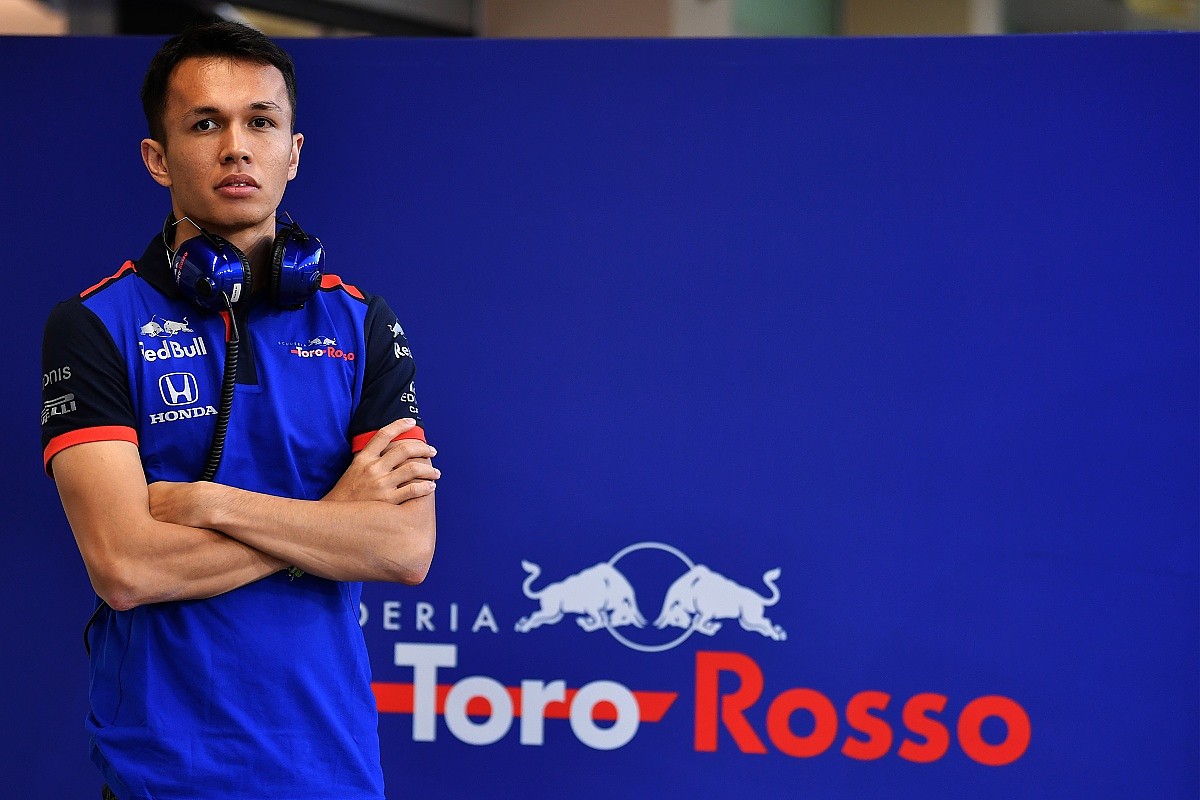 A happy ending for Albon was later followed - just two weeks out from the start of the 2018/19 FE season - by good news for another young driver: Oliver Rowland.
The full impact of the disruption to Nissan's season preparations is unclear at this stage. But it was certainly not ideal ahead of the company's FE debut - losing two days of running on one car in a championship that tightly controls testing will have hurt. As will losing Albon, who took part in much of the development work on the team's Gen2 challenger.
At least Rowland, who received a call as he ate dinner the night before the Valencia test got under way alerting him that Nissan might need someone to step in for Albon, eventually sampled the car on the final day. Unfortunately, it rained throughout the morning of that session.
"I am talking very frankly because he knows what I think. He knows that I won't be very easy with him, but he needs it in order to deliver and perform" Jean-Paul Driot
But ultimately, even if the team must wish it had not happened quite so late and so publicly, the story concluded with winners across the board.
In Rowland, Nissan has gained a seriously fast driver. He won the McLaren Autosport BRDC Award in 2011, triumphed in the '15 Formula Renault 3.5 championship, and was the only racer who could really trouble Charles Leclerc during the '19 Ferrari F1 driver's run to last season's F2 title.
Rowland undoubtedly has the speed to succeed, but there have been suggestions that his previous attitude in certain areas could have been better.
Nissan team principal Jean-Paul Driot knows exactly what kind of driver he is dealing with and how to get the best out of him. Driot's DAMS F2 division ran Rowland during the 2017 season and the two parties remained close this year - with Rowland stepping in to help with early testing of the team's '18 F2 car after Nicholas Latifi's early-season illness.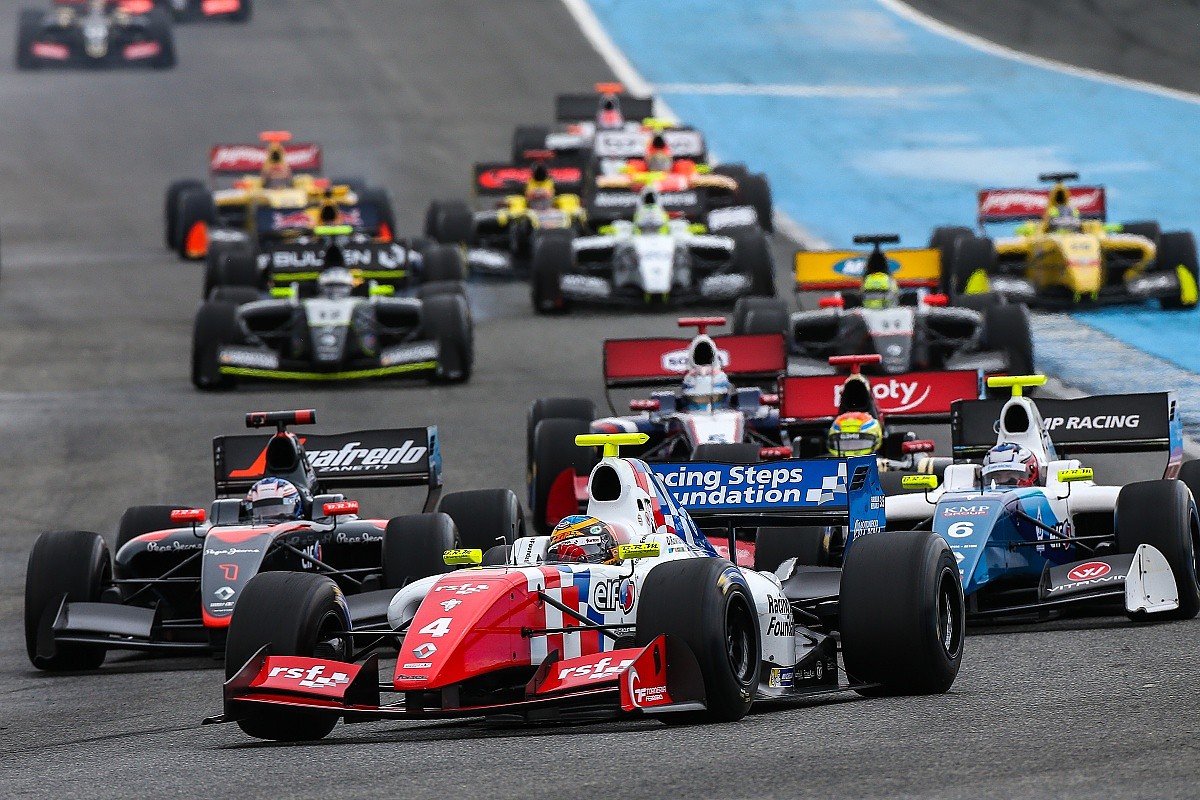 "I know Oliver," says Driot. "I know he's a very fast guy on one lap. He's a very tough racer, he's a guy who has won championships - the 3.5 [pictured above], he was runner up to Pierre Gasly in Formula Renault 2.0, number three in F2 with us. That was because of our problem in the last race that he won [in Abu Dhabi], otherwise - no problem - he was number two to Leclerc. He won two or three races and took poles.
"This is quite something and we know the guy - that is the biggest argument. He's a tough racer, he's a strong character - he is a strong man. He's not so easy to manoeuvre and for him to comply with what you asked him to do it was a little bit difficult.
"But I think that life has taught him that we are, at a certain level, obliged to comply with the necessities of a job in a very big level. I am talking very frankly because he knows what I think. He knows that I won't be very easy with him, but he needs it in order to deliver and perform.
"He's a guy that has won championships, he's won races, he's done pole positions in all the series and compares with very good drivers in Formula 1 today - like Gasly, like Leclerc. They are not just easy contenders.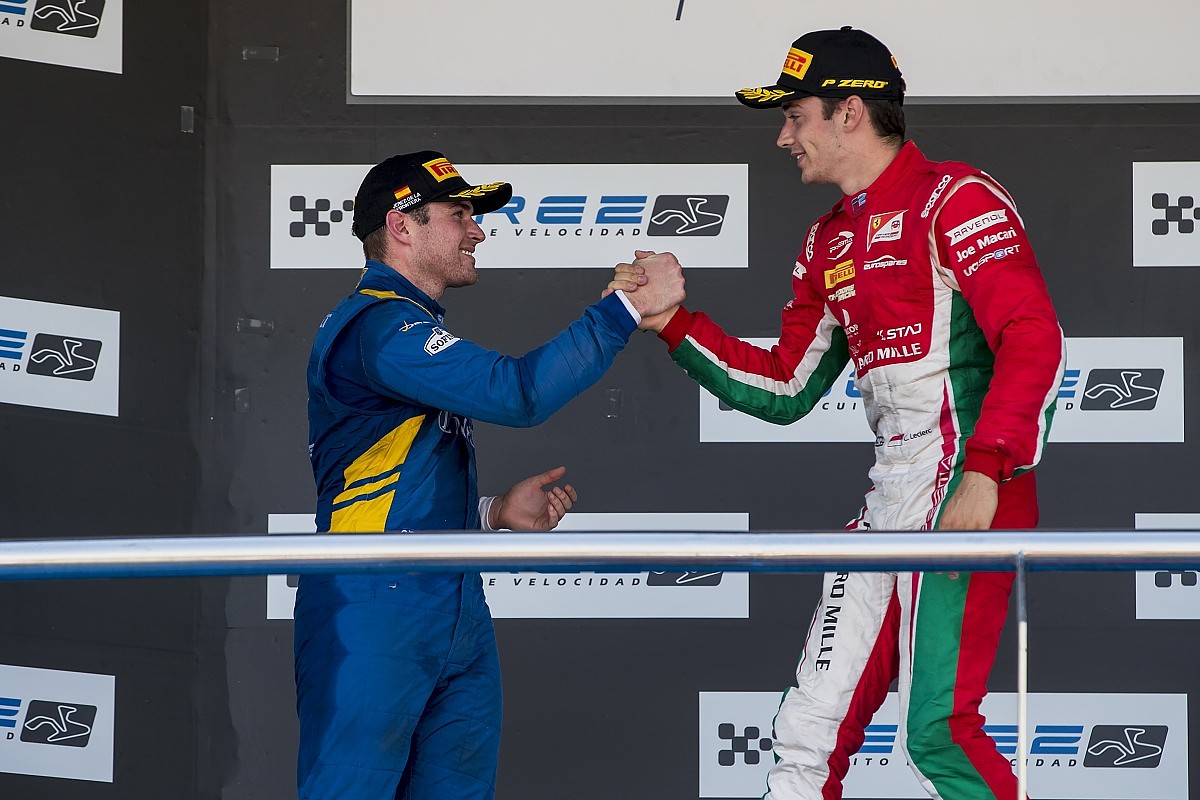 "Oliver is a clever guy, it's just that his attitude and his way of doing things were not as they should be. So, he knows the way he has to react, he knows that he has to be very fit - he has lost 4kgs already since Valencia - and he is going to be completely committed because he knows that this is his future. Otherwise, there will be nothing."
Rowland, for his part, appreciates Driot's strict stance and knows what he needs to do to impress his team boss this season.
"It's what I want," he explains. "When I was younger, my dad was extremely hard on me when I was karting and it worked. I like that push from somebody - it's sometimes what someone needs. Derek Warwick, in my earlier days, was quite a similar sort of figure - so I really don't mind it and I quite like it. And I've told him that as well.
"He's quite straight-talking, he says it exactly how it is. And if there's anything - even if I'm eating dinner and I'm not eating it properly or something - he wants me to become a professional, represent him very well. And on the driving side - I need to be hard working, and also away from the track he wants me to be in the best shape I can - be fit, be ready."
Nissan has also gained a ferociously competitive character. In Albon, it briefly had a nice, polite young driver - perhaps too polite at times, with DAMS F2 team boss Francois Sicard saying "sometimes I would like him to be less nice on-track during a race meeting" regarding the season just gone.
Rowland is of a different mould. During the 2017 F2 sprint race at Silverstone, after picking up a time penalty for a clash with Artem Markelov's Russian Time machine, he tried to back up the pack ahead of a late race safety car restart. The idea was seemingly to let leader Latifi and Luca Ghiotto pull clear and Rowland would try to charge into the gap behind them, hopefully putting enough distance between himself and his bunched pursuers to overcome the penalty at the end of the race.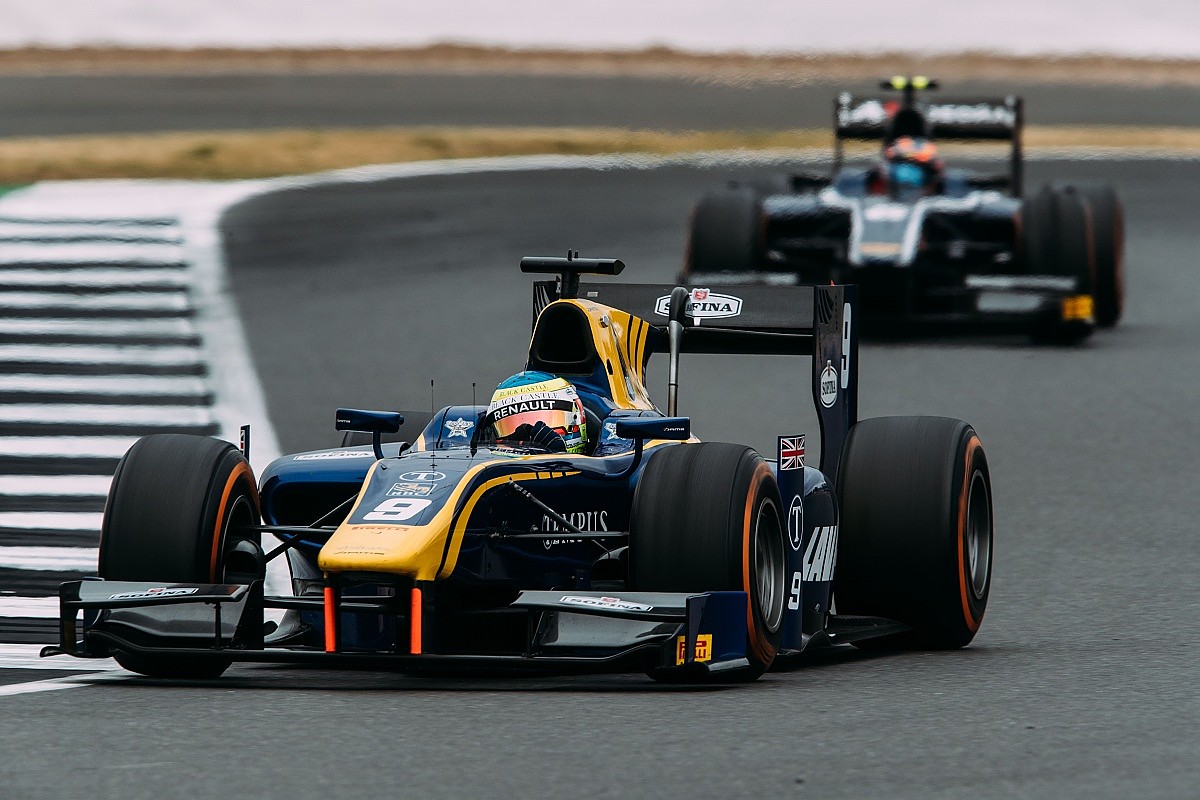 The move didn't come off - it actually earned him a further penalty that dropped him to 10th in the final results - but it demonstrates his competitive spirit and determined on-track nature. As did his defence against Markelov at the end of the Hungarian feature race just one round later, which was just on the right side of acceptable despite the Russian driver's big crash as a result of their clash.
His attitude over joining Sebastien Buemi's team, where the 2015/16 FE title-winner has raced and enjoyed enormous success since the championship's inaugural event, is also telling.
"I'd never worked with him before, but I met him in Valencia, and spent a little bit of time together when we went to Japan together [for Nissan's pre-season FE launch]," says Rowland.
"He seems like a good guy, he pushes the team hard, he's hard working, he's won a lot in Formula E, he's very successful - I've got a lot to learn from him and there's a lot of respect there from my side to him. But at the same time, I'm a bit of an underdog, so I'll be trying to get at him."
Nissan has also gained a driver with a love for street tracks - Rowland won the 2017 Monaco F2 feature race, and might have taken another win in Baku were it not for a gearbox failure in the sprint race. "My sort of forte," he explains, which should be of use in FE's urban habitat.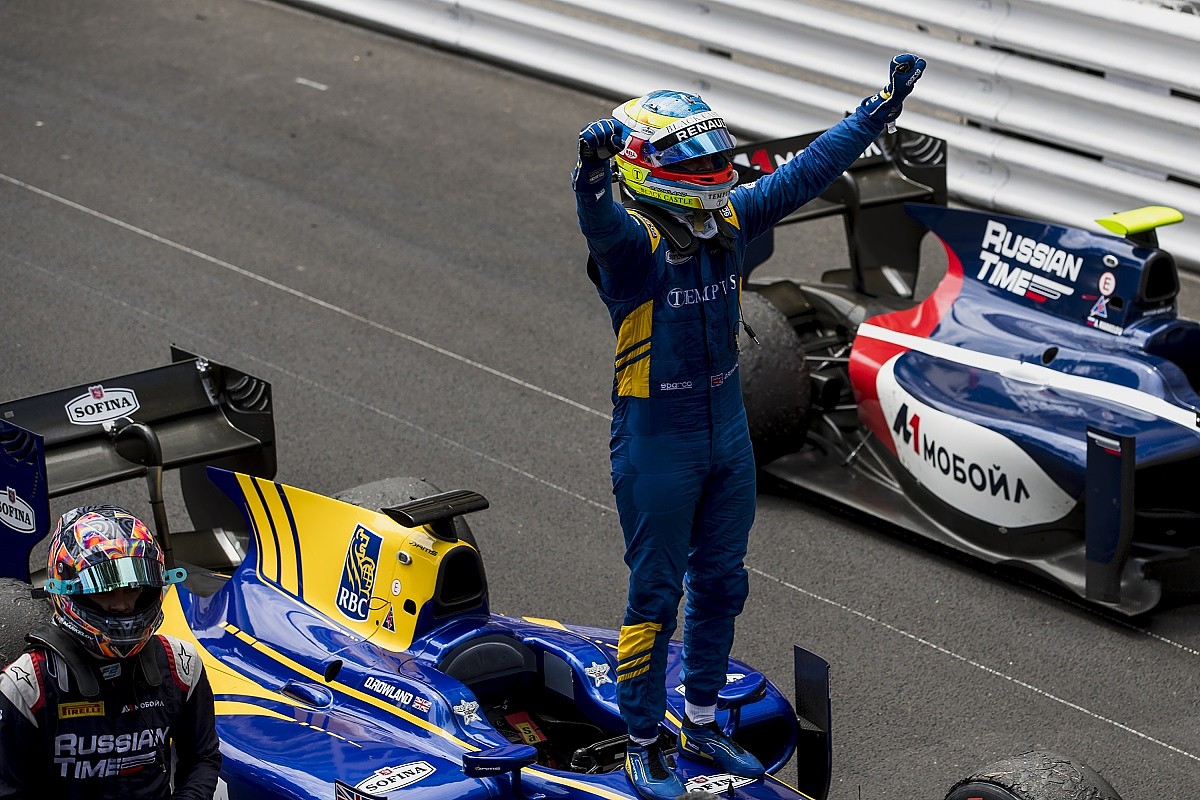 Since the weeks immediately after Valencia, when Rowland was "sat in the dark a little bit at home, just hoping", the 26-year-old has been training vigorously and spending plenty of time in the e.dams simulator at its Le Mans base. He's been preparing for the opening race of his first full FE season - this weekend's Ad Diriyah E-Prix - but it won't be his debut in the category, as he finished 13th in the 2015 Punta del Este round for Mahindra Racing as a stand-in for the injured Nick Heidfeld.
Rowland trusted e.dams would present his case to Nissan regarding the race drive, and he had previously been in touch with the team before the Albon situation unfolded about a possible reserve role for the upcoming season. His 2019 schedule now looks to be a marked improvement on '18, which, besides his F1 test outing as Williams's official young driver at the Hungaroring, was "messed up" by the blighted Manor/Ginetta LMP1 project and ultimately left him on the outside looking in on the World Endurance superseason.
"I had Rowland in mind - it would either have been Albon or Rowland" Jean-Paul Driot
"I signed a deal to do that and it was a proper professional contract and stuff like that, and it was a good step for me," Rowland explains. "Although the car wasn't quite ready and things went the way they did. It kind of stopped me from doing anything else."
Nissan is well aware of Rowland's lack of FE preparation and he acknowledges that it has put him under "zero pressure" to succeed from the off. Driot, who said "15-20" drivers had immediately been in touch about the possibility of replacing Albon, insists nobody else was under consideration for the seat.
"I had Rowland in mind - it would either have been Albon or Rowland," he says. "Because I don't want an old guy - old for motor racing - and I wanted a young quick driver who is able to develop in the right direction with the right people.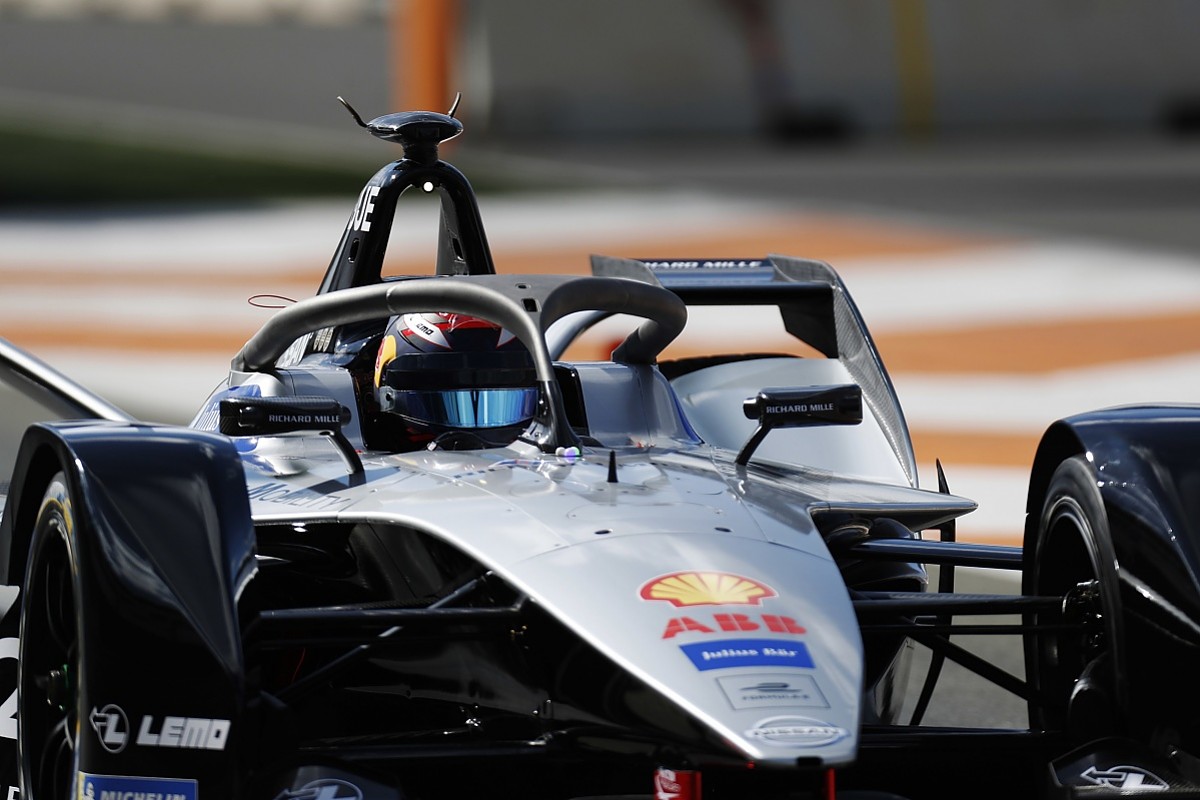 "Nissan have been very good [about the driver situation]. They came with us for our experience with Formula E, but also for our experience in motor racing and single-seaters.
"When you see the number of drivers in Formula 1 [that have worked with DAMS] it means something as well. It's not always the car, it's also knowing the people who work with you - the drivers, the engineers, the mechanics. So, it's part of our expertise, I would say.
"Perhaps I will be wrong with Rowland in FE? Perhaps! But if I am wrong, I am wrong - it will be my responsibility and I will face it."
In entering FE, Rowland has just joined one of, if not the, most competitive championships in motorsport. It has a grid packed with talent and a host of major manufacturers now involved, with more understood to be queuing up to come in if a slot were to become available.
The Renault squad that has morphed into the Nissan outfit also endured its least successful FE season in the 2017/18 championship. It scored no race wins and took fifth place in the final teams' standings. But Rowland is relishing his chance to represent a major manufacturer in a high-profile series.
"I don't think [F1 is] my aim anymore at all," he says. "Formula E is going in a really good direction - it's getting bigger and bigger. It's exciting - I think the level of drivers is probably, on average of the 22, the best in the world.
"In F1 you've got exceptional people, but maybe not the whole grid is the same. But in Formula E, if you look at what they've achieved, a lot of them deserve to be in F1 at some point or another. So, I'm not focusing on that so much anymore. I've got a big opportunity with Nissan and that can be long-term.
"I'm completely committed. I'm not focused on anything else. It's a massive opportunity."
Although the late stages of its pre-season may have been plunged into uncertainty by Albon jumping ship, Nissan has gained a rapid and impressive driver in Rowland. But, ultimately, given he was facing another year of possible F1 reserve work - with maybe the odd sportscar drive - it is the Briton who has emerged as the biggest winner of FE's unexpectedly-late silly season saga.