It should've been at Rockingham in British Formula 4 in 2016. It could've been at Donington Park in BRDC British Formula 3 in 2018. But instead it wasn't until in Pau in Euroformula Open earlier this year that Billy Monger ended his wait for a first single-seater victory.
That Pau win in changeable conditions in May was incredibly significant. Not only was it Monger's first triumph in a slicks-and-wings machine, it also marked his first on-track victory since the horrific F4 crash at Donington two years ago that led to the then 17-year-old's double leg amputation.
But his attitude after the missed win at Rockingham the previous year perfectly encapsulates how Monger reacted to that devastating crash and has fought ferociously to get back to the top.
He had led the third race at Rockingham that weekend from the start and was set to claim his first win since graduating from the Ginetta Junior championship when he encountered car trouble with a couple of laps remaining. He suffered an oil pressure problem and cruelly lost out to Max Fewtrell on the final tour.
Instead of storming off afterwards, angered by the disappointment, he took the time to speak to Autosport and focused on the positives.
"We proved to a lot of people that we have the pace to win races," was his conclusion.
Ever since his Donington accident - when he struck the stationary car of Patrik Pasma at the high-speed Schwantz Curve - Monger has been focusing on the positives. His can-do attitude led to the FIA overturning rules that prevented disabled drivers racing in single-seaters and he fought to get a place on the British F3 grid with Carlin last year.
A podium in his very first race back was the reward but, as the season progressed, a victory remained elusive. His double pole at Donington presented the best chance, but little errors in both races left him winless and sixth in the standings. So finally getting that first win in Pau after stepping up to the competitive Euroformula Open category with Carlin for this season meant Monger could put frustration at those missed chances behind him.
"I felt pretty glad to finally get that box ticked because there were a few opportunities, like at Donington last year, I got a double pole but didn't manage to win a race," reflects Monger, who is back racing in the UK this weekend in EF Open's Silverstone round.
"Last year there was a lot of pressure on me. I put a lot of pressure on myself - I went from no one knowing who I was to everyone seeing how I got on and I felt like I needed to go out there and do something special every time.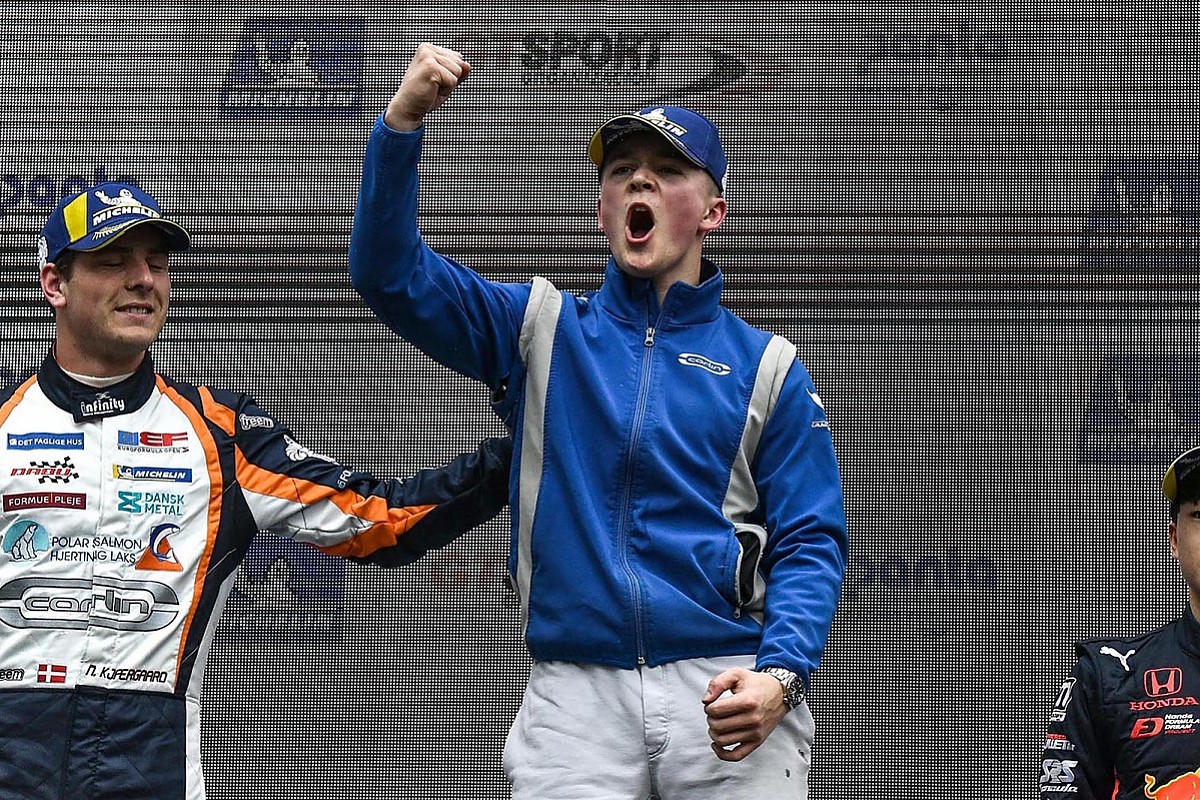 "There were definitely times last year where I let the pressure get to me. It's so hard to judge that when I'm the only one who's going through that situation. I maybe made a few mistakes I wouldn't have in my second year racing."
Monger feels that initial period of intense media spotlight surrounding his return to racing is now over and he can focus on the job at hand.
"It's been nice this year to actually just be a racing driver in some ways," he admits. "I've got through that period and now it's onto just the driving."
That focus on his racing paid dividends too, as it was a brilliant strategic call from Monger that led to the Pau victory on his first street circuit outing.
"I was sitting on the grid and I was like, 'Guys, I think it's raining too much, we need to put wets on', then the klaxon rang for the three-minute warning where everyone needs to get off the grid," he recalls.
Monger is using the same system of braking as he had last year in British F3, but admits it's been more of a struggle with the tighter confines of the Euroformula Open Dallara
"And they were like, 'We can't do it now, if we're going to do it we will need to pit'.
"So I did the green flag lap, realised it was too wet and it was obvious to me - I've grown up in the UK, I know when it's too wet for slicks!
"On a street circuit as well, I was surprised I was one of only a few to come in because it's not like we were on a track like Silverstone where you've got a lot of space, you can warm the tyres up. On a street circuit you can't really weave on the green flag lap to warm the tyres and there's not enough high-speed corners to generate tyre temperature, so it was quite obvious really."
After being "frustrated" by an early safety car interruption, Monger was soon picking off the cars ahead and when he had climbed to seventh, he realised he had a chance of winning. He found himself in the lead when Motopark duo Liam Lawson and Julian Hanses collided ahead. That gave Monger a 15-second advantage, but another safety car appearance late on and a glancing blow with the wall meant it was far from a straightforward win.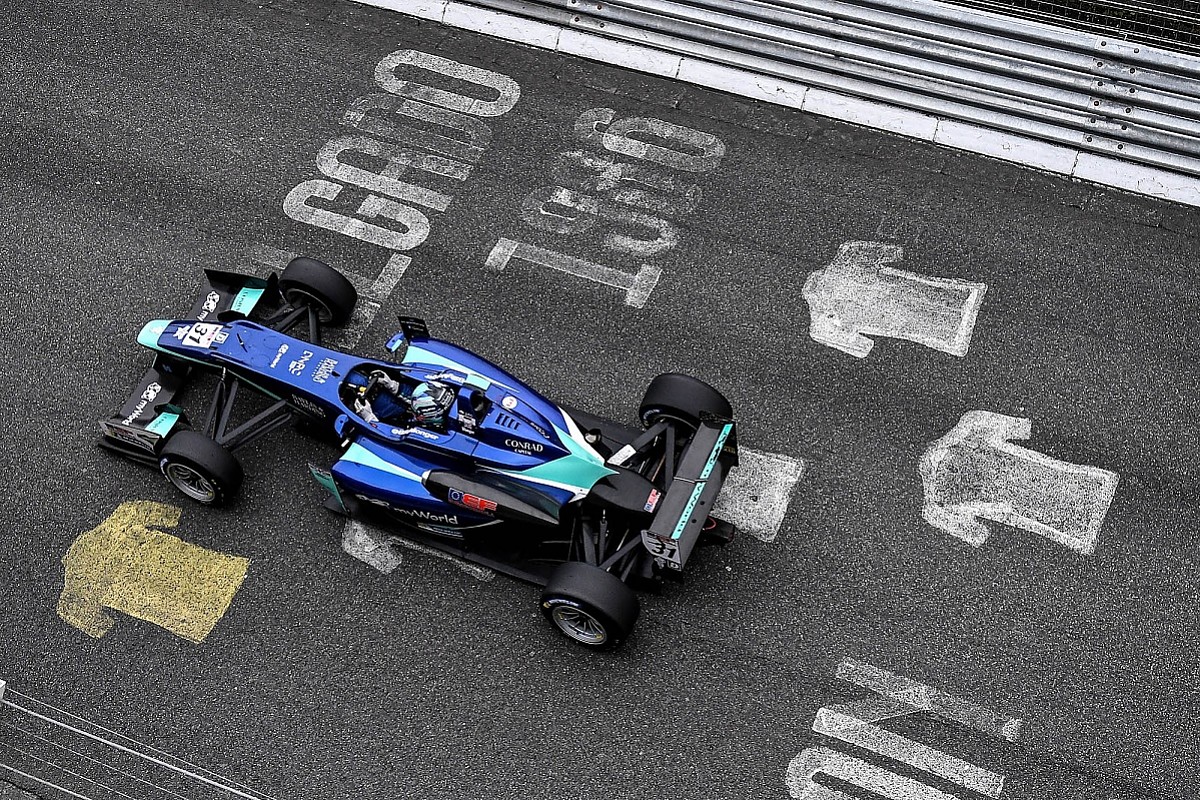 "I made a slight mistake on the lap I got into P3, I brushed the wall through Turn 2," Monger says. "My rim just scraped along it so I think I got away with that one. But the steering was slightly out, so I knew it had done a little bit of damage.
"Also, Pau's not an easy circuit to overtake at either so there was a lot of heart-in-mouth moments passing people around the outside on the fastest corner. There were some pretty special moves in there."
But the Pau win proved to be the highlight of a season that's been dominated by series newcomer Motopark. With the European Formula 3 Championship merging with GP3 and the planned Formula European Masters category not getting off the ground, Euroformula Open has attracted a number of top teams and drivers wanting to stick with the more traditional F3 car spec rather than the new machine used in Formula 1-supporting FIA F3.
That, combined with difficulty getting on top of the car's set-up and teething troubles with his hand control system, has meant a tough first half of the year for Monger. Aside from the Pau win, his best result has been sixth at the Red Bull Ring.
Monger is using the same system of braking with a prosthetic attached to his right leg alongside a hand-operated throttle as he had last year in British F3, but admits it's been more of a struggle with the tighter confines of the Euroformula Open Dallara.
"As a team, between me and Carlin, we've had a lot of mechanical issues with my controls that we weren't expecting," he admits. "There were a lot of races where I've had the throttle cut out - there have definitely been moments where our races have been compromised because fitting the system to this year's car has been very difficult.
"It's the same system, but obviously on a different car and the way we've had to mount everything to the car, there's a lot less space to mount things than we had with the British F3 car last year."
Monger is continuing to refine the system and has pinpointed using the clutch off the start in the wet and being smoother with throttle control as being two areas where there's room for improvement. But he feels it's very much his responsibility to continue to drive the team forward.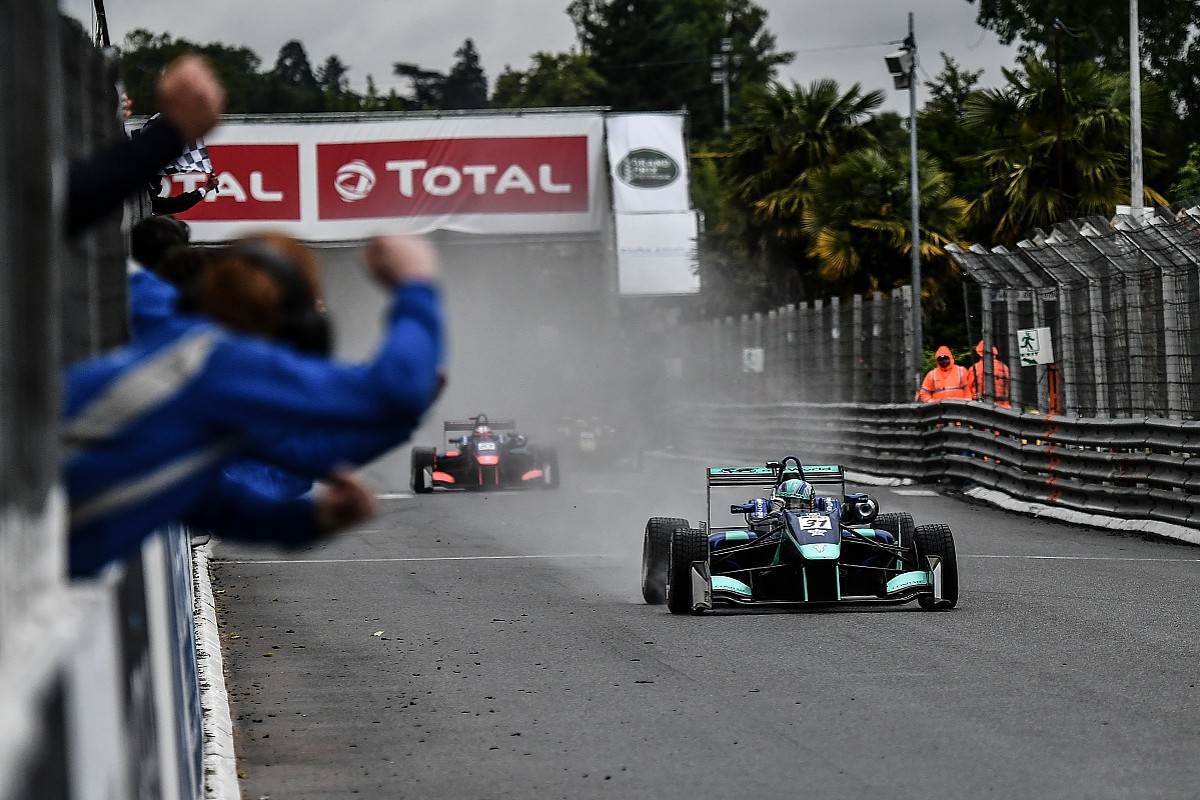 "As seasons go, I've had a lot better in terms of luck," he explains. "But the way I've performed, when the car's been right, I've been very happy with.
"In Hungary, Nobuharu Matsushita, who's in F2 with Carlin, did a race weekend with us and he managed to qualify on pole on Sunday but on Saturday we were the same pace. He tried a few things with the car that worked, I tried a few things that didn't.
"We took what he'd learned to the Red Bull Ring and we were the top three quickest all weekend. So, that proved it to me - he managed to find something that, now we've put it on my car, we're top three quickest.
"I'm confident for the last three races - we've got Silverstone, Barcelona and Monza [to go]. I've never been to Monza before so I'm super looking forward to that. I'm the only guy who's won a race this season who's not been driving for Motopark and I'm looking to hopefully add a few more wins to the tally at the end of the season and finish strong."
"Although the season's been disappointing, I feel the level I've been driving at a lot of the time has been very good" Billy Monger
Away from the track, it's also been an intense couple of years for Monger. He's become a household name and has appeared at a plethora of award ceremonies - from the BBC's Sports Personality of the Year to Royal Automobile Club celebrations, all acknowledging the way he has fought to get back racing single-seaters successfully.
Monger says he's not really had time to reflect on all this, but describes his latest award - the RAC's Segrave Trophy, which has illustrious previous winners including Lewis Hamilton and John Surtees and is presented to someone who has 'displayed outstanding skill, courage and initiative' - as being particularly surreal.
He's also been a regular pundit on Channel 4's F1 highlights coverage this year. While Monger admits he would much rather be racing in F1 than talking about it, he does say his move into TV has brought some benefits.
"It's so different, it makes me appreciate the work you guys do a lot more, trust me!" he laughs. "It's been cool, I'm in the right paddock, I'm meeting the right people, I've worked with people like David Coulthard and Mark Webber who've won multiple F1 races.
"Actually, David gave me some advice before Pau because he was always very good on street circuits - he's won at Monaco and been to Pau before. There's definitely been bits I've learned from it and it's been a cool experience."
As for the future, Monger has a move to FIA F3 in his sights. He had looked at joining the category for this season before opting to compete in the less expensive Euroformula Open. While he's not ruled out staying there for another year and launching a full title bid, Monger is keen to be racing on the F1 support bill.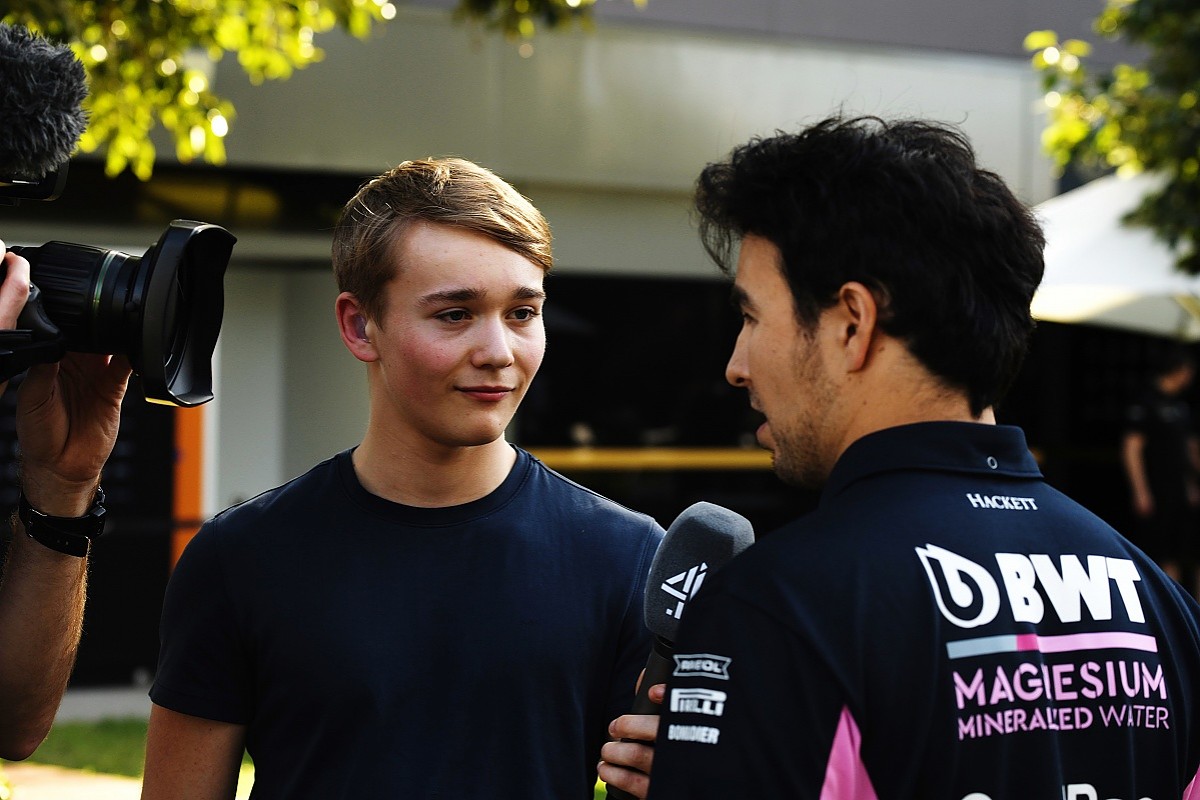 "Although the season's been disappointing, I feel the level I've been driving at a lot of the time has been very good, and having an F2 driver come into the team and matching him until the point he tried a couple of set-ups that worked [was good]," he says.
"Initially we didn't plan to do Euroformula this year; we were looking at FIA F3 but the cost was a lot more. [But] it worked better in terms of track time - the amount you get in Euroformula is substantially more than F3, so there were definitely benefits to how it panned out. I've learned F1 circuits and, if I do FIA F3 next year, I will have more experience in that area.
"But if I finish the season strong, I like to challenge myself against the best and think FIA F3 would be a good choice. That's the project that me and Carlin are working towards. That's our primary goal, but it wouldn't be bad for me either to do Euroformula for another year to continue that learning and hopefully start the season in a much better position and fight for a championship.
"As much as everything else plays a part in it, if I'm winning races it doesn't matter what category I'm in, people are going to take note of that, so that's the plan."
And that starts with his home Euroformula Open round at Silverstone this weekend, where Monger will be desperate to add to that single-seater win tally.