Balmy spring sunshine, a pleasant 15-degree ambient temperature, the smell of the trees and grass in the royal park of the Autodromo di Monza...
Last Friday was a perfect day to kick off competitive activity for the first day of the new era of the FIA Formula 3 European Championship. OK, we all expected the rain to roll in by Saturday evening and soak us on Sunday - and it did - but at least we got one cracking race in the dry on Saturday morning to whet the appetite for a great 2013.
The weekend was dominated by Raffaele Marciello and Pascal Wehrlein. The duo, who have both been funded in F3 thanks to their talent (Marciello by the Ferrari Driver Academy and Wehrlein by the Deutsche Post Speed Academy), gratifyingly live up to those national stereotypes so beloved of the Brits.
Italian Marciello is all sideways action, hammering the kerbs, ragging the hell out of his car, but was able to calm it to claim third, second and then pole on the respective three grids. German Wehrlein is smooth, thinking, calculating, and pulled off a beautifully-judged move on Marciello on the inside of the Ascari chicane in the wet to win the second race.
While Marciello went into the weekend pledging to play it safe and score points, he still made errors while leading the first race (on the final lap at the Rettifilo) and the third, but such is his car control that he was able to rescue both situations without loss of position.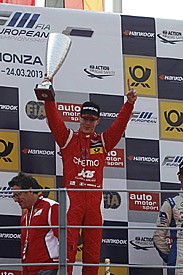 Marciello controlled race one © XPB
The only concern is that, with Wehrlein now disappearing off to race in the DTM, Marciello may have it all his own way in the championship. Certainly, Felix Rosenqvist and Alex Lynn - who many would tip as his main rivals - came away from Monza with lower points scores than they hoped for.
But next up is Silverstone, a track where Lynn has been magic so far in his career in both Formula Renault and F3. Marciello, the Brit's team-mate in the Prema Powerteam squad, will know that there is still a lot of work to be done.
Thirty-car field proves series is strong
Partly thanks to the emasculation of British F3 for 2013, European F3 opened the year with a bumper 30-car field.
Last year, with the introduction of the new generation of chassis, there were just 25 examples of the new Dallara F312 racing regularly in FIA-rules F3 - 13 in the Euro events and 12 in British F3.
Towards the end of last year, Van Amersfoort Racing entered the fray with two cars and EuroInternational with one, while T-Sport bought an extra car to get Spike Goddard up to speed with a new-spec Dallara in testing while Alexander Sims raced the team's 2012-season machine in Macau.
For 2013, new team Romeo Ferraris has joined in with a pair of brand-new F313s, with Double R Racing buying a new car too for Sean Gelael as it expands to three cars. EuroInternational also has a new F313 that it hopes will be raced at Silverstone.
A pair of last year's cars has been acquired by Mucke Motorsport as it moves up from two cars to four - the ex-GU Racing Dallara and the much-crashed Luis Sa Silva/ Angola Racing Team machine.
By my reckoning, therefore, there are just 33 FIA-rules F3 cars in existence in Europe (the rest are in Japan or fitted with spec-Toyota engines for European F3 Open), with the only cars not raced at Monza being that second EuroInternational Dallara and two of Carlin's - the ex-Jaafar car with which Antonio Felix da Costa won Macau and the ex-Fantin car that Felipe Nasr raced in Macau.
Team boss Trevor Carlin, who missed Monza to watch his GP2 boys at Sepang, is hoping to get them out for the four British F3 events.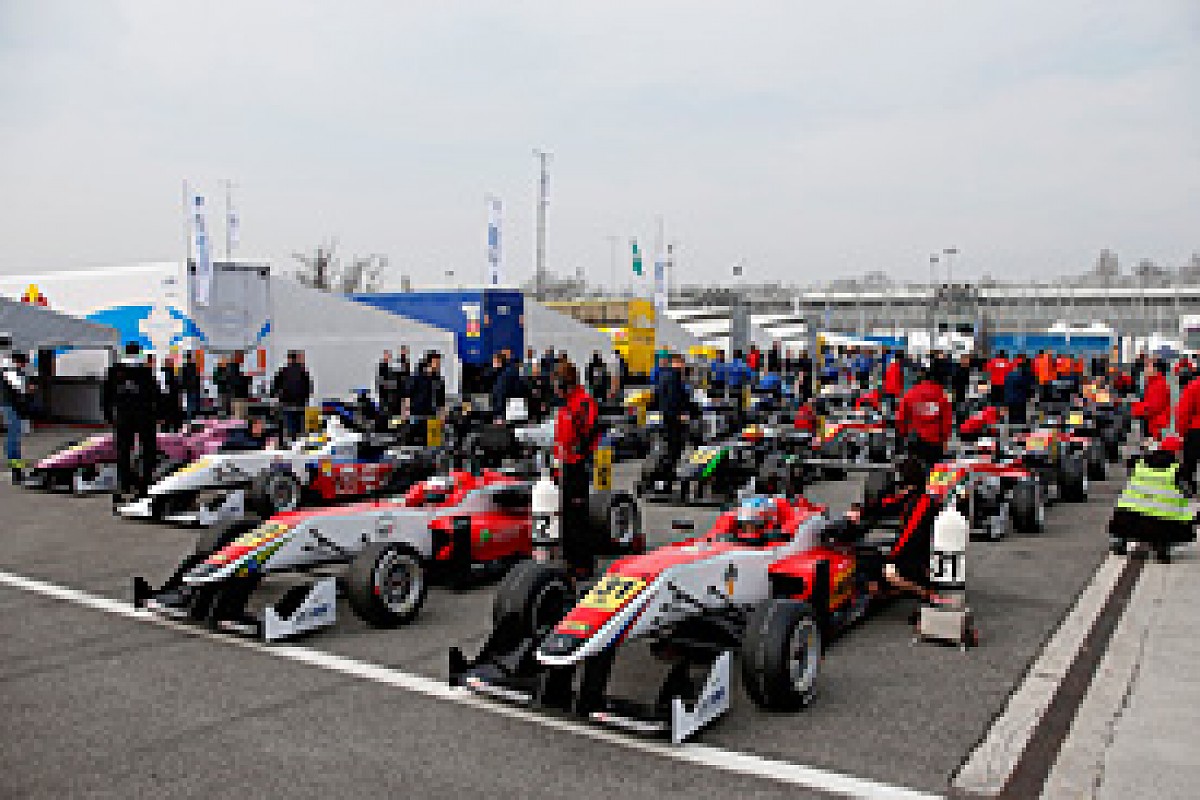 Thirty cars lined up on the Monza grid
Therefore, a grid of 30 (and hopefully 31 for Silverstone) is truly impressive given the paucity of hardware around. Long-term, there is a fighting chance that F3 beyond the European championship can recover to its former strength under the new engine rules, which will be mandatory from 2014 onwards.
The current chassis will be kept until at least the end of 2015, giving two years of stability of chassis/engines/ electronics, and if this is a tweet I could well add a little smiley wink to speculation that it's not beyond the realms of possibility that they'll be kept for 2016 either...
Six of the Brits in the points
I'm no rampant patriot - except when it comes to the England football team in major tournaments - but it was impossible not to feel some pride over the performances of the seven UK nationals at Monza, with six of them gaining top-10 qualifying positions and points, and the only one missing out (by just one place, mind) being a bloke who'd never raced a single-seater before January.
Alex Lynn and Tom Blomqvist both took podium positions, while Will Buller made strong progress in the races after the T-Sport team got caught out in qualifying, a by- product of lack of experience on the Hankook tyres in warm conditions, partly due to the bitter weather of pre-season testing.
Harry Tincknell's peaks were not quite as high as this trio's, and he was also closely tailed in qualifying by Carlin team-mate Jordan King, but he raced very strongly and ended the weekend as the leading UK man in the points. Particularly impressive was a double move on Felix Rosenqvist and Tom Blomqvist at the start of the second lap of race one to vault from sixth into fourth at the Rettifilo, although as the race wore on he could not resist the charging Buller. He was at it again at the start of race two, dispatching Lynn nicely on the opening lap of green-flag action. That should boost his confidence heading into Silverstone.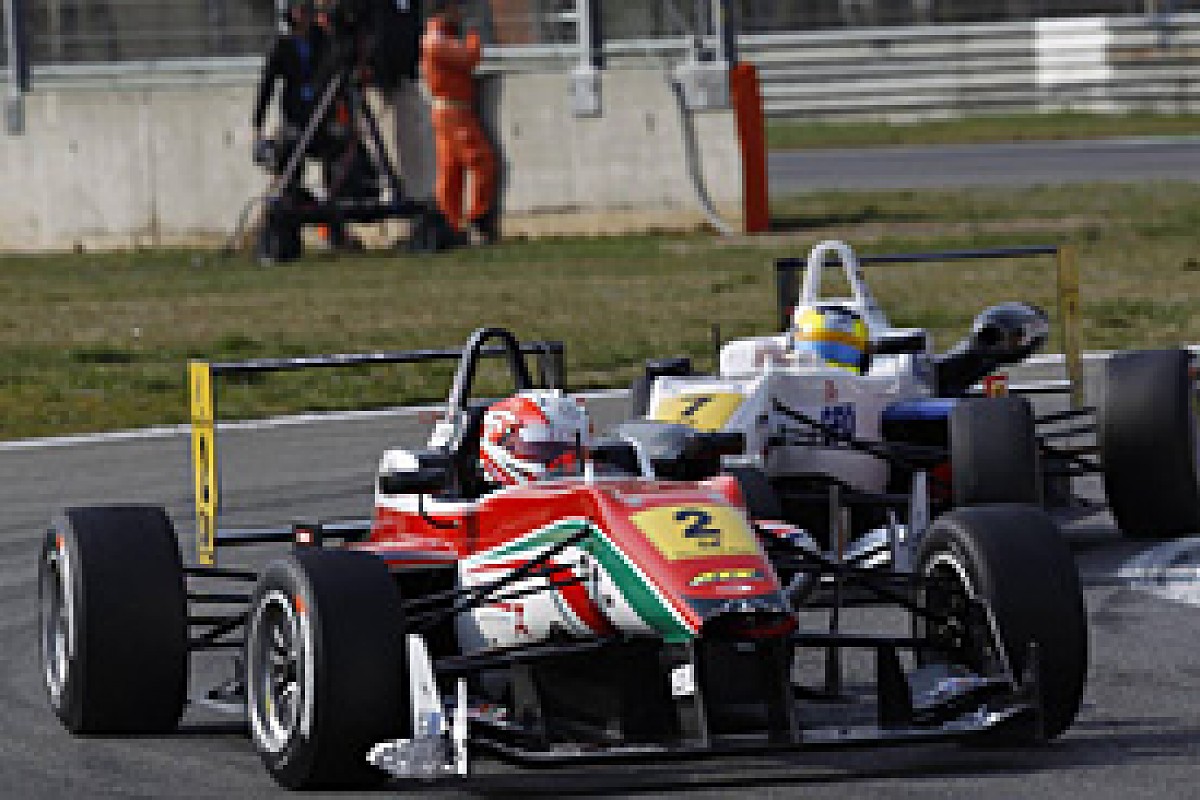 Lynn took a podium at Monza © XPB
King, meanwhile, gave as good as he got in a fight with acknowledged hard man Felix Serralles for sixth in the opening race, despite slight front-wing damage from contact with Buller on the opening lap. His battle included a big shove on the Puerto Rican into the Rettifilo that holed King's nose. But, every time he passed Serralles, he knew that he would be drafted again soon after.
The field was split roughly equally between those running a single plane of rear wing for the fast Monza straights and those with medium downforce from two planes. Serralles's Fortec machine, in common with everyone in the top six bar Tincknell, was on a single plane and it is likely this that allowed him to always repass, and which arguably led to the contact from King due to being earlier on the brakes.
Josh Hill could have been in this battle too, had he not made contact with Fortec team-mate Pipo Derani that knocked the Brazilian's rear wing forward and caused a pitstop for a new nose for Hill.
In qualifying, he showed the intelligence of grandfather Graham and dad Damon, by pulling over at a chicane and allowing the trio of Serralles, Blomqvist and Lucas Auer in front, thereafter joining in the slipstream to take an unexpected (bearing in mind his lack of testing) ninth on the grid.
Also reminiscent of his grandad is his recent sprouting of a moustache, so expect to read of his being signed BRM and for him to start pronouncing that Mediterranean jetset tax exile where Graham ruled as 'Mon-AR-co' any time soon.
And the only man to miss out on points? Nissan GT Academy star Jann Mardenborough, who raced extremely well in a massive midfield scrum. He was wheel-to-wheel with a recovering Lynn for a couple of laps in race one, and even got the better of him for a while. But, as Lynn, strode to the front of the group, Mardenborough got involved in a chain reaction with Mitchell Gilbert, Derani and Lucas Wolf that ended with him being turned across the front of the German. Half a lap later he was out when the front wing collapsed under him, yet half a day later he was just out of the points thanks to an 11th in race two.
Slipstream is all-important in qualifying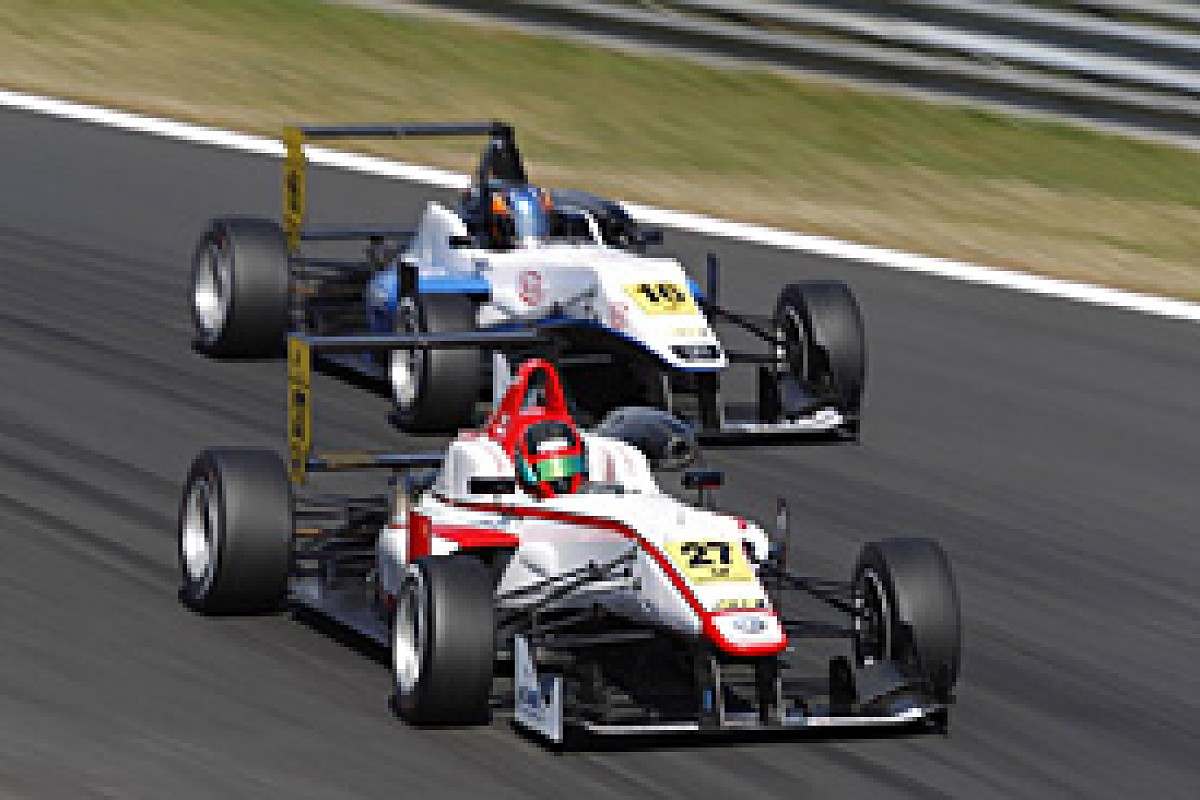 Slipstream proved crucial in qualifying © XPB
Alex Lynn felt he could have had pole for race three if he'd got a tow on what he felt was a better lap than the one that gave him third on the grid. Then again, poleman Raffaele Marciello felt he'd had an even better towless one too.
But the man to really miss out was Felix Rosenqvist. The Swede, expected to fight for the title, was gutted with a best grid position of seventh, and his Mucke Motorsport team reckoned it was all down to never grabbing the slipstream at the right moment.
A good illustration of this is Sven Muller, who circulated totally on his own throughout first qualifying. He's a handy enough driver, good enough to take podiums last year, so we can safely expect his corner-exit speeds to be respectable, but his speed-trap figures were 8.5mph off the pace in sector one, 7.4mph in sector two and 5.9mph over the start-finish line.
Still, there were flashes of race form for Rosenqvist, who was fourth in the second race, and made a lightning start to the opener to vault from 11th to fifth by the first corner, before getting taken out by Tom Blomqvist as they battled for sixth later on.
Nepotism is alive and well
We had Lucas Auer, nephew of Gerhard Berger - who won the Monza round of the 1984 European F3 Championship and then became the hero of Italy when he took victory for Ferrari in the 1988 Italian GP - performing extremely well to take second in the opening race.
We had Josh Hill, son of the man who scored Italian GP wins for Williams at Monza in 1993 and '94, finishing in the points in the wet second race.
We had Tom Blomqvist, son of ex-World Rally champion Stig, who probably would have found his old Saab 96 V4 a bit breathless around the Autodromo had be daftly decided on a match race against Sandro Munari's Lancia Stratos.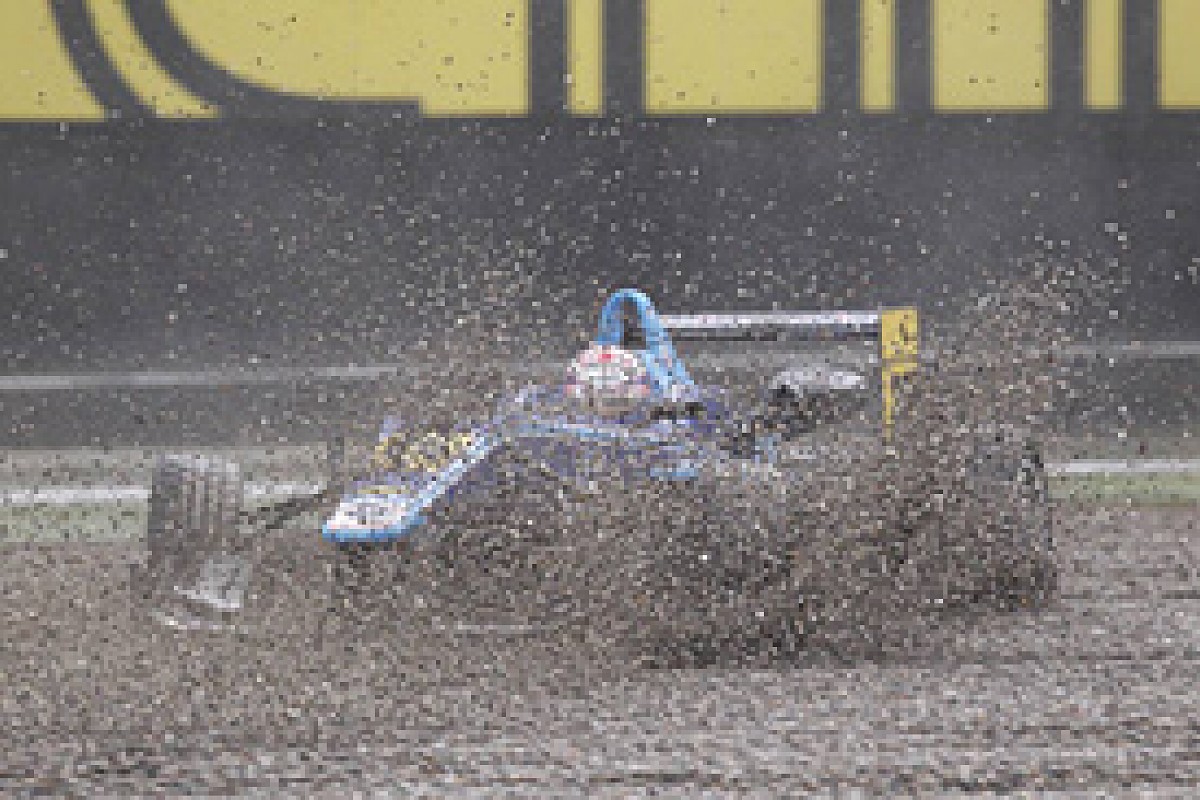 Cheever ended up in the gravel © XPB
And we also had Eddie Cheever, son of the man who won the 1988 Monza 1000Km for Jaguar. After a year in Formula Renault, one in Formula Abarth and another two in Italian F3 (and he's still only 19!), he knows Monza pretty well, but he did a sound job to qualify comfortably in the top 10 in his Prema Powerteam car.
Cheever (don't call him Eddie Cheever Jr, because that was his dad - this one is Eddie III) still has a little way to go on racecraft, but there appears to be some decent speed there.
"I'm not used to this level of competition - in Italy it's nowhere near this," he said. "I've been a little bit spoiled."
And it's strange to hear the spitting-image son of an American racing hero and Indy 500 winner, who uses his dad's patriotic helmet colour scheme, speaking in a full-on Italian accent!