As he stood on the podium after winning at Snetterton, Jack Harvey glanced in the bag containing five balls - numbered '8' to '12' - that would determine his fate for the following morning's reversed-grid race.
He'd already made the draw twice this year - as the winner of the opening race of the weekend - and pulled out '12' and '11', consigning him to sixth-row starts. This time he just wanted to make sure '8' and '9' actually existed. Once he was satisfied he looked away, plunged his hand in... and pulled out the '12'.
That summed up Harvey's season.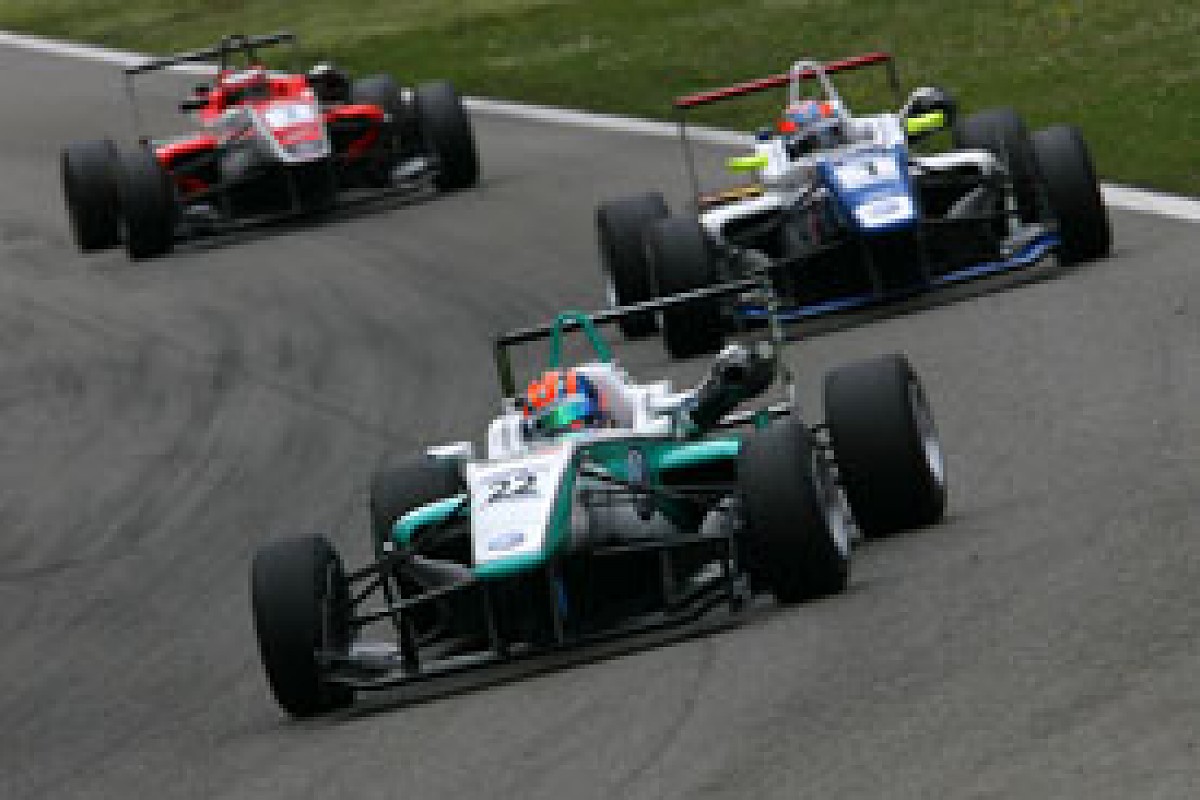 Jazeman Jaafar kept himself in title contention © LAT
Armed for the second year with a Dallara-Volkswagen run by Carlin, he was without a shadow of a doubt the best driver in the 2012 British Formula 3 International Series, yet for various reasons - rarely related to performance - he didn't clinch his title until night was falling at Donington Park on the final day of the campaign.
The peaks were higher and the troughs lower for both Harvey and Felix Serralles than they were for the consistent Jazeman Jaafar, which led to an exciting season that became increasingly unpredictable as the year wore on, and which ended with the right man being crowned.
HOW IT WAS WON
If you were really cheeky, you'd say it was in an MSA court of appeal. On the eve of the Donington finale, Harvey had a penalty from the penultimate round at Silverstone overturned. Rightly so, for looking at the TV footage it had appeared to be a miscarriage of justice. It also gave him a swing of 17 points over Jaafar, who he defeated by just 13...
But to be fair, it was won by superiority on Harvey's part in the 'bread-and-butter' UK rounds. Of the 12 non-reversed-grid races in his homeland, the Englishman took pole for 10 of them and won seven - and sometimes, such as at Rockingham, he appeared to operate in another dimension.
For someone whose first steps in car racing came on the continent, it was odd that Harvey's duff weekends were the ones across the water. But even when he was up against it there were moments that made the difference, such as a path-across-the-Red-Sea moment to avoid the wall of gridlocked Dallaras at the first turn of the Norisring reversed-grid race. And then there was a highly significant pass of Jaafar at Spa.
Most importantly, Harvey listened to the constructive criticism from the Carlin squad after his rookie F3 season and sharpened himself up. Even when the official tests began in March, he had already hugely impressed the team with his approach. And they gave him the equipment and support to show his talent.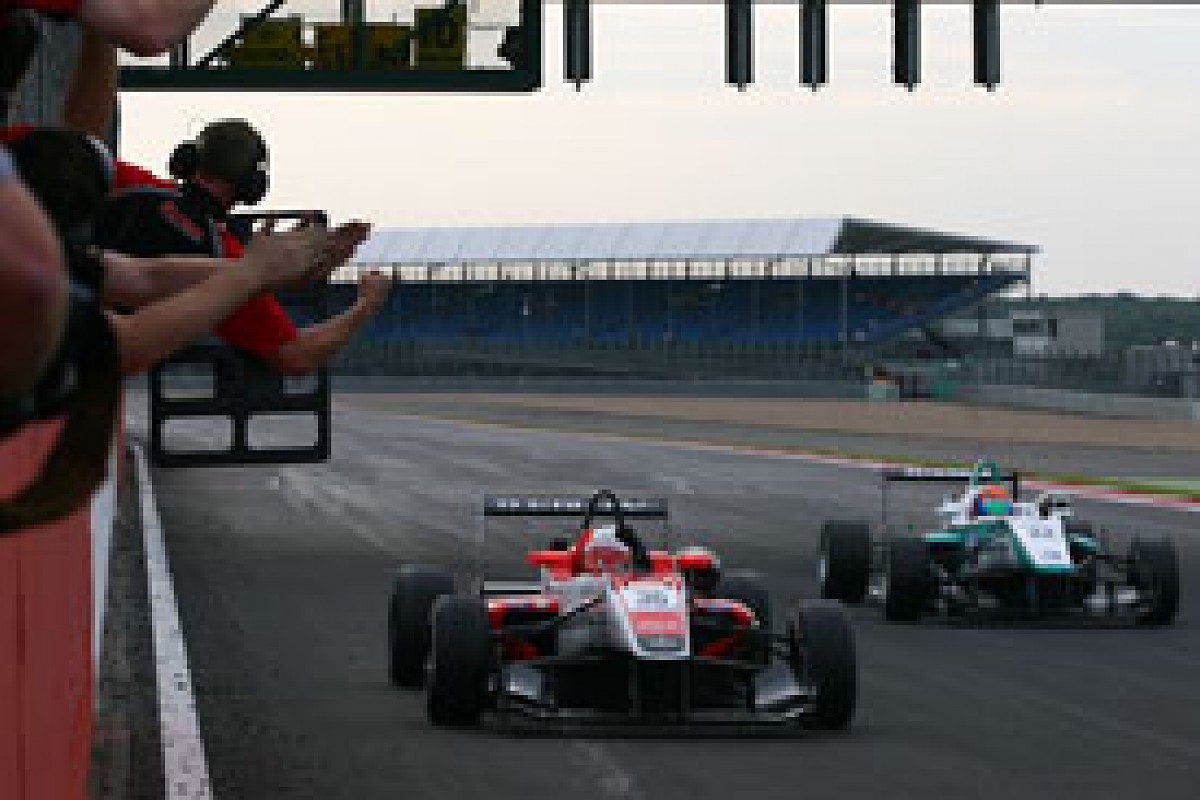 Alex Lynn scored an epic win for Fortec at Silverstone... © LAT
STANDOUT PERFORMERS
The best thing about 2012, the first season of the new-generation chassis, was that Fortec Motorsport proved you don't have to be with Carlin to fight for the title. Even the top brass at Carlin would probably agree that this development - which meant the two teams were incredibly evenly matched - was for the good of the series as a whole.
Harvey was the quickest man at five of the 10 tracks, while team-mate Jaafar was superb at Pau and comfortably the best of his team at Silverstone. Carlos Sainz Jr was incredible in the wet, if inconsistent otherwise, although the Spaniard did a cracking job in qualifying at Monza with an ultra-low-downforce set-up.
While the Carlin brigade seemed to go well when downforce was key, the Mercedes-engined Fortec machines seemed to have strong mechanical grip and traction, and as a consequence were not so aero-dependent. Serralles used this to fantastic effect at Spa, while Alex Lynn finished as a major contender, taking an epic maiden win at Silverstone.
The others were usually a touch behind, although Carlin's Pietro Fantin was mighty at the Norisring and team-mate Harry Tincknell had a happy knack of triumphing in reversed-grid races - four times! At Fortec, Pipo Derani took two reversed-grid wins, while Hannes van Asseldonk deserved a win but didn't get one.
It's interesting to look at the qualifying performances of the drivers over the season, as it shows how incredibly closely matched four of them were at the front.
By calculating an average of each driver's best three qualifying laps at each round - thus rewarding consistency as well as speed - and then expressing that as a percentage of the fastest driver's average, you come up with a theoretical time based on a quickest three-lap mean time of 1m40s (i.e. 100 seconds) at each round.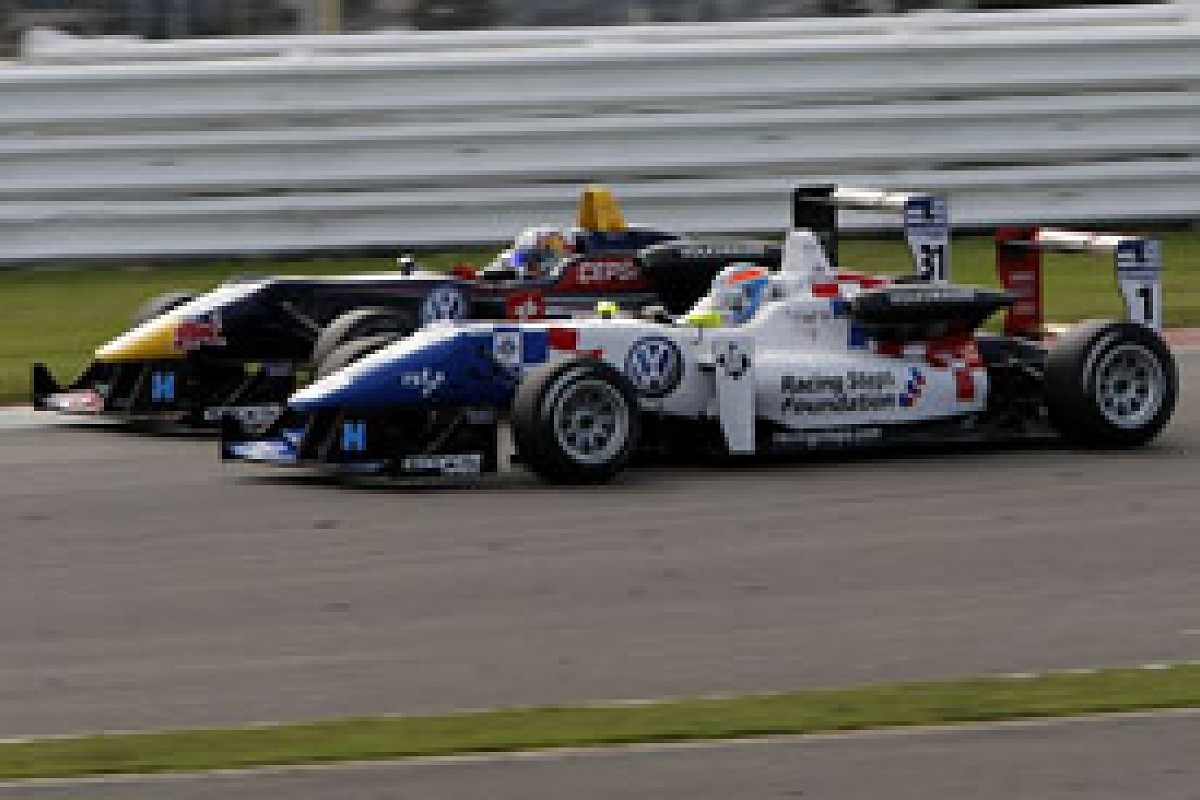 ...while Jack Harvey and Carlos Sainz Jr also starred © LAT
This therefore gives each track equal weighting, from the 49s lap of Norisring to the 2m15s of Spa. You can then average each of those times out over the season.
This shows Harvey on top with 1m40.301s, just ahead of Lynn (1m40.312s), Jaafar (1m40.313s) and Sainz (1m40.321s), with a gap to Serralles (1m40.590s), Tincknell (1m40.595s) and van Asseldonk (1m40.625s). Then it's Fantin (1m40.779s) and Derani (1m40.883s), followed by Nick McBride (1m41.432s), Fahmi Ilyas (1m41.649s) and Geoff Uhrhane (1m41.906s).
Harvey may have had the quickest average at half the rounds, but lost out big time at Monza, where he tripped over in traffic while everyone tried to get a tow, and Spa, where he collided with van Asseldonk, pulling his overall score back to the others. Serralles was the only other to be quickest at more than one track, but was way off at Pau and Rockingham, and then at Brands where he punctured a tyre. Intriguingly, the most-dominant performance of anyone was Fantin at the Norisring - his top-three average was 0.385 per cent faster than the next man, van Asseldonk.
SOMETHING TO REMEMBER
Thanks to the new FIA European F3 Championship, the joint races at Pau, Norisring and Spa were all fantastic, with grids of 28/29 cars. Interestingly, by applying FIA points to all runners in the six main races from those three weekends, Sainz would emerge as champion.
Having criticised the Harvey decision at Silverstone, it is worth also pointing out that the officials got a fair bit right this season - especially starting a wet race at Spa without a safety car.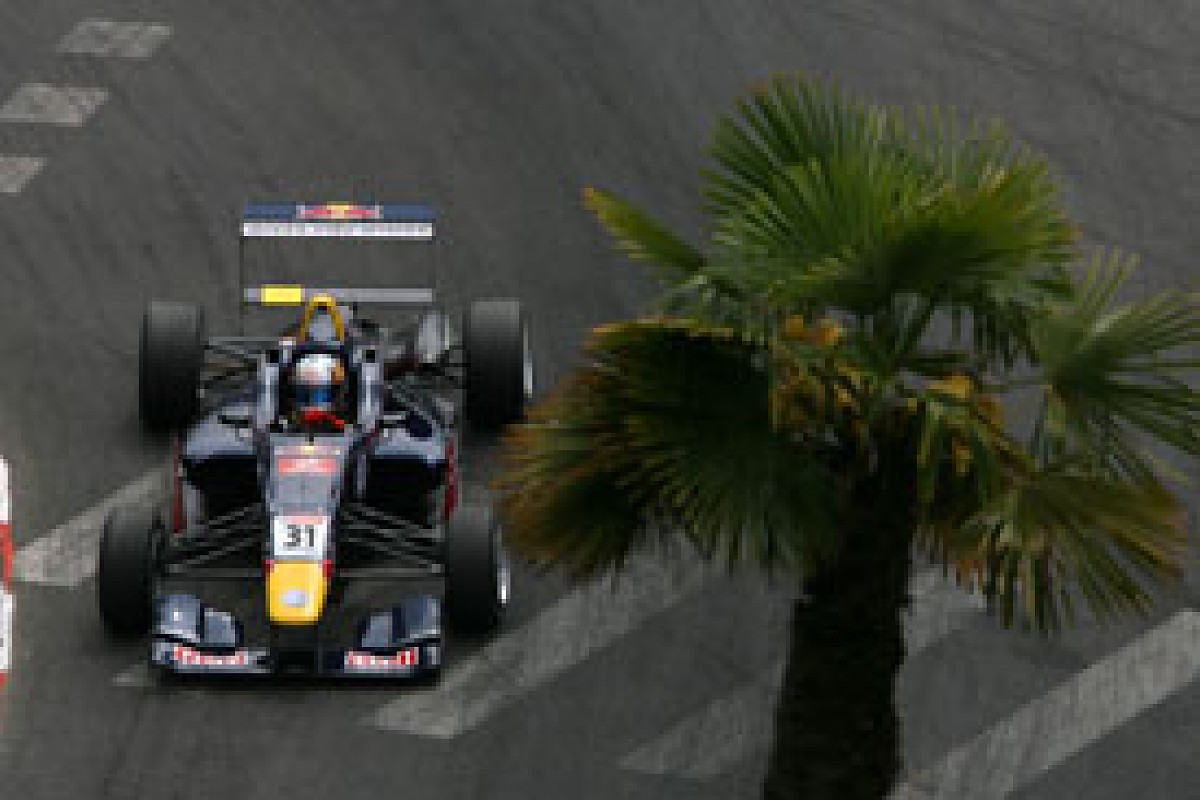 Sainz Jr lost out under the points system and reverse grids © LAT
These are supposed to be racing drivers, after all...
There were other issues, such as erroneous track-limits observer reports, that required overturning.
This however was put into perspective at the Norisring, a weekend run under Euro Series jurisdiction where some of the verdicts were plain daft.
SOMETHING TO FORGET
The reversed-grid races are fun and entertaining, but they should not count for full points as the concept skews the performance position of the drivers.
It's worth noting that without reversed-grid races at all, Lynn and Sainz would have finished third and fourth respectively in the championship and stayed well in the hunt for the title.
WHERE NEXT?
Over to the FIA...
The governing body wants to boost F3 (14-16 cars in BF3 was a little low this year), but delays in public announcements on the new engine regulations for 2013, and what format the European championship will take, are putting the category in a difficult position.
As things stand, BF3 has a fabulous calendar lined up and the infrastructure to grow the grid back to an acceptable level. Fingers crossed...