One round to go before the 34th British Formula 3 champion is crowned, and we're still little closer to knowing who it's going to be. Events at Silverstone - which produced some fantastic racing - leave the destination of the title on a knife-edge among a field that, although slim in number, is wonderfully cosmopolitan.
So, are we going to have our first Muslim British F3 champion (Malaysia's Jazeman Jaafar), our first from the Caribbean (Puerto Rico's Felix Serralles), or our first from, erm, Lincolnshire (Jack Harvey)?
Not to mention the rank outsiders, but there is only a microscopic chance of a second title for Spain (Carlos Sainz Jr after Jaime Alguersuari) or Essex (Alex Lynn post-Johnny Herbert).
The championship has, largely, been fought out with a great deal of respect among the leading runners, who usually get on pretty well with each other. Take Silverstone as an example: when Lynn - who had hitherto never topped qualifying - pumped in a blinding series of three successive laps to take a double pole position, Harvey remarked: "It's no surprise to me. That performance has been coming from Alex for a long time. He did a stonking job."
And when Lynn swept to a dominant on-the-road win in the first race (although he was subsequently penalised 30 seconds for a jumped start), the Fortec ace beamed: "You're just in a zone when you know nothing can catch you. It's one of those moods that don't come along very often, and when it does you've got to grab it with both hands. Just like when Jack won at Rockingham."
It was a shame, therefore, that there were hints of a demonisation of Harvey during the three Silverstone races, during which he notched up three penalties and, some argued, should have had a fourth.
Harvey's weekend was full of penalties © LAT
His first penalty was for a false start to race one. Fair enough, his car jumped forward on the red lights, before he stopped and took off with the rest of the field. He was out of position, and that means 30 seconds added to your race time. There were suggestions that the jump was due to a glitch in the handbrake, so not Harvey's fault.
His second was for a clash with Pipo Derani while trying to take the lead in race two, and the third for, a few seconds later, weaving on the pit straight while defending third place from the Brazilian after both had been delayed. For the collision it was another 30-second penalty; for the weaving it was a five-place grid penalty for race three.
In combination, this seemed harsh to many - even from rival squads. Carlin, Harvey's team, accepted the grid drop but believes that the 30-second penalty was unjustified, and is appealing it. It's arguable anyway that the weaving was merely the last link in a direct chain of causation that began with the collision. And, if you don't agree that Harvey was at fault for that, then the double penalty would be extremely heavy-handed.
The officials are clearly doing their jobs correctly in applying the rules as they stand, but perhaps there is scope for more flexibility when the rules are written. As in the courts of law, when judgments are handed down in motorsport, it would be fairer if each case was decided based on its own merits.
In the third race, Harvey's heavily-defensive driving against Serralles ended with his title rival on the grass down the Wellington Straight, hitting a bump and taking off under the bridge, before landing and, amazingly, passing Harvey for seventh place on the run down to Copse Corner! Amazing, because he was lifted out of the car in agony by medics, and taken to Northampton General Hospital with suspected broken vertebrae. He was released later in the evening with nothing worse than a badly bruised coccyx.
Officials looked into this incident too, and it would have been very easy to fall into the overemotional trap that so coloured the Formula 1 stewards' judgment at Spa in handing Romain Grosjean a one-race ban. Incidents should be judged on the original act of the perpetrator, not the outcome - however spectacular that may be. Whether the F3 stewards' judgment was right or wrong, credit to them for not getting sucked into the blame game that infests so many strata of motorsport - and modern life.
Serralles was in pain after his crash © LAT
Even so, it leaves Serralles with a badly damaged tub on his Dallara, Fortec team boss Richard Dutton saying he couldn't believe his driver finished the race with his car - and own body - in such a state.
Serralles missed Fortec's day of testing at Pembrey on Tuesday, where one of the main programmes will have been to work on set-up for the Donington finale, and he'll go out for this Thursday's official test at Donington to learn the track, but how many laps he does depends on how comfortable he feels.
It's undoubtedly a big setback in his title fight with Jaafar and Harvey, and it's tough to see anyone stopping the Carlin boys on a track that should perfectly suit the team's higher-downforce set-up. But this British F3 season has made a habit of confounding accepted wisdom...
STAR IN A REASONABLY-PRICED DALLARA
It's the IndyCar title decider this weekend, with Will Power holding off Ryan Hunter-Reay as they head to the Fontana oval.
Power's relative lack of success on ovals is well-documented, but what most people don't realise is that the Australian's first ever trip to such a venue - Rockingham in the UK - included a trip to hospital...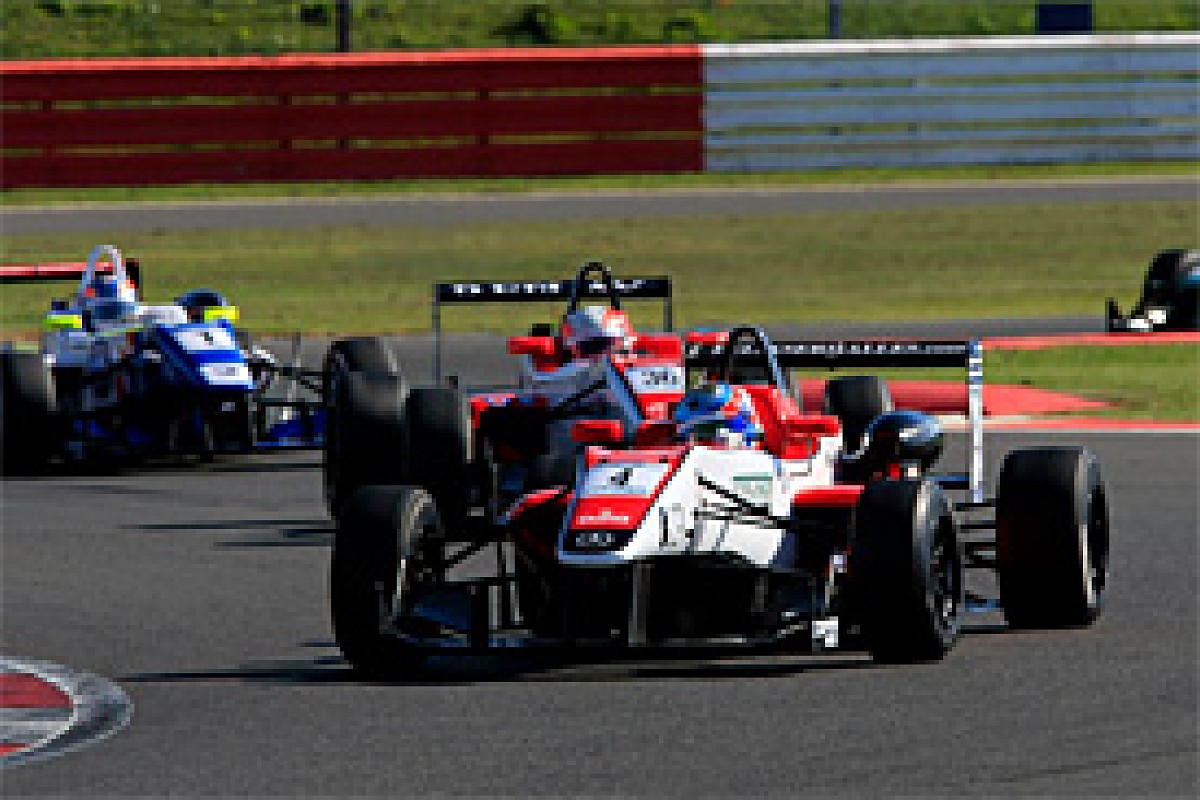 Will Power in action in 2003 © LAT
When he rocked up in the UK in 2003 to drive the underdeveloped Ralt in the British Formula 3 Championship, it soon became pretty clear that here was a very brave driver, with great natural car control, wrestling with a car that had a rather lower performance ceiling than the Dallaras around it. So Power quickly quit that situation, and put a deal together with Fortec Motorsport to complete the second half of the season.
In hindsight, 14th place in the championship doesn't seem to be a roaring success, but at least he was able to establish a toehold in European motorsport that took him to Alan Docking Racing in 2004 and then onto World Series by Renault with Carlin Motorsport in '05.
Power's first two race outings with Fortec were at Castle Combe and Oulton Park, but it was third time out at Rockingham where he showed frontrunning form for the first time.
This was in the days when the field would dive off the oval at Turn 1 into a very fast chicane that returned the cars to the oval via the pit-exit road. When hitting the kerbs at the chicane, most drivers would find their front wheels briefly lifting off the ground. But, if they were unlucky, the air would get under the flat bottoms of the chassis and they'd take off - most famously with Katherine Legge.
One such was Power, who after qualifying third remarked: "When I heard my neck crunch, I thought I'd better come in!"
Fortec boss Richard Dutton recalls: "He actually cracked a vertebra over the kerb at the chicane. He took off and landed on his back wheels. I can remember taking him to hospital."
Power had another big shunt in qualifying for the finale at Brands Hatch, but showed some great promise, even if he only scored one podium at Thruxton. "He was quick," says Dutton. "We had to smile at his name when he came to us and he had some rough edges, but he was a very cool guy with a laid-back manner.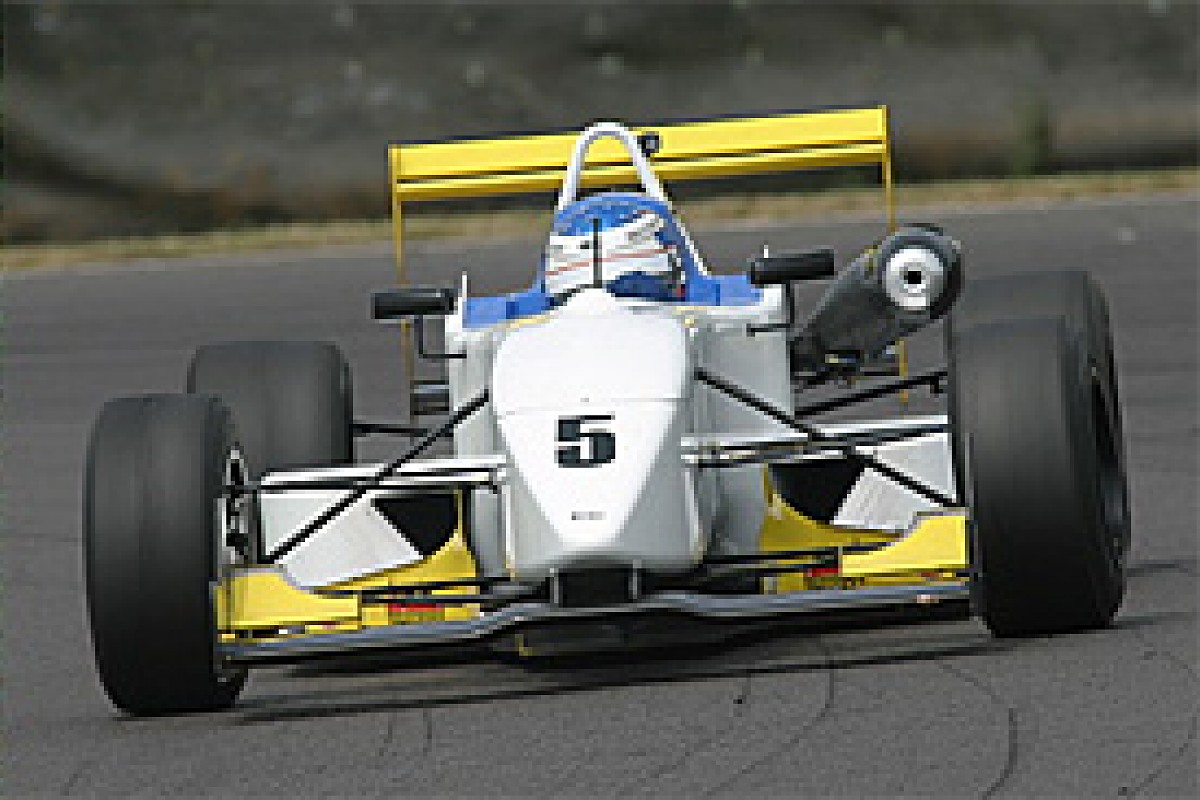 Ryan Hunter-Reay in 2003 © LAT
"He wasn't the complete package at the time but if he'd stayed another year with us he could have done really well. But they were struggling for money. They did a deal with Docking for the next year and we got James Rossiter. I'm very pleased to see what he's done since then though - he's had a fantastic career."
It's a little-known fact, but, Power's rival Hunter-Reay also had a brief taste of British F3 - in his case a test with Carlin Motorsport at Pembrey in 2001, when he was a leading runner in the Barber Dodge Pro Series and on the verge of stepping up to Toyota Atlantic.
"I don't think he had any interest in racing in Europe," remembers team boss Trevor Carlin. "It was just a one-off to give him a bit of a go. I think he crashed - it was an innocuous spin at the exit of the Crossing and he backed it into the wall.
"Most Americans on first impressions are very nice and he was a real gentleman. I'm very impressed with what he's managed to do in IndyCar - and the same goes for Will Power."
SILVERSTONE DRIVER BY DRIVER
Jack Harvey (Carlin Dallara-VW): 8th/12th/8th
After solving a few problems on Friday he as good as matched team-mate Jaafar in qualifying, so there was no reason to suppose he wouldn't get strong results and maintain his points lead. Then the weekend turned to disaster. As far as racing was concerned, he did a great last-lap move on Sainz in race one to take third on the road, and was right behind Serralles at the end of race two for second, but he lost both podiums to penalties. Struggled to hold off Serralles in the last race as he "ran out of tyres".
Pietro Fantin (Carlin Dallara-VW): 5th/3rd/6th
For once it was a drama-free weekend for the Brazilian. He fended off Svendsen-Cook for fifth in the first race, and then inherited a reversed-grid podium thanks to Harvey's penalty after running between Jaafar and Svendsen-Cook in a tight group, setting fastest lap along the way as he used his freshest set of tyres. Solid, if lonely, drive in race three made it a hat-trick of top-six finishes.
Harry Tincknell (Carlin Dallara-VW): 3rd/13th/3rd
Had worked on qualifying - his weak spot - and it paid off, with 'Tincks' just 0.134 seconds slower than Jaafar. Unfortunately for him, that was the difference between second and fifth. Sorely lacked pace, he said due to low tyre pressures, in race one but inherited a podium. Bad luck in race two when handbrake stuck on the green-flag lap; he took up his grid position but should have started from the back, so got a drive-through penalty. Briefly ran second in the final race before conceding to the flying Lynn. Again lacked speed, but did a fantastic defensive effort on van Asseldonk.
Jazeman Jaafar (Carlin Dallara-VW): 1st/2nd/2nd
Did a brilliant job on a weekend when Lynn had a clear pace advantage, and when Jaafar reckoned conserving life of rear tyres was a problem. Played it cool in first race to inherit win when Lynn was penalised. Then, as usual, made terrific progress to pick them off in reversed-grid race, before holding off Fantin on older tyres. Superb move on Lynn at Becketts gave him lead of race three. He tried to hold off the Fortec man to the flag, but inevitably was forced to capitulate.
Carlos Sainz Jr (Carlin Dallara-VW): 2nd/6th/5th
At least there were no major dramas this weekend! Was within four hundredths of Jaafar in qualifying, but that was only good enough for fourth, and his right-front tyre was destroyed. Ran new left-front in race one, which gave so much grip on right-handers "I could hardly turn the steering wheel". Lost third to Harvey at last corner, but picked up second when penalties applied. Later found diff settings had been incorrect, possibly causing oversteer and tyre damage, but dialled in too much understeer and struggled again in finale, losing fourth when van Asseldonk passed.
Pipo Derani (Fortec Dallara-Mercedes): 9th/DNF/11th
As usual raced better than he qualified, but was way out of luck this weekend. Passed Fantin and Tincknell for what would have been a podium spot in race one, but got a drive-through penalty - he couldn't get his engine started and his mechanic was present on the grid after the time allowed. Took pole for reversed-gridder but sustained suspension damage in collision with Harvey. Struggled in last race with total loss of traction, and was even holding up the National Class cars.
Felix Serralles (Fortec Dallara-Mercedes): 7th/1st/7th
Had to roll with the punches this time, beginning with a broken rear-wing support causing a spin at the start of Friday testing. A mystifying eight tenths off Lynn in qualifying - with very similar set-up except a touch less downforce. Then stalled at start of race one due to lack of pressure in handbrake, but charged to eighth on the road, seventh with Harvey's penalty. Struggled for speed in reversed-grid race and nearly lost lead to Lynn when he ran wide at The Loop, but held on to win. Then went flying twice in the last race, once when he lost sixth running wide at The Loop (again), and again while trying to re-pass Harvey. Somehow, still just six points off series lead!
Hannes van Asseldonk (Fortec Dallara-Mercedes): DNF/7th/4th
Was running fifth in race one when battery started shorting and eventually he had to stop. Tried to pass Sainz in race two but ran wide at Copse and got some Astroturf wedged under the front of the car, ruining his aero effect and costing him stacks of speed - still held off Uhrhane and McBride though. It all came good in the finale, when he pulled a nice move on Sainz but couldn't quite repeat it on Tincknell for the weekend's final podium spot.
Alex Lynn (Fortec Dallara-Mercedes): 4th/5th/1st
Dominated qualifying, and romped to first-race win, before penalty for jumped start. Had shown stunning pace throughout, and was keeping his foot down to minimise the effect of any penalty that may be applied. Got up to second in race two and pressed Serralles for the lead, before he was edged onto the grass at Aintree and spun. Fantastic in last race - lost lead to Jaafar on first lap and then got passed by Tincknell and Sainz, but recovered past all of them for belated maiden win.
Nick McBride (T-Sport Dallara-Nissan): DNF/9th/12th
After flashes of promise at Spa and Snetterton, this was a bit of a setback. Crashed out on last lap of first race while trying to re-pass Uhrhane at Club, then spent second race behind Uhrhane and the hobbled van Asseldonk. It was the same story in race three, this time with Derani the roadblock, and McBride even came under threat from National Class team-mate Goddard in the train.
Spike Goddard (T-Sport Dallara-Mugen): 10th/11th/13th
Breezed to a maximum score in the three-car National Class in race one. In the second he got shuffled to the back in the first-lap goings-on, although inherited second when Calbimonte went off. Tense time in the finale before another win - held up by Derani and McBride in front, he was right in the middle of a five-car train with his National Class rivals right behind.
Pedro Pablo Calbimonte (T-Sport Dallara-Mugen): 11th/DNF/15th
The Bolivian newcomer had Danny Watts on hand for a spot of driver coaching this weekend. Was a solid second in National Class in race one, then in race two he passed Padayachee on the second lap to take the lead. Three laps later he got off-line at Becketts and spun into the gravel at Chapel. Kept it on the island as he brought up the rear in the final race.
Geoff Uhrhane (Double R Dallara-Mercedes): DNF/8th/10th
Did a nice job to pass McBride on the outside of Stowe on the final lap of race one, before his fellow Aussie's bid to re-pass at Club ended with them both off the road. The two were together again in race two, but this time incident-free, with the troubled van Asseldonk holding both of them up. It was a similar story in race three, with Derani this time the cork in the bottle, but to his credit Uhrhane passed the Brazilian and scampered clear.
Rupert Svendsen-Cook (Double R Dallara-Mercedes): 6th/4th/9th
Was third fastest in the opening Friday test session, and was then kicking himself after breaking the golden rule: 'If it ain't broke, don't fix it.' To be fair, he showed good speed in the races, but spent most of his time being held up, perhaps a little rusty on racecraft after such a long layoff. Still, the fact that it was Fantin delaying him in race one, Jaafar and Fantin in race two, and Harvey and Serralles in race three, shows that Double R can still turn out a decent car.
Duvashen Padayachee (Double R Dallara-Mugen): 12th/10th/14th
Bearing in mind his very late deal to contest British F3, he can be pretty chuffed to have taken the National Class title to the final round - although he'll need to rely on big trouble for Goddard to nab the honours. Trailed his two T-Sport rivals in race one. Took lead on first lap of race two, lost it when Calbimonte passed him, then reinherited it when the Bolivian went off to win the class. Spent race three sandwiched tightly between the T-Sport boys.