I never expected to start a column about Formula 3 by mentioning a Dutch rally driver having a one-off circuit race, but bear with me...
Like most of those in the British Formula 3 paddock, this was my first time at the Norisring, so the place needed a recce. I'd decided the S-Kurven, down by the side of the enormous Steintribune grandstand, would be the most rewarding place to watch F3 cars in qualifying, and tested my theory in the preceding free practice session for the VW Scirocco R Cup.
It proved a good choice, but it was soon noticeable that there were unbelievable amounts of marbles off-line, to the extent that, if anyone got it slightly wrong, it sounded like they were driving through gravel.
But there was one guy who seemed unconcerned: one of the guest drivers, rally ace Kevin Abbring, was flinging his Scirocco around without a care in the world, his car control superb. Against a field that included fellow guests Nicola Larini, Pedro Lamy and Christian Danner, plus some pretty talented series regulars, he was eight tenths up - on a 60-second lap!
After the session was a short wait - in wilting mid-thirties heat - for the F3 cars. It turned into a long wait. And then a very long wait. British snapper Mike Hoyer, out shooting for Jakob Ebrey Photography, walked past and said he'd heard the whole of the rest of the day had been cancelled. He was right, and the locals went to work trying to fix the track to save their Norisring race weekend.
Back in the paddock, there were already British F3 competitors getting thoroughly cheesed off at what they saw as heavy-handed officialdom at an event that was bringing together the best F3 drivers in Europe, and counting for FIA European, Euro Series and UK points.

BF3 had gone out on a limb to contest this event as a sign of friendship towards their Euro counterparts, cancelling the planned round at Paul Ricard in order to compete on the streets of Nuremberg. As dissatisfaction grew on Friday evening, one wag said: "Have we got time to get the trucks down to Paul Ricard for tomorrow?"
It was one element to a political weekend that provided as much action off track as did the sensational racing on it. One of the big issues is that FIA Single-Seater Commission president Gerhard Berger told the media on Saturday that he wants a single, strong FIA European F3 Championship, with the national series staying within their own borders.
As someone who grew up attending several British F3 rounds a year at my local tracks - Thruxton, Silverstone and Brands Hatch - the purist in me would love to see a proper national British F3 series. And according to my sources, our governing body (the MSA) and MotorSport Vision chief Jonathan Palmer feel the same way. It also appears - and this is my gut feeling - that one of the teams currently involved in British F3 may be on this side of the fence, possibly in the belief that the current top echelon of the BF3 ranks should effectively merge into the European championship.
But the majority of those involved in the series believe that it's time to move with the times and focus on the international circuits, otherwise drives are very difficult to sell - but they want to keep the historic British F3 title and stay independent from the Euro Series.
That's the business side of the argument, and on the fan side the traditionalist within me is battling with the pragmatist. You see, qualifying sessions at tracks such as Oulton Park, Brands Hatch, Donington and even Rockingham (the Corby venue is maligned for its atmosphere, but it has some very challenging corners) are five-star affairs, great opportunities to see some fantastic driving in hairy, fast corners from close quarters. But with the downforce the current F3 cars produce, and the skill and preparation of the drivers meaning they rarely make mistakes, these venues are almost impossible to race on.
Contrast with the Norisring, which doesn't offer much of a driving challenge but provides the kind of epic slipstreaming racing that fans love. There were 135,000 Germans in Nuremberg last weekend who think F3 is massive entertainment - a stark contrast to British fans.
Maybe it's time to accept that we do need a mix of British and foreign tracks. Brands, Oulton and the other UK venues teach drivers a hell of a lot about downforce, with bumps, gradients and tyre walls lurking nearby. Newer venues abroad are wider and offer the chance to learn how to race.
I find the idea of a cheaper (say £350k), national British F3 quite appealing, as a good interim step for graduates from Formula Renault BARC and Formula Ford without them having to immediately go up against a well-backed international field, while also building their profile at home (the British drivers who spend their entire junior single-seater careers on the continent don't register very high on the UK radar).
But is there room, particularly in this economic climate, for such a thing? Especially at a time when Formula Renault UK, which is cheaper still (around £200k), could not be sustained?
Back at the Norisring, the circuit has fantastic atmosphere and does have points of interest when you watch at close quarters. Pietro Fantin, who had by far his best weekend of the season and claimed both British F3 poles, said it suited his late-braking style, although ironically his best sector was the middle one (containing the S-Kurven), which doesn't have any big stops and where he was fastest overall. He looked smooth there - the opposite to Carlin team-mate and Euro Series contender William Buller, who was flicking it through spectacularly. He was on overall pole with a couple of minutes to go, then all of a sudden dropped to third and <i>just</i> asked too much of his impressive car control, looping it into a spin.
Still, I'm sure Kevin Abbring would have approved.
STAR IN A REASONABLY PRICED DALLARA
Norisring was virgin territory for most of the teams in British F3, but Euro Series powerhouse Prema Powerteam has been going to the quirky German street track for many a year.
Robert Kubica blitzed the field on his F3 debut at the Norisring © LAT
Among its successes was a victory by Robert Kubica in 2003 - remarkable in that it was his F3 race debut, four rounds into the Euro Series season.
The Pole, who had starred in Formula Renault in 2001 and '02, had been forced out of the early-season races after breaking his right arm - the same one he injured badly last year - in a road accident on the eve of the season opener. But he came back and won on his debut, with his arm still strapped up, against a quality field that included Nico Rosberg, Timo Glock, Christian Klien and his own Prema team-mate, Ryan Briscoe.
Kubica escaped from an early battle with Alexandre Premat before driving around the outside of Olivier Pla at the hairpin and sailing to victory. What's more, he followed it up with second place the following day.
Prema team chief Angelo Rosin, whose son Rene now runs the Euro Series squad, remembers: "He only did half a day on a small circuit in Italy as a shakedown. He was having to change gear with his left arm [with the gearshift on the right].
"But we already knew Robert's capability and potential and that anything was possible. And his style was perfectly suited to this type of circuit - he was always very good on the brakes, with no downforce on a bumpy track. He could always brake late."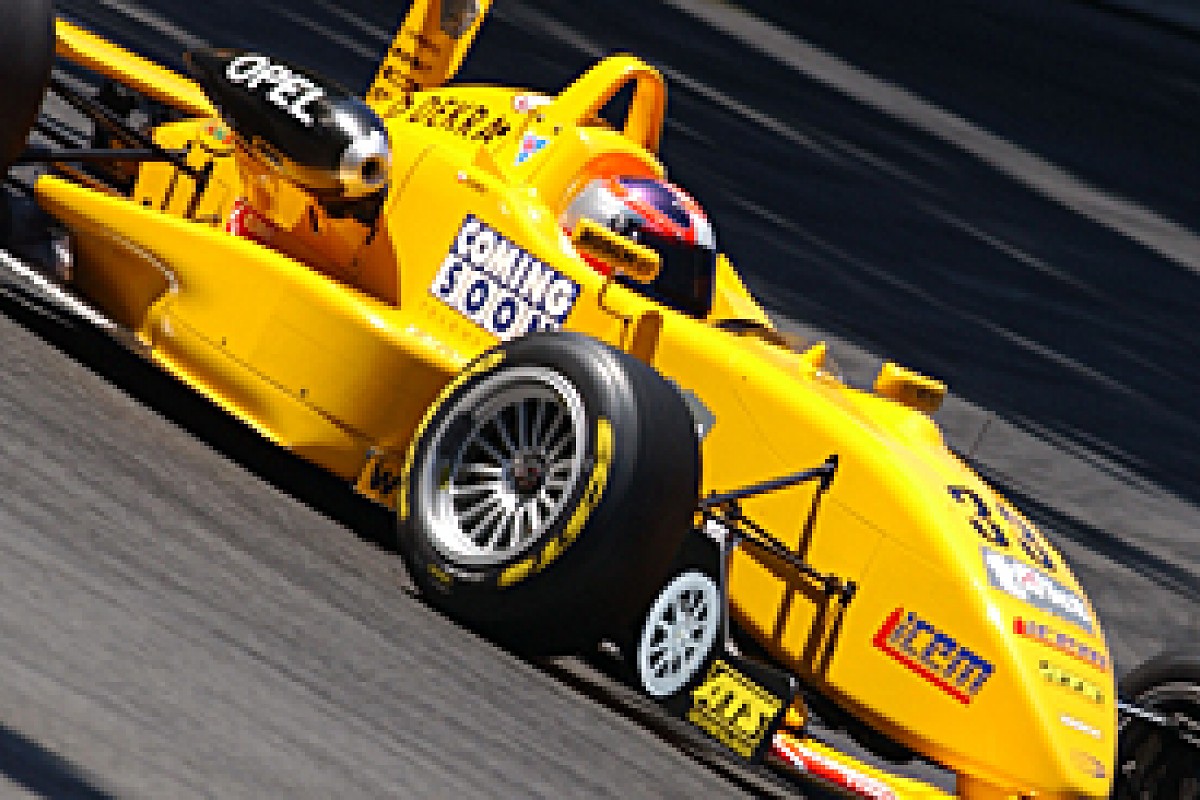 Kubica had injured his right arm for the first time in a road car accident on the eve of the season © LAT
After such a remarkable debut, it was a surprise that Kubica did not win again until the end-of-season non-championship race in Cagliari - another street circuit. "There were some factors that compromised his performance," Rosin points out. "At Spielberg for example, he was the only one who saw the mistake of the starter, when the lights went from red to yellow flashing, so he lost a lot of positions there."
Still, Kubica's Norisring performance had instantly attracted him to Mercedes, which took him under its wing for 2004 and shifted him to Mucke Motorsport. It was much needed for a driver who had relied on private support from Poland and Italy, plus limited backing from Opel, which supplied Prema's engines at the time.
Could he have fought for the '04 title with Prema? "We only had rookies [led by Franck Perera and Kohei Hirate] that year," says Rosin, "but we had shown with Robert that we could beat anyone..."
NORISRING DRIVER BY DRIVER
Jack Harvey (Carlin Dallara-VW): 6th/3rd/DNF
Disappointing weekend by his standards, but paradoxically one in which he took points lead from Jaafar. Felt he didn't maximise car in qualifying and struggled with front grip. Crashed into Jaafar at first corner in race one and earned a drive-through penalty, before great first-lap charge in race two gave him reversed-grid podium. Unsighted in spray in race three and hit Muller, ending in crumpled heap by barriers.
Pietro Fantin (Carlin Dallara-VW): 1st/4th/3rd
The Brazilian had Felipe Nasr along for support and seemed to find the key to a big step forward. Resisted attacking Emil Bernstorff in race one to take his first British F3 win of year. Led Lynn to fourth in reversed-grid race, then in finale he lost ground in a battle with Derani that ended with Fantin getting into a slide at the final corner and inadvertently flicking his compatriot into the wall.
Harry Tincknell (Carlin Dallara-VW): 3rd/1st/5th
Qualifying wasn't that great; he'd been an encouraging second overall in free practice but struggled on braking when it mattered. Ran bold rear-wing set-up, with no upper plane at all, and emerged atop a frantic battle with Tom Blomqvist for eighth overall and reversed-grid pole. From then he won reversed-grid race (with conventional single-plane wing set-up), and healthy points in finale were another boost.
Jazeman Jaafar (Carlin Dallara-VW): 8th/7th/DNF
The Malaysian lost a lap in the first race courtesy of an assault from Harvey that pushed him into Lynn and meant a nose change in the pits. Then he lost points lead in race two after more contact in mega-scrap with van Asseldonk, Dani Juncadella and Michael Lewis. Forced out of last race when he ran over Will Buller's discarded front wing, bending a pushrod.
Carlos Sainz Jr (Carlin Dallara-VW): DNF/DNF/9th
The Sainz month of hell, which started when his dad ran over a cat, continued in Germany. Went out of first race when he was forced off-line at the S-Kurven on opening lap and hit the wall. And in the finale he broke his front wing while lapping the delayed Derani, meaning a pitstop. In the middle race his driveshaft failed - just to add insult to injury he was walloped as he coasted to a stop.
Pipo Derani (Fortec Dallara-Mercedes): DNF/9th/11th
Strong qualifying put him in top 10 overall, but it was undone when Lewis climbed over him in the first race. Should have had a strong result in the finale, but needed to pit for a new front wing after a sliding Fantin flicked him into the barriers.
Felix Serralles (Fortec Dallara-Mercedes): 2nd/2nd/1st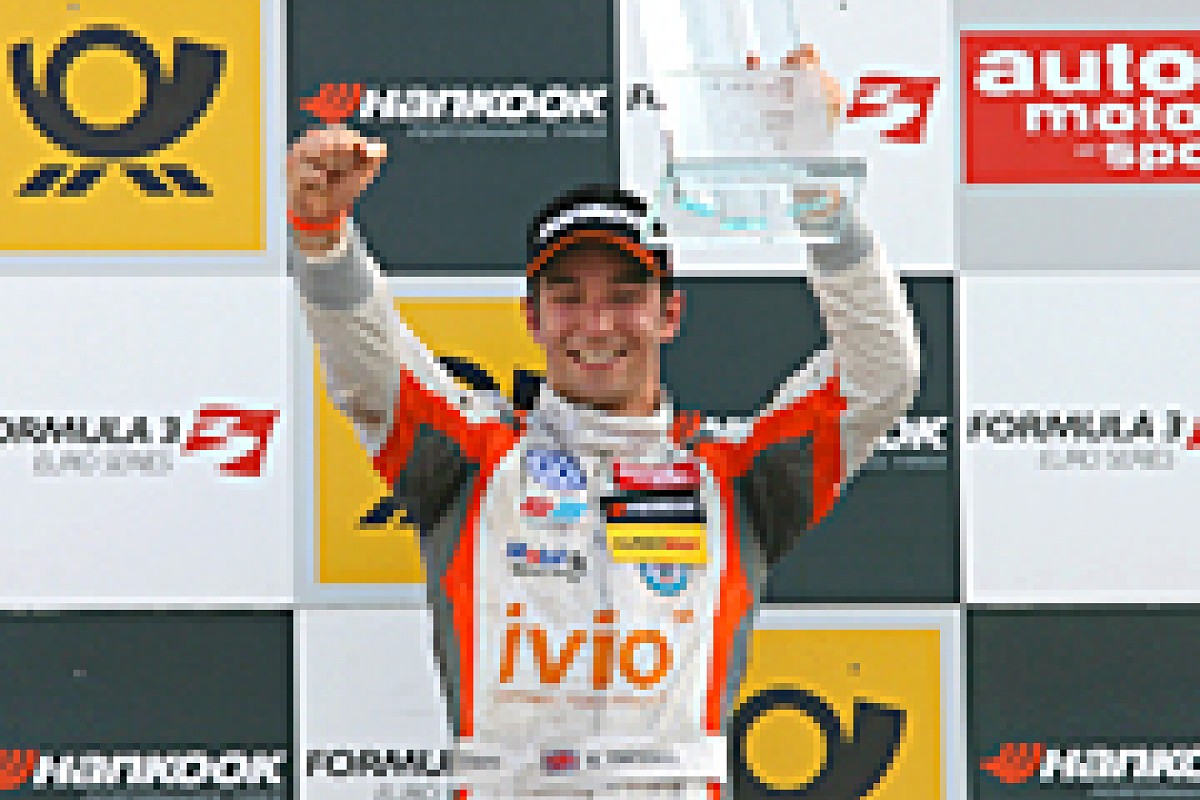 Was only there or thereabouts in qualifying, but emerged through Fortec incidents around him in early laps of race one to take the first of a hat-trick of BF3 podiums. Kept Tincknell on his toes in reversed-grid race and got very close to an overall win on the final lap. In the final race he drove a storming opening lap to take his third BF3 win, and third overall.
Hannes van Asseldonk (Fortec Dallara-Mercedes): 10th/6th/2nd
It looked like the usual kind of weekend for the Dutchman when he was forced to pit in the first race because his rear wing was hanging off. The Fortec boys pulled the dangly bits away and he rejoined, remarkably matching the pace of Jaafar and Lynn in front despite the damage. Got his best result yet in the finale, second in BF3 with fastest lap overall - great reward for an epic 37-minute last-ditch engine change by the crew.
Alex Lynn (Fortec Dallara-Mercedes): 9th/5th/4th
Slipped back a bit from his podium form of late, but was happy in the circumstances to take two strong finishes. First race was ruined when he was hit at first corner and then had Lucas Wolf ride over the side of his car, but rejoined after pitstop and chased fellow pitter Jaafar to the flag. Like Harvey, had a great first corner in race two to make a stack of places. Relieved that finale halted early - contact with the lapped Sandro Zeller had just wrecked his front wing.
Nick McBride (T-Sport Dallara-Nissan): 5th/12th/7th
Was involved in an epic midfield scrap in the first race which, with the assorted Carlin/Fortec mishaps, also became the fight for fourth in BF3. He lost out to Uhrhane, but eight points was still a good result. Lost a lap in second race due to pitstop to fix first-lap damage.
Spike Goddard (T-Sport Dallara-Mugen): 7th/10th/8th
A spin in the first race didn't prevent the Australian from taking the first of a trio of National Class wins over the weekend. Other than that he stayed out of trouble and was appropriately rewarded.
Geoff Uhrhane (Double R Dallara-Mercedes): 4th/8th/DNF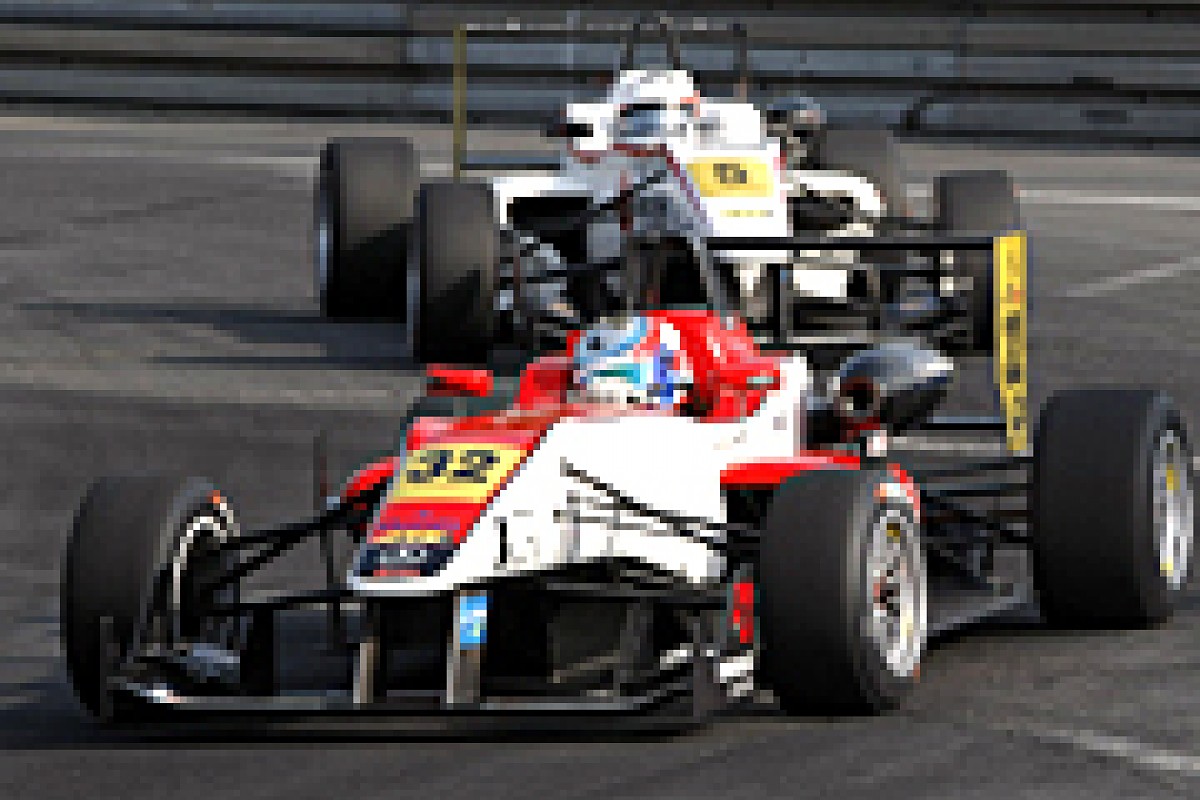 The Formula Ford graduate had his best F3 outing yet in the first race, winning an epic five-car midfield scrap that also included fellow Aussie McBride, who he beat to fourth in BF3. Final race ended with a crash on the pit straight - causing a safety car - after he was flicked off by one of the Euro Series runners.
Fahmi Ilyas (Double R Dallara-Mercedes): DNF/DNF/6th
The Malaysian's somewhat drama-filled recent performances continued through Saturday when he went out of both races due to incident, the second when he was bashed from the left-right. But in very wet conditions, where Ilyas seems to step up to the plate, he put in a very tidy run to sixth in BF3 in the final race.
Duvashen Padayachee (Double R Dallara-Mugen): 11th/11th/10th
Finished all three races, which is more than could be said for many of his British F3 compadres, and therefore took second in the National Class each time. Was unlucky in the finale as was leading the class when he ran over someone's front wing and couldn't steer at the next corner.
*Positions are rankings from the British championship classification