Red Bull junior Pierre Gasly became GP2 champion in the final race of the season at Yas Marina, as Briton Alex Lynn sped to victory.
Frenchman Gasly entered the reversed grid race 12 points ahead of Prema Racing team-mate Antonio Giovinazzi, and only needed to keep the Italian in sight to be sure of the crown.
Giovinazzi had a poor start from fourth on the grid, and then had to back off at Turn 2 to avoid contact with Johnny Cecotto Jr.
This left him in sixth place, while feature-race winner Gasly maintained his grid position of eighth.
Giovinazzi spent the middle part of the race trying to wrest fifth place away from Norman Nato, who formed a bottleneck of what became a group of six competitors that included Gasly.
With a few laps remaining Nato inched away from this group, while Giovinazzi instead came under attack from Artem Markelov.
Russian Time driver Markelov tried to pass the Italian at Turn 8 and then again at Turn 11 with five laps to go, the two banging wheels as Markelov was forced across the grass.
Gasly was right behind these two, and it didn't matter on the final lap when Mitch Evans deprived him of the final point.
Evans made the initial pass by cutting the chicane at Turn 8, but let Gasly repass and finally demoted him with a bold move in the twisty complex by the marina.
With Giovinazzi finishing sixth, that gave Gasly the title by eight points.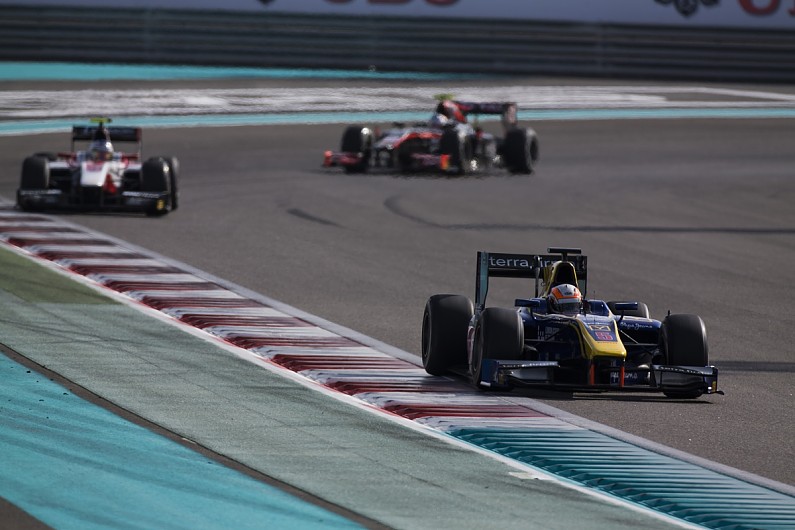 Up front, Lynn focused mainly on keeping the chasing Sergey Sirotkin out of DRS range.

DAMS man Lynn managed this perfectly and, in what looks set to be his farewell appearance in the series, pulled inexorably away from Sirotkin as the ART Grand Prix driver's tyres faded
Cecotto, making a starring cameo role on his latest GP2 comeback with Rapax, had fallen away from Sirotkin in the middle of the race, but ate into the Russian's advantage in the closing laps.
On the final lap, Cecotto got great traction out of the tight Turn 7 and was past Sirotkin for second before they even reached the braking area for Turn 8.
Nobuharu Matsushita completed an ART three-four behind Sirotkin, after passing the Racing Engineering car of Nato on the ninth lap.
RESULT - 22 LAPS:
| Pos | Driver | Team | Gap |
| --- | --- | --- | --- |
| 1 | Alex Lynn | DAMS | 41m36.580s |
| 2 | Johnny Cecotto Jr. | Rapax | 4.945s |
| 3 | Sergey Sirotkin | ART Grand Prix | 6.607s |
| 4 | Nobuharu Matsushita | ART Grand Prix | 8.078s |
| 5 | Norman Nato | Racing Engineering | 13.375s |
| 6 | Antonio Giovinazzi | Prema Racing | 16.716s |
| 7 | Artem Markelov | RUSSIAN TIME | 17.807s |
| 8 | Mitch Evans | Pertamina Campos Racing | 22.609s |
| 9 | Pierre Gasly | Prema Racing | 23.226s |
| 10 | Oliver Rowland | MP Motorsport | 30.312s |
| 11 | Nicholas Latifi | DAMS | 33.447s |
| 12 | Raffaele Marciello | RUSSIAN TIME | 37.784s |
| 13 | Jordan King | Racing Engineering | 38.848s |
| 14 | Gustav Malja | Rapax | 38.996s |
| 15 | Emil Bernstorff | Arden International | 45.390s |
| 16 | Sergio Canamasas | Carlin | 45.936s |
| 17 | Louis Deletraz | Carlin | 46.716s |
| 18 | Philo Paz Armand | Trident | 50.219s |
| 19 | Luca Ghiotto | Trident | 1m08.896s |
| 20 | Nabil Jeffri | Arden International | 1m10.410s |
| 21 | Sean Gelael | Pertamina Campos Racing | 1m27.122s |
| - | Daniel de Jong | MP Motorsport | Collision |
FINAL CHAMPIONSHIP STANDINGS:
| Pos | Driver | Points |
| --- | --- | --- |
| 1 | Pierre Gasly | 219 |
| 2 | Antonio Giovinazzi | 211 |
| 3 | Sergey Sirotkin | 159 |
| 4 | Raffaele Marciello | 159 |
| 5 | Norman Nato | 136 |
| 6 | Alex Lynn | 124 |
| 7 | Jordan King | 122 |
| 8 | Luca Ghiotto | 111 |
| 9 | Oliver Rowland | 107 |
| 10 | Artem Markelov | 97 |
| 11 | Nobuharu Matsushita | 92 |
| 12 | Mitch Evans | 90 |
| 13 | Gustav Malja | 53 |
| 14 | Arthur Pic | 36 |
| 15 | Sean Gelael | 24 |
| 16 | Nicholas Latifi | 23 |
| 17 | Marvin Kirchhofer | 21 |
| 18 | Johnny Cecotto Jr. | 18 |
| 19 | Sergio Canamasas | 17 |
| 20 | Jimmy Eriksson | 10 |
| 21 | Daniel de Jong | 6 |
| 22 | Nabil Jeffri | 2 |
| 23 | Rene Binder | 0 |
| 24 | Philo Paz Armand | 0 |
| 25 | Emil Bernstorff | 0 |
| 26 | Louis Deletraz | 0 |