Stefano Coletti will start the opening race of the GP2 Series in Malaysia from pole position after a thrilling qualifying session on Friday in which the top three were covered by eight-thousandths of a second.
Coletti set his 1m44.280s best lap relatively early on his second run on the soft-compound tyre, and sat out the last eight minutes of the Sepang session to watch his rivals attempt to knock him off the top of the times.
The first to come close was Carlin's Felipe Nasr, but his best effort was 0.008 seconds slower after a lock-up into the final hairpin and a snatch of oversteer on the way out.
Then it was the turn of practice pacesetter James Calado, who had sat out the first 10 minutes of the session in his ART machine.
His lap was slightly compromised by encountering traffic in the middle of Turn 6. He crossed the line just 0.004s slower than Coletti's time, but the same amount quicker than Nasr, demoting the Brazilian to third.
Fabio Leimer, who was on top halfway through the session, failed to improve on his second run and will start fourth for Racing Engineering, ahead of Sam Bird for the new Russian Time squad.
Bird was involved in the most outrageous incident of the session, when Arden's Johnny Cecotto Jr simply drove him off the track on the straight between Turns 6 and 7 when the Venezuelan felt Bird had held him up. Stewards are investigating.
Cecotto's team-mate Mitch Evans was sixth, the GP3 champion comfortably the top rookie in the session.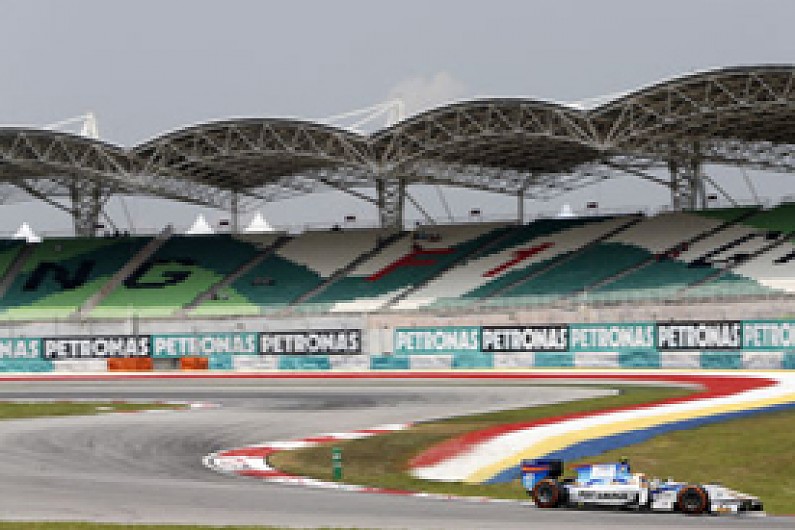 Rio Haryanto was seventh for Addax, ahead of Rene Binder, Coletti's team-mate Simon Trummer and Tom Dillmann.
The other incident of note was a post-session weighbridge spat between Sergio Canamasas (12th) and Nathanael Berthon (18th). Canamasas appeared to prod Berthon in the head with his finger while making his point about on-track etiquette quite literally.
The cars of reigning champion team DAMS languished in 13th (Marcus Ericsson) and 16th (Stephane Richelmi).
Auto GP champion Adrian Quaife-Hobbs was 15th for MP Motorsport, while Jolyon Palmer was way down in 23rd for Carlin, hampered by a sticking throttle.
Pos  Driver               Team                Time       Gap
 1.  Stefano Coletti      Rapax               1m44.280s
 2.  James Calado         ART                 1m44.284s  + 0.004s
 3.  Felipe Nasr          Carlin              1m44.288s  + 0.008s
 4.  Fabio Leimer         Racing Engineering  1m44.463s  + 0.183s
 5.  Sam Bird             Russian Time        1m44.598s  + 0.318s
 6.  Mitch Evans          Arden               1m44.618s  + 0.338s
 7.  Rio Haryanto         Addax               1m44.681s  + 0.401s
 8.  Rene Binder          Lazarus             1m44.687s  + 0.407s
 9.  Simon Trummer        Rapax               1m44.692s  + 0.412s
10.  Tom Dillmann         Russian Time        1m44.731s  + 0.451s
11.  Julian Leal          Racing Engineering  1m44.732s  + 0.452s
12.  Sergio Canamasas     Caterham            1m44.761s  + 0.481s
13.  Marcus Ericsson      DAMS                1m44.766s  + 0.486s
14.  Johnny Cecotto Jr    Arden               1m44.788s  + 0.508s
15.  Adrian Quaife-Hobbs  MP                  1m45.191s  + 0.911s
16.  Stephane Richelmi    DAMS                1m45.262s  + 0.982s
17.  Conor Daly           Hilmer              1m45.289s  + 1.009s
18.  Nathanael Berthon    Trident             1m45.378s  + 1.098s
19.  Kevin Ceccon         Trident             1m45.491s  + 1.211s
20.  Ma Qing Hua          Caterham            1m45.497s  + 1.217s
21.  Daniel de Jong       MP                  1m45.522s  + 1.242s
22.  Daniel Abt           ART                 1m45.593s  + 1.313s
23.  Jolyon Palmer        Carlin              1m45.662s  + 1.382s
24.  Jake Rosenzweig      Addax               1m45.708s  + 1.428s
25.  Pal Varhaug          Hilmer              1m45.830s  + 1.550s
26.  Kevin Giovesi        Lazarus             1m45.985s  + 1.705s