Round 1: Catalunya
ART's rookies make a robust start to the season, with Sam Bird topping first practice and Jules Bianchi claiming pole. But the race was less kind to them, with Bianchi being eliminated in a crash with Racing Engineering's Christian Vietoris and Bird dropping to the back of the field after having to pit for a new nose. That prompted a stunning fightback, with Bird picking off a succession of cars but falling just short of the points in ninth.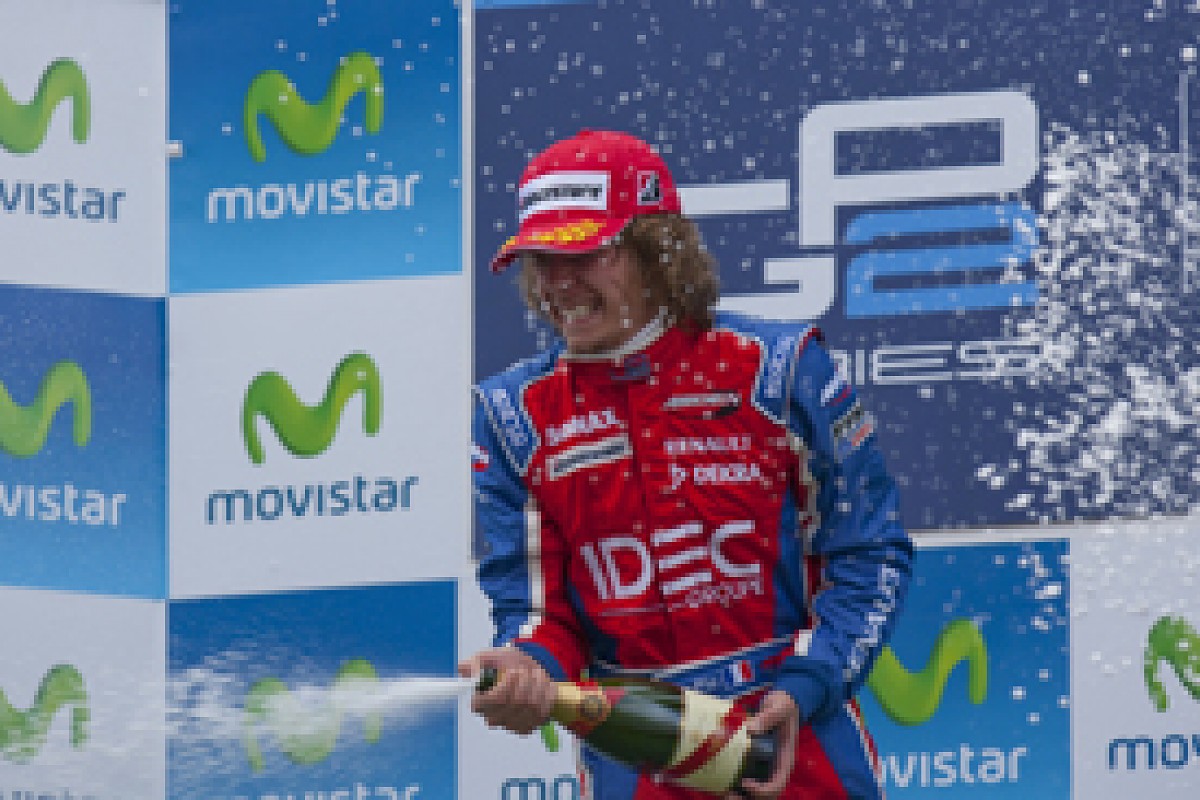 Charles Pic won the opener © LAT
Up at the front, Sergio Perez led only to suffer a delay during his pitstop, allowing Arden rookie Charles Pic to take the win ahead of DPR's Giacomo Ricci and Racing Engineering's Dani Clos.
It was another day for the first-timers on Sunday when Ocean's Fabio Leimer won the sprint race, with Rapax duo Luiz Razia and Pastor Maldonado completing the podium.
Points:
1 Pic 10
2 Leimer 8
3 Ricci 8
Round 2: Monaco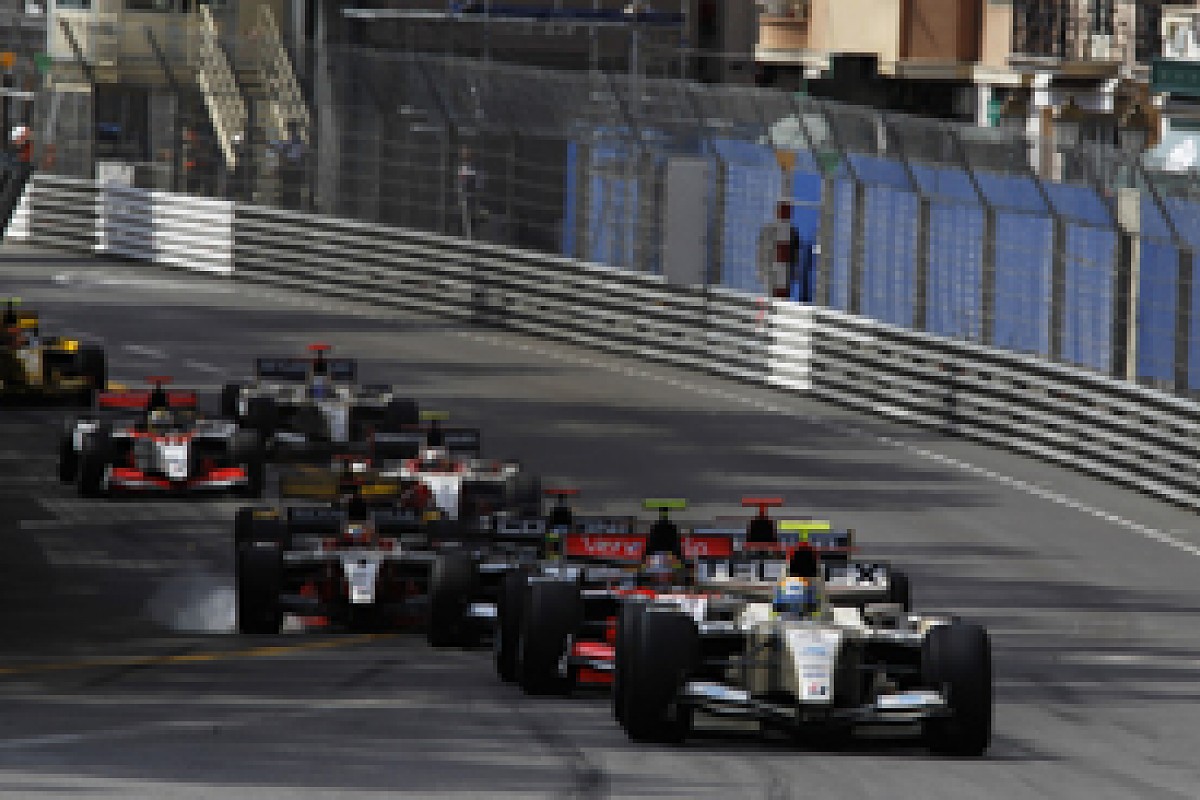 Perez leads into Sainte Devote © LAT
There was no repeat of the problems that cost Perez victory in Barcelona when the series moved to the streets of Monaco. The Spaniard put his Addax entry onto the front row and never looked threatened in the race, cruising to a comfortable win over street race specialist Maldonado. His lead had stretched to more than five seconds, but that was eroded when the safety car was brought out following Ho-Pin Tung's heavy crash at the Swimming Pool. Polesitter Clos lost a few places to a bad start but recovered to finish third.
On Sunday, DAMS' Jerome d'Ambrosio fought off a challenge from Addax's Giedo van der Garde to take his first GP2 win, while a great drive from Bianchi was rewarded with a first podium for the Frenchman.
Points:
1 Perez 17
2 Maldonado 15
3 Clos 15
Round 3: Istanbul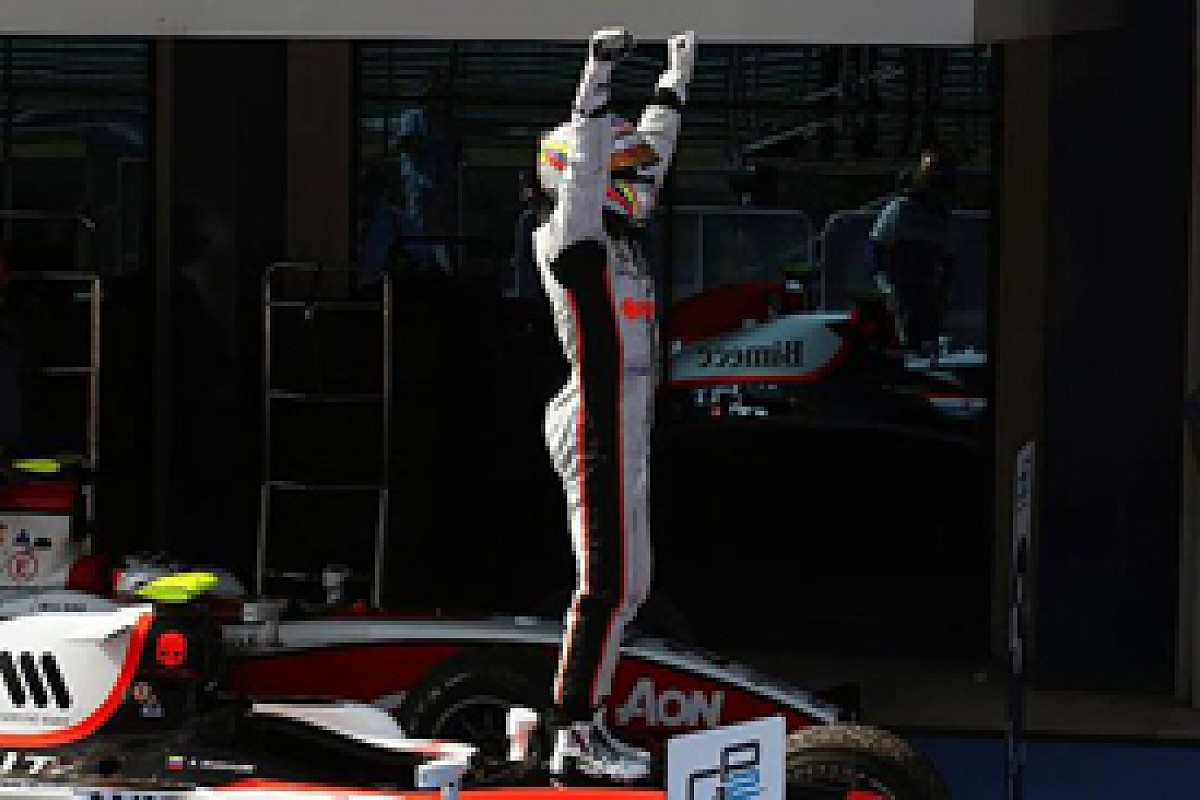 Maldonado's first win of the year came in Turkey © Sutton
Maldonado opened his victory account with an emphatic display in Turkey, brushing off polesitter Davide Valsecchi of iSport to win by nearly 18s. That left Valsecchi in an entertaining scrap with Perez for second, which the Mexican briefly looked to be winning after passing Valsecchi in the pits. But as the race went on Perez's pace began to fade, and Valsecchi was able to nip past him again.
With Valsecchi gone Perez now had Bird to worry about, and a prolonged battle between the pair eventually ended in the Briton's favour, giving him his first podium. Perez just managed to hold off van der Garde and Razia for fourth, but a post-race inspection revealed his car to be underweight and he was relegated to the back of the grid for Sunday.
In the sprint race, Clos dominated to take his first-ever GP2 win, and it was only a mechanical problem on Vietoris' car that denied Racing Engineering a one-two. The German's misfortune paved the way for Razia and van der Garde to complete the podium.
Points:
1 Maldonado 27
2 Clos 23
3 Razia 20
Round 4: Valencia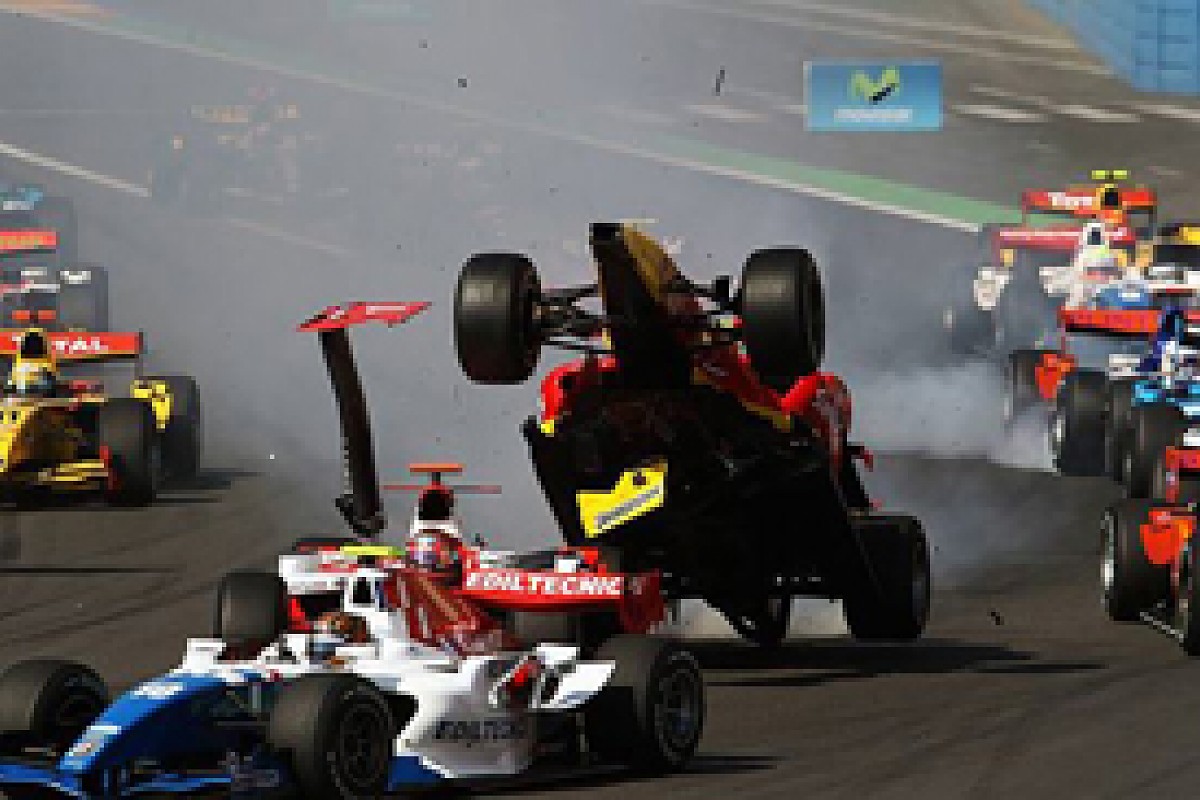 Vietoris in the thick of Valencia's first-corner mayhem © Sutton
The series' visit to Valencia got off to a dramatic start when almost half of the field managed to eliminate itself in the first four corners, prompting a spell behind the safety car to clean up the mess.
Once the race restarted polesitter Perez led from Bianchi, who had managed to pass Maldonado. Bianchi then managed to pick off Perez for the lead, and the Mexican's day became a lot worse moments later when Valsecchi tried to sneak through as well and ended up clouting him instead.
That left Maldonado to chase Bianchi down, and the Venezuelan took advantage of a mistake by the ART driver to take the lead and claim the win, leaving Bianchi to lead Bird across the line for an ART two-three.
Sunday's race was won by Super Nova rookie Marcus Ericsson, although the team's joy was offset by a heavy crash for team-mate Josef Kral that would sideline the Czech driver until the final round. Van der Garde and DPR's Michael Herck finished second and third.
Points:
1 Maldonado 42
2 Clos 27
3 van der Garde 27
Round 5: Silverstone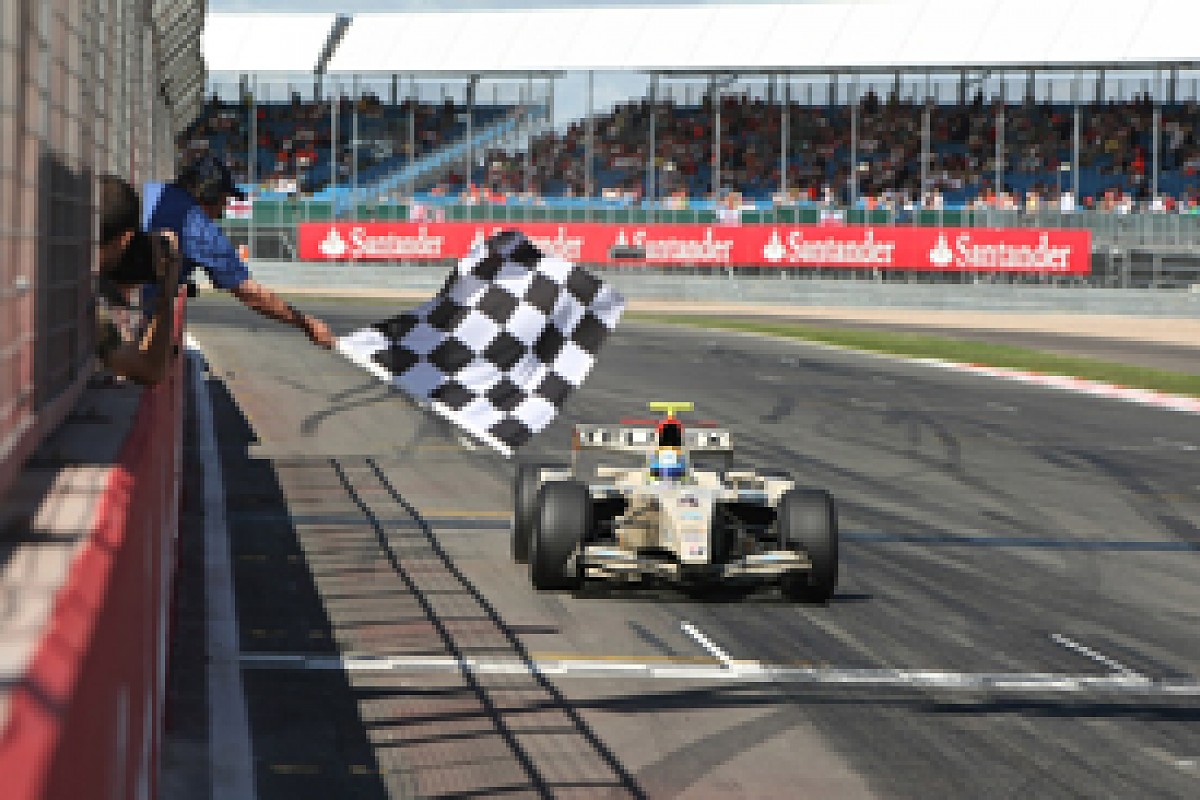 Perez revitalised his title bid at Silverstone © LAT
Bianchi took the early advantage by claiming pole, but Maldonado made short work of him in the race. A good start allowed the Rapax driver to lead the field into the first corner, and that was the last that anyone saw of him. His eventual winning margin was just over 10s.
In a largely processional affair, Biachi ticked around to finish second, with Clos almost 10s further down the road in third.
Sunday gave Perez's season a needed shot in the arm. The Mexican started from third, and made short work of iSport duo Valsecchi and Oliver Turvey to take the lead, which he converted into a dominant win. Turvey saw off Valsecchi to take second, and the Italian's fading pace in the later stages of the race eventually left him in sixth behind Clos, Maldonado and Bianchi.
Points:
1 Maldonado 56
2 Clos 37
3 Bianchi 31
Round 6: Hockenheim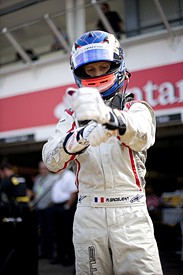 Hockenheim saw the return of Romain Grosjean © LAT
Another straightforward weekend for Maldonado, who was again beaten to pole - this time by Pic - but managed to pinch the lead at the start and scoot off for the win. Perez did his best to put up a fight during the first stint, but he was less of a threat on his second set of tyres and fell away, allowing Maldonado to win by 3.8s. Pic completed the podium.
Perez got his revenge on Sunday with a dominant victory over polesitter Turvey and Trident's Adrian Zaugg. Series returnee Romain Grosjean, who had been drafted in by DAMS to replace d'Ambrosio for the weekend, had his Saturday race ruined by accident damage, but he was making stunning progress from the back of the field before getting involved in another crash that also eliminated Maldonado.
Points:
1 Maldonado 66
2 Perez 45
3 Clos 43
Round 7: Hungaroring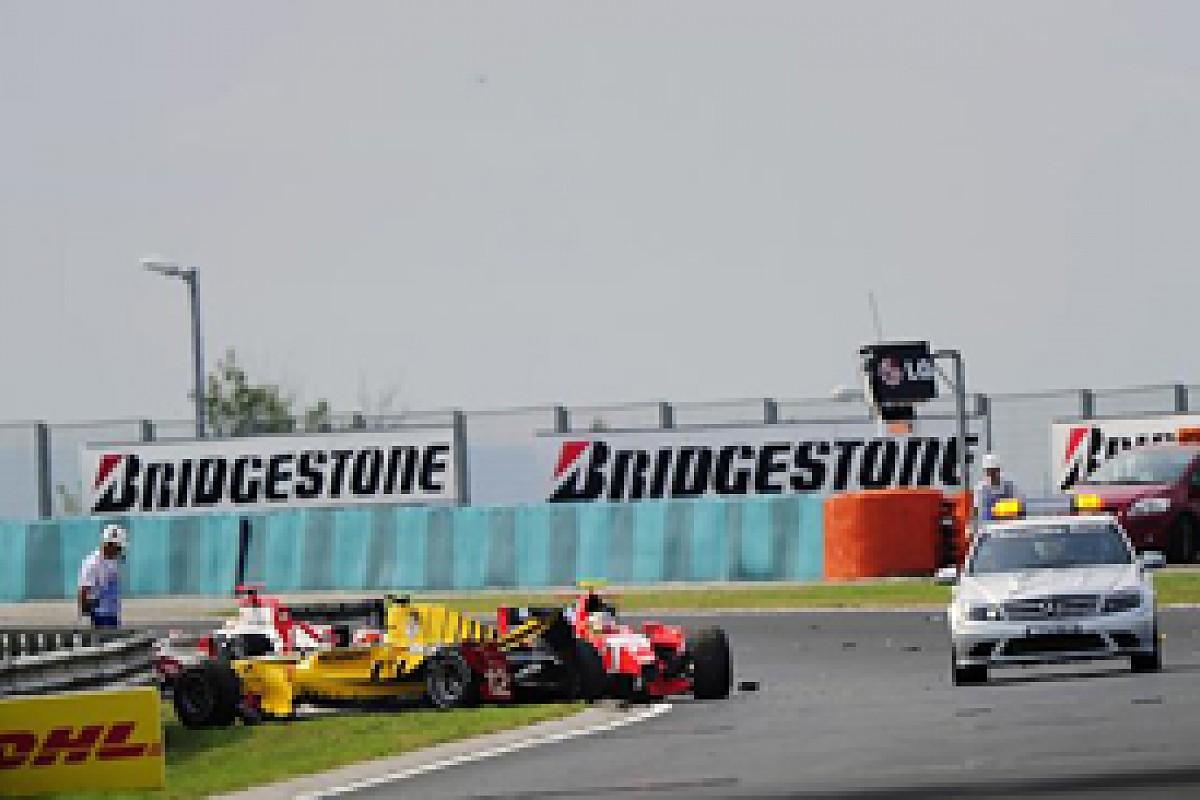 The aftermath of the Tung/Bianchi shunt © Sutton
Maldonado extended his streak in a dramatic Hungarian feature race, with a lot of the work being done for him before the race even began. Both of the front-row starters - Valsecchi and polesitter Bird - stalled on successive starts, giving Maldonado and Turvey a clear run from the second row. When things finally got underway it was Turvey's turn to bog down, allowing Maldonado to cruise into the first corner unchallenged.
A three-car crash behind him resulted in both Bianchi and Tung being taken to hospital for checks, but while Bianchi was fit to return for the following race weekend, Tung remained absent until Abu Dhabi.
The crash prompted one of two safety car spells, and Maldonado survived both restarts to take the win ahead of a charging Vietoris and Perez.
DPR had the front row locked out for Sunday morning, but when Herck stalled on the dummy grid it was left to polesitter Ricci to do something with it. The Italian made the most of the opportunity by winning what would prove to be his last GP2 appearance of the season, with Vietoris and van der Garde joining him on the podium.
Points:
1 Maldonado 77
2 Perez 51
3 Clos 43
Round 8: Spa
Maldonado held off Parente in Belgium © Sutton
Maldonado took his sixth and final win of the season at Spa, although had the race been a lap longer it might have been series returnee Alvaro Parente on the top step of the podium. The Portuguese driver, who had been drafted in by Coloni, had led most of the race before making a late stop, and was all over the back of Maldonado over the final laps. As it was he ended up falling just 0.2s short, with fellow stand-in driver Grosjean completing the podium.
Polesitter d'Ambrosio retired mid-race, while Perez was on track for a podium sport before being dealt a pitlane speeding penalty. The race was marred by an opening lap accident that left Clos with a minor back injury, although the Spaniard was fit enough to return at Monza.
On Sunday, Perez made up for the disappointment of 24 hours earlier with a dominant win, picking off polesitter Rodolfo Gonzalez early on to take a lead that he would never relinquish.
Van der Garde and Parente were second and third in a race that was punctuated with three crashes that accounted for the likes of Vietoris, Pic and Bianchi.
Points:
1 Maldonado 87
2 Perez 60
3 Clos 43
Round 9: Monza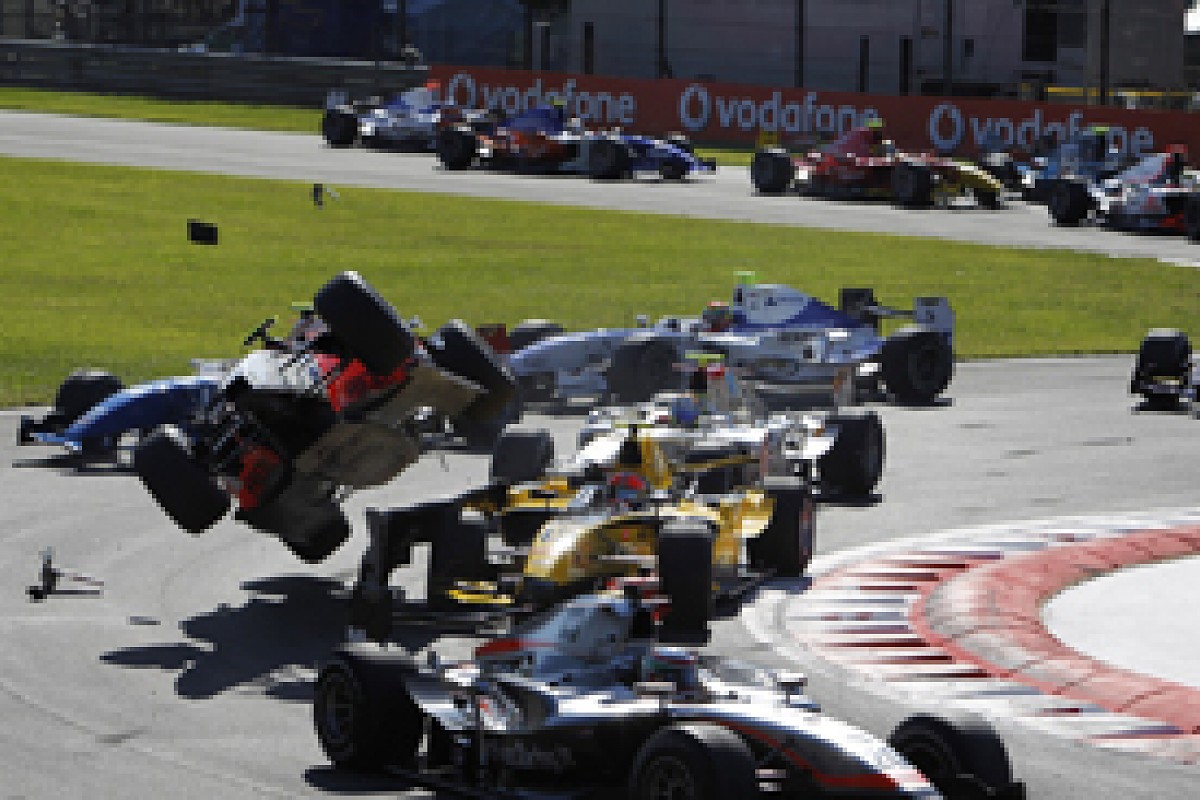 Maldonado escaped this crash and ended the weekend as champion © LAT
Maldonado secured the championship with a round to spare, despite having his worst weekend of the season. His streak of six wins had put him into a strong position, but Perez still had a chance to keep himself in contention if things fell his way.
Maldonado made he Mexican's life easier by launching himself off the back of Grosjean, but Perez's hopes of capitalising were ended when he got caught up in a crash with Herck two laps later. Up at the front, Bird took a comfortable first win ahead of team-mate Bianchi, with Turvey completing the podium.
Sunday's race was also eventful if inelegant as far as the title protagonists were concerned. Perez went wide at the Parabolica on lap two and caused a concertina that Maldonado swerved to avoid, only to hit the barriers instead. At that point Perez needed to win and set fastest lap to keep the title battle alive, but instead he found himself at the back of the field, and the celebrations in Maldonado's garage were well underway before the race was over.
Meanwhile, Vietoris capitalised on a brilliant start to take the win despite relentless pressure from d'Ambrosio and Bird.
Points:
1 Maldonado 87
2 Perez 60
3 Bianchi 52
Round 10: Abu Dhabi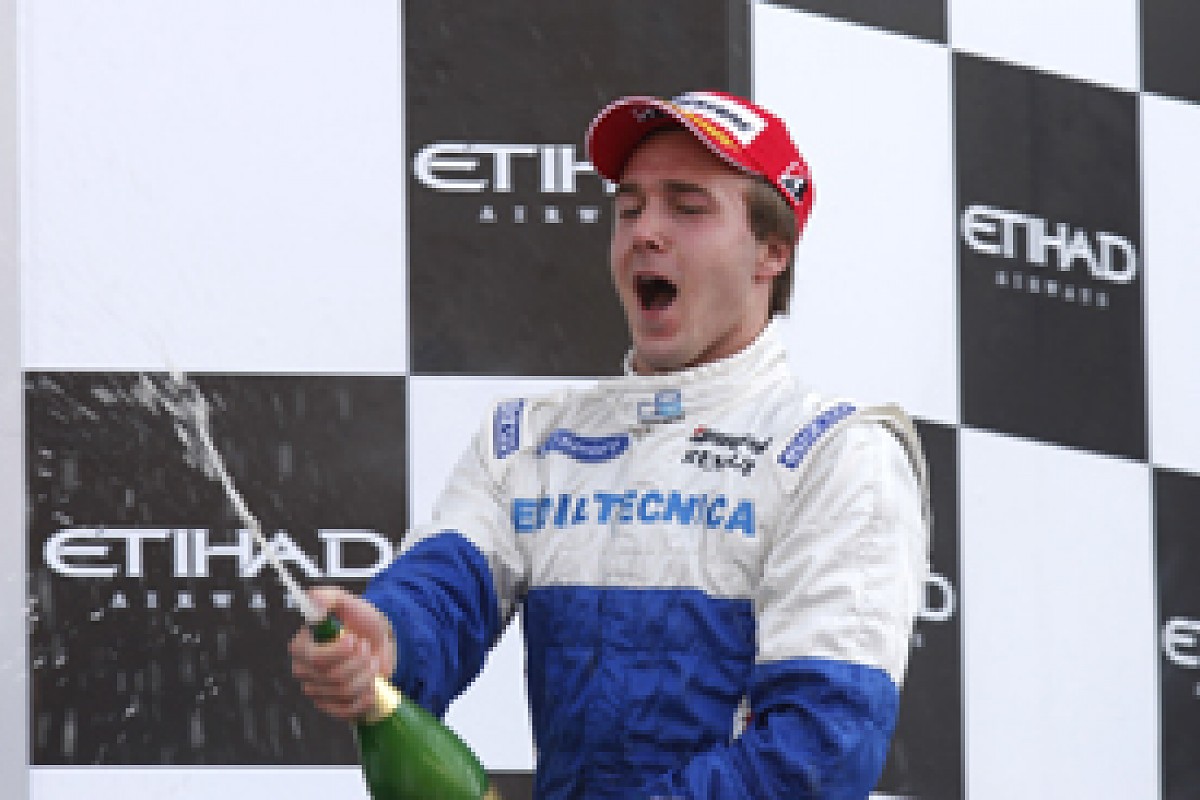 Valsecchi finally returned to the top step in the finale © LAT
Perez signed his Formula 1 deal with Sauber between Monza and Abu Dhabi, and celebrated his promotion with a dominant performance in the season finale at Yas Marina.
He outdragged polesitter Turvey at the start and never looked threatened from there on, cruising off to win ahead of the Briton and Grosjean. The 21s margin of victory was made all the more impressive by the fact that Perez's initial lead had been wiped out by an early safety car, prompting a restart on lap four.
On Sunday, it was Asia Series champion Valsecchi's turn to celebrate. The Italian made a good start from fourth, fought off a challenge from Razia mid-way through the race, and went on to win the last race of the year by just under a second. Razia held on for second ahead of Grosjean, while a bad start by polesitter Kral left him fifth behind Clos.
Points:
1 Maldonado 87
2 Perez 71
3 Bianchi 52