Great Britain and GP2 have always been pretty good mates. There have been British drivers on the grid in every season but 2009, and Britain stands third on the all-time list of participants (Brazil and Italy share the lead; France and Spain sit equal in second).
Of the eight British drivers to have lined up on the GP2 grid, three - Lewis Hamilton, Adam Carroll and Mike Conway - have won races, and Hamilton has taken things a few steps further by winning the title in 2006. With no less than three drivers racing under the Union Jack this season, you'd have expected at least one more to have climbed to the top of the podium. But, so far, a fourth British GP2 winner has yet to materialise.
For Ocean Racing technology's Max Chilton this isn't a huge surprise, taking into account the relative inexperience of both the 19-year-old and the team. But it's fair to say that ART's Sam Bird and iSport's Oliver Turvey both expected more than the season has thus far delivered.
The pair might still be rookies, but both are with teams that have won the title previously, and both enjoyed strong pre-seasons. It isn't that opportunities to translate pace into wins haven't been there. They have. But thus far fate, karma or judgement have had other ideas. Bird and Turvey are currently sixth and seventh respectively in the championship with one point between them, and both feel that they should be higher.
Since arriving in Barcelona for the season-opener, the pair have taken very different journeys to end up at almost the same place. Bird has been generally quick all season, but his performances have been blighted by an array of problems.
"I've been really, really pleased with my performances," Bird says. "It's just a shame that we've have had things going on with my car. It's not anything to do with my team; they've prepared a very quick car for me. Yet for one reason or another, something has gone wrong at most of the rounds, which is really disappointing. I know I'm still sixth, but we should be doing an awful lot better than sixth with the speed that we have."
An unscheduled pitstop for a new nose ruined his Barcelona feature race but sparked a great drive through the field, his Monaco efforts were thwarted by a pitstop delay, he failed to start the Silverstone sprint race when his car died on an installation lap, and his first pole position was lost in Hungary when his car stopped on the grid.
"I believe I could have won at Barcelona and I also believe I could have won in Hungary," he says. "I honestly believe that there are 30 points out there that we've thrown away.
"It gets frustrating. But then I analyse the performance of the team, and that's been very good. I analyse my own performance as well, and of course there are going to be things I do wrong lap-in, lap-out, like silly little mistakes in braking or making the car do things that it shouldn't quite do that means that I don't quite get the ultimate laptime. That's part and parcel of racing. But in general, I think my performances have been very strong."
Turvey is similarly frustrated.
"I'd hoped to have scored a few more points by this stage in the season and to be a bit further up in the championship, but we've had a few difficult rounds where things haven't gone our way," he says. "Now we're making progress and we've been very competitive in the last three weekends. I'm the only driver to have scored points in all of the last six races, so that is a positive."
Turvey's season has also oscillated, but for different reasons. Things started well with a double points finish in Spain, but an unpleasant bout of food poisoning almost flattened him in Monaco. He then endured a couple of tough weekends before rebounding with back-to-back podiums at the Silverstone and Hockenheim sprint races.
"I think Silverstone was a bit of a turning point," he says. "I love the track and have always gone well there, and we had a strong result. We didn't have good pace - we struggled quite a lot, especially in the second race - we were on the defensive quite a lot. So to get a podium was a good result."
But the real opportunity was at the Hungaroring. Not only did Bird fail to get away from the grid, but his fellow front-row starter and Turvey's iSport team-mate Davide Valsecchi did too. That gifted Turvey with a clear run from the second row, but caution got the better of him and he finished just off the podium in fourth.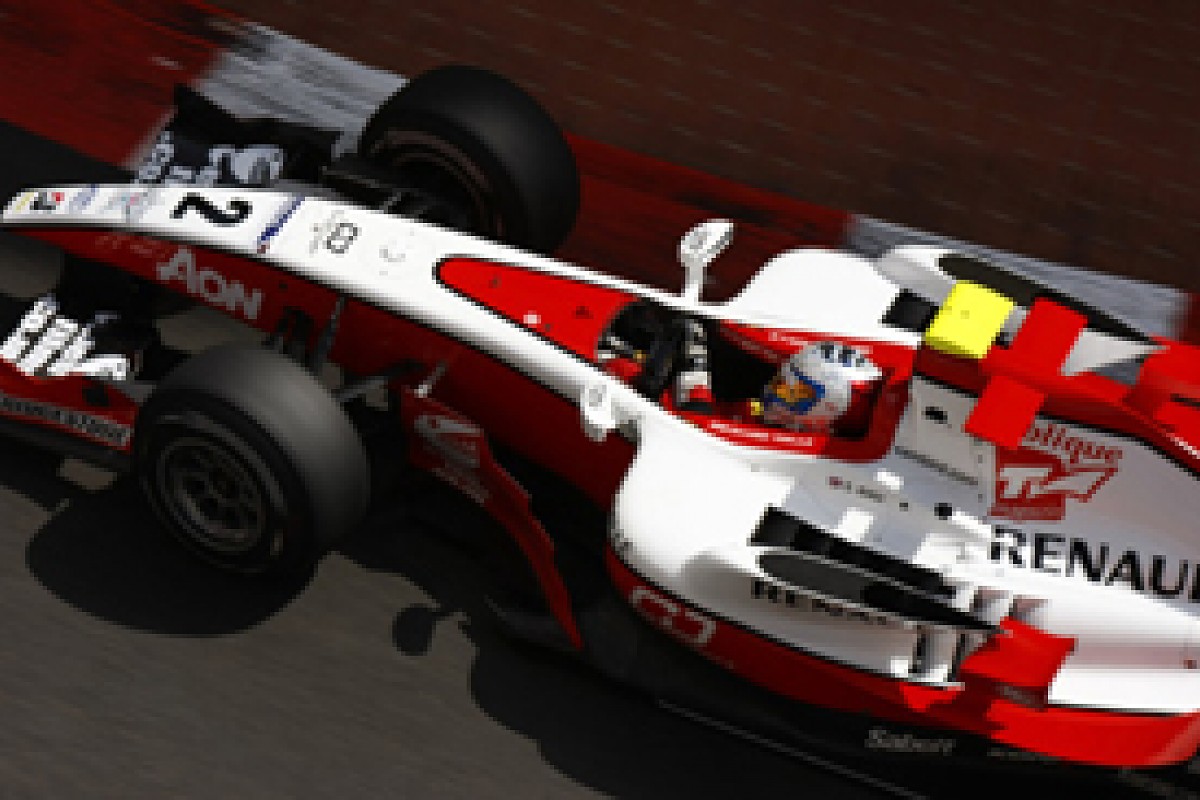 Oliver Turvey © LAT
"After the front two guys stalled I felt that I had a good chance," Turvey says. "But I was quite worried about stalling myself after seeing the other two guys stall. I think because of that I didn't make the best start, so it was definitely a missed opportunity.
"But we made the most of a lot of the races before that. I thought I did the maximum to achieve podiums at both Hockenheim and Silverstone. So overall I think we're making progress through the season and that's the important thing. We're still improving and I think there's more to come."
One of the quirks about GP2 is that there's only one more step to go up the ladder - unless you go sideways into something like sportscars - so the rules of other junior formulae don't necessarily apply. A bad season in Formula Renault, for example doesn't necessarily mean that you can't progress to a higher series the following year. But when the next step is Formula 1, that's obviously not the case, which is why you have drivers like Pastor Maldonado contesting his fourth GP2 campaign. Bird admits that after a tough initiation to GP2, he is reconsidering his timeframe for getting into F1.
"I didn't want GP2 to be a two-year thing, but now I believe there is a possibility of that," he says. "I'm sixth in the championship, I'm not where I want to be. I believe I'm not where I should be and had I been second or third, or a lot closer to Pastor, then it might have been a one-year thing. It still could be - there are three rounds to go and I could still get a fair few points - but realistically it might be a two-year thing."
He has a sympathiser in Turvey.
"I approach every year to win and I never approached GP2 as a two-year plan," Turvey says. "In the last few years I have moved up every year - I did one year in World Series, one year in F3, so I have always moved up each season if we feel we've done well enough and achieved good results. If you feel you're ready you always need to move up.
"So I came into GP2 wanting to win the championship and I really believed that was possible. I won my second ever GP2 [Asia] race in Abu Dhabi and if things had gone right it would have been possible to win more races this year.
"It's a shame that we haven't scored as many points as we'd have liked up to his point, but I think it's still possible to finish in the top three. So that's my aim for the last three rounds - to try to get some wins and move up in the championship."
It's an admirable goal, but one he'll have to crawl over Bird to achieve.
"I've been on pole in Hungary and I'd like to do that at the next one, but this time I'd like to actually start the race," Bird says. "But as far as ending the season strongly goes, it would be good to be able to give Pastor a run for his money in a Saturday race. That would be nice; it would be a good end to the year. He has been so dominant on Saturdays and I would love to be the one to beat him in a feature race."