Why Saudi Arabia is not put off by its F1 critics
OPINION: Concerns over human rights in Saudi Arabia refuse to let up, but the organisers of its Formula 1 race are determined to continue hosting grands prix and take encouragement from benefits found at home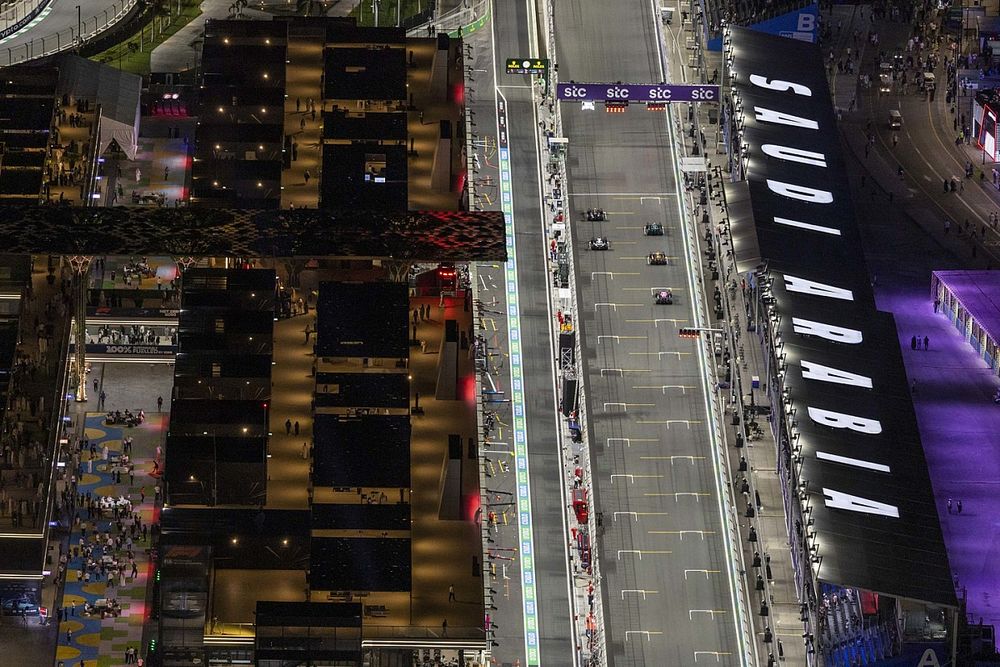 Formula 1 in Saudi Arabia has weathered a fair few storms, from sportswashing criticisms and concerns over human rights to the safety doubts after the missile attack at the race in 2022. On the eve of the event taking place last weekend, human rights group Reprieve issued a strongly worded statement regarding the situation inside Saudi Arabia.
Maya Foa, Director of Reprieve, said: "For all the talk of 'positive values' and 'accelerating change,' F1 has never seriously engaged with human rights and the way the sport is used to whitewash abuses by some of the world's most repressive regimes."
She added: "There have been at least 13 executions in Saudi Arabia in the last two weeks, including Hussein Abo al-Kheir, a Jordanian father of eight whose case had been raised by UN experts and UK MPs.
"Carrying out these executions on the eve of the Jeddah Grand Prix is a brazen display of impunity by the Saudi authorities, confident that the sport and its commercial partners will stay silent, and that the pageantry of F1 will distract from the bloodshed."
Reprieve's statement came after a coalition of 21 rights groups and Trade Unions wrote to F1 CEO Stefano Domenicali ahead of the season calling for disclosure of human rights articles in F1's contracts amid concerns about both Saudi Arabia and Bahrain using their races for sportswashing.
Concerns over human rights are not unique to Saudi Arabia, and the nation has long argued that having international attention on it through the hosting of events like F1 is as much a means of exposing it to outside scrutiny from the international community, as it is about self-promotion. It has also never shied away from understanding that the kingdom needs to and wants to evolve, grow and become better.
Sergio Perez, Red Bull Racing RB19, Fernando Alonso, Aston Martin AMR23, George Russell, Mercedes F1 W14, the rest of the field at the start
Photo by: Steven Tee / Motorsport Images
And things are slowly changing. That much was clear for anyone arriving at King Abdulaziz International Airport last week, as the promotional videos of the race showcased the story of a young girl who dreamed of – and achieved – finding herself on the F1 grid battling against her rivals. For a country that only ended its ban on women drivers five years ago, this is a clear sign of how attitudes are fast evolving, even if some would like action to be running at a much faster pace.
For the Saudi government, the main benefit it sees from having major events like F1 is not to get its name out around the world. Instead, it's about helping deliver benefits to what is a quite young population.
Speaking at the F1 race last weekend, Saudi Arabia's minister of sports Prince Abdulaziz bin Turki Al Faisal accepts that his nation is criticised for investing in a host of major events, but his main care is more on the positive impact that they make at home.
"I think there have been a lot of questions about why we are hosting these events in the kingdom," he explained. "We host it for the people, for the youth. As you may know, 70% of the population of Saudi is below the age of 40, and we see that on the ground today.
"We see a lot of kids are interested in karting, and there are a lot of them interested in getting into rallying. There's also the F1 links with Aramco, and the F1 in Schools programme. So, there's a big interest, but also a big participation for the community in the kingdom. To get that, I don't think we could achieve that without hosting such an event that people can see and feel."
Sporting boom
With F1 only in its third year in Saudi Arabia, it will be a while before a true grand prix culture can get as embedded as it is in places that have hosted events for decades. But Prince Abdulaziz says the boom other sports, like boxing, have shown in Saudi Arabia is a shining light of how positive the impact can be.
"When we hosted the boxing, for instance, the Joshua/Ruiz Jr world title fight in 2019, there were just six gyms in Saudi Arabia that had boxing," said Prince Abdulaziz. "Now we have 57, and the participation in the sport grew by 300%.
"So we can see the potential benefit for motorsport by hosting F1. There are families with kids there, they are watching, and when they leave they want to get into a car and race. These are the benefits that we that we really see on the ground. And maybe a lot of what people speculate about, they don't talk about these things. But for us, it's the benefit for the people and how can we deliver on that."
Abdulaziz bin Turki Al Saud
Other sports too have seen tremendous growth in Saudi Arabia. Women's football has gone from virtually nothing to having its first professional league – and its national side is now playing friendlies and bidding for a spot in the next World Cup.
But that progress did not stop widespread recent criticism about a potential Visit Saudi sponsorship deal that FIFA considered for the forthcoming World Cup in New Zealand and Australia. As Prince Abdulaziz said, such negativity did not make any acknowledgement of the efforts going on at home to boost women's football.
"I think a lot of what was talked about in the media, and a lot of people who talked about these things, it didn't have an insight of what we're developing in the kingdom about women's football," he said.
"They can criticise as much as they like, but we're going to continue with our development. We know what's best for the girls and women footballers in the kingdom, and how do we develop that. And we want to be part of the international footprint to give them the opportunity to go hopefully one day and play in the World Cup.
"We'll keep on doing that. It won't set us back. It will keep driving us forward to give them the opportunity to do so."
F1 impact
Saudi Arabia is already showing the first signs of a trickle-down benefit directly from F1 too, as the championship's clear demands on diversity and sustainability targets are put in to play.
Prince Abdulaziz added: "There's involvement in a lot of programmes that we've been working with F1 in the past year; about marshals, for instance, with the inclusion of female marshals. The team that's working on the ground at this event, I think 40% of the employees are female, and it's growing.
"There are job opportunities that we're opening up because of hosting such an event and preparing. So it's not just the three days, we have to prepare for the whole year, and you need the full team that's working on it in development and setting up such a programme."
While F1 drivers seemed much happier with how things were handled in Saudi Arabia this year compared to 12 months ago, there was not universal support. Indeed, drivers were especially careful with the words they used as they talked about their feelings of racing in Saudi Arabia, separating the safety aspect from issues like human rights.
Valtteri Bottas, when asked about his thoughts of being back in Jeddah, said: "I actually prefer not to answer that question. Track is cool, I enjoy the track. Otherwise, I don't want to speak about those things. We're here to race."
Lewis Hamilton also pointedly made reference to feeling "opposite" to other drivers on being reassured about safety. He was clear that he felt F1 was duty-bound to raise awareness of issues that not everyone was comfortable with.
"The thing is, if I'm not here, Formula 1 will continue on without me," he said. "So, what I try to do is just try to learn as much as I can when I'm going to these different places.
"I still feel that, as a sport going to places with human rights issues such as this one, the sport is duty bound to raise awareness and try to leave a positive impact. And I feel like it needs to do more.
"What that is, I don't have all the answers. But I think we always need to do more to raise awareness for things that people are struggling with."
For Saudi Arabia's F1 chiefs, such criticisms are not simply brushed under the carpet: they are taken on board to help influence how things move forward. But equally, as Prince Khalid bin Al Faisal, chairman of the Saudi Automobile & Motorcycle Federation, said there also has to be acceptance there are different cultures at play.
"We want everyone to speak up their mind, and we have nothing against anybody's opinion," he said. "But as we respect their opinion, we ask them as well, to respect our culture. We're not trying to force or stop Hamilton from saying what he wants to say, or wearing what he wants to wear.
"If he thinks that something is not right, and he wants to speak to us, then okay. We respect that.
"But we have a culture, we have traditions, and we have laws here in Saudi Arabia. As we go to other countries, we respect their laws and their tradition. So people who come to Saudi Arabia can speak up their mind, but they need to know that we have our laws and our culture. So, it's a mutual respect."
Stefano Domenicali, CEO, Formula 1, on the grid in Saudi Arabia
Photo by: Steven Tee / Motorsport Images
Prince Abdulaziz was clear that the kingdom remained open to ongoing dialogue with drivers about improvements that can still be made, as he said it was up to Saudi Arabia to prove that it will see through the scale of changes it hopes to make.
"I have met with Lewis twice, and we spoke openly about all of these things," he said. "He has his opinions, and he can speak freely about them. And we're not going to judge on that.
"Hopefully we will prove to him that we are developing in that area, and the next couple of years to move on and see how we can develop together towards the future."
Pace of change
While criticisms against Saudi Arabia are likely to continue ringing loudly, and there remain ongoing concerns internationally about its human rights record in particular, the kingdom accepts that where it is now is not its final destination. However, it believes the hosting of events like F1 can help it get to where it eventually wants to be.
As Prince Abdulaziz said: "We know that we have a lot of work to do, not just as a sporting point, but as a country. And we're doing that."
Subscribe and access Autosport.com with your ad-blocker.
From Formula 1 to MotoGP we report straight from the paddock because we love our sport, just like you. In order to keep delivering our expert journalism, our website uses advertising. Still, we want to give you the opportunity to enjoy an ad-free and tracker-free website and to continue using your adblocker.
Become a subscriber.
Disable your adblocker.