Jordan opens up on bizarre Faldo deal for Schumacher's first F1 test
Former Formula 1 team boss Eddie Jordan has revealed the full story of an amazing deal he had to agree with golf legend Nick Faldo for Michael Schumacher's first test.
Jordan had made a swift move to line up Schumacher for his F1 debut at the 1991 Belgian Grand Prix, in the wake of his regular driver Bertrand Gachot being out of action.
But Schumacher had not driven an F1 car before, and Jordan wanted to give him an early run at Silverstone to get him comfortable in the 191 prior to the German's first laps around Spa-Francorchamps.
With time short, Jordan only had a single day when both he and Schumacher could test at Silverstone, but they found that the track had already been booked up.
Jordan has revealed now how, determined not to lose the opportunity, he had to do some extra bartering to secure Schumacher the chance to test.
Talking in the latest episode of a new Formula for Success (FFS) podcast that Jordan is doing with David Coulthard, he reveals how the plans for Schumacher's test faced a pretty big hurdle.
"I couldn't get on to Silverstone because it had been booked by somebody," said Jordan. "I said 'who the hell can that be?' But they wouldn't tell me who.
"So I jumped in my car, drove over to Silverstone to find none other than six-times [golf] major winner Nick Faldo in his 956 Porsche, which he couldn't insure for the road so he had hired the track for the day.
"I said to him 'Nick I think we might have to come to some sort of a compromise here and do a little bit of a deal. What if you would do me a massive, massive favour, when you're not running the car could we run and when we're not running you could run?'
"And after a little bit of argy-bargy, he struck a deal with me. And that's what happened."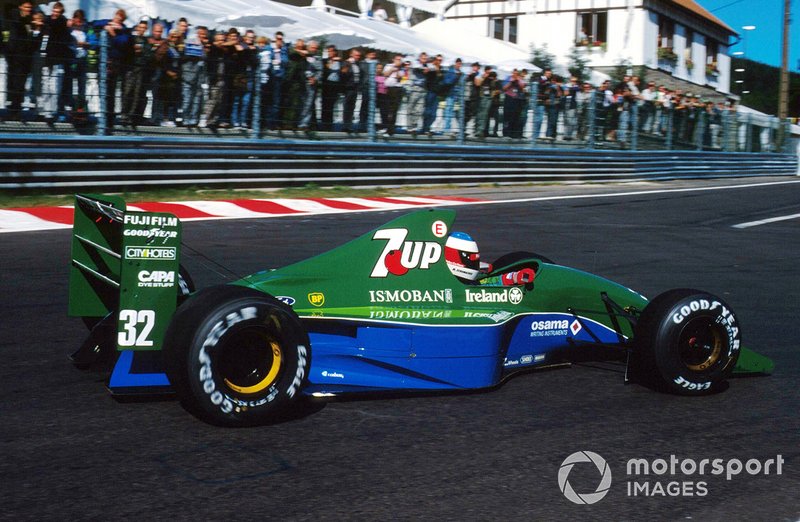 Michael Schumacher, Jordan 191 Ford
Photo by: Ercole Colombo
Faldo kept a close eye on Schumacher's progress in the test, and it has emerged exactly why – because Jordan had offered the golfer a run in the F1 car at the end of the day.
Jordan added: "For those that don't know Nick, he is about 6ft 4 [inches]. He is a giant of a man.
"When he tried to get in the car, couldn't, as you could expect, because these cars are tiny things. So, we had to squeeze him in sideways. The only problem was we couldn't actually get the steering wheel on and that was a major job.
"If anything had happened I would have been up for manslaughter as this was suicidal, it should never have happened, but he wanted to drive the car at all costs. And he did drive the car. He will probably tell us how well he drove it. But we know different! Anyway, that's Nick and he's an absolute champion."
Jordan said Faldo only realised many years later the significance of the moment after he called Jordan up.
"It was only about 10 years later he rang me up, he said 'Look EJ, I just need to clear up something? Could you tell me, was the person that was in that car of yours that day, somebody's told me that was Michael Schumacher's first ever time in a Formula 1 car?" That is a true story.
"It was Michael Schumacher's first time in an F1 car, Nick Faldo gave him the laps on the track, and we gave Nick the car to drive around. Everyone went home happy, in particular Nick Faldo.
"He now tells everybody because he's gloating on the fact that he actually tested the same car as the great Michael Schumacher!"
The full series of FFS podcasts from Jordan and Coulthard can be found here.
Subscribe and access Autosport.com with your ad-blocker.
From Formula 1 to MotoGP we report straight from the paddock because we love our sport, just like you. In order to keep delivering our expert journalism, our website uses advertising. Still, we want to give you the opportunity to enjoy an ad-free and tracker-free website and to continue using your adblocker.
Become a subscriber.
Disable your adblocker.