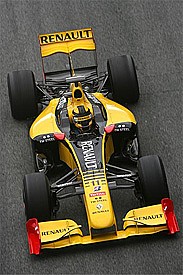 Robert Kubica is hopeful his Renault team will take a significant step forward when it introduces some planned upgrades to this car for this week's test in Barcelona.
"I would say we will have some upgrades," Kubica said following last week's test at Jerez, where the Pole was second quickest overall.
"I don't know how big it will be. We hope for sure it will be big enough to come closer to the top teams, but we don't know how they will improve so it is a bit of guessing.
"We are trying to do the best that we can, and then we will find out in Bahrain whether it is enough or not.
"But to be honest it is never enough, so we are pushing very hard and trying to work as hard as possible in these tests, which are quite crucial for the first few races, and we hope to be ready in Bahrain."
Kubica, who has joined Renault from BMW Sauber this year, insisted he has been very happy with the progress made by the team since the start of testing.
"I am never 100 per cent happy, but to be honest we are working well, we have improved the car quite a lot compared to Valencia when we started testing and started working together, so overall I am very happy," he added.
The Pole, who will be partnered by Russian rookie Vitaly Petrov, also played down talk of him being the team leader despite his greater experience.
"I don't think there is really a leader," he said. "Of course Vitaly has never driven in F1 before, so he will need a bit of time to adapt and gain experience. So maybe he is still learning a bit and trying to understand all the processes and how things work in Formula 1.
"So we are working quite a lot with the engineers on the car to improve it, and to find a better way to proceed for this season."