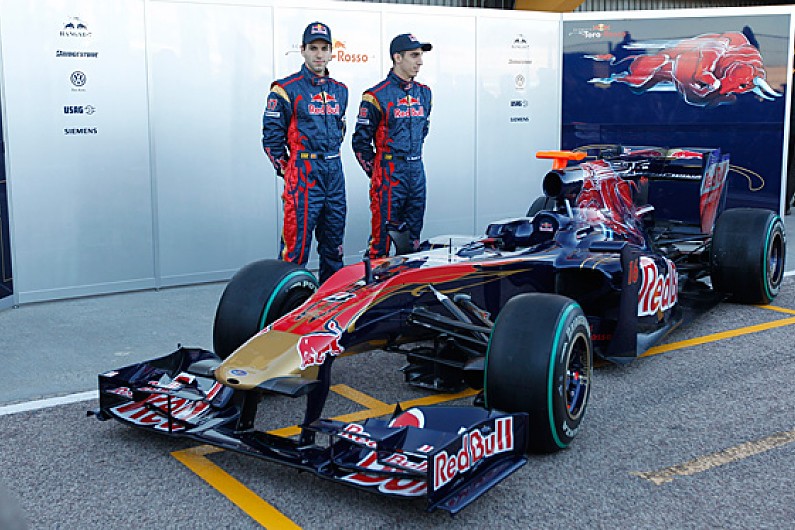 Scuderia Toro Rosso became the latest team to unveil its 2010 challenger on Monday, as the Faenza-based team's STR5 was shown for the first time.
The new car is the first machine that Toro Rosso has had to produce itself, following the effective ban on customer cars in F1.
"2010 is a landmark year for Scuderia Toro Rosso as the new regulations demand that we go it alone in terms of designing and building our car in-house," said team boss Franz Tost.
"After four years of working in collaboration with Red Bull Technology, the TR5 is the first car that is one hundred percent down to our own endeavours.
"Creating the necessary infrastructure to tackle this task has been our biggest challenge, possibly more difficult than actually producing the car itself. We have taken on an additional eighty staff and expanded our facility to accommodate them, including a Machine Shop to increase our production capacity.
"In addition, we have commissioned a wind tunnel in Bicester, England, which we bought from Red Bull. It will take time for the highly skilled team we have assembled to learn to work together as efficiently as possible.
"Making predictions for the coming season is a dangerous trap, but if pushed, I would say we must aim to finish in the top eight in the Constructors' Championship, while giving our young drivers everything they need to improve, as well as optimising our infrastructure in order to be as competitive as possible in 2010 and beyond."
Although conservative in its philosophy, the car features a fully-optimised double diffuser - with the team having had to incorporate the concept into last year's STR4 mid-season following the FIA decision that the designs were legal.
"At the end of last year, we had already increased our staff to around one hundred and fifty and now we have two hundred. At the end of March '09, we got the green light as to what actually constituted being an F1 Constructor," added technical director Giorgio Ascanelli.
"That was the starting point for building up our operation in such a way that we could actually design a car that was achievable in engineering terms, working in a different way to the methods we had adopted in the past.
"Being recognised as a Constructor involves owning the intellectual property rights to what are defined as the listed parts: these are effectively the monocoque, the safety structures that are subject to homologation and crash testing, which means the rear and front structures, primary and secondary roll-over structures and the complete aerodynamic package, the suspension, fuel and cooling systems.
"Before even thinking about producing a car, we had to acquire the right tools to carry out these tasks and also hire the people who are to use these structures. Finding fifty people and putting them in an environment where they can do their job has been a tough task.
"As for the challenge we face this season, to quote Mao Tse-tung, 'we should not be talking about what we will do when we have crossed the river, we must first get the bridges and ships with which to cross the river.'
"We have started by building those bridges and ships. We are not quite there yet and, at this stage, getting everyone to work together in a productive fashion is our most important task."
Sebastien Buemi is due to give the new Toro Rosso its first laps today, when the first official pre-season F1 test kicks off at Valencia.
The Swiss driver will again be partnered by Spaniard Jaime Alguersuari.
Autosport has produced a standalone special magazine to celebrate our 70th birthday. All current print subscribers will receive a copy for free. To order your copy of the 196-page Autosport 70th Anniversary issue, please go to: autosport.com/autosport70th